Every year, the fascinating world of Goryeo Dynasty celadon unfolds at the Goryeo celadon kiln sites in Gangjin-gun District of Jeollanam-do Province. With paintings of flying cranes, beautiful curves and blue colors, Goryeo celadon has long been celebrated as a symbol of beauty and craftsmanship in Korean ceramics. This year, the 41st Gangjin Celadon Festival 2013 will take place from July 27 through August 4.

Gangjin is called the 'home of celadon' as it not only produced thousands of celadon for nearly 600 years in the 9th-14th centuries, but also invented Sanggam* Cheongja, which is considered the finest example of Goryeo celadon. Today, 80% of celadon designated as national treasures and valuables comes from Gangjin.
* Sanggam: The method of engraving the surface of ceramics or wood with intricate patterns, and inlaying them with gold or silver materials.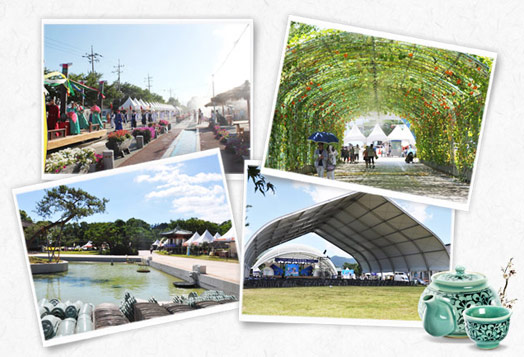 Streamlet / Vine Tunnel
Celadon Pond / Shaded Area
The Gangjin Celadon Festival venue is equipped with special facilities built for the convenience and enjoyment of visitors. First, there is a stream formed by drawing water that runs through the Jeongsusa Valley, a popular resting spot for Goryeo Dynasty potters. Second, there is a vine tunnel, shaded tent area, and fountain. Next, the Celadon Museum holds daily celadon workshops where visitors can learn the Sanggam Cheongja method, daily uses of celadon, and celadon production.

Moreover, the festival offers diverse participatory programs, including celadon pattern printing (on hanji paper), t-shirt painting, and mosaic making using broken celadon pieces. The most popular program, however, is making pottery with the help of a professional potter.
* Photo courtesy of Korea Tourism Organization

Last updated on July 8, 2013