Let's take a look inside PC bang
What is a PC bang?
Many people have become accustomed to the internet cafes that have popped up in cities all over the world. Due to the elevated demand of high-speed internet access in Korea, PC bangs can be found almost anywhere. Internet cafes offer computer access, coffee and food, whereas PC bangs only offer computer access. People coming to PC bangs are usually looking to access the high-speed internet connection for gaming, use of messenger services, web surfing and other high-speed computer activities. 34 year old Kaori Yano is a frequent visitor to PC bangs. Let's take a look inside one her favorite PC bangs in Jongno-gu, Seoul.
▶ Things to keep in mind:

1. If there are any specific games or programs that you should need, speak with an employee before sitting down. Some computers may have different programs.
2. You can bring your own programs to use.
3. There are usually smoking and non-smoking areas available. You can select the area in which you prefer to sit.
4. Not many PC bangs have scanners, faxes, etc. So be sure to check in advance if you need these items.
▶ Facilities PC bang
Printer
Color Printer
Scanner
Fax
Snacks
Drinks
Telephone
▶ What to do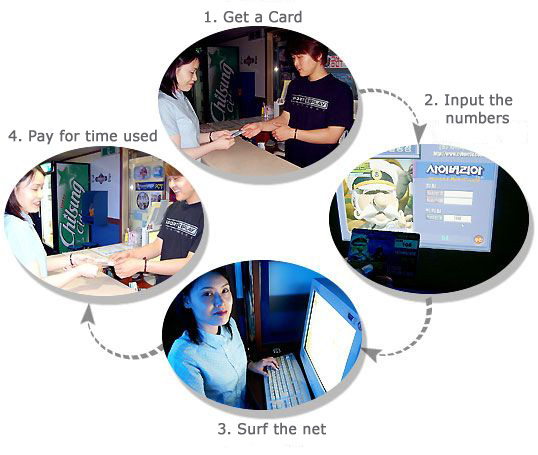 1. Get a card at the front desk.
2. Input the numbers from this card onto your assigned computer.
3. A small window on the computer screen will indicate the charge.
4, Return your card to the front desk and pay for time used. There is typically a base charge for the first 30 minutes or 1 hour, after that point the charge will increase every 1,3,5, or 10 minutes.
▶ Useful things

1. It is possible to connect to and download the language of your choice.
2. If you should wish to use other languages, they can usually be set up through windows XP. If you should experience any difficulties contact an employee at the front desk.

▶ Interview
Kaori Yano meets up with American Bahiyyih Finnegan at a PC bang.
Kaori Yano : How often do you visit PC bangs?
Bahiyyih Finnegan : 2~3 times a day.
Kaori Yano : Wow! You really go often. What do you do there?
Bahiyyih Finnegan : I usually surf the net, check my e-mail, and send mail back home.
Kaori Yano : Can you tell me your 3 favorite things at PC bangs in Korea?
Bahiyyih Finnegan : Well, if I can only pick 3, I would have to say first, I love that they are open 24 hours! Second, the high-speed connections are certainly a plus. Lastly, I like the fact that I can sit in a very comfortable chair and snack while using the computer.
Kaori Yano : Are there any downsides?
Bahiyyih Finnegan : I have been to both good and bad PC bangs. This PC bang happens to be a rather new and nice one. The older PC bangs are usually not that well kept up. If you can afford it, I highly recommend going to a newer PC bang.
Kaori Yano : Are there PC bangs in the US? If there are, how are they different?
Bahiyyih Finnegan : Yes, we have PC bangs in the US, but they are different from those here in Korea. The good thing about PC bangs in Korea is that they are rather cheap. The PC bangs in the US are usually more spacious and have better lighting.

▶ Detailed information
- Available programs and games: Star Craft and other popular games, as well as MS OFFICE, etc.
- Open 24 HOURS
- Fees: 1 hour usually costs about 1,000 ~ 2,000 won

Stop by the FREE PC bang at the Korea National Tourism Organization's "Cyber Lounge


The Cyber Lounge is operated by the Korea National Tourism Organization. In order to receive one hour of free internet access simply sign-in at the front desk. You may use the use the computer for more than one hour if there aren't any people waiting. Gaming isn't possible here; only basic computer functions are available. Most people use these computers to search for information, check e-mail, and use messenger systems. This is a convenient and comfortable place for foreigners to come, relax, and surf the web.
Address : Basement level 1
Korea National Tourism Organization bldg.
Dadong 10 beonji, Jung-gu, Seoul
Telephone number : +82-2-1330
Business hours: 09:00~20:00
Open year round
Free
Transportation : Subway Line 1: Use exit #5 at Jonggak Station, then walk for about 3 minutes.
Subway Line 2: Use exit #2 at Euljiro 1(il)-ga, then walk for about 5 minutes.
Map