▒ Bus System of Seoul
In 2004, the Seoul Metropolitan Government introduced an adjusted public transportation system. Five key points characterized the system overhaul:

1) Bus routes were simplified.
2) Four different categories of buses were established.
3) A fixed-rate bus fare system was replaced by a differentiated fare scheme based on distance traveled. The subway fare system was integrated with the bus fare system.
4) New bus numbers indicated districts in Seoul to enable passengers to identify the bus departure point and destination.
5) A satellite communications system was introduced to enable passengers to check bus arrival times using cell phones or PDAs.
▒ Division of Seoul into District Areas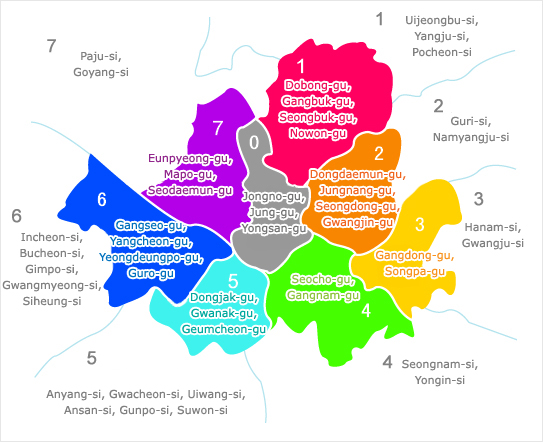 * Seoul District Area Numbers
| | |
| --- | --- |
| Area No. | District |
| 0 | Jongno-gu, Jung-gu, Yongsan-gu |
| 1 | Dobong-gu, Gangbuk-gu, Seongbuk-gu, Nowon-gu |
| 2 | Dongdaemun-gu, Jungnang-gu, Seongdong-gu, Gwangjin-gu |
| 3 | Gangdong-gu, Songpa-gu |
| 4 | Seocho-gu, Gangnam-gu |
| 5 | Dongjak-gu, Gwanak-gu, Geumcheon-gu |
| 6 | Gangseo-gu, Yangcheon-gu, Yeongdeungpo-gu, Guro-gu |
| 7 | Eunpyeong-gu, Mapo-gu, Seodaemun-gu |
* Suburban Area Numbers
| | |
| --- | --- |
| Area No. | City |
| 1 | Uijeongbu-si, Yangju-si, Pocheon-si |
| 2 | Guri-si Namyangju-si |
| 3 | Hanam-si, Gwangju-si |
| 4 | Seongnam-si, Yongin-si |
| 5 | Anyang-si, Gwacheon-si, Uiwang-si, Ansan-si, Gunpo-si, Suwon-si |
| 6 | Incheon-si, Bucheon-si, Gimpo-si, Gwangmyeong-si, Siheung-si |
| 7 | Paju-si, Goyang-si |
▒ Seoul City Bus Numbering System
Type of Bus
Numbering System

Blue Bus



3-digit number : Departure + Destination + Bus ID (0-9)

Example) 101
1: Departure (Dobong, Gangbuk, Seongbuk, Nowon)
0: Destination (Jongno, Jung-gu, Yongsan) 1: Bus ID number

Green Bus



4-digit number: Departure + Destination + Bus ID (11-99)

Example) 1212
1: Departure (Dobong, Gangbuk, Seongbuk, Nowon)
2: Destination (Dongdaemun, Jungnang, Seongdong, Gwangjin)
12: Bus ID number

Red Bus



4-digit number: 9 (Suburban Area) + Departure from suburban area + Bus ID (00~99)

Example) 9212
9: Red Bus (all express buses traveling to suburban areas start with 9)
2: This bus starts from Suburban Area 2 (Guri-si, Namyangju-si)
12: Bus ID number

Yellow Bus



2-digit number: District + Bus ID (1~9) (1~9)

Example) 41
4: This bus circles District 4 (Seocho-gu, Gangnam-gu)
1: Bus ID number