■ An Outline of Sinchon
In the heart of Sinchon you can find Yonsei University, surrounded by other famous schools such as Ewha Womans University, Sogang University, and Hongik University. The area is youthful and full of energy. You can find everything here, including Sinchon Hyundai Department Store, discount marts, innumerable trendy stores to shop at, and every kind of restaurant and bar that you could imagine. Some other popular hotspots are the noraebang 노래방 (karaoke rooms), DVD bang, PC bang, and plenty of other places where young people relax and have fun. The streets of Sinchon light up at night with glowing neon signs for night clubs, bars and the noraebang. The main street from Sinchon Station to Yonsei University has become known as "Yonsei College Street." This road is chock full of restaurants and bars, side streets with cozy little restaurants, Hyundai Department Store and other surrounding shopping malls, and of course Yonsei University.
*(The word bang refers to a type of room or area used for a specific purpose. For example, at a PC bang you can use personal computers.)
■ Places in Sinchon

Yonsei University
Yonsei University, founded in 1885, proudly boasts one of the most beautiful campuses in Seoul. Yonsei is well known for its abundance of trees, its ivy covered European-like buildings and Cheongsondae (a date course enjoyed by many young couples). The Korean Language Institute is especially famous for many foreign students it attracts.

Sinchon Station (Train Station)
Sinchon Station has been in operation since 1920, and is the first stop after Seoul Station on the way to Pyongyang, North Korea, and China (the link has been severed at the DMZ, but is destined to reopen). Inside Sinchon Station you will find a quaint waiting area and ticket office. From the platform of the station the view of the railway lines fade away far into the horizon.

Yonsei College Street
This road takes you from Sinchon Subway Station right to Yonsei University. Like branching tree roots, the numerous side streets diverge off the main road. In 1999 Yonsei College Street was designated as "The Road One Wants to Walk." Since then this famous street has been improved upon even more, placed on tourist maps and promoted by businesses. A visitor to this area can eat at a plethora of restaurants, coffee shops and stores. In the afternoon hours, you can also enjoy the tastes of small food stands that line the sidewalks.
*Special point: Across the street from Yonsei University is an enormous mural.

Hyundai Department Store
Hyundai Department Store is your one-stop shopping connection. It is so well known among the youth, that it has become a popular meeting point. As the sun sets in Seoul, you can find a crowd waiting to meet their friends.

Theater District
Sinchon's Noksaek Theater Yeonghwa-madang Theater, Sinchon Grand Cinema, and numerous other movie theaters can be found on the streets of Sinchon. The screens may not be as large as in the theaters in Jongno or Gangam, but they offer various kinds of movies and an enjoyable atmosphere.

■ Sinchon's Multinational Hotspots
Yonsei University's Global Lounge
On the second floor of Yonsei's Student Assembly Hall is the gathering place, of foreigners and students of Yonsei, to come together and share ideas in foreign languages. The Global Lounge has an area for debates and a multimedia TV on which, with a headset, you can listen to multinational broadcasts.
Hours: Monday - Saturday, 09:00-21:00
For more information: +82-2-2123-6489(Korean, English)
Kakehashi
Kakehashi is behind Hyundai Department Store and offers the unique opportunity for the Korean and Japanese cultures to come together, and work on understanding each other better. Japanese books and music are available, and access to the internet.
Business hours: 13:30-23:00, Open 7 days a week
For more information: +82-2-332-0505 (Korean, Japanese)
Chinese Culture Room (China Wind, 신주풍)
From Sinchon Train Station, you walk in the direction of Yonsei University. You will find a little piece of China tucked away in the heart of Sinchon. Practice your Chinese language skills or learn about the Chinese culture, all while enjoying some mainland Chinese cuisine and tea. For Chinese people interested in Korea or vice versa, this place facilitates free exchange of ideas. Chinese books, videos, and music, too.
Business Hours: 12:00-23:00, Opens 7 days a week
For more information: +82-2-365-0086 (Korean, Chinese)

■ Sinchon's Cultural Festival
Every May, on the street where all of the young people gather, the Sinchon Cultural Festival comes to life. College students come together with regular folk for the Sinchon Cultural Festival, offering a variety of performances and exhibits for all to enjoy.
When: Every year in May
Where: Throughout Yeonsei College Street and nearby Sinchon Train Station
Event contents: performances, craft market, various events, and more

■ Places to eat in Sinchon

Meokja-golmok (Let's Eat Alley)
These side streets are packed with tasty restaurants and bars; this is quite a popular area for drinking in the evenings. Many kinds of food here, including Korean, Japanese, Western, Chinese, and assorted fusion restaurants. In the evenings this street transforms into a party-like atmosphere with bright neon signs, and various kinds pubs specializing in beer, soju, mageolli (rice wine), and much more. At night the employees at these places often stand outside and solicit patronage. They often shout the kinds of foods and alcohol that they serve, and try to tempt you to come into their restaurants. This area is full of energy all times of the day and is a fun spot to visit.


Street Vendors
Around 4 p.m. vendors pop up along the streets of Sinchon. You can find everything from tteokbokgi (rice cake rolls in spicy sauce), odaeng (skewered fish cakes), gimbap (Korean rice rolls), sundae (sausage stuffed with pig intestines, bean curd, and potato noodles) to juipo (dried fish), squid, and fruit juice. Near the main entrance of Yonsei University you can even try ppeong-gwaja (tasty puffed rice treats). Your choices are endless.

■ Interview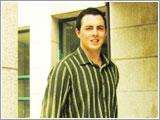 "I go shopping in the afternoon, and visit pubs at night!"
-- Brian Fortson (24, soldier, American)
As a soldier, Brian Fortson has spent 4 years in Korea. He says that he enjoys stopping by Hyundai Department Store for some shopping or perhaps enjoys a meal at T.G.I. Fridays. Sometimes he grabs some tteokbokgi from a vendor along the street. When night comes he likes to drink with his friends at bars. The youthful atmosphere and the trendy music heard on the streets here are all a good match for him. When he is feeling homesick, he jumps onto the Net at a PC bang, where for around 1 dollar he can chat with friends back home or look at American websites.

Brian's tip: In Sinchon, there are lots of the video bang, DVD bang, PC bang, noraebang (karaoke rooms), and plenty of other fun places to visit. At many places you can spend the night, so if you can't return home some night, why not take advantage of these kinds of places. Be warned: the daytime and nighttime fees vary!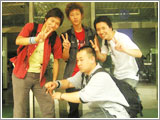 "For Food, soondae ; for fun, noraebang
--M.Kosugi, N.Sekine, Y.Suzuki, Jeong Gyuhyeon (students, Japanese)
Four Japanese students have spent the last 3 months of their lives learning Korean at Yonsei University's Korean Language Institute. They all said that for people in their early 20s that Sinchon is the place to be. They especially love the variety of Korean restaurants that can be found in this area and often visit Meokja-golmok (Let's Eat Alley). This area is good for something to eat in the daytime and something to drink in the evenings. Some of their favorite foods are: sangyeopsal (pork barbeque), samgyetang (a stuffed chicken boiled in a stone bowl), budaejjige (a spicy stew), and sundae (sausage stuffed with, bean curd, and potato noodles). They especially love pork-stuffed sundae, and count this dish among their top 5 favorites. As for liquor, they enjoy drinking dongdong-ju and soju. After dinner, they often enjoy going to the noraebang to sing Japanese songs. As for Korean songs, they think Boa's "No.1" is the best.

tip: The best way to know about tasty places to eat is by hanging out with Korean friends, and a great place to make Korean friends is at Kakehashi. You can find great places eat with your Korean friends at your side.



■ Sinchon Tourist Information Center
Plenty of information can be found on the Sinchon area here. Maps and other information/services are available in English, Japanese and Chinese.
Location: In front of McDonald's, at Sinchon Subway Station For more Information: +82-2-363-2883 (English, Japanese, Chinese)

■ Transportation and maps of Sinchon
Location: Changcheon-dong, Seodaemun-gu, Seoul and Ildae, Nogosan-dong, Mapo-gu
Transportation: Take subway line #2 and use exits 2 or 3.


■ Photo Gallery of Sinchon