BTS made a visit to Maengbang Beach in Samcheok in March 2021 for their "Butter" album jacket photo shoot. Although March in Korea is a period of spring frost, that did not stop the members from having fun while at work.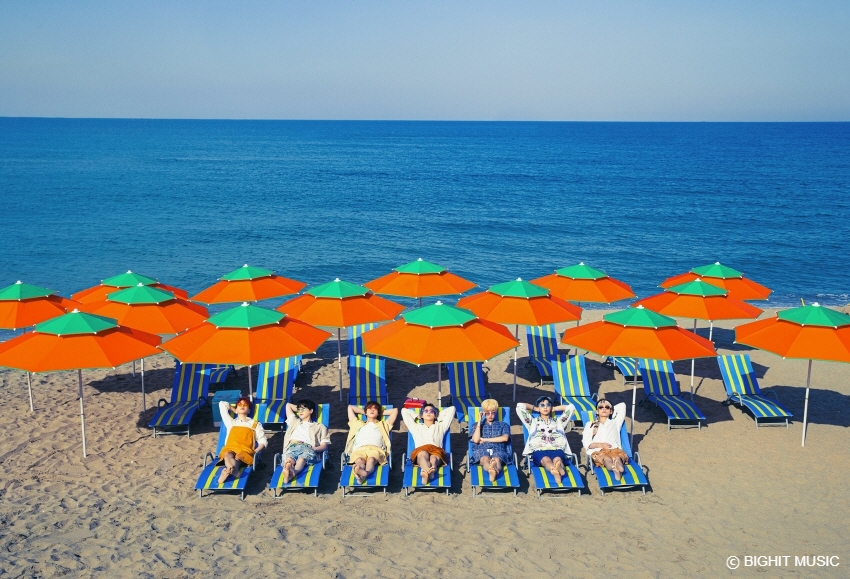 After five months, BTS topped the charts again with "Butter," ranking number one in Billboard's Hot 100 for 10 weeks and as the most viewed YouTube music video in 24 hours, as well as breaking records in the Guinness World Records. As of July 17, 2021, the song ranked number 1 for 7 weeks straight, becoming the 8th song to have peaked for 7 consecutive weeks among the 54 songs that debuted at number 1 in the Hot 100 chart.

Thanks to BTS, Maengbang Beach gained much attention. A photo zone replicating the scene in the album jacket was installed and a stamp tour course was made based on the attractions mentioned by the members.
Follow the Footprints of BTS at Maengbang Beach
Jin
It's such a great place to enjoy the sea breeze.
If you ever get the chance,
it'd be nice to visit and look around the filming site.
I recommend playing some beach volleyball as well.
Jungkook
I really wanted to see the ocean in winter, but I wasn't able to.
I'm so happy we could come here to film. I like the sound of the ocean because
it calms you. Good sunlight and good views never fail you. Come to Samcheok!
- Quoted from "[EPISODE] BTS 'Butter' Jacket Shoot Sketch"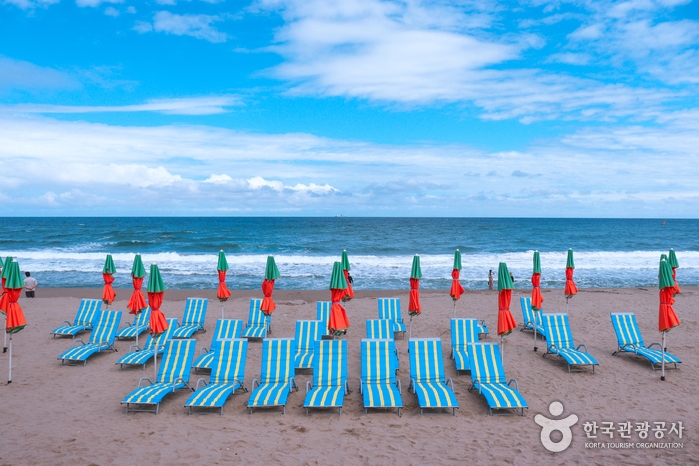 Props used during the album photo shoot decorate the beach shore, from the sunbeds and parasols to the beach volleyball net and umpire chair. There is also a big structure of "BTS" and a yellow signpost designed with the album cover image of "Butter."
The beach sees many tourists who enjoy taking photos at the photo zone, making poses like BTS members in the album jacket. The most popular prop at the scene are the sunbeds. Unlike regular sunbeds that face the sea, the sunbeds here are positioned to show the sea in the background, allowing the photos to include the open beach in the picture while you face the camera.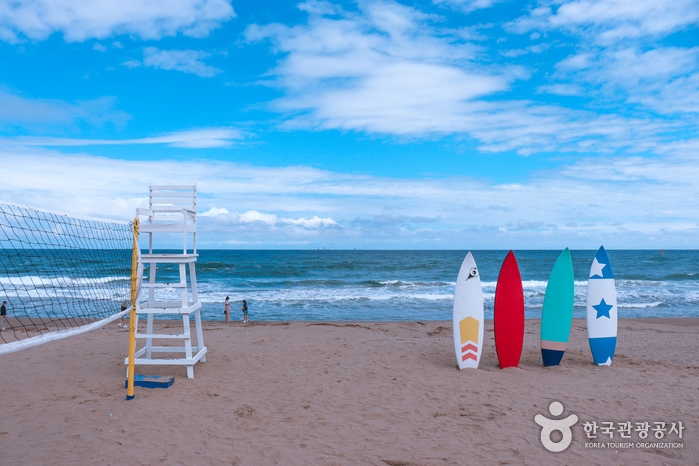 Maengbang Beach has clean and shallow waters, ranging from one to two meters in depth, and a fine white sandy shore. The beach also has a lush pine forest walking path fit for family vacations. You can also enjoy freshwater swimming at the point where the water from Maeupcheon Stream flows into the sea.
Bird's-eye-view of Maengbang Beach at Deokbongsan Mountain
Between Maengbang Beach and Deoksan Beach is a small mountain with its peak at 54 meters. Called Deokbongsan Mountain, it serves as an observatory that looks over the open beach. The mountain makes several appearances in the background of the "BTS 'Butter' Jacket Shooting Sketch" video.

You can reach the entrance to Deokbongsan Mountain without the hassle of walking over sand by using the wooden boardwalk at Deoksan Beach. The boardwalk also sets a unique mood for you to take a snapshot of your lifetime.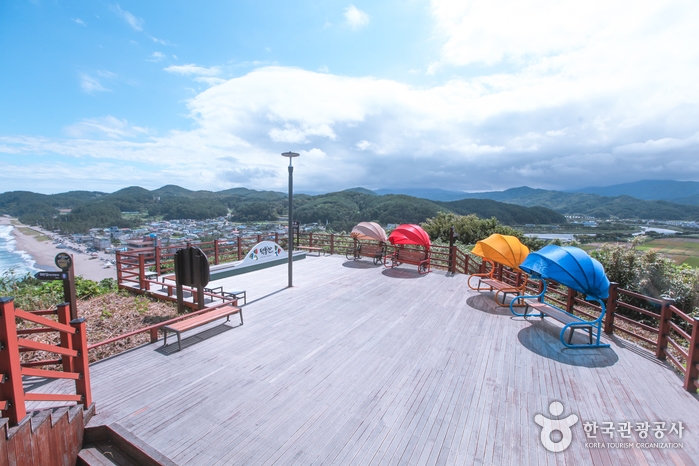 Once you get to the top of Deokbongsan Mountain, you will see Maengbang Beach spreading out to the left and Deoksan Beach to the right. The color shift of seawaters from emerald to sapphire blue is simply astonishing.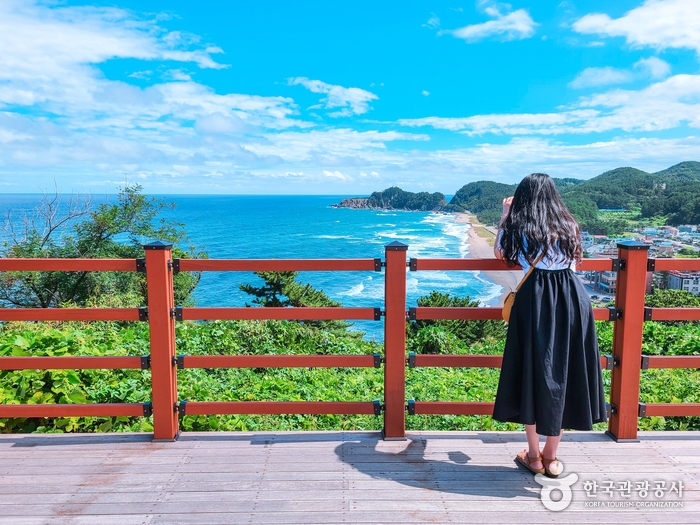 Suga's Recommendation: Chogok Yonggul Chotdaebawigil Trail
Suga
I really like Samcheok. But I haven't enjoyed it as much as I could. There's a pretty candlestick rock (Chotdaebawi Rock) that way. I wanted to watch the sunrise but I was too sleepy… I like Samcheok! Lots to eat here, please come visit!
- Quoted from "[EPISODE] BTS 'Butter' Jacket Shoot Sketch"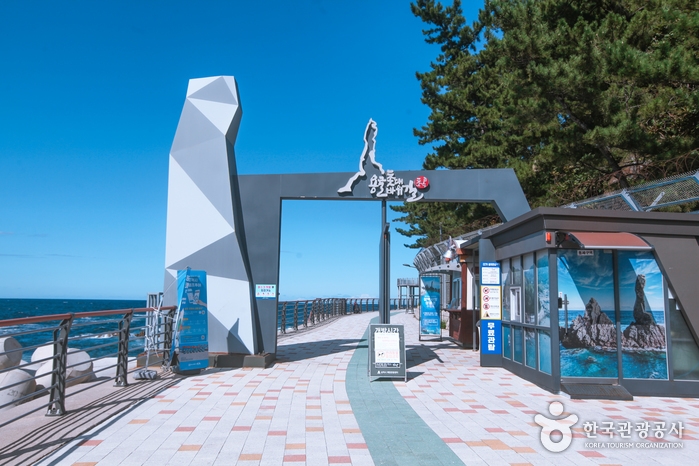 Chogokhang Port is a small harbor located approximately 20 kilometers south from Maengbang Beach. At the port is Chogok Yonggul Chotdaebawigil Trail, where the Chotdaebawi Rock mentioned by Suga comes into view. Dubbed as a "walk-thru ocean theater," those who walk along the promenade can enjoy views of Yonggul Cave together with uniquely shaped rocks such as Chotdaebawi Rock, Geobukbawi Rock, and Sajabawi Rock, which all serve as a marker for the fishermen who head out to the ocean. The promenade is only 660 meters, but has amenities like a suspension bridge, an open plaza, observatories and much more.
Crossing the 11-meter high suspension bridge is definitely a thrilling experience. The bridge deck shakes stronger than it seemed like from afar, and the transparent floor is clearer than one might expect.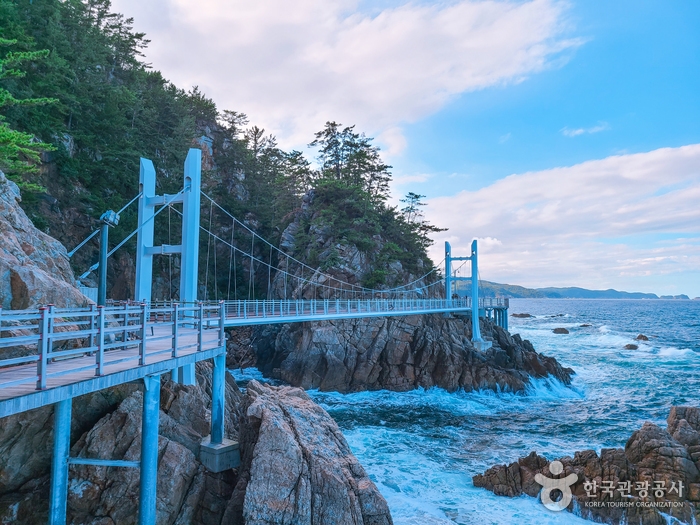 Continue walking and you will soon see a cluster of ocean rocks. These are Chotdaebawi Rock and Geobukbawi Rock, named so due to their resemblance of a candlestick (chotdae in Korean) and a turtle (geobuk in Korean), respectively. In particular, Geobukbawi Rock is said to look like a small turtle about to climb up a mountain.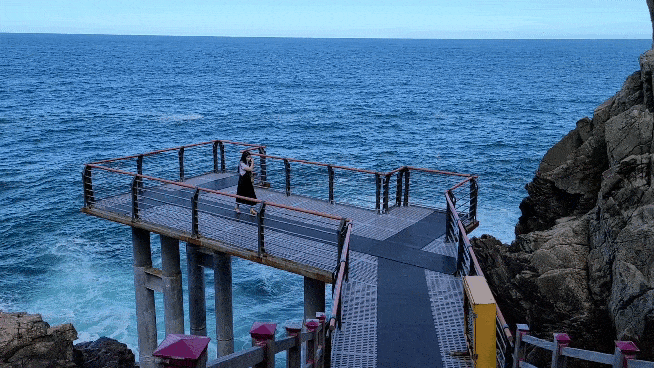 At the end of the trail is Yonggul Cave, from where a dragon is said to have ascended to the heavens. Ride a speed boat at Chogokhang Port to fully enjoy a closer view of Yonggul Cave.
Jin's Food Bucket List: Samcheokhang Port Snow Crab Street
Jin
How can a fish that big be jumping right there?
Suga
This place is actually a great place to fish. When I came camping here, I saw a lot of people fishing.
Jin
The fish were jumping out of the water! There was this huge king crab and it was so good!
- Quoted from "[EPISODE] BTS 'Butter' Jacket Shoot Sketch"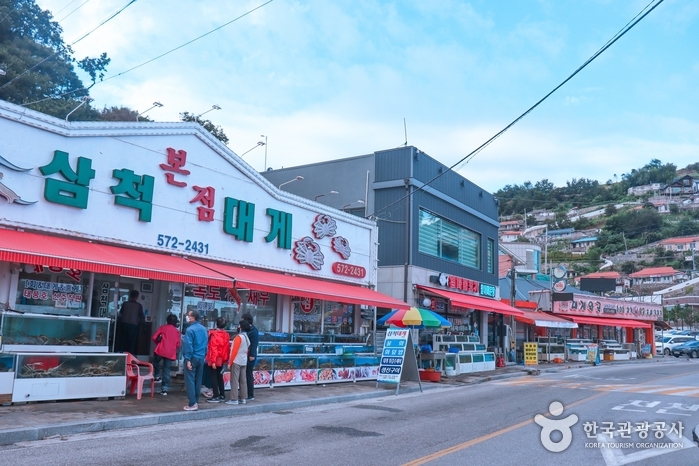 Samcheokhang Port has a raw fish center that sells both seawater and freshwater fish and Snow Crab Street, offering a plethora of seafood.
Samcheok has always been famous for crab fishing due to the abundance of crabs caught in the region.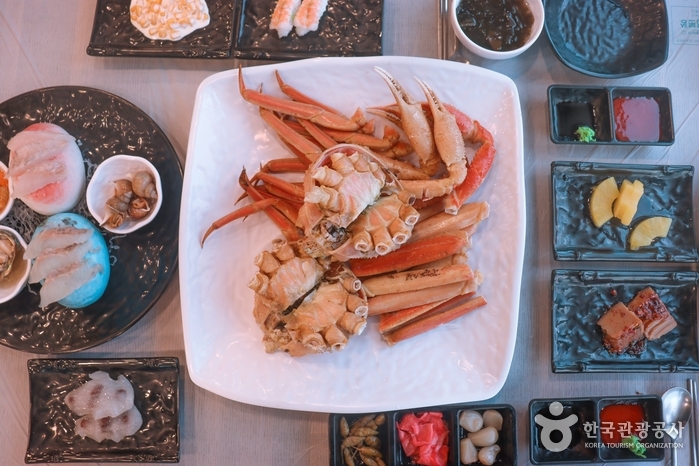 To enjoy a delicious crab meal in Samcheok, travelers are recommended to visit between November and May during the crab season.
Tip. How to get BTS merch while traveling in Samcheok
1. Download Stamp Tour app (Korean only)
2. Follow the 4 attractions of the BTS Tour Course in this article
3. Open the app and receive a stamp at each attraction
4. After collecting all stamps, tap the "Request a gift" ("선물신청") button

* Every month, Samcheok city selects 40 tourists and 10 travel reviewers who will receive a reward equivalent to a value of 15,000 won. (Until December 2022)
More info
1330 Korea Travel Hotline:+82-2-1330 (Korean, English, Japanese, Chinese, Russian, Vietnamese, Thai, Malay)