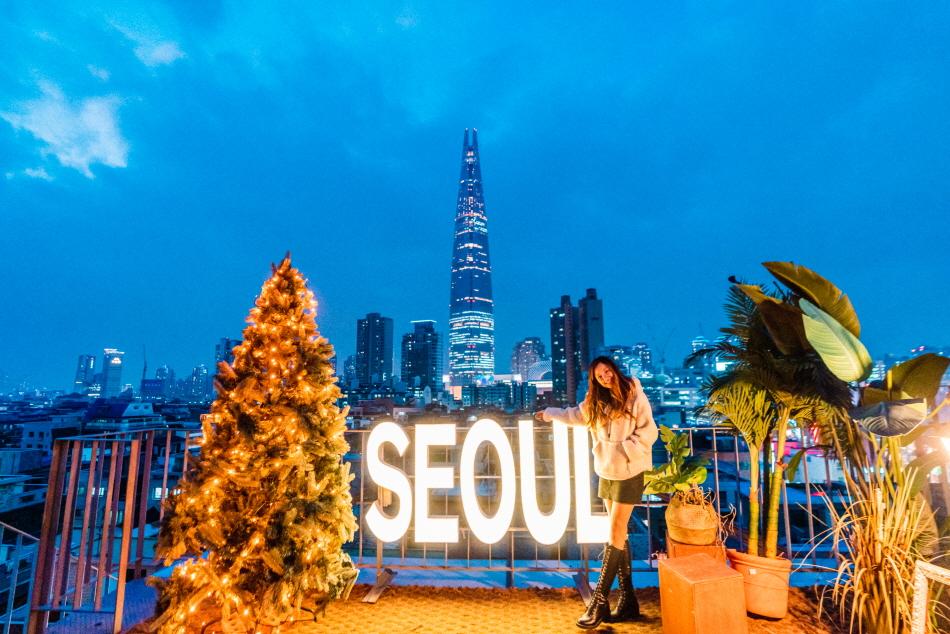 Seoul is a charming destination with lots of things to see, eat, and enjoy. Tradition and modern coexist and the countless unique sceneries make Seoul the perfect place to travel and record your memories. Fill your Instagram feed and become the next influencer with our film tips and attraction recommendations.
Deoksugung Palace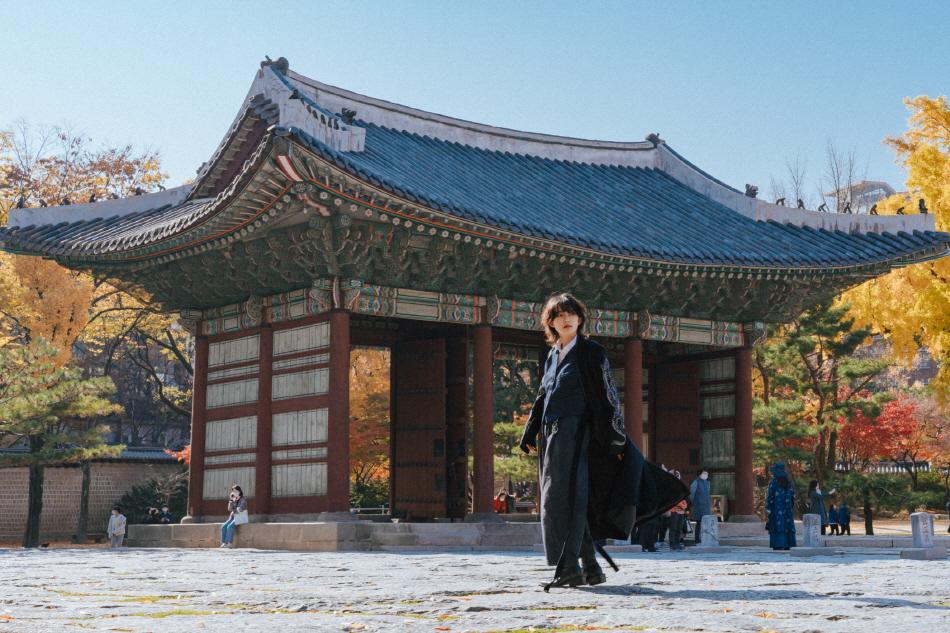 Deoksugung Palace is one of Seoul's five royal palaces. It was also a place of residence for King Gojong. The palace offers a unique view among the palaces in Seoul. In particular, it is well known for its beautiful scenery of fall foliage against the western style buildings and traditional buildings from the Joseon period.
Seokjojeon Hall in Deoksugung Palace is a representative western-style building as well as royal palace from the early 1900s. It was built based on neoclassical architecture and has a beautiful grass field and fountain. Don't miss out on this romantic photo spot.
Jeongdong-gil Street, or more well known as Deoksugung Stone Wall Path, stretches approximately 900 meters and is lined with ginkgo and maple trees adding to the quaint beauty of Deoksugung Palace. If you're visiting in autumn, this is yet another beautiful photo spot.
Tip
Unlike other royal palaces, Deoksugung Palace offers lots to see with wooden and stone architecture. We recommend visiting during the peak of autumn from the end of October to early November. To get a bird's-eye-view of the palace, visit Jeongdong Observatory or the rooftop observatory at Cecil Theater.
* Visitors are advised to check operating hours for Jeongdong Observatory before visiting.
Deoksugung Palace
Address: 99, Saejongdae-ro, Jung-gu, Seoul (서울특별시 중구 세종대로 99)
Directions: Walk approx. 1 min from City Hall Station (Seoul Subway Line 1, 2), Exit 1 or 12
Operating hours: 09:00-21:00
* Last admission is 1 hr before closing
* Closed on Mondays
Admission
- Individual: Adults 1,000 won / Children 500 won
- Groups: Adults 800 won / Children 400 won
* Adults (19-64) / Children (7-18)
* Groups: 10 people or more
* Free admission for children ages 6 & younger, senior citizens ages 65 & older, visitors wearing hanbok, and on the last Wednesday of the month
Seoulism
Seoulism, a popular rooftop café with a view of Lotte World Tower, is located in Songnidan-gil in Jamsil, Seoul. Many visitors leave with a shot of the SEOUL structure against Lotte World Tower.
Apart from the rooftop, there is also a large indoor area decorated with a vintage interior. The large glass windows also have a great view of Seoul city.
Tip
Visit before sunset to take photos of the scenery against the setting sun and city nightscape. The outdoor photo zone is compact so try using the wide-angle lens setting on your phone for better photos.
Seoulism
Address: 6F, 435, Baekjegobun-ro, Songpa-gu, Seoul (서울특별시 송파구 백제고분로 435 예스빌딩 6층)
Directions: Walk approx. 1 min from Songpanaru Station (Seoul Subway Line 9), Exit 1
Operating hours: Sunday-Thursday 10:00-23:00 / Friday-Saturday 10:00-24:00
Peaches.
This multi-cultural complex has exhibitions, fashion, foods, and more. It has collaborations from the street car culture-themed lifestyle brand Peaches., trendy food brand Knotted, and Downtowner.
Visitors can see vehicle related items and fashion pieces as well as take photos with various outdoor car exhibitions. In particular, the structure of a damaged car buried in the ground is quite popular.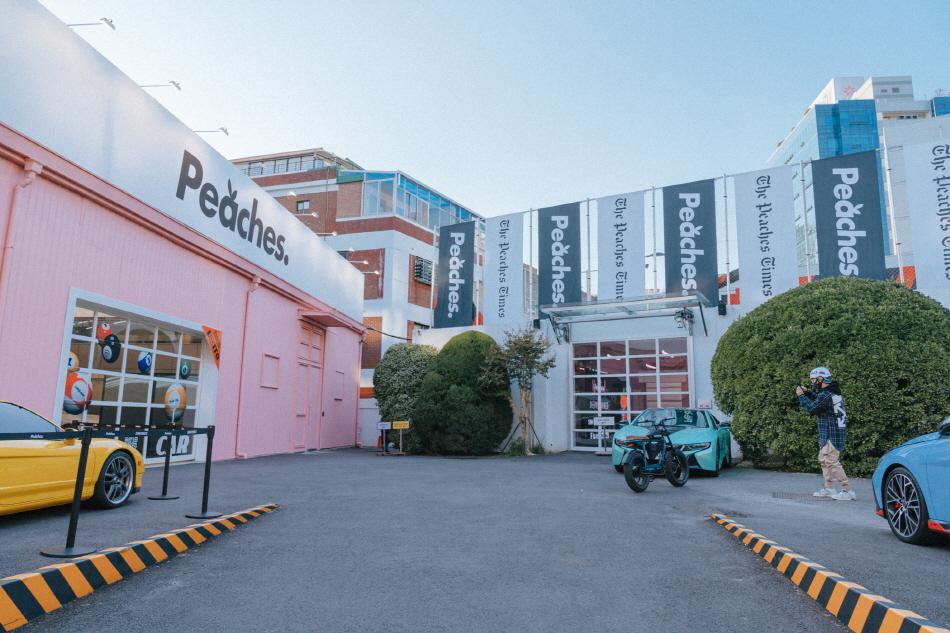 Tip
Apart from the various exhibitions on the first floor, the second floor outdoor area has a space for skateboarding and various photo zones. Don't miss out taking photos in these hidden areas.
Peaches.
Address: 9, Yeonmujang 3-gil, Seongdong-gu, Seoul (서울특별시 성동구 연무장3길 9)
Directions: Walk approx. 6 min from Seongsu Station (Seoul Subway Line 2), Exit 4
Operating hours
- 11:00-21:00 Fuel Peaches., Peaches. x Knotted, Peaches. x Downtowner
- 15:00-24:00 Smoking Tigers Bar
Seoul Botanic Park
Seoul Botanic Park was built to exhibit plants and plant culture from 12 different cities to increase ecology sensitivity in the city. The area is the size of 70 soccer fields and combines the aspects of a botanical garden and a park to create a "botanic park".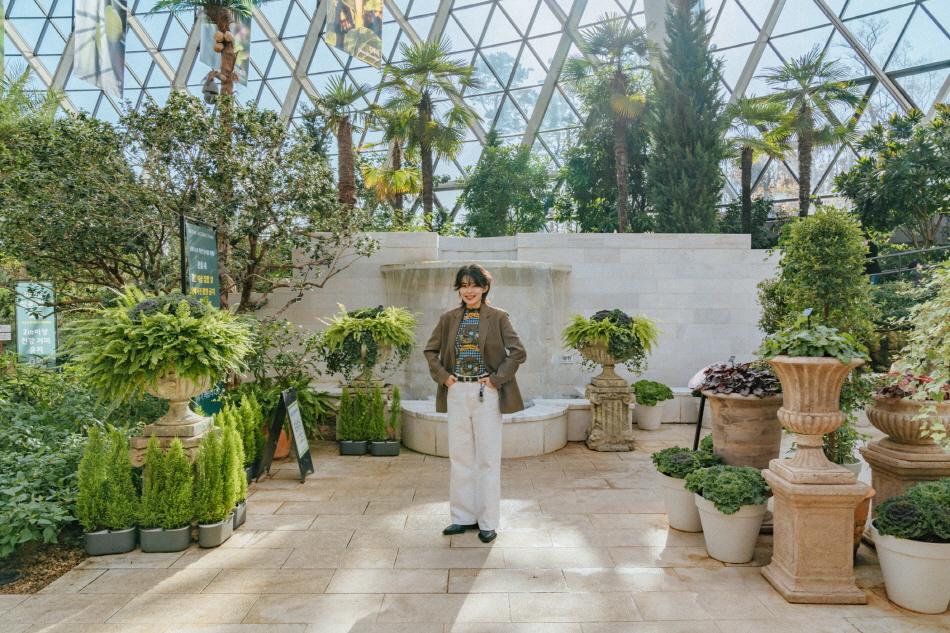 The botanic park has paid areas as well as free ones. The greenhouse garden is the main paid area although is it only a small part of the whole botanic park. Outdoors, there is a large lake, grass field, and hanok building, all worth striking a pose for a photo.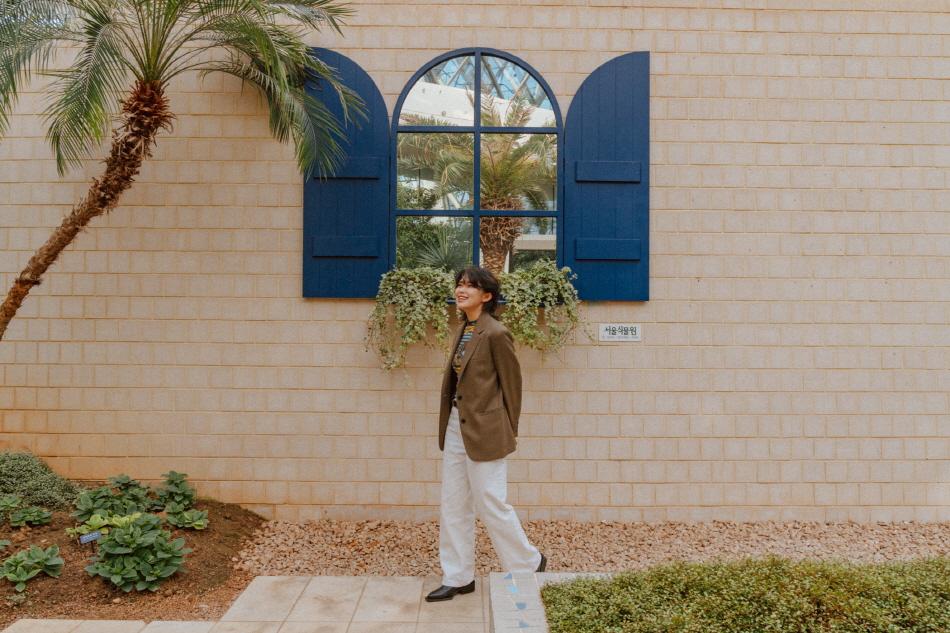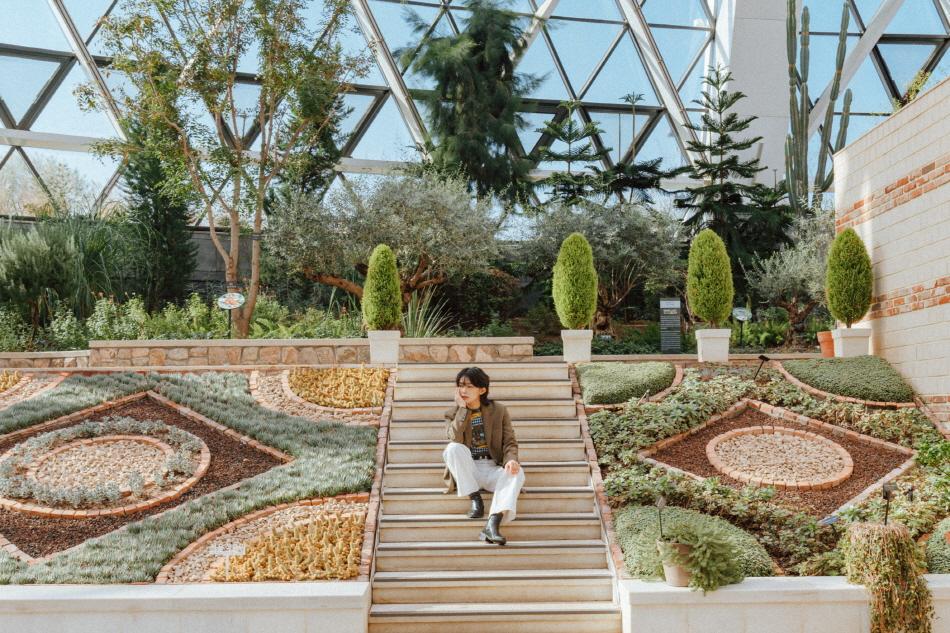 Visitors are recommended to dress lightly. Thick jackets and jumpers may be a bit too warm for the greenhouse garden. When visiting on a cold day, try layering with lighter clothes for easy removal in the greenhouse.
Tip
The first floor indoor area has various photo zones. After looking around, take the elevator to the second floor Sky Walk. From there, you can get a bird's-eye-view of the first floor, offering yet another fun photo spot. Also, use the sunlight seeping through the plants for beautiful photos.
Seoul Botanic Park
Address: 161, Magokdong-ro, Gangseo-gu, Seoul (서울특별시 강서구 마곡동로 161)
Directions: Walk approx. 8 min from Magoknaru Station (Airport Railroad), Exit 3
Operating hours: March-October 09:30-18:00 / November-February 09:30-17:00
* Last admission is 1 hr before closing
* Closed on Mondays
Admission
- Individual: Adults 5,000 won / Teenagers 3,000 won / Children 2,000 won
- Groups: Adults 3,500 won / Teenagers 2,100 won / Children 1,400 won
* Groups: 30 people or more
DDP
Dongdaemun Design Plaza, or DDP, is a multi-cultural space and one of Korea's most popular landmarks. DDP was designed by world-famous Zaha Hadid and the shapes and lines of the exterior give it a futuristic look.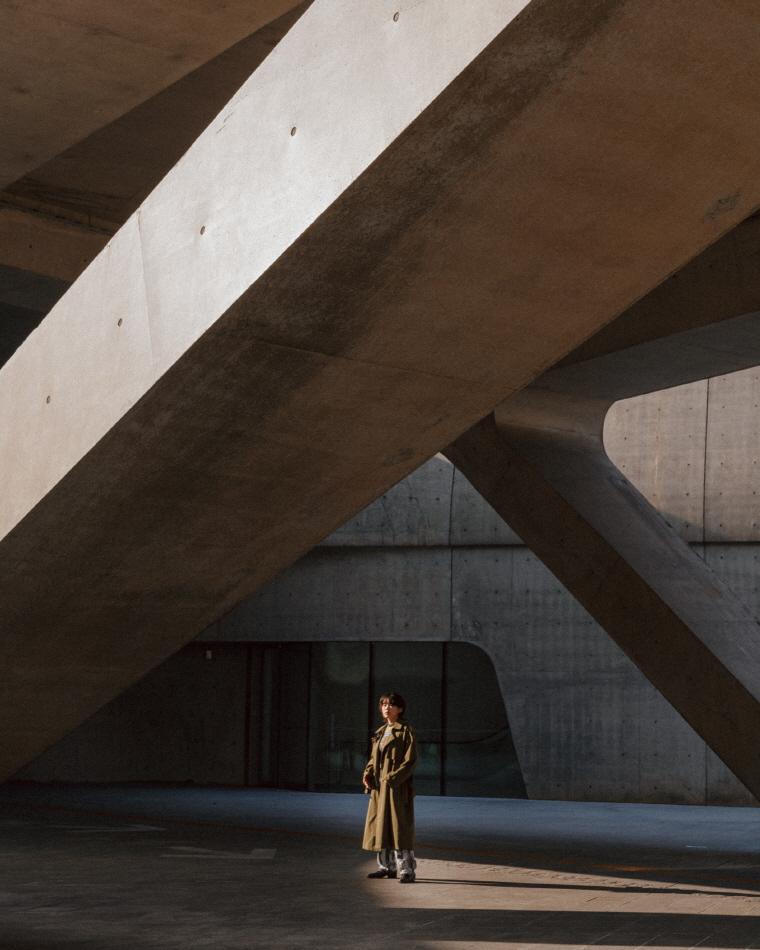 Since DDP is a famous architecture, many tourists visit to take photos of the building. However, the DDP building and space also create a great atmosphere for taking portrait photos as well. Try taking photos during the day when the sunlight and shadows dance on the curves of the building and also at night, under the fantastic futuristic lights.
Tip
Take photos during the day when the sunlight seeps through the lines of the building and at night, when the lights shine on the exterior making a mysterious atmosphere. A good photo spot is at the entrance of Oullim Square where you can capture the atmosphere of the vast interior as well as the fascinating architecture.
DDP (Dongdaemun Design Plaza)
Address: 281, Eulji-ro, Jung-gu, Seoul (서울특별시 중구 을지로 281)
Directions: Walk approx. 1 min from Dongdaemun History & Culture Park Station (Seoul Subway Line 2), Exit 1
Operating hours: 10:00-21:00
* Closed on January 1, day of Seollal (Lunar New Year's Day) and Chuseok (Korean Thanksgiving Day) holidays
Admission: Free
Greem Cafe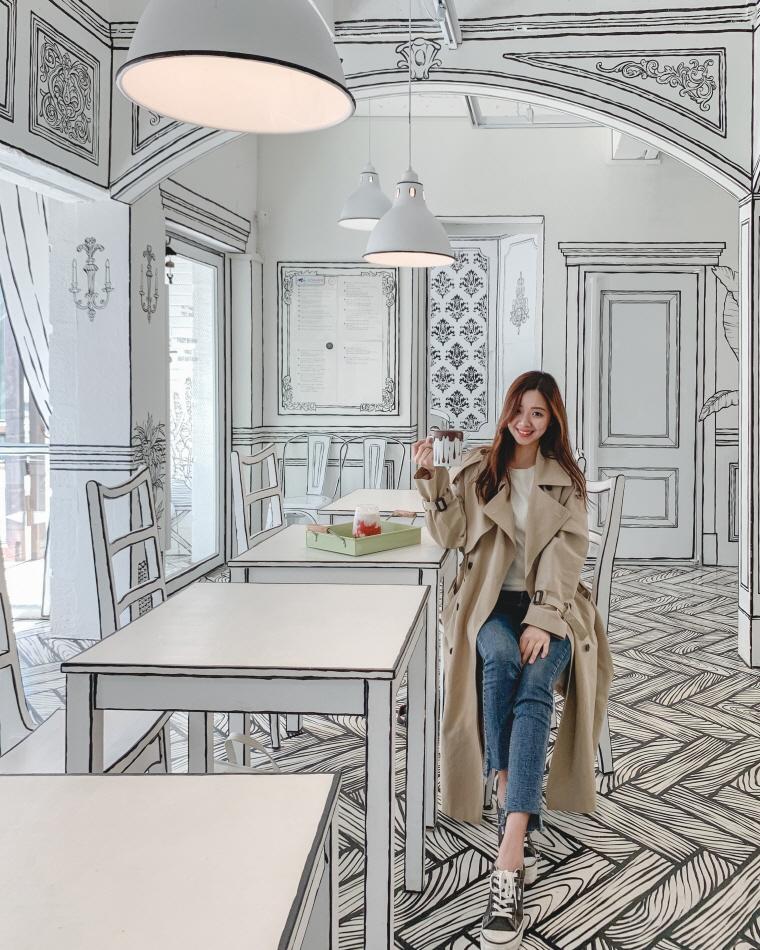 Greem Café is a popular Instagrammable café with a unique interior. The plants on the wall, the tables and chairs, and even the pillar looks like a drawing. It's like standing in a white space decorated in black lines creating a sketched 2D area, almost like you've become a character in a comic book.
Tip
The café also has 2D hats, bags, and various props. The props are free to use for your photos!
Greem Café
Address: 161-10, Seongmisan-ro, Mapo-gu, Seoul (서울특별시 마포구 성미산로 161-10)
Directions: Walk approx. 13 min from Hongik Univ. Station (Seoul Subway Line 2), Exit 3
Operating hours: Wednesday-Sunday 12:00-21:00
* Closed Monday-Tuesday
Starfield Library
Starfield Library, located in the center of COEX, is an open bookstore themed multi-cultural complex. Publications from various fields such as literature, economics, hobby, and lifestyle fill the library. There is a wide open space in the center that houses exhibitions or structures depending on the season or event.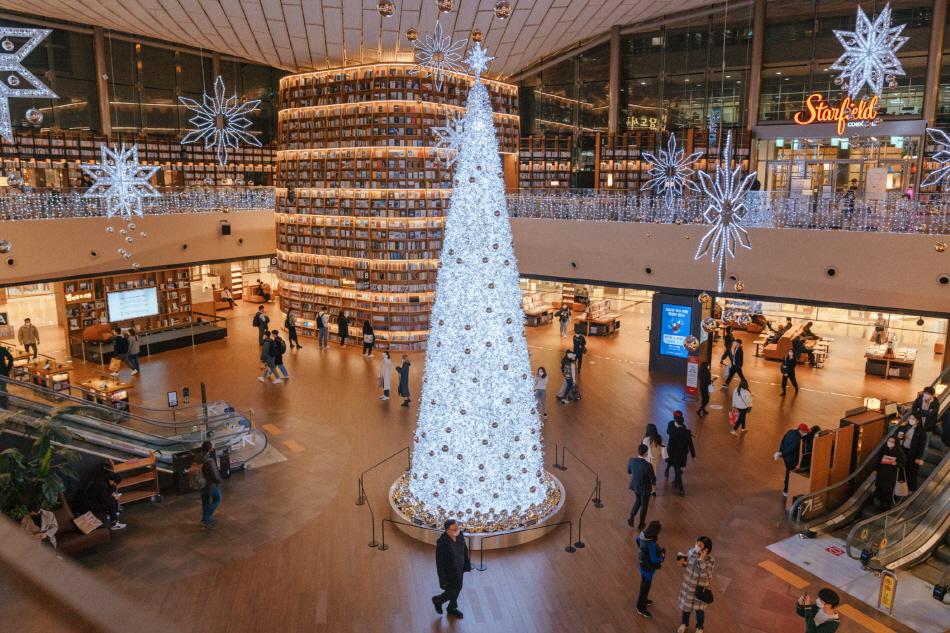 Starfield Library is located in COEX in the middle of Gangnam, Seoul. It is easily accessible and also has various restaurants, a movie theater, and an aquarium. Since it is indoors, it is the perfect place to visit regardless of season or weather. It is also a popular Christmas date spot because of its Christmas decorations.
Tip
Take the escalator up and take a photo from the upper floor where you can get a great view of the whole library. Another photo spot is on the escalator going down against the backdrop of the tall book shelves. If you visit on a sunny day, the glass ceilings let the sunlight flood into the lobby creating a beautiful ambiance.
Starfield Library
Address: 513, Yeongdong-daero, Gangnam-gu, Seoul (서울특별시 강남구 영동대로 513)
Directions: Walk approx. 7 min from Bongeunsa Station (Seoul Subway Line 9), Exit 7
Operating hours: 10:30-22:00
* Open all year round
Admission: Free
* This column was last updated in November 2021, and therefore information may differ from what is presented here. We advise you to check details before visiting.
* Column content provided by TRAVELHOLIC writer Haru (최보윤)