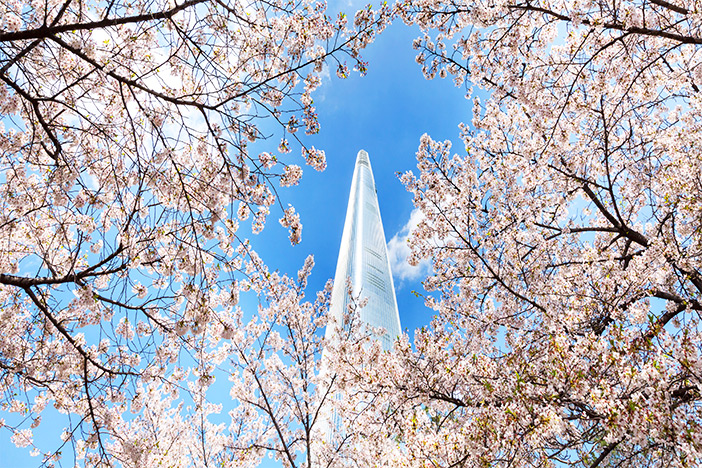 Spring is arguably the best time to visit Korea! A variety of colorful blossoms brighten the landscape while the air is filled with their perfume. Whether your itinerary is focused on the Seoul area or you have time to travel out of the city, you're sure to get your fill of blossoms at these top attractions.
Day trips around the Seoul metropolitan area
Yeouido's Yeouiseo-ro Road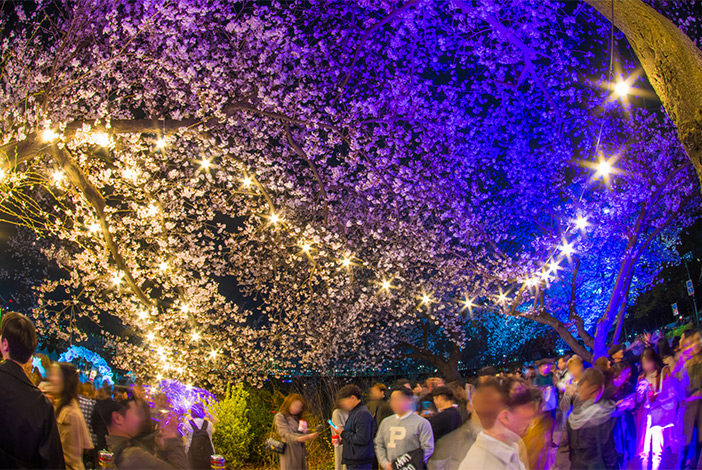 Yeouiseo Road (formerly known as Yunjung Road), located behind the National Assembly Building in Yeouido, is one of the most popular destinations for viewing cherry blossoms. As cherry blossoms begin to fully bloom in early to mid-April, the 1,800 cherry blossom trees transform the road into a snow-white tunnel, accented by forsythia and other spring blossoms, just in time for Yeongdeungpo's Yeouido Spring Flower Festival. Road traffic is restricted in certain areas during the festival period, allowing visitors to enjoy the cherry blossoms to their hearts' content.
Address: Area of Yeouido-dong, Yeongdeungpo-gu, Seoul (Behind the National Assembly Building)
(서울특별시 영등포구 여의도동)
Namsan Park Circuit Road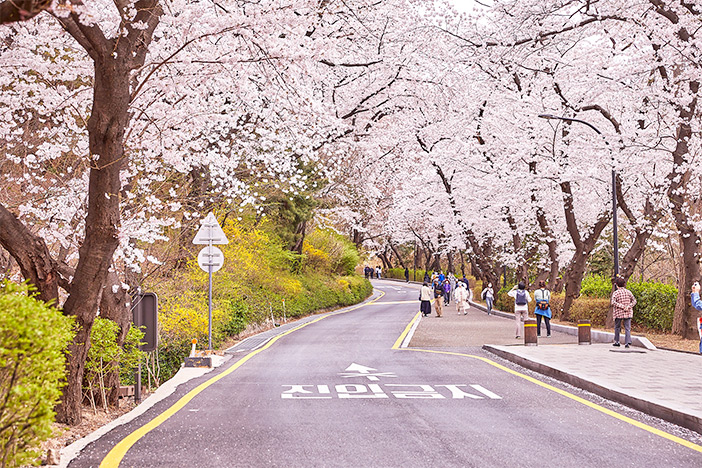 Namsan Park's circuit road, which connects Namsan Library, Namsan Octagonal Pavilion and the National Theater of Korea in Jangchung-dong, is a beautiful scenic route lined with forsythias, azaleas, and cherry blossoms. Although it stands at 262 meters above sea level, Namsan Mountain is a fairly easy walk and the blossoms make it that much more enjoyable. The walk begins from Namsan Library and takes about 40 minutes to reach Namsan Octagonal Pavilion located at the top of the mountain.
Address (Namsan Library): 109, Sowol-ro, Yongsan-gu, Seoul
(서울특별시 용산구 소월로 109)
Changgyeonggung Palace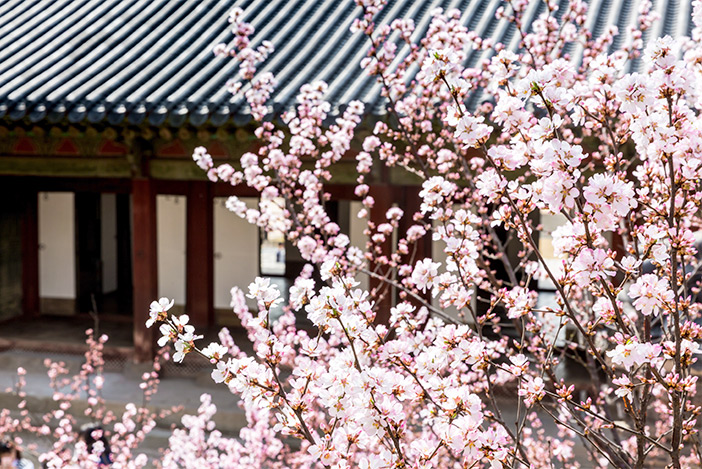 Changgyeonggung Palace, one of the major royal palaces in Seoul, is a prime spot to view cherry blossoms. The palace creates a gorgeous backdrop for photos made by an assortment of cherry blossoms, plum blossoms, Korean bush cherry, sansuyu (cornus fruit) flowers, apricot blossoms and royal azaleas as they bloom among ancient architecture in the heart of Seoul. From time to time, visitors can spot a fantastic shower of cherry blossom petals raining over Okcheongyo Bridge.
Address: 185, Changgyeonggung-ro, Jongno-gu, Seoul
(서울특별시 종로구 창경궁로 185)
Seokchon Lake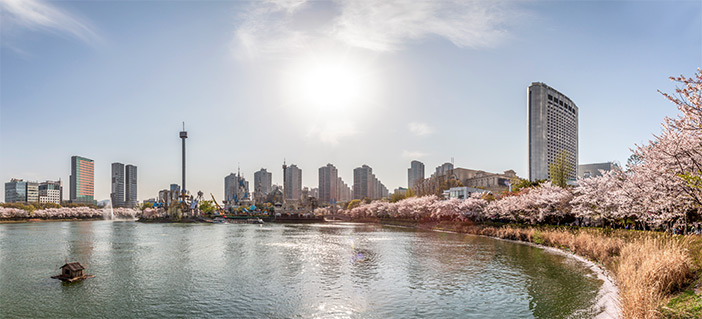 The Seokchon Lake Cherry Blossom Festival is held every spring at Songpa Naru Park, a peaceful lake park that surrounds Lotte World. Seokchon Lake boasts approximately 1,000 mesmerizing cherry blossom trees that form a tunnel of flowers around the lake, creating a fascinating scene in spring. Lotte World's Magic Island appears to float in the middle of the lake. The festival offers events and family-fun activities for a perfect day out at Seokchon Lake. Nearby attractions include Lotte World Tower & Mall and Seoul Sky, Korea's highest observation deck.
Address: 136, Samhaksa-ro, Songpa-gu, Seoul
(서울특별시 송파구삼학사로 136)
Ilsan Lake Park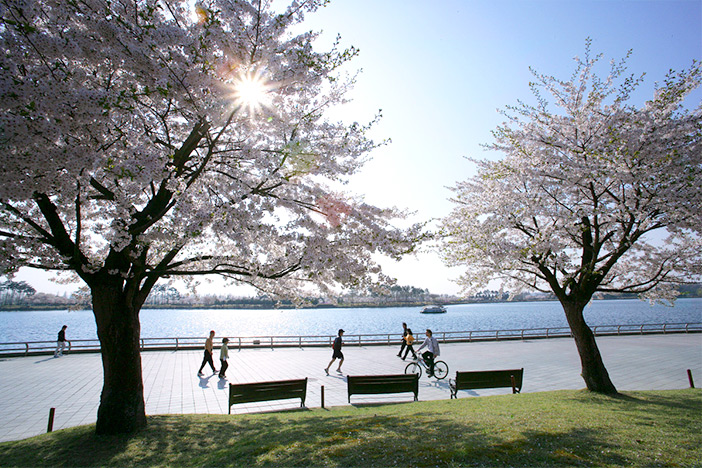 Ilsan Lake Park is home to a large number of flowering shrubs and trees, including thousands of cherry blossom trees surrounding the lake. After the sun sets, lights strung around the trees create a romantic atmosphere as the cherry blossoms and lights reflect on the lake. Daytime visitors can enjoy a picnic on the large lawn carpeted with soft green grass.
Address: 595, Hosu-ro, Ilsandong-gu, Goyang-si, Gyeonggi-do
(경기도 고양시 일산동구 호수로 595)
Icheon Sansuyu Village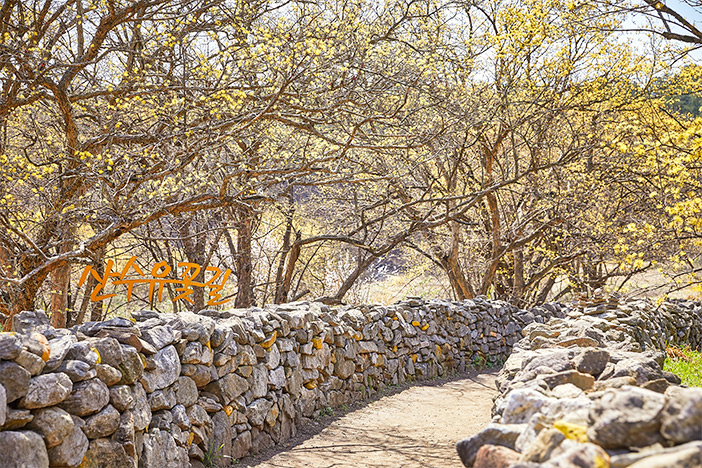 Icheon is home to a huge number of sansuyu trees. These wild trees, many over 100 years old, are spread all over the city and found most abundantly in the Baeksa-myeon area, which is referred to as Sansuyu Village. The Icheon Baeksa Sansuyu Flower Festival is held there every spring when the flowers bloom, coloring the village in a vibrant yellow. The village has various walking paths that showcase the beautiful flowers.
Address: 17, Wonjeok-ro 775beon-gil, Icheon-si, Gyeonggi-do
(경기도 이천시 백사면 원적로775번길 17)
Regional hot spots
Jinhae - Yeojwacheon Stream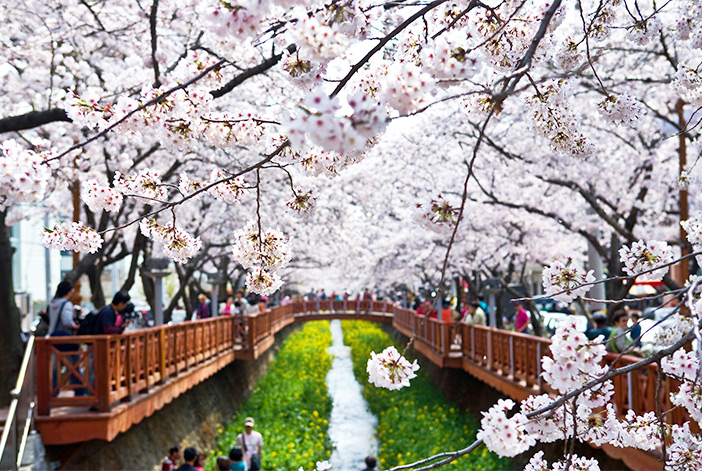 The city of Jinhae comes alive in spring when Jinhae Gunhangjae Festival takes place and approximately 360,000 cherry blossom trees begin to bloom. Although the entire city is considered one of the top cherry blossom destinations, the most popular flower viewing areas are Anmingogae Hill, Jehwangsan Park, and Yeojwacheon Stream. In particular, an approximately 1.5-kilometer-long section of Yeojwacheon Stream is lined with cherry blossom trees, creating a tunnel of white petals. The sweet scent of canola flowers under the cherry blossom trees will accompany visitors as they walk through the floral tunnel.
Address: Area of Yeojwa-dong, Jinhae-gu, Changwon-si, Gyeongsangnam-do
(경상남도 창원시 진해구 여좌동)
Hadong - Ssangyesa Temple Simni Cherry Blossom Road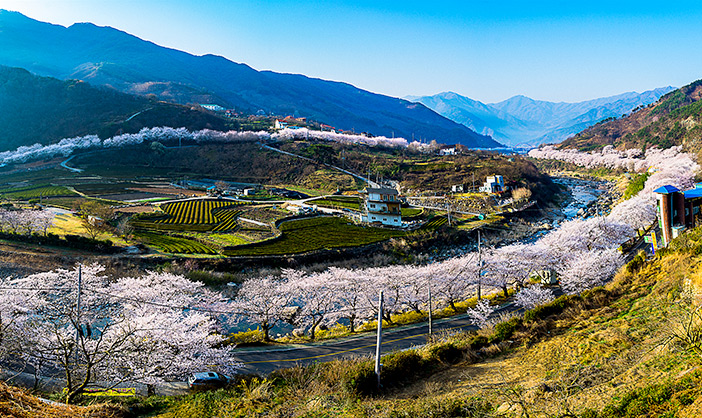 The Simni (10ri) Cherry Blossom Road is a 6-kilometer road that stretches from Hwagae Market to Ssanggyesa Temple in Hadong-gun, Gyeongsangnam-do. The road is often called the "wedding path" due to a belief that couples who walk along the road when the cherry blossoms are in full bloom will fall deeply in love with each other. It's easy to see why people might believe this when the seemingly unending tunnel of light pink blossoms unfolds before you. The annual Hwagae Cherry Blossoms Festival takes place around this time when the cherry blossom trees are in bloom, adding a festive feeling to the road.
Address (Hwagae Market): 15, Ssanggye-ro, Hadong-gun, Gyeongsangnam-do
(경상남도 하동군 화개면 쌍계로15)
Wando - Cheongsando Island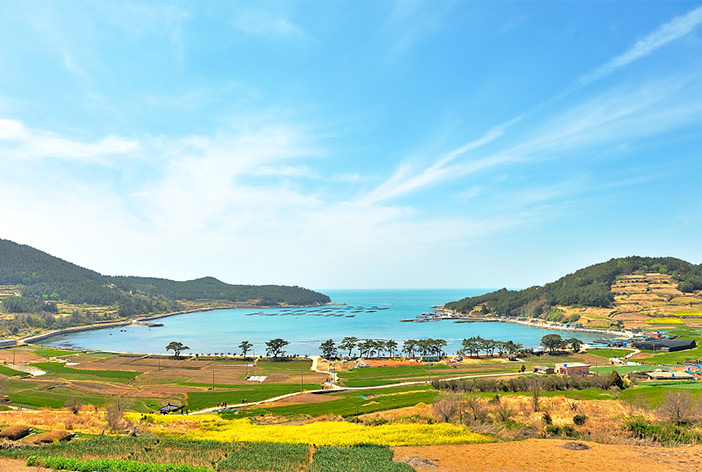 Cheongsando Island, part of Dadohaehaesang National Park, is located about 19 kilometers south of Wando in Jeollanam-do. Cheongsando Island was designated as the first Asian "Slow City" and is home to the world's first "Slow Road" as recognized by Cittaslow International, an organization aimed at promoting cities that preserve traditions and culture within a natural environment. With the arrival of spring, yellow canola flowers grow abundantly on the island and their fragrance fills the air. With clear blue skies, turquoise sea, and bright yellow flowers, the island remains a favorite springtime filming location for movies, dramas and TV commercials.
Address: Area of Cheongsan-myeon, Wando-gun, Jeollanam-do
(전라남도 완도군 청산면)
Jeju - Seopjikoji
As Korea's southernmost land, Jeju Island is the first to see the blooming of spring flowers, drawing in many tourists with the start of spring. Yellow canola flowers spring up far and wide on the island, creating picture perfect scenery in places like Seopjikoji. The view of natural fields of canola flowers set before the deep blue ocean is amazing. Visitors will be pleased to find uniquely shaped sculptures set in the fields of canola flowers for photos of their trip. Furthermore, pony rides are also available, an activity especially popular among families with children.
Address: 107, Seopjikoji-ro, Seogwipo-si, Jeju-do
(제주특별자치도 서귀포시 성산읍 섭지코지로 107)
Yeosu - Yeongchwisan Mountain
Famous for the surrounding blue sea and beautiful islands, Yeosu is another popular destination for viewing spring flowers. Starting in April, pink azaleas color the ridges of Yeongchwisan Mountain, creating picturesque scenes against the deep blue ocean. The Yeongchwisan Azalea Festival is held annually in early April to celebrate spring.
Address: Area of Sangam-dong, Yeosu-si, Jeollanam-do
(전라남도 여수시 상암동)
More Info
1330 Korea Travel Hotline: +82-2-1330 (Korean, English, Japanese, Chinese, Russian, Vietnamese, Thai, Malay)
* This column was last updated in March 2021, and therefore information may differ from what is presented here. We advise you to check details before visiting.