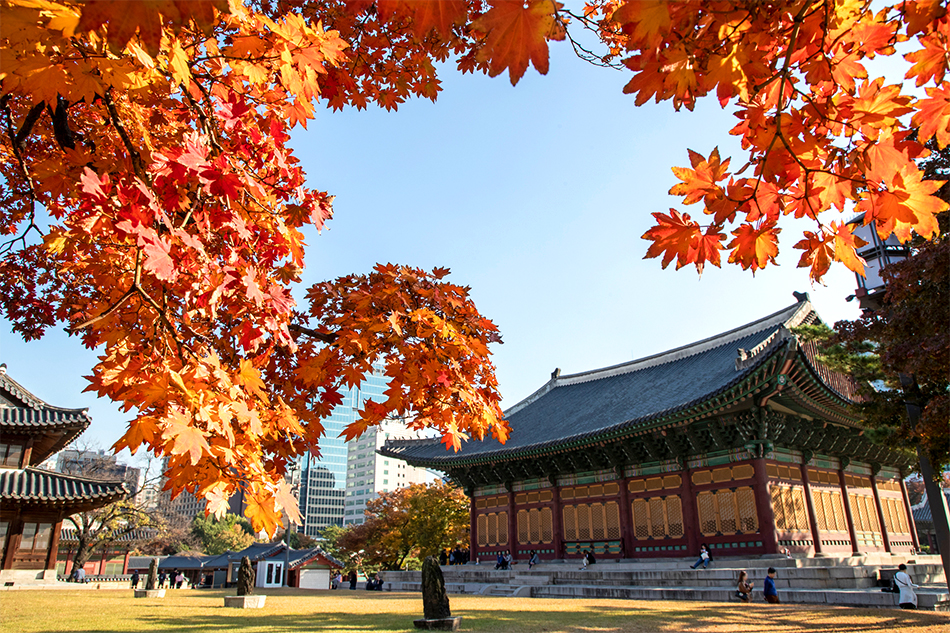 Korea is gifted with autumn beauty in every region, but Seoul displays unique sceneries that cannot be seen elsewhere. Fall in Seoul, characterized by royal palaces and tombs from the Joseon dynasty, the Hangang River, city parks, and skyline of high-rise buildings, offers an aesthetic beauty different from the sceneries seen from mountain tops. Enjoy one-of-a-kind autumn beauty at Seoul's top 7 fall destinations near royal palaces, parks, and river!
A romantic stroll along Deoksugung Palace's Stone Wall Path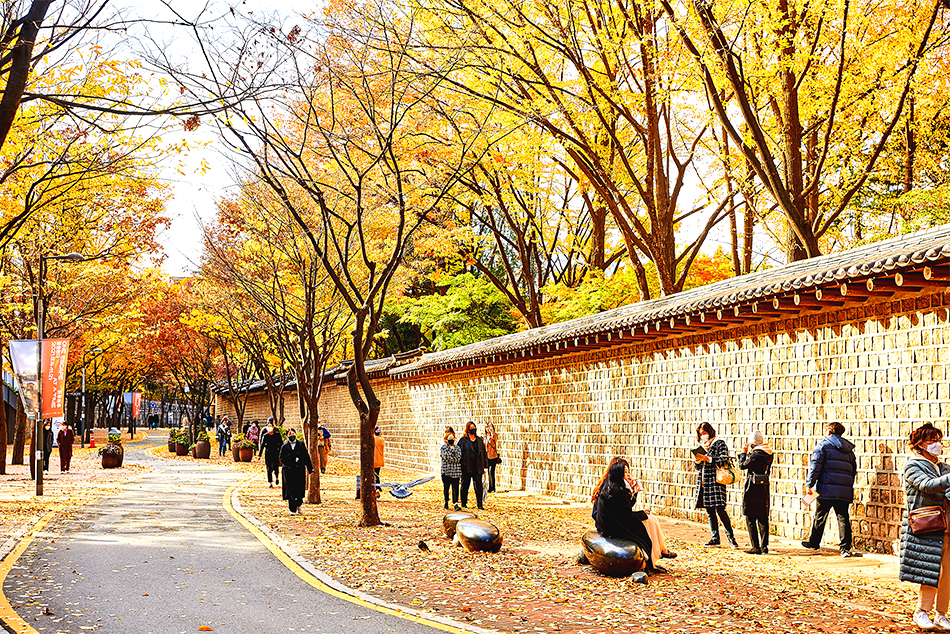 Also known as Jeongdong-gil Road, Deoksugung Stone Wall Path is a popular place for romantic strolls in Jongno, Seoul. This beautiful road is about 900 meters long and stretches from Deoksugung Palace, across from Seoul City Hall, to Jeongdong Theater. In fall, yellow ginkgo leaves add to the romantic ambience. The fallen leaves on Jeongdong-gil Road are known to be never swept clean, making crisp rustling sounds with your every step. Moreover, the numerous cultural sites nearby will have the time fly by, and you'll soon be awed by the street's evening scenic mood.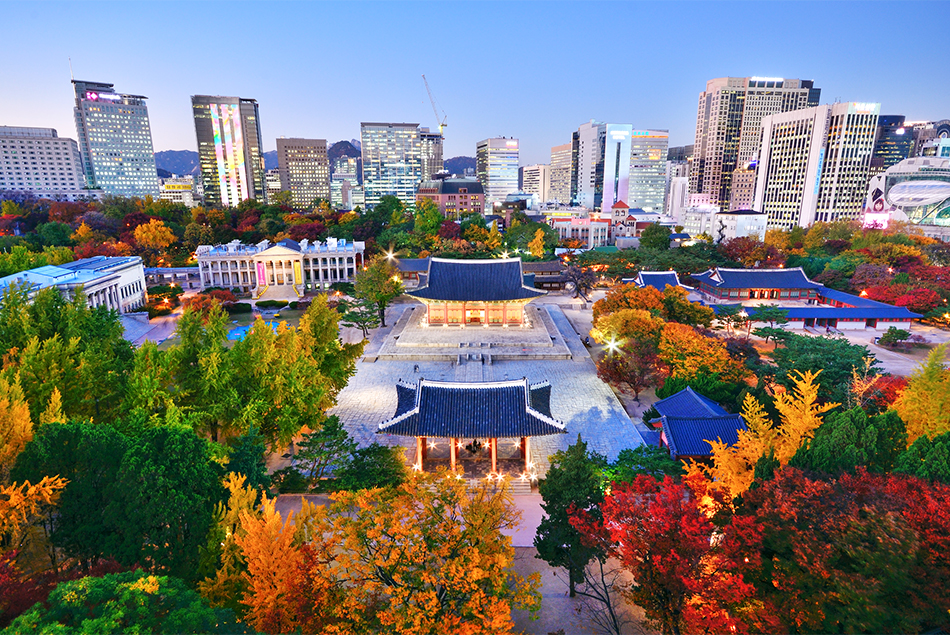 Walking from Deoksugung Stone Wall Path, the first place to visit is Deoksugung Palace. The palace grounds offer a mix of traditional royal architecture from the Joseon dynasty with Western-style buildings. The National Museum of Modern and Contemporary Art, Deoksugung is also located within palace grounds, hosting various exhibitions. Seoul Museum of Art is located a short walk down the road from the palace, and has a 500-year-old maple tree in the garden worth admiring.

Travelers interested in traditional culture and performing arts can visit Jeongdong Theater, located just off the stone wall road, and enjoy a performance to suit the autumn mood. When the sun sets, end your walk at the Jeongdong Observatory at Seoul City Hall's Seosomun Gate Annex where you can take in the view of Jeongdong-gil Road from 13 floors above ground for free.

* Jeonddong Observatory is temporarily closed as of November 2021 as a preventive measure against COVID-19; visitors are advised to verify operating hours at the Seoul City Hall website in advance.
Address: Around the areas of Basement floor 101, Sejong-daero, Jung-gu, Seoul (서울특별시 중구 세종대로 지하 101 일대)
Directions: Walk for approx. 1 min from City Hall Station (Seoul Subway Line 1, 2), Exit 2
Golden maple road with beautiful water sounds! Songjeong Embankment Walkway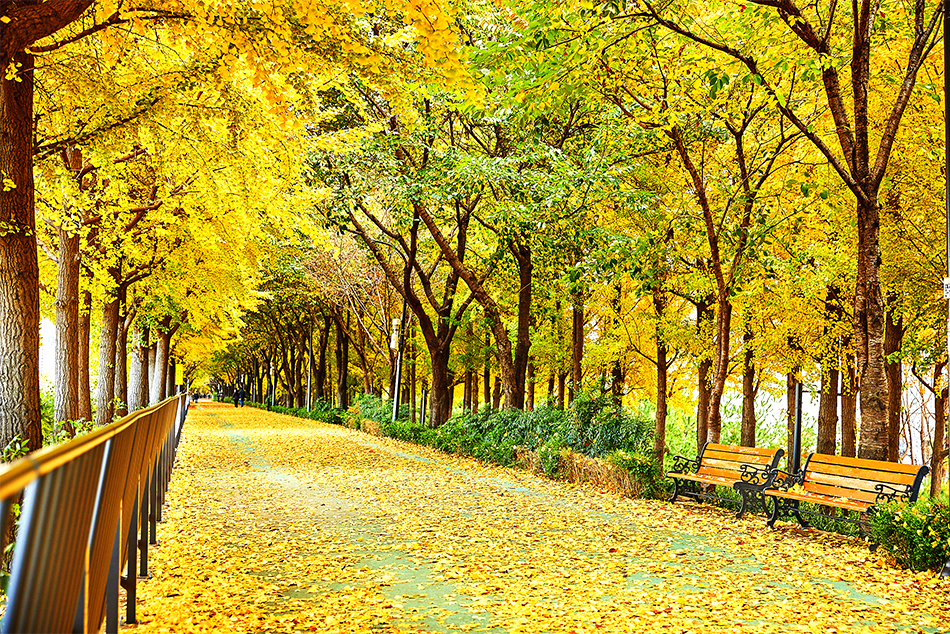 The 4.9-kilometer stretch of Songjeong Embankment Walkway from Seongdonggyo Bridge to Jangpyeonggyo Bridge along Jungnangcheon Stream turns into a fascinating cherry blossom road in spring, and a majestic maple road in fall. The street is lined with so many ginkgo trees that the pile of leaves covering the street look like a golden carpet for you to walk on. The sound of gently flowing Jungnangcheon Stream by the side will leave your mind at peace as you walk.
Songjeong Embankment Walkway
Address: 23-7, Songjeong 18ga-gil, Seongdong-gu, Seoul (서울특별시 성동구 송정18가길 23-7)
Directions: Take Maeul Bus Seongdong 10 from Seongsu Station (Seoul Subway Line 2), Exit 4 and get off at Songjeong-dong Hyundai I-Park Apt. Bus Stop. Walk for 7 min.
Nearby attractions
Seoul Children's Grand Park, Seoul Forest, Ttukseom Resort
Admire Seoul nightscape with fall foliage at Namsan Park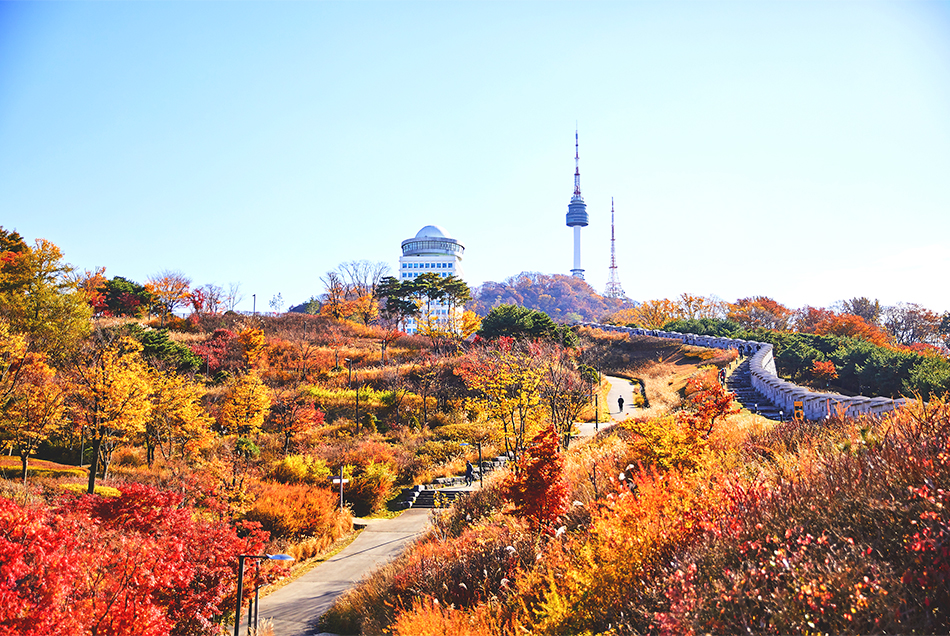 Namsan Park, a landmark of Seoul, cannot be left out from the list of fall foliage attractions in Seoul. Namsan Park is not only an outstanding location in fall, but also offers more to see on the way to the park's mountaintop such as the Namsan Library and Namsan Outdoor Botanical Garden. However, if you are more interested in taking in the cityscape and Seoul's rich history, we recommend taking the Seoul City Wall route.

For a unique view of the fall foliage in Seoul, ride up in Namsan Cable Car, or visit the observation deck in Namsan Seoul Tower. The observatory has a glass façade and offers a panoramic view of the city. As the sun sets, sit at the café with a cup of tea or coffee and enjoy the dramatic cityscape from the tower.
Address: 105, Namsangongwon-gil, Yongsan-gu, Seoul (서울특별시 용산구 남산공원길 105)
Directions: Refer to the official website for detailed directions
Website: www.seoultower.co.kr (Korean, English, Japanese, Chinese)
Nearby attractions
Namsan Seoul Tower, Namsan Botanical Garden, Goethe-Institut Korea, Namdaemun Market, Namsangol Hanok Village, Korea House, Jangchung-dong Jokbal Street, Myeong-dong, Seoul City Wall
Capture scenic fall moments at Haneul Park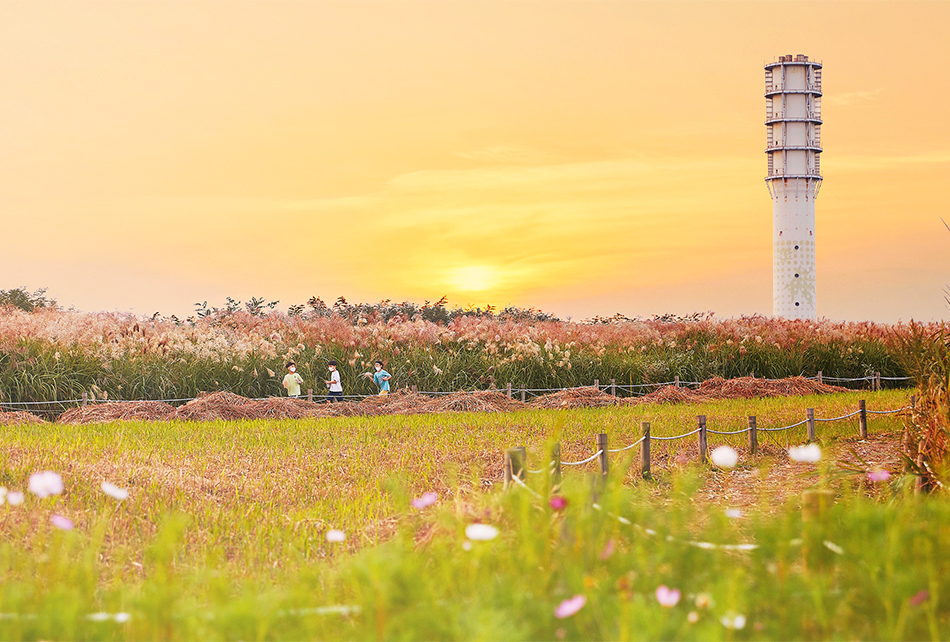 The World Cup Park is made up of five parks: Haneul Park, Pyeonghwa Park, Noeul Park, Nanjicheon Park, and Nanji Hangang Park. The park is located near the Hangang River and serves as the perfect resting spot for the busy Seoulites who seek peace at mind through nature. Haneul Park has many walking paths, including a path lined with metasequoia trees that are high enough to reach the sky and a lush forest, features that make the park one of the most visited parks in Seoul year-round.

The park becomes all the more beautiful in fall with its field of silver grass and pink muhly, decorated with picture frame structures that hint the park's best photo spots. Moreover, the Seoul Silver Grass Festival is held every fall to highlight the magnificent scenery. Keep in mind that taking photos at this time of the year may require some waiting due to large crowds of people who come to enjoy the festival.
Haneul Park
Address: 95, Haneulgongwon-ro, Mapo-gu, Seoul (서울특별시 마포구 하늘공원로 95 하늘공원)
Directions: Walk for approx. 30 min from World Cup Stadium (Seoul Subway Line 6), Exit 1
Website: parks.seoul.go.kr (Korean, English, Japanese, Chinese, French, Spanish)
Nearby attractions
World Cup Park, Nanji Hangang Park (Nanji Camping Site), Seoul World Cup Stadium
Fall foliage in the middle of Gangnam's business district at Seolleung and Jeongneung Royal Tombs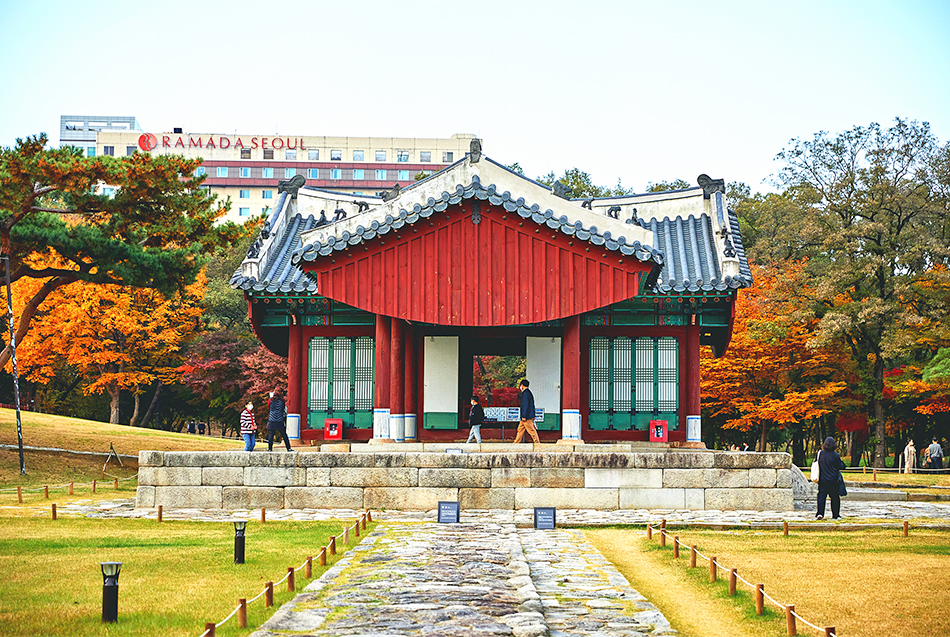 The UNESCO-registered Seolleung and Jeongneung Royal Tombs are the only royal tombs that can be found in the middle of Gangnam's business district in Samseong-dong, Seoul. Seolleung is the joint tomb of Joseon's 9th ruler King Seongjong and his wife Queen Jeonghyeon, whereas Jeongneung is the tomb of 11th ruler King Jungjong. Nestled among the high-rise buildings, the tombs are surrounded by lush pine forests and gentle hill slopes. Once fall arrives, the autumn colors set against the shrine house create a picturesque beauty. The royal tombs at fall are truly a hidden gem, less known even among Seoul citizens, and recommended to anyone seeking to quietly enjoy autumn scenery.
Seolleung and Jeongneung Royal Tombs
Address: 1, Seolleung-ro, Gangnam-gu, Seoul (서울특별시 강남구 선릉로100길 1)
Directions
- Walk for approx. 6 min from Seolleung Station (Seoul Subway Line 2 & Suin-Bundang Line), Exit 8 in the direction of Seonjeongneung Station
- Walk for approx. 8 min in from Seonjeongneung Station (Seoul Subway Line 9 & Suin-Bundang Line), Exit 3 to Seolleung and Jeongneung Royal Tombs
Operating hours: Summer 06:00-21:00 / Winter 06:30-17:30
* Last ticketing is 1 hr before closing
* Closed Mondays
Admission: Adults 1,000 won / Teenagers 500 won
Website: royaltombs.cha.go.kr (Korea, English, Japanese, Chinese)
Nearby attractions
COEX Aquarium, Bongeunsa Temple
Enjoy the forest and the river, Seoul Forest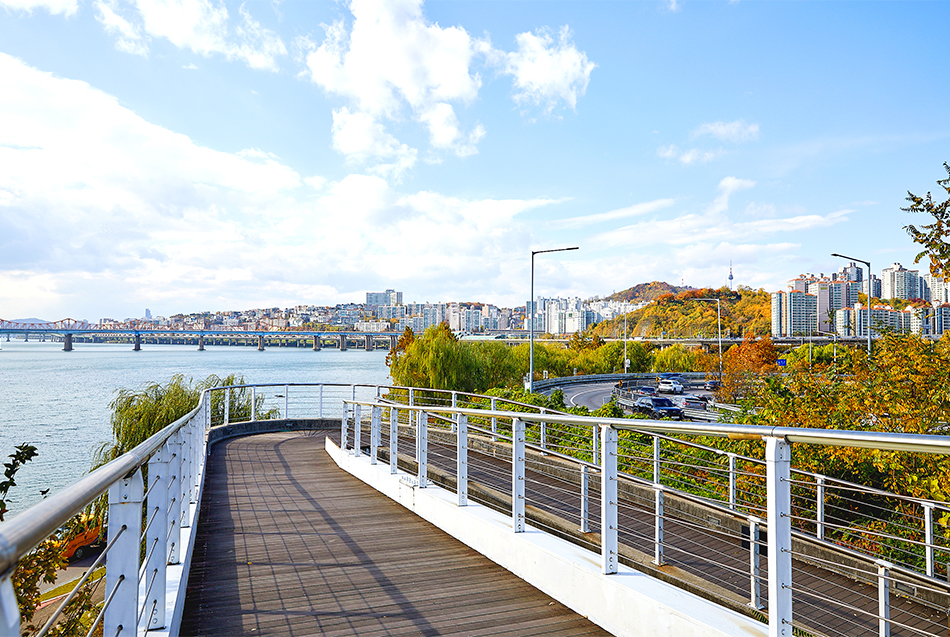 Seoul Forest, dubbed as Seoul's Central Park, is largely separated into four areas: Culture & Art Park, Educational Experience Park, Eco-forest Park, and Riverside Park along Hangang River. In fall, the park turns into an astounding photo spot, with trees in vibrant shades of red and gold. In particular, the best photo spots in the area consists of the Seoul Forest sign by Seoul-forest Station Exit 9 and 15, the statues of war horses, metasequoia road, mirror pond, children's garden, Sowonpokpo Falls. Continue walking towards the Hangang River to arrive at Cloud Bridge. This beautiful observation point provides fantastic views of the forest in autumn and the river at sunset.
Cosmos path from the Heavens! Olympic Park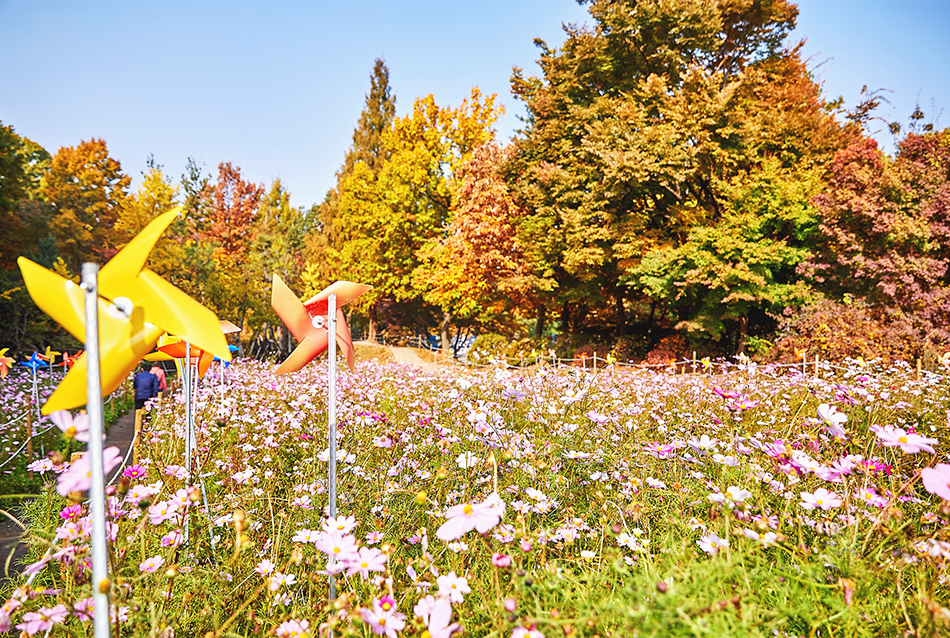 Olympic Park in Songpa-gu is the highlight of an autumn trip to Seoul. The park's colony of yellow cosmos carpeted all the way to the park's hilltop looks like a path that leads you up high among the clouds. Besides the cosmos, the park is also filled with other colorful plants that capture your attention such as pink muhly, ginkgo trees, silver grass, and maple trees. To fully enjoy the park, we recommend renting a bicycle from the park's square.
More Info
1330 Korea Travel Hotline: 1330 (Korean, English, Japanese, Chinese, Russian, Vietnamese, Thai, Malay)
* This column was last updated in October 2021, and therefore information may differ from what is presented here. We advise you to check details before visiting.