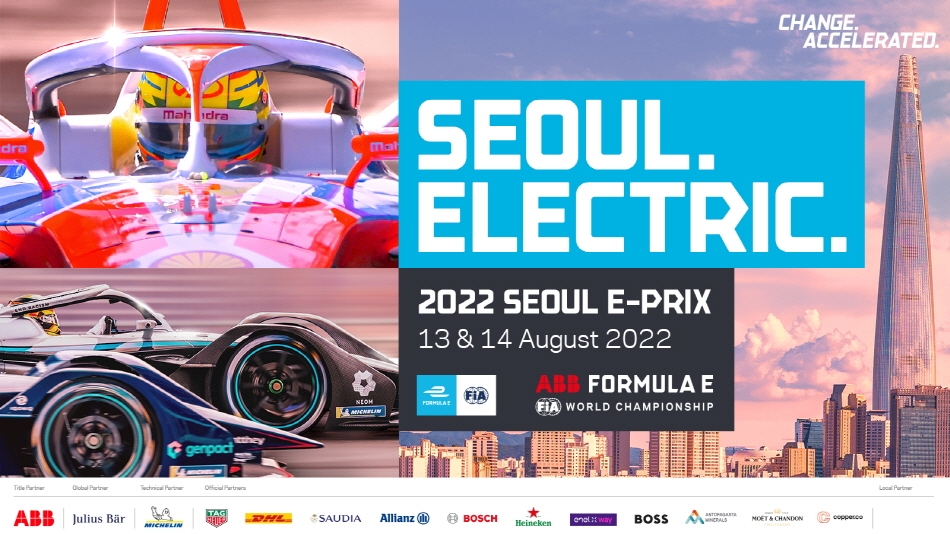 Federation Internationale de I'Automobile (FIA) is holding the largest electric car racing, Formula E, at Jamsil from August 13-14, 2022. Spectators can see electric cars racing at a speed up to 230 kilometers though the streets of Seoul.

First held in Beijing, China in September 2014, Formula E has been an annual event ever since. This season, the event started off in Diriyah, Saudi Arabia and went to 9 different cities including Rome, Berlin and London, and will finish off in Seoul for the final round.

Unlike other F1 Racing courses, which uses racing tracks, Seoul course consists of regular roads inside Jamsil Sports Complex and the nearby streets for a total of 2,760-meter course with 22 turns.

The specially designed donut-shaped track within the sports complex provides a thrilling view for spectators, who are able to see speedy race cars up-close. The long stretch of straight road outside the sports complex will be the best section to see racers take over positions.

At Seoul E-Prix, 22 race companies will compete, including Jaguar, Porsche, and Mercedes-Benz. At the same period, Seoul Festa 2022 will also be held in Jamsil Sports Complex from August 10-14 featuring Pokemon Grand Parade and World DJ Festival.
Period:
August 13-14, 2022
Venue:
Areas of Jamsil Sports Complex and surrounding streets
Age limit:
Open to people of all ages (Children ages 12 and younger must have parental supervision)
Websites2022 Seoul E-Prix
(Korean only)
Formula E
(English, German, French, Italian, Portuguese, Spanish)
Ticket link
(English, German, French, Spanish)