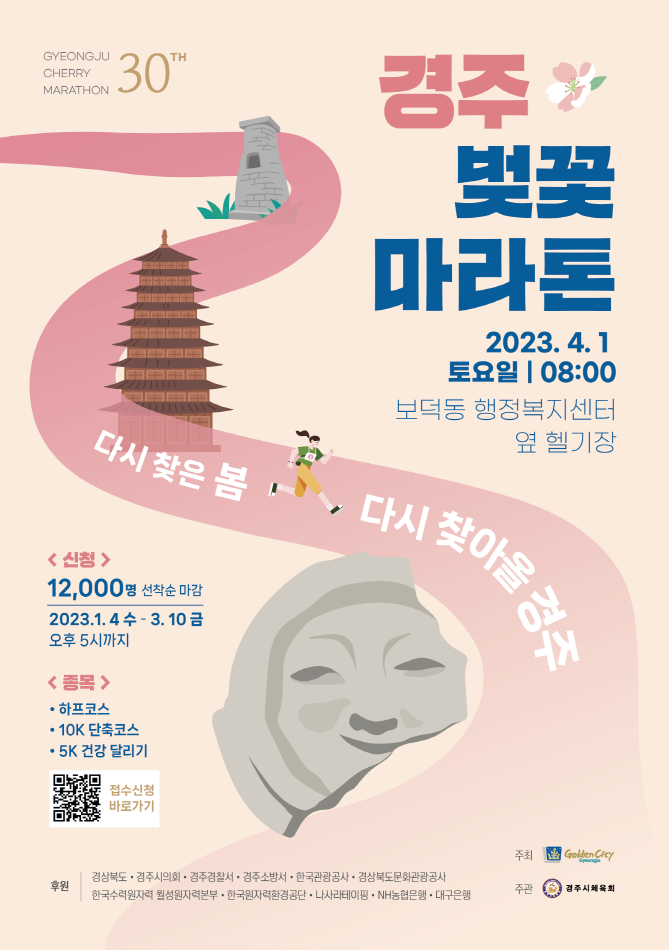 The 30th Gyeongju Cherry Marathon will be held on April 1. After four year-hiatus, participants can enjoy a run around Bomunho Lake in the midst of spring air, making it a very popular event. Participants can choose among half, 10-km, and 5-km courses and can sign-up through the official website until March 10, 2023. Entry is limited to the first 12,000 registrants.
More info
Event name: Gyeongju Cherry Marathon
Registration period: January 4 until 17:00 on March 10, 2023 (First 12,000 people in order of payment)
Courses: Half, 10 km, 5 km
Registration fee: Half & 10 km 40,000 won / 5 km 25,000 won (People with disability: All courses 20,000 won, must provide proof)
Event date: April 1, 2023 / 08:00
Starting location: Heliport next to Bodeok-dong Office
For detailed information visit the Gyeongju Cherry Marathon official
website
.