Splendid, Bustling Night Market: Dongdaemun
In the evening, as soon as visitors exit Dongdaemun Station (Subway Line 1 & 4) or Dongdaemun History & Culture Park Station (Subway Line 2, 4 & 5), they'll find themselves a party to one of Seoul's busiest street scenes. The area around Dongdaemun is more than just a great shopping venue; it's the perfect place to experience some of the fun that the city has to offer!
8 PM: Fridays at Migliore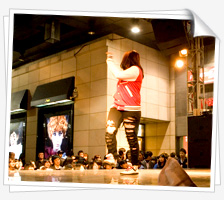 Glittering neon signs and loud music wakes up sleepy souls as people start crowding the streets of Dongdaemun. An outdoor stage surrounded by giant fashion malls (Doota, Migliore, Hello apM, and Good Morning City) is a spot for regular dance performances, concerts or other exciting events. Even though the night is young, thousands of young men and women are already swarming down the fashion street that runs past the various shopping malls. The bustling, splendid night has only just begun.
9 PM: Nighttime Stroll along Cheonggyecheon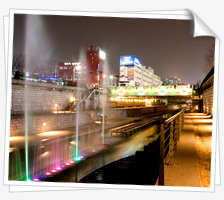 Visitors often start their walk along Cheonggyecheon at Dongdaemun. Connected to the Han River, Cheonggyecheon is a stream over 3.7 kilometers long that runs right through downtown Seoul. Though once a stream that was hidden underneath the road, it was restored to its original form in 2003, redefining the landscape of Seoul. Getting more beautiful at night with the addition of lighting in some places and laser displays in others, a walk along Cheonggyecheon is the perfect complement to a night out on the town.
10 PM: Fashion Leaders Converge at Dongdaemun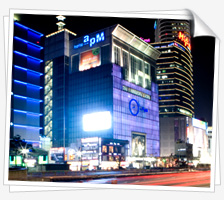 As the evening goes on, the number of shoppers increases in Dongdaemun. Bored by seeing the same-old brands in department stores, visitors come here to browse among the fresh creative new looks at shopping malls such as Doota, Migliore, Hello apM, and Good Morning City. These fashion hotspots are among the first places to receive new merchandise, showcasing the fashion industry's latest masterpieces. Cheaper than those in department stores, clothes in Dongdaemun are sold 24 hours a day. Even though the malls mainly sell clothes, they also have a variety of other products scattered throughout, including: stationery, food, souvenirs, and products for children. There is even a movie theater.
12:00 AM: The Yellow Tents of the Open Market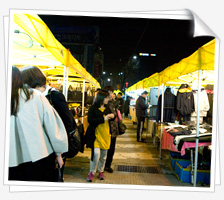 Early in the evening, while the area's giant shopping malls are crowded with customers, the Open Market near Exit #4 of Dongdaemun History & Culture Park Station (Subway Line 2, 4 & 5) waits quietly until 10:00 pm before finally revealing its glory in a glitter of sparkling lights. The Open Market boasts endless rows of yellow tents selling clothes, leather goods, glasses, shoes, bags, and other accessories at majorly discounted prices. Although it lost some of its commercial luster after the nearby shopping malls popped up, it still draws people looking for that extra something special in Dongdaemun.
1:00 AM: At the Wholesale Clothing Town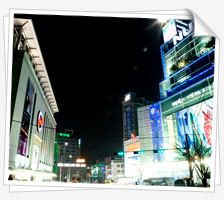 Dongdaemun gets even busier after midnight. Retailers from across the country gather in the Wholesale Clothing Town to do business alongside the droves of older international travelers that have come to sightsee. Across from the shopping malls, the Wholesale Clothing Town is like a huge warehouse that sells virtually every type of clothing made in Korea. Retailers waiting in front of wholesale shops such as Nuzzon, Yours, and Designer Club with large bags are a common scene at night in Dongdaemun.
2:00 AM: Delicious Late-Night Snacks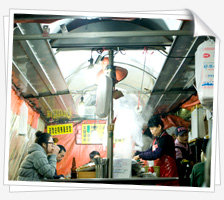 It's natural to get hungry when shopping in a large place like Dongdaemun. The late-night snacks sold at street stalls, in addition to the shopping, are yet another reason why people congregate here. Around Gwanghui Market and Jeil Pyeonghwa Market, numerous street stalls sell a variety of foods such as toast, hamburgers, dumplings, tteokbokki (stir-fried rice cake, vegetables and fish cakes in gochujang (red chili paste) sauce), fish cakes, and tteokgalbi (grilled beef and pork with a sweetened soy sauce marinade). In the early morning, the streets are filled with the lively sound of friends meeting and talking over soju (Korean distilled alcohol) and eating savory sundae gopchang (cow or pig's intestines stuffed with various ingredients and fried with spicy sauce). Although the appearance of the nearby shopping malls led to the reduction of street stalls selling late-night snacks, many street vendors still stand proud, adding the delicious smell of their wares to the warm night air. Dongdaemun's mix of fun and flavors is a rarity that can't be found anywhere else in Seoul.