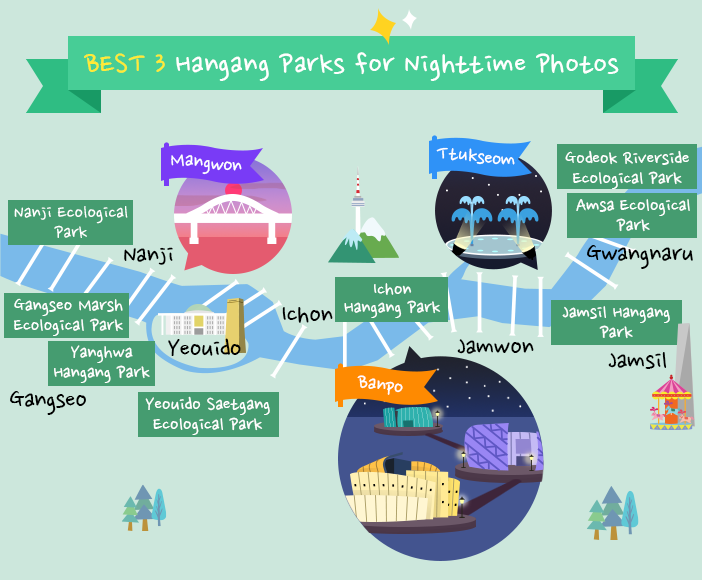 Banpo Hangang Park
Banpo Hangang Park is known to be one of the more beautiful sections along the Hangang River. It's the venue of the ever-popular Banpo Bridge Rainbow Fountain, as well as Some Sevit . For photos focused on a person, strike a natural pose before the backdrop of the Banpo Bridge. For landscape shots, head to the central plaza and take a photo of Namsan Seoul Tower and the city lights twinkling above the Hangang River
Helpful tips
Info on Banpo Hangang Park

Addresses
Banpo Hangang Park: 40, Sinbanpo-ro 11-gil, Seocho-gu, Seoul (서울특별시 서초구 신반포로11길 40) / Walk from Express Bus Terminal Station (Seoul Subway Line 3, 7, 9)
· Some Sevit : 2085-14, Olympic-daero, Seocho-gu, Seoul ( 서울특별시 서초구 올림픽대로 2085-14) / Walk from Express Bus Terminal Station (Seoul Subway Line 3, 7, 9)
Best time to visit
Summer ~20:00 / Winter ~19:00
* Hours may change by season and COVID-19 situation
Ttukseom Hangang Park
For photos with vibrant colors, head to Ttukseom Hangang Park! The vividly contrasting red and green lights of Cheongdam Bridge reflect on the dark waters. A musical fountain operates during the summer season, adding an element of refreshing coolness to the bright colors.
Helpful tips
Info on Ttukseom Hangang Park

Address
139, Gangbyeonbuk-ro, Gwangjin-gu, Seoul (서울특별시 광진구 강변북로 139) / Walk from Ttukseom Resort Station (Seoul Subway Line 7)
Best time to visit
Summer ~20:00 / Winter ~19:00
* Hours may change by season and COVID-19 situation
Mangwon Hangang Park
Mangwon Hangang Park is great for sunset photos. Being located on the western side of the city, the view of the setting sun is unobstructed. Before heading out, you'll need to check the estimated sunset time and the weather forecast. It's best to visit on clear or slightly cloudy days, and you should prepare to arrive one or two hours in advance. Coming early means you'll have more chance of grabbing a spot right on the riverbank!
Helpful tips
Info on Mangwon Hangang Park

Address
467, Maponaru-gil, Mapo-gu, Seoul (서울특별시 마포구 마포나루길 467) / Walk from Mangwon Station (Seoul Subway Line 6) or Hapjeong Station (Seoul Subway Line 2)
Best time to visit
Sunset (Summer ~18:00 / Winter ~17:00)
* Hours may change by season and COVID-19 situation