Overview of Tourism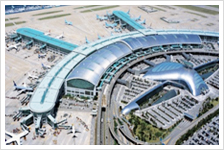 The tourism industry in Korea has shown continual growth. In 2012, the number of foreign visitors exceeded the 10 million mark with the number of foreign tourists reaching approximately 11,140,028. During this time the tourism revenue hit $14,176,200 (unit: 1,000 US$) and the average amount of consumption per person was 1,273 (unit: US$). This ranks Korea's tourism industry 32nd in the world.

Within Korea there are nine international airports including those in Gimpo, Incheon, Daegu and Jeju. The Incheon International Airport, spanning 5,6198,600㎡, has ranked number one in the world for airport service for seven consecutive years. Korean Air, a major national carrier, serves 124 cities in 43 countries, while Asiana Airlines serves 70 cities in 23 countries. In 2011, the number of officially registered tourist hotels in Seoul was 105, offering a total of 20,134 rooms. Nationwide, there are 543 hotels offering a total of 64,916 rooms.

KTO selects outstanding accommodation facilities offering good facilities and services for Benikea certification. A mid- to low-priced tourist hotel brand, Benikea hotels are carefully fostered and managed to offer quality, good prices, and satisfaction to foreign tourists. Koreastay, a program that offers foreigners a chance to experience the lifestyle of Korea in a residential home, and GoodStay, a certification program for mid- to low-priced accommodations in Korea, are other accommodations that international tourists can trust.
Related websites
☞ Incheon Int'l Airport
☞ Incheon Int'l Airport Cyber Airport
☞ Asiana Airlines homepage
☞ Korean Air homepage

Accommodations
☞ Hotels
☞ Temple Stay
☞ Hanok Stay
☞ Koreastay
☞ GoodStay
☞ BENIKEA