Welcome to Korea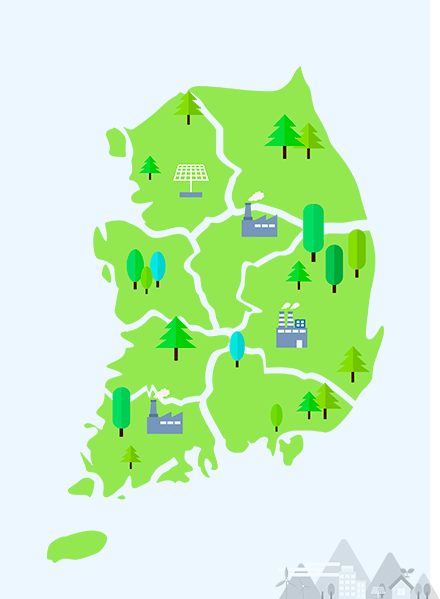 South Korea
The territorial area of South Korea, whose capital is Seoul, is 100,266 ㎢ (2017) and the population is about 51.74 million (2017). The global economic scale ranks 12th and national income per person is $27,632 (2017). Staple export products are semiconductors, automobiles, ships, mobile communication equipment, appliances, steel, and chemicals. The major enterprises are Samsung Electronics, Hyundai Motors, POSCO, LG Electronics, and Hyundai Heavy Industries. The number of Internet subscribers reaches 20 million (2017) and is a digital powerhouse with the world's number-one broadband penetration rate and world-class mobile communication infrastructure.
Investment Environment
Foreign investors and overseas investment companies are treated equally as Koreans or domestic companies in business management. They are guaranteed to freely invest, being allowed to purchase domestic land regardless of their uses as long as they report their intentions to purchase them and to repatriate their profits.
The Korean government consistently makes every effort to strengthen the publicity campaign to attract foreign visitors and foreign investment as well as the training of hospitality and tourism professionals and the development of cultural tourism products.
In addition, the government ceaselessly improves the foreign investment environment by expanding their domestic and international transportation network and improving local living conditions to entice foreign investors.
Merits of Investment Environment
The government has positively attracted foreign investments by establishing the Foreign Investment Attraction Law and enforcing the overall open-door policy since the foreign currency crisis in 1997. On the 10th anniversary of the political transformation for foreign direct investment, the government hopes for the extension of attracting foreign investment of high-value products and provides various incentives such as tax exemptions and reductions, aid in the initialization of foreign business locations, and financial support.
The Others
The government deregulates overseas remittance and tax exemption for the liberalization of investment, supports real estate purchases, and the development of investment areas through expedited administration services and stimulation of the tourism industry by strengthening various incentives.