Tourism Investment Structure
Development Types
A. Types of Investor
Investors in tourism development can be broken in three groups: public entities, private enterprises, and residents, and the investment can be in six types according to the composition of investors: sectors 1 and 2 of one group, sectors 3, 4, and 5 of one more than two groups, and joint investment of all of groups.
There is a growing movement for one more than two investors to involve in a tourism project due to the high costs.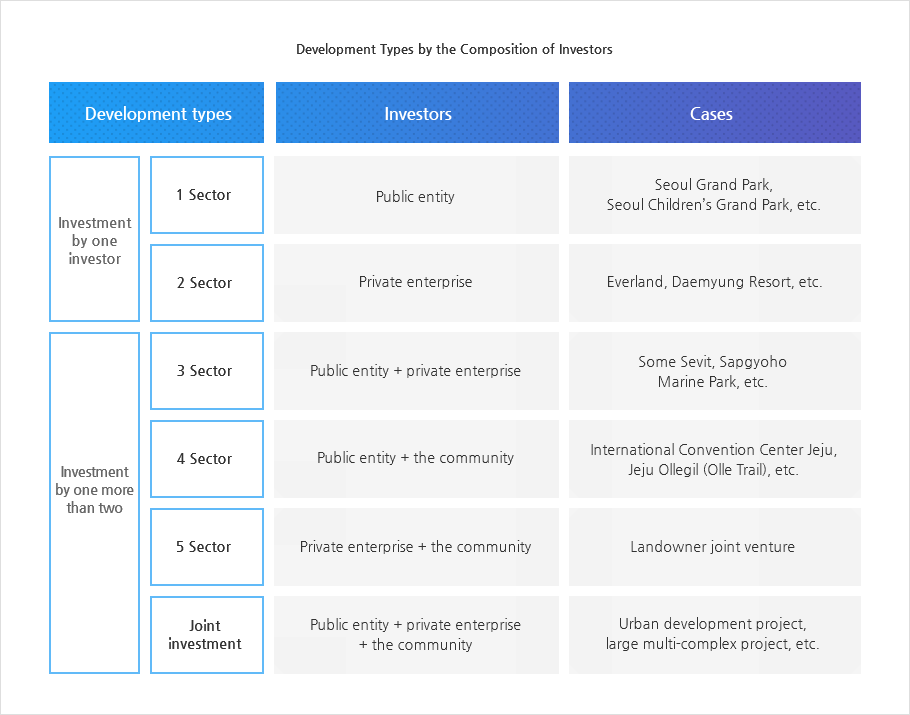 Development types

Investment by one investor

Investment by one more than two investors

Sector 3
Sector 4
Sector 5
Joint investment

Investors

Public entity
Private enterprise
Public entity + private enterprise
Public entity + the community
Private enterprise + the community
Public entity + private enterprise + the community

Cases

Seoul Grand Park, Seoul Children's Grand Park, etc.
Everland, Daemyung Resort, etc.
Some Sevit, Sapgyoho Marine Park, etc.
International Convention Center Jeju, Jeju Ollegil (Olle Trail), etc.
Landowner joint venture
Urban development project, large multi-complex project, etc.
B. Investment by Investor Type
1) Foreign Investor
Foreign investment companies that already has a presence in Korea are mainly pension fund companies, investment banks, and real estate private fund companies.
Foreign investor usually makes profits from managing the assets they found in Korea and bought with headquarters' approval or from selling the assets after increasing the value through remodelling, if required.
Related entities: Principal investment companies (e.g. Singapore's sovereign wealth fund and the US's GE Real Estate, etc.) and private equity fund companies (eg. the US's Morgan Stanley and Merrill Lynch Real Estate Fund, Inc., etc.)
2) Institutional Investor
Institutional investor is an entity that pools money to purchase stocks, real estates, and bonds or be engaged in M&A transactions.
Institutional investor in selling tourist facilities usually is engaged in equity investment (EQ) in tangible property like hotel or tourism development project or project finance (PF).
Related entities: Associations of pension funds and mutual benefit associations (e.g. National Pension Service, Teachers' Pension, Government Employees Pension Service, Korean Teachers' Credit Union, Public Officials Benefit Association, Military Mutual Aid Association) and commercial banks, insurance companies, etc.
3) Securities Company
- Securities company mainly makes real-estate investment or grants loans and offers financial consulting service.
Investing in special purpose company (SPC) established for tourism development project or project finance, organizing a syndicate with other financial institutions to reduce the risk.
Offering financial consulting service on behalf of business owner from the start to the completion of a project, including establishing a financial structure, financing, organizing a syndicate, etc.
- Related entities: Project finance or real estate development team of commercial securities companies.
4) Asset Management Company
Asset management company invests its clients' pooled fund and it distributes investment returns to them.
Asset management companies are classified as collective investment companies and called as ○○ Asset Management or ○○ Investment Management by 「Capital Market & Financing Investment Act」.
Asset management company usually finds and valuates investments, offers information memorandum (IM), and sets up and operate clients' fund.
Related entities: Woori Asset Management Co., KB Asset Management Co., etc.
5) Development Company
Development company is one that establishes a development plan, buys land, obtain licenses, does construction works, and sell the developed property to others.
Most of construction companies runs their own development company to win a construction contract.
Development company mainly plans a development, conducts a preliminary feasibility study, find an area for development, assesses the project feasibility, buys land, develop or design a product, obtain licenses, attracts a constructor or investor, does construction works, performs promotional activities, etc.
Related entities: ShinYoung Group, SK D&D, Cheongwon Construction Co., Ltd., Cykan Holdings Co., Ltd., etc.
6) Tourism Development Company
Tourism development company is one that develops a new tourism business or buys an existing one, and operates it.
Direct development encompasses activities from land purchase, licensing, and financing to construction.
Master lease contract allows the company to have a long lease of a business developed by other companies or held by asset management companies.
Related entities: : Daemyung Resort, Phoenix Park, Hanwha Resort, Resom Resort
7) Construction Company
Construction company invests in tourism development projects for the purpose of winning a construction contract or is engaged in credit exposure in project financing.
Construction company invests in special purpose company (SPC) or project financing vehicle (PFV) established for tourism development project, and then wins a construction contract.
While project financing based on business prospect of a project is too seldom found in Korea, it usually accompanies credit exposure on the premise that construction company wins a construction contract.
Construction company's credit exposure includes debt assumption, guaranteed payment of the principal and interest, completion guarantee, guaranteed sales, etc., and the extent of credit enhancement varies depending on the project conditions, construction company's credit rating, and project feasibility.
Related entities: Lotte Engineering & Construction Co., Ltd, Sambu Construction Co. Ltd., etc.
Financing Methods
A. Project Finance (PF)
1) Outline of Project Finance
Project finance is the financing of projects based on the assets of the project like its cash flows rather than the credit rating of a developer.
Generally, a special purpose company (SPC) is established for a project, thereby securing the independence of the project from business owners.
Capital supply is made in forms of share participation or loaning and financial expenses are paid by business owner. Other investors are in charge of damage(taking over principal and interest) until the termination of business.
Financing of a project consists principally of equity allocating this to equity investors including a business owner.
2) Project Finance Structure
The typical project finance structure is generated from an investment contract between strategic investors of a special purpose company (SPC) and financial investors, and especially it is normal to secure the rights to the business after signing of an enforcement agreement with the government for investments in social overhead capital (SOC).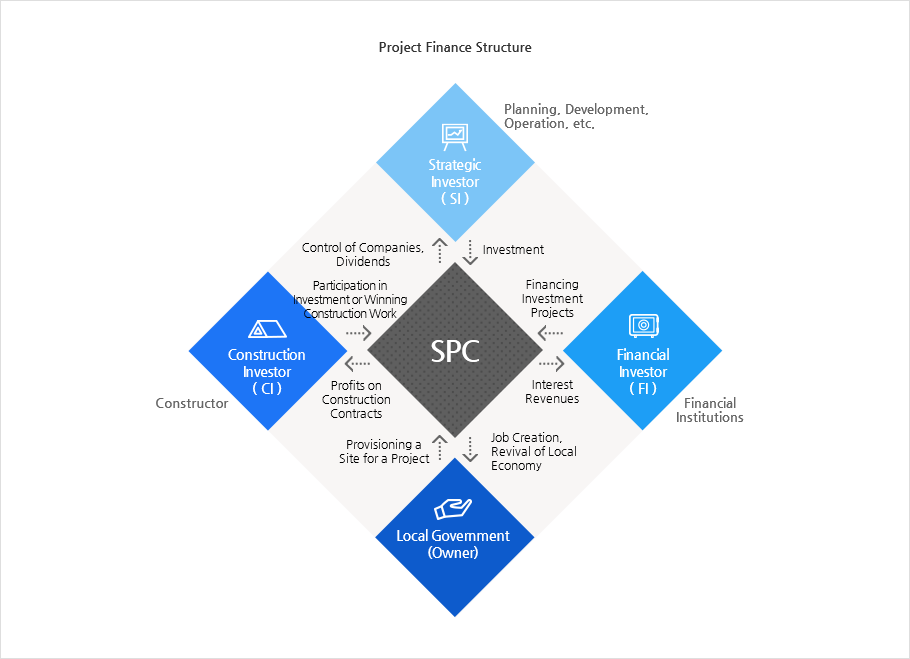 B. Syndicated Loan
1) Outline of Syndicated Loan
- A syndicated loan is provided by a group of lenders and is structured, arranged, and administered jointly by multiple financial institutions (e.g. commercial banks or investment banks) known as lead arrangers to share the risk involved.
* A syndicated loan is usually arranged when several financial institutions are engaged in large-scale lending while a lead arranger joins a group of lenders, especially it is essential to fund large projects.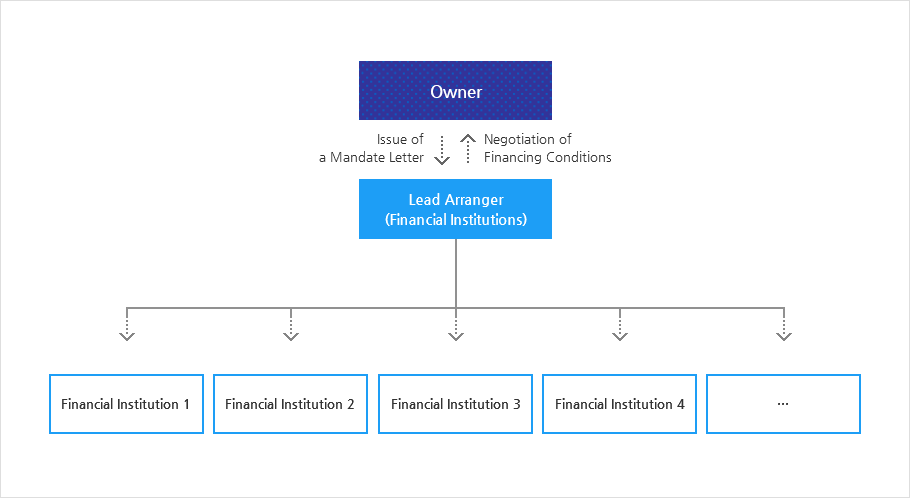 2) Advantages of Syndicated Loan
① Large financing amounts
A syndicated loan is mainly used in extremely large loan situations.
A lead arranger organizes a group of lenders after singing the agreement of loan conditions with a leader lender and underwriting the loan or organizing and underwriting a group of arrangers to mitigate the risk for the total amount of the underwriting.
The best-efforts syndication is a bank loan financing commonly used in development projects, and where an agent bank agrees to do its utmost for the issue of a commitment letter (also called a mandate letter), and then organizes a group of lenders.
② Long financing terms
The typical financing term for a syndicated loan is five years because it can meet more frequently borrower's demand for the long-term financing of infrastructure and industrial projects.
The longest term of a national syndicated loan for private investment in infrastructure is 20 years.
The long financing terms makes a lender transfer a loan to another financial institutions.
A syndicated loan is not redeemed in a single payment, but in installments after a grace period that is a time when payments are not required, but interest is calculated.
③ The Same Loan Agreement and a Bank to Manage the Loan
In a syndicated loan, all of financial institutions sign the same loan agreement.
After a loan agreement is signed, one bank is commonly appointed as the agency bank, on behalf of the syndicate members, that is responsible for withdrawal, repayment of principal with interest, post-loan management and so on.
C. REIT
1) Outline of REIT
A REIT (real estate investment trust) is a company that invests in real estate and pays out the profits to investors, and introduced in the country in July of 2001.
2) Purposes of REIT
REITs help avoid a liquidity crisis of companies and financial institutions and them rebuild their bottom line by buying real estate from them.
REITs help boost construction demand and facilitate a slow real estate market by marketing rental houses, offices, distribution facilities, hotels, etc. and funding construction companies.
REITs have small investors get an opportunity to invest in large real estate, and help provide rental housing under various conditions.
REITs help make a slow real estate market more transparent by attracting sound investors, not speculators, and then increase specialized jobs in investment consultation, appraisal, and management of real estate instead of the image speculators.
D. ABS and ABCP
1) ABS
An asset-backed security (ABS) is a bond typically issued by a special purpose company (SPC) and backed by financial assets, and its maturity is typically 1~3 years.
2) ABCP
An asset-backed commercial paper (ABCP) is a short-term note that is collateralized by other financial assets, and issued by a special purpose company that issues commercial paper (CP), and its maturity is typically 90 days.
The Comparison of Financing Options for Real Estate Investment
The Comparison of Financing Options for Real Estate Investment

| | Pros | Cons |
| --- | --- | --- |
| Loans | The relationship between a creditor and a debtor is distinct. | Debtor's failure in his other business has an impact on all of players. |
| Real Estate Project Financing (PF) | Debtor's failure in his other business will have less impact. | It is impossible to collect debts if a project loses economic viability. |
| ABS | Early payments on the initial loan makes it easy to attract more loans. It is possible to impose the investment risk to other financial institutions that undertake ABS. | Debtor's failure has an impact on other financial institutions that undertake ABS as well as the initial lender. |
| ABCP | Since ABCP has a shorter maturity date and simple conditions than ABS, it is easy to issue ABCP and secure funds. | If ABCP reaches maturity before a project has cash flow, it is impossible to issue refunding bonds. |
E. Real Estate Funds
Real estate funds are investment trusts that are founded by real estate professionals or experts to manage property or real estate for the investor, and mainly focus on investing in securities offered by public real estate companies.
According to 「Capital Market and Finance Investment Business Act」, it is defined as a collective investment scheme that invests the collective investment property in real estate in excess of the ratio prescribed by Presidential Decree, which shall be more than 40/100 of the collective investment property.
F. Land Owner Financing
1) Outline of Land Owner Financing
Land owner financing is a loan provided by the owner of a property, not financial institutions like commercial banks or mortgage companies for financing investments in tourism facilities, especially purchasing real estate including land and buildings.
2) Methods of Land Owner Financing
Installment Payments: The agreement is made between a buyer and a seller that a buyer repays by installments or on a deferred payment plan, the money expended in purchase of real estates like land or buildings, or if necessary, the land owner is given some incentives like participation in the development project.
when the current owner of a business provides a loan to the new buyer to cover a portion of the purchase price.
Land Owner Joint Business: The owner of land or a building purchases a stake in a special purpose company through investment-in-kind.
Replotting: When the land for new tourism facilities has complex ownership structures and falls into various land categories, a small percentage of the land in a changed land category is replotted to the land owner after the site construction is completed, and it is used in urban development projects.