* Some attractions subject to closure or limited entrance due to COVID-19. Please check before visiting.
Day 1
110:00 AMRoyal Guard Changing Ceremony at Gyeongbokgung Palace

212:00 PMDosirak Café experience at Tongin Market

31:30 PMA charming stroll through Seochon Village

42:40 PMTour of Samcheongdonggil Road

54:00 PMTour of Bukchon Hanok Village

65:30 PMSightsee and enjoy a cup of traditional tea at Insa-dong

77:00 PMNight scene and dinner at Jongno



10:00 AM, Royal Guard Changing Ceremony at Gyeongbokgung Palace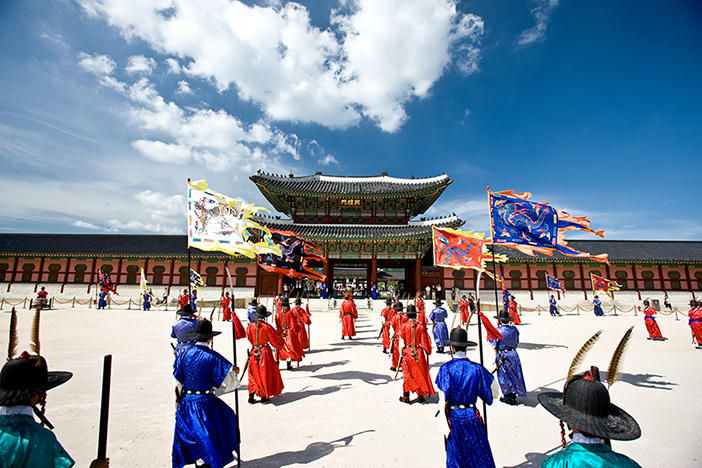 【 Photo: Royal Guard Changing Ceremony at Gyeongbokgung Palace 】
First on the itinerary is a visit to Gyeongbokgung Palace! It is the largest royal palace of the Joseon dynasty. Gyeongbokgung Palace is most notably characterized by the extensive palace grounds and an orderly arrangement of the palace buildings.

The greatest highlight of Gyeongbokgung Palace is the Royal Guard Changing Ceremony. It takes place twice a day, every day at 10:00 and 14:00, except on Tuesdays. The ceremony lasts for 20 minutes per session, so be on time to witness this noteworthy event. Once the ceremony is over, travel back in time by taking a tour of the palace, learning more about life in the royal palace during Joseon dynasty.
Gyeongbokgung Palace
Address: 161, Sajik-ro, Jongno-gu, Seoul (서울특별시 종로구 사직로 161)
Operating hours
March-May, September-October 09:00-18:00
June-August 09:00-18:30
November-February 09:00-17:00
* Last admission is 1 hr before closing
* Closed Tuesdays
* Operating hours are subject to change. Please visit the official website before visiting.
Admission: Adults 3,000 won / Children 1,500 won
* Free admission for preschoolers, senior citizens, and visitors in hanbok.
* Adults (ages 19-64) / Children (ages 7-18) / Preschoolers (ages 6 and younger) / Senior citizens (ages 65 and older)
Website: www.royalpalace.go.kr (Korean, English)
12:00 PM, Dosirak Café Experience at Tongin Market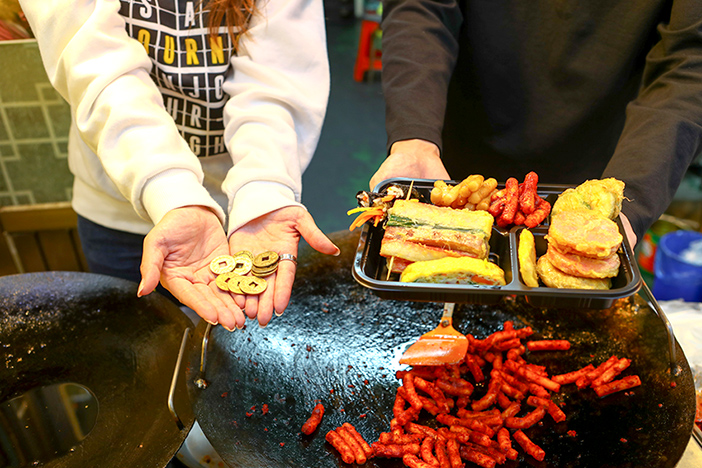 【 Photo: Food and yeopjeon at Tongin Market 】
If you get hungry after visiting Gyeongbokgung Palace, then it's time to head to Tongin Market. The market is especially famous for its gireum tteokbokki (stir-fried spicy rice cakes) and tteok galbi (grilled short rib patties). While you are here, make sure to visit "Dosirak Café," or the "Lunchbox Café." It is a fun culinary experience unique to Tongin Market, offering visitors the opportunity to pick and enjoy a wide variety of menu items by using traditional brass coins called yeopjeon.
Tongin Market
Address: 18, Jahamun-ro 15-gil, Jongno-gu, Seoul (서울특별시 종로구 자하문로 15길 18)
Operating hours (Dosirak Café): Tuesday-Sunday, public holidays 11:00-17:00
* Closed on Mondays and every third Sunday of the month
Price (Dosirak Café): Approx. 5,000 won per person (Yeopjeon coins are available for purchase from the market's Customer Service Center 2F)
Website: www.tonginmarket.co.kr (Korean, English, Japanese, Chinese)
1:30 PM, A Charming Stroll through Seochon Village
【 Photo: Seochon street 】
【 Photo: Seochon street 】
【 Photo: Daeo Bookstore (Credit: Seoul Tourism Organization) 】
After an enjoyable lunch at Tongin Market, take a short walk to the nearby Seochon (literally translates to "western village"). It is a delightfully charming neighborhood located to the west of Gyeongbokgung Palace, which is how the name originated. The hanok houses here have a different charm from than those in Bukchon Hanok Village, blending in well with modern buildings that have sprang up throughout the village over the years. Among the buildings that withstood the test of time is Daeo Bookstore. This bookstore, now also a café, is already a popular tourist attraction among K-pop fans thanks to a visit from BTS member RM as well as being featured in IU's album cover. It was also used as a filming site for the Korean drama "Don't Look Back (2013)."
Seochon Village
Address: Area of 16, Jahamun-ro 6-gil, Jongno-gu, Seoul (서울특별시 종로구 자하문로6길 16 일대)
2:40 PM, Tour of Samcheongdonggil Road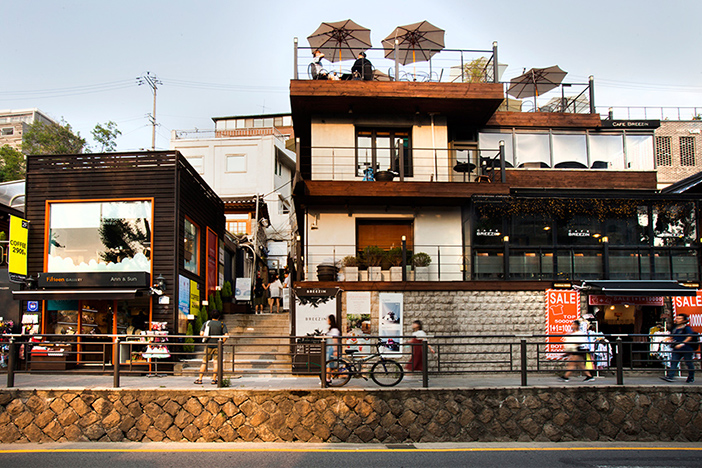 【 Photo: Samcheongdonggil Road】
Samcheong-dong is a quaint neighborhood made up of traditional Korean-style buildings with an addition of modern touch. This photogenic neighborhood will make it hard for you to put away your camera. The beautiful murals and charming accessories will seize your attention, while even the ordinary flower stalls and small coffee shops make great backdrops for taking pictures. An hour will fly by as you stride your way through the alleys, making you feel as if you are in a gallery!
4:00 PM, Tour of Bukchon Hanok Village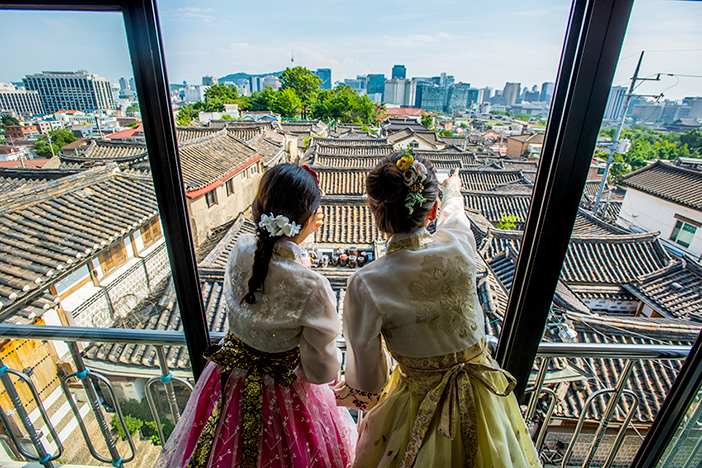 【 Photo: Bukchon Hanok Village 】
Bukchon Hanok Village is a major traditional Korean residential area in Seoul, as well as a beloved tourist spot that showcases traditional Korean style and living. During the Joseon dynasty, high-ranking government officials and nobles dwelled in this neighborhood. Visitors can immerse in the beauty of traditional architecture and the fun of exploring through the alleys. While at Bukchon Hanok Village, take some time to explore the Eight Scenic Views of Bukchon, the eight most scenic viewpoints that offer Bukchon's unique charm and beauty.
Bukchon Hanok Village
Address: 37, Gyedong-gil, Jongno-gu, Seoul (서울특별시 종로구 계동길 37)
Operating hours: Monday-Saturday 10:00-17:00
* Closed Sundays
Website: hanok.seoul.go.kr (Korean, English, Japanese, Chinese)
5:30 PM, Sightsee & Enjoy a Cup of Traditional Tea at Insa-dong
【 Photo: Insa-dong's Ssamziegil 】
Insa-dong is a unique area of Seoul, packed with traditional teahouses and handicraft shops along the main road and within the narrow alleys. The highlight here is none other than the shopping complex, otherwise known as Ssamziegil! A rather peculiar-looking building that resembles the shape of the Korean alphabet "ㅁ," it is considered the most ideal place for international tourists to purchase souvenirs or take memorable pictures. After looking around Ssamziegil, do not forget to drop by one of the nearby teahouses to have a traditional Korean tea experience.
Insa-dong
Address: 62, Insadong-gil, Jongno-gu, Seoul (서울특별시 종로구 인사동길 62)
Operating hours: 10:30-20:30
* Closed on the day of Seollal (Lunar New Year's Day) & Chuseok (Korean Thanksgiving Day)
* Closing hours vary by store after 18:00 due to COVID-19.
Website: blog.naver.com/ssamzigil (Korean only)
7:00 PM, Night Scene and Dinner at Jongno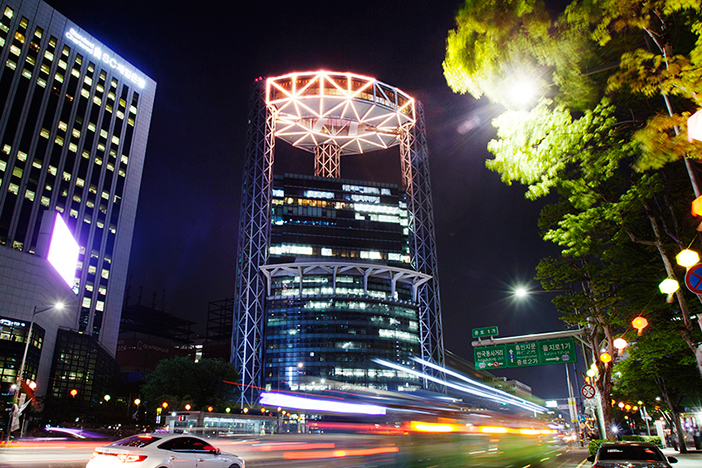 【 Photo: Night scene of Jongno 】
Wrap up your first night in Seoul by enjoying the night scenes and dining in the Jongno area. The brilliantly lit city lights and high-rise buildings that seem to reach the sky create a fabulous atmosphere. Moreover, you can find here the Bosingak Belfry, a symbolic landmark of Seoul where the New Year's bell-ringing ceremony takes place every year. After immersing in the night atmosphere, head down to the Jongno Youth Street near Jonggak Station. Diverse restaurants are clustered in the area, offering a wide variety of cuisines to choose from.
Bosingak Belfry
Address: 54, Jong-ro, Jongno-gu, Seoul (서울특별시 종로구 종로54 보신각)

Jonggak Youth Street

Address: Area of Gwancheol-dong, Jongno-gu, Seoul (서울특별시 종로구 관철동 일대)
Day 2
110:00 AMView of Seoul from Jeongdong Observatory and lunch nearby

21:00 PMPhoto time at Gwanghwamun Square

32:30 PMStroll along Cheonggyecheon Stream

44:00 PMShopping in Myeong-dong

56:30 PMNight view of city lights and dinner at Namsan Seoul Tower









10:00 AM, View of Seoul from Jeongdong Observatory and Lunch Nearby
【 Photo: Scenic view of Seoul from Jeongdong Observatory (Credit: Seoul Metropolitan Government) 】
Start off the second day of sightseeing in Seoul with a cup of coffee in the morning at the Jeongdong Observatory. Situated on the 13th floor of Seoul City Hall's Seosomun building, the observatory offers a bird's-eye-view of Deoksugung Palace and the palace grounds. The observatory has a small café inside, allowing visitors to relax and enjoy the view over a cup of coffee or tea. After looking around, enjoy lunch at any of the popular restaurants nearby.
Jeongdong Observatory
Address: 15, Deoksugung-gil, Jung-gu, Seoul (서울특별시 중구 덕수궁길 15)
Operating hours: Weekdays 09:00-21:00 / Weekends & public holidays 09:00-18:00
1:00 PM, Photo Time at Gwanghwamun Square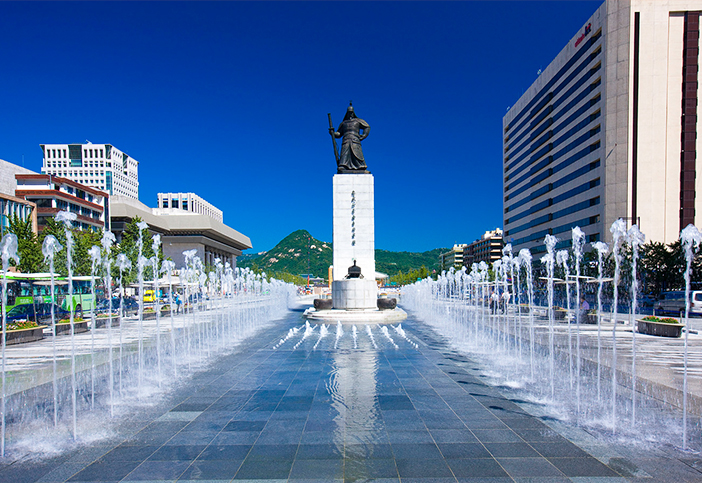 【 Photo: Gwanghwamun Square (Credit: Seoul Metropolitan Government) 】
Gwanghwamun Squareis a street of culture that was redesigned in the heart of the city to create a global spot that restores the sights of old Seoul with its 600-year history. At the plaza, statues of Admiral Yi Sun-shin and King Sejong the Great (4th king of the Joseon dynasty), two of the most well-known influential figures in Korean history, can be seen. In addition, the square's dry fountain will operate from June to October. The fountain's official name is 12.23 Fountain, given in honor of Admiral Yi's twelve battleships used to defeat 133 enemy battleships in the Battle of Myeongnyang and his 23 battle victories. If time allows, stop by the underground exhibition hall at Gwanghwamun Square to learn more about the stories of King Sejong and Admiral Yi. The exhibition is free and leaflets are available in English, Chinese, Japanese and Spanish.
Gwanghwamun Square
Address: 172, Sejong-daero, Jongno-gu, Seoul (서울특별시 종로구 세종대로 172)
The Story of King Sejong, The Story of Admiral Yi Sun-shin
- Operating hours: Tuesday–Sunday 10:00-18:30 (Last admission 18:00)
* Closed Mondays; if Monday falls on a public holiday, it will be closed the next business day instead.
Website: www.sejongstory.or.kr (Korean, English)
2:30 PM, Stroll along Cheonggyecheon Stream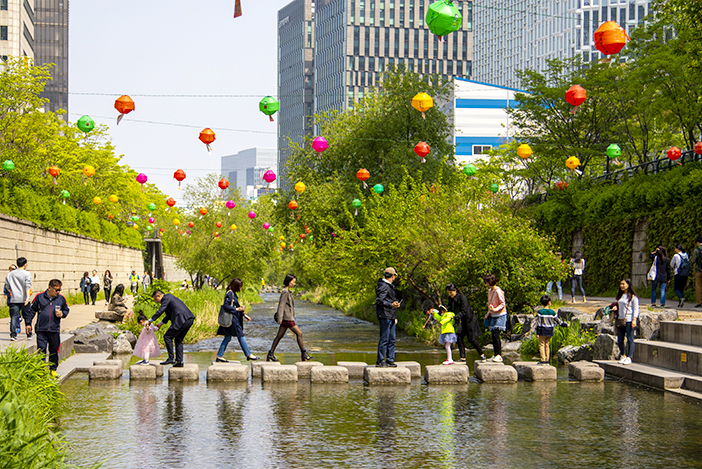 【 Photo: Cheonggyecheon Stream(Credit: Seoul Metropolitan Government) 】
Cheonggyecheon Stream is Seoul's best-known stream that cuts through Jongno and Junggu areas. Along the stream is a 12-kilometer-long path where people can leisurely stroll while listening to the gentle sounds of the flowing water. Visitors can also throw in a coin and make a wish at Palseokdam, Cheonggyecheon's wishing well.

Cheonggyecheon Stream becomes even more beautiful around Buddha's Birthday celebration and Seoul Lantern Festival period with colorful lanterns and decorations adorning the area. Buddha's Birthday is celebrated on April 8 of the lunar calendar and Seoul Lantern Festival takes place in November every year, offering a wonderful evening sight to visitors walking along Cheonggyecheon Stream during those festive periods.
4:00 PM, Shopping in Myeong-dong
【 Photo: Major shopping hub, Myeong-dong 】
With rows of shopping buildings lined along every street, Myeong-dong is one of Seoul's major shopping districts. Majority of the visitors consist of international tourists and young adults in their twenties and thirties. Myeong-dong's main street stretches for approximately 1 kilometer, starting from Myeong-dong Subway Station (Seoul Subway Line 4) and leading up to Lotte Department Store at Euljiro1(il)-ga Station (Seoul Subway Line 2). When setting off from Cheonggye Plaza, Lotte Young Plaza can be marked as the starting point. Myeong-dong is packed with numerous brand name shops, duty free stores and department stores, making it ideal for at least one to two hours of shopping.
Myeong-dong
Address: 66, Eulji-ro, Jung-gu, Seoul (서울특별시 중구 을지로 66)
Inquiries (Myeong-dong Tourist Information Center): +82-2-778-0333 (Korean, English, Japanese, Chinese)
6:30 PM, Night view of City Lights and Dinner at Namsan Seoul Tower
【 Photo: Seoul's night landscape viewed from Namsan Seoul Tower 】
Finally, finish your day at Namsan Seoul Tower, a landmark of Seoul, to take in the city's nightscape. Even though Namsan Seoul Tower is a major attraction itself, the premises offers much more to see and do, namely the Roof Terrace, where padlocks symbolizing unfailing love cover the terrace fences, and the Digital Observation Deck that unfolds a panoramic view of Seoul. Several restaurants can also be found within the area that doubles the enchanting ambience. Diners can take in the stunning night view of the city while enjoying a delightful meal at one of the restaurants here.
Namsan Seoul Tower
Address: 105, Namsangongwon-gil, Yongsan-gu, Seoul (서울특별시 용산구 남산공원길 105)
Operating hours (Observation deck): Weekdays 12:00-21:00 / Weekends & public holidays 11:00-21:00
Admission (Observation deck): Adults 16,000 won / Children & senior citizens 11,000 won
* Adults (ages 13-64) / Children (ages 3-12) / Senior citizens (ages 65 and older)
* Free of charge for preschoolers ages 2 and younger
Website: www.seoultower.co.kr (Korean, English, Japanese, Chinese)