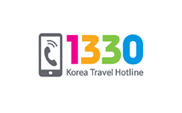 <1330 Korea Travel Hotline & Complaint Center >
1330 Korea Travel Hotline, operated by Korea Tourism Organization (KTO), is a one-stop helpline available as a public service for local and international travelers. For any inquiries or complaints relating to Korean tourism, either beforehand or during your stay in Korea, you can seek assistance here as well.


1330 Korea Travel Hotline
Knowledgeable and helpful staff provide assistance in Korean, English, Japanese, or Chinese to ensure each caller has a worry-free travel experience. The KTO's 1330 Korea Travel Hotline provides information and services for most regions of Korea as well as interpretation services.
Exclusive Travel Information
Certified travel specialists provide detailed information on attractions, transportation, accommodations, shopping, festivals, events, and more!
Multilingual Assistance
Trained specialists provide assistance for international visitors in Korean, English, Japanese, and Chinese.
24/7 Service
The 1330 Korea Travel Hotline is open 24 hours a day, 7 days a week, so visitors can rest assured knowing there will always be a qualified professional to answer their call.
Emergency and Related Service
In order to assist travelers with immigration, safety and medical needs, tourist complaints, and other concerns, 1330 can connect callers to the 1345 Ministry of Justice Call Center, 119 Emergency Rescue Service, KTO Complaint Center, and other related call centers.
Tourist Complaint Center
Did you experience any inconveniences while travelling in Korea? The Korea Tourism Organization is here to help you. Please let us know about any inconveniences, suggestions or compliments you had during your stay in Korea. We will do our best to create an optimal tourism environment for your enjoyment and satisfaction.
What is a tourist complaint?
It is reporting any illegal, wrongful, or unkind acts, among other things that a tourist in Korea witnessed or experienced in using any facilities or means for tour.
Complaints we handle
- Tourist-to-business disputes; any illegal or wrongful acts you witnessed or experienced while using businesses in the tourism industry, facilities and transportation means used by tourists.
- Unkind behaviors and other wrongful acts of the employees of tourism-related businesses.
- Questions about tourism-related acts and subordinate statute, notification and established rules.
- Comments, compliments or words of appreciation for the development of tourist administration.
* Complaints we do not handle
How to submit a tourist complaint
- Website: www.touristcomplaint.or.kr (Korean, English, Japanese, Chinese)
- Phone: 1330 (in Korea), +82-2-1330 (from overseas)
<1. Landline>
Dial 1330. You will be able to speak to an operator after choosing a language
Service Charge: Local phone charges only.
In Korea1330 (without area code)
From Abroad+82-2-1330

Language selection For Korean, press 1
For English, press 2
For Japanese, press 3
For Chinese, press 4

Speak to a 1330 operator
<2. Skype>
Make a toll-free call to the 1330 Korea Travel Hotline through Skype by clicking the Skype button below. After choosing your desired language, your call will be directed to an operator.
Download and sign up at skype.com

Click the Skype button below to call 1330

Language selection

For Korean, press1

For English, press2

For Japanese, press3

For Chinese, press4

* Use the numeric keypad to choose your language

Download and sign up at skype.com
→ To use the service, you need to download and install Skype
→ Download and sign up for Skype: http://www.skype.com
This page was last updated on November 15, 2016, and therefore information may differ from what is presented here.