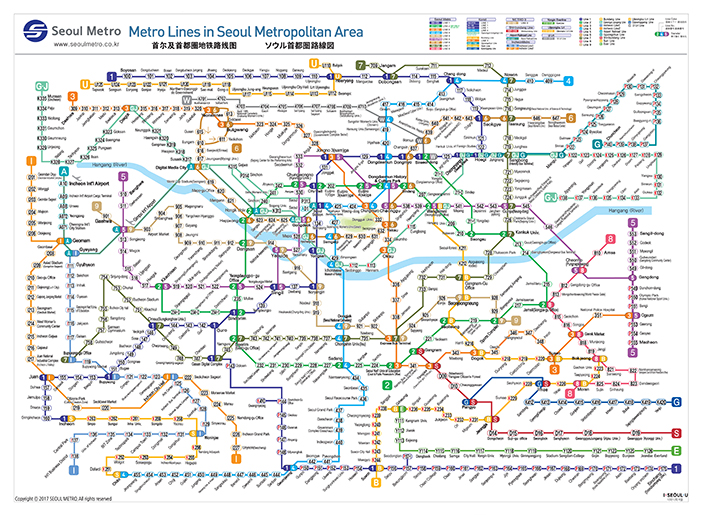 【 Photo: Seoul Metropolitan Subway Map courtesy of Seoul Metro】
Subways serve as a convenient mean of transportation, probably the most favored public transportation by both Koreans and international visitors. Subways are currently available in five major cities including Seoul Metropolitan Area, Busan, Daegu, Gwangju and Daejeon. Seoul Metropolitan Area subway system rank the top in terms of size and number as it centers the city from Line 1 to 9 with additional lines, such as Sinbundang Line, Gyeongchun Line, Gyeongui Jungang Line, Ever Line, Uisinseol Line, etc., branching throughout the metropolitan area. In addition, the subway lines are color-coded for convenience, allowing passengers to use the subway with ease.
Seoul Metropolitan Subway Map (Courtesy of Seoul Metro)
Subway Fares by Region
Seoul Subway Fares (as of July 31, 2017)

| Basic Fare | Transportation payment equipped card (T-money) | Single journey ticket |
| --- | --- | --- |
| Adults (age 19 and older) | 1,250 won | 1,350 won |
| Teens (age 13-18) | 720 won | 1,350 won |
| Children (age 7-12) | 450 won | 450 won |
Basic fare applies to travel distance of 10 km or less.
Additional 100 won applies for every 5 km for travel distance of 10~50 km, and 100 won for every 8 km for travel distance over 50 km.
Children age 6 and under are free of charge.
Subway fare system differs by region (as of July 31, 2017).
Busan Subway Fares
When paid with transportation cards:
Adults - 1,300 won for Section 1 / 1,500 won for Section 2
Teenagers - 1,050 won for Section 1 / 1,200 won for Section 2
Children – 650 won for Section 1 / 750 won for Section 2

Single journey tickets:
Adults - 1,400 won for Section 1 / 1,600 won for Section 2
Teenagers - 1,150 won for Section 1 / 1,300 won for Section 2
Children – 700 won for Section 1 / 800 won for Section 2

* Fare structure: Section 1 (within 10.5 km) / Section 2 (exceeding 10.5 km)
Daejeon Subway Fares
When paid with transportation cards:
Adults - 1,250 won for Section 1 / 1,350 won for Section 2
Teenagers - 880 won for Section 1 / 960 won for Section 2
Children – 550 won for Section 1 / 600 won for Section 2
Single journey tickets:
Adults - 1,400 won for Section 1 / 1,500 won for Section 2
Teenagers - 1,400 won for Section 1 / 1,500 won for Section 2
Children – 600 won for Section 1 / 650 won for Section 2

* Fare structure: Section 1 (within 10.5 km) / Section 2 (exceeding 10.5 km)
Daegu Subway Fares
When paid with transportation cards:
Adults - 1,250 won
Teenagers - 850 won
Children – 400 won
Single journey tickets:
Adults - 1,400 won
Teenagers - 1,400 won
Children – 500 won
Gwangju Subway Fares
When paid with transportation cards:
Adults - 1,250 won
Teenagers – 900 won
Children – 500 won
Single journey tickets:
Adults - 1,400 won
Teenagers - 1,400 won
Children – 500 won