There is a train pass sold by Korea Railroad Corporation (KORAIL) for foreign visitors or foreign residents of Korea. These special tickets will allow unlimited travel on KORAIL-managed trains for a certain time period. There are no limits on the number of times you can travel or where you can travel during the duration of your pass. The pass may also give you additional discounts on accommodations and tourist attractions, helping you enjoy more of Korea!
1. KORAIL Pass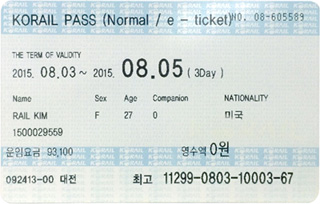 The KORAIL Pass (also known as KR Pass) is exclusively for the foreign travelers' use. Each pass may only be used within the designated period of time, as specified by each ticket type which will be introduced below.

The KORAIL Pass holders can make use of all railroad service offered by KORAIL (including the high speed KTX trains), following the usage period. One can choose to have the days from a single day to maximum of seven days in total, though, frequency of travel or the travel areas are not restricted. Please however, do note that terms and conditions of use may be limited depending on traveling period, such as during national holidays and/or summer vacation seasons, and may also require additional charge when boarding.
• Types
Normal Pass: Passengers over age 26.
Youth Pass: International Student ID card holders age between 13-25
Saver Pass: Group passengers of 2-5 people

• Limitation of use
Applicable for regular trains (KTX, KTX-Sancheon, ITX-Saemaeul, Saemaeul, Mugunghwa, Nuriro, commuting trains) and 5 tourist trains (O-Train (Central Inland Region Tour Train), A-Train (Jeongseon Arirang Train), S-Train (Namdo Sea Sightseeing Train), G-Train (West Gold Train), DMZ-Train)
※ The pass is not eligible for use on first class seats, subways or other touring trains not aforementioned.
• Purchasing process
Ticket prices for KORAIL Pass will vary depending on the age group and terms of use applies. Travelers may purchase a KORAIL Pass voucher (e-ticket) from overseas distributors or from the KORAIL's official website. Travelers booking the pass online will receive an e-ticket, which must be exchanged for the pass upon arrival in Korea. In case of no reservation before arriving in Korea, you can still purchase a voucher for the pass at appointed travel agencies available in Korea.

- To know more about KORAIL Pass, go to www.letskorail.com.
(Korean, English, Japanese, Chinese)
• Exchanging ticket sales
- Incheon Airport Railroad Information Center: 09:00-21:30 (open all year round)
- Seoul Station: 09:00-18:00 (open on weekdays / closed on weekends & holidays)
- Busan Station: 09:00-18:00 (open on weekdays / closed on weekends & holidays)
• Note
- At the time of exchange of voucher for the pass ticket, present the passport that was used when making the reservation, e-ticket, and the credit card used for the payment.
- E-tickets must be paid for and exchanged for KR Passes within 180 days of making your reservation, or your reservation will be automatically cancelled. (There are no cancellation fees for e-tickets while a cancellation fee may follow if booked from overseas).
- The KR Pass cannot be reissued if lost.
☞ Inquiries: KORAIL Customer Service Center +82-1599-7777 (English Service Center)
2. Happy Rail Pass
With the Happy Rail Pass, foreigners who live in Korea can freely use all the trains of KORAIL, including the general seats of KTX as well as the Saemaeul and Mugunghwa trains (excluding the subways and tourist trains), without limit in terms of the travel section and count.

For price, reservations, and more details about Happy Rail Pass, go to www.letskorail.com. (Korean, English, Japanese, Chinese)

Information and photo courtesy of KORAIL (Korea Railroad Corporation)
<Last updated on August 31, 2015>