Taxis in Korea, the fastest and most convenient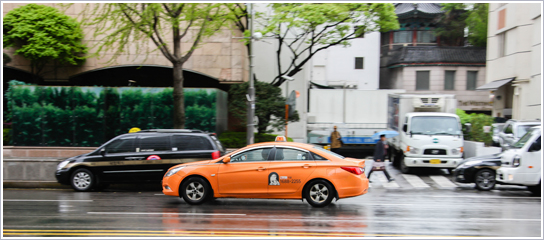 In Korea, there are plentiful of taxis and they are clean, safe, and above all, inexpensive. They can be found at taxi stands in most busy city areas or hailed on the streets. There are also call taxis that can be requested by phone. However, call taxis are slightly more expensive than the taxis you flag down on the street. An increasing number of taxi drivers nowadays speak some English, which may be helpful for first-time visitors.

While virtually all taxis operating in the Seoul area accept credit cards or pre-paid public transportation cards (T-money card), it is possible that some taxis in the outlying or isolated regions may request cash only. Keep this in mind and make sure to have some cash (in KRW) with you if you plan to use a cab in remote areas. The taxi fare is calculated by distance and time. Basic fares can slightly vary from region to region.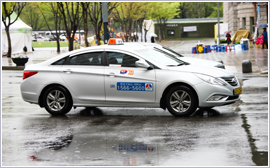 Standard Taxis (mid-size, sedan)
Standard taxis are generally silver, white, or orange. Outside the downtown area, most taxis are of the standard variety, and there are rarely any deluxe or jumbo taxis. The fare may vary by region.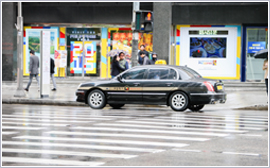 Deluxe Taxis
Called mobeom taeksi (literally "model taxi") in Korean, deluxe taxis are black with a yellow sign on the top. Both sides of the taxi have the Deluxe Taxi sign. They offer slightly more passenger space and a higher standard of service than regular taxis. This means that the basic fare and the fare for additional distance are higher than regular taxis, but there is no late-night surcharge. Deluxe taxis can be found at stands located at hotels, stations, bus terminals, and major city streets.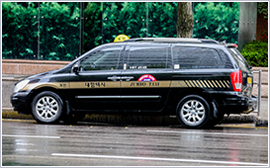 Jumbo Taxis
A van taxi that can accommodate six to ten passengers is also available for larger groups. They provide simultaneous foreign language interpretation by phone, and are equipped with a receipt-issuing device and a credit card reader. Fares are the same as deluxe taxi.

** Note: Because they are quite similar in appearance, a jumbo taxi can often be confused for a call van. A call van charges by size and volume of luggage, and negotiates taxi fare with passengers instead of charging by the meter. If you need a jumbo taxi, do check carefully for the jumbo taxi label on the side of the van.
Differences between call vans and jumbo taxis
Differences between call vans and jumbo taxis
Call Van
Jumbo Taxi
Fares
Negotiable.
(Fares may vary depending on the luggage size/quantity/weight (Minimum weight: 20 kg / Minimum size: 40 cm x 40 cm x 40 cm) and travel distance. Negotiating before getting in the van is highly recommended.)
Fare is the same as deluxe taxis. (Additional charges apply when using a call taxi or taking toll roads.)
Exterior Signage
Watch for "VAN," "CALL VAN," "용달화물," or "콜밴" on the body or top of the car.
The sign "JUMBO TAXI" or "대형" are indicated on the vehicle.
International Taxis
Korea offers special international taxis, which are driven by taxi drivers who can speak one or more foreign languages: English, Japanese or Chinese.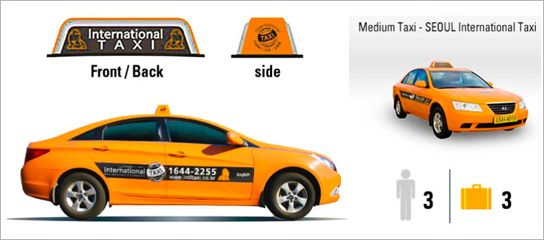 Photo credit: International Taxi (Premium Pass International Co., Ltd.)
ㅇReservation: Make a phone inquiry to the International Taxi Call Center (+82-2-1644-2255) or email to reserve@intltaxi.co.kr
ㅇOperating hours: 24/7 (Call center: weekdays 09:00-18:00 / Saturdays 09:00-13:00). For foreign visitors who have not made the reservation before arrival, visit the service window at Incheon and Gimpo airports to get more information on international taxi and/or to reservations.
ㅇFares: The taxis operate on a reservation basis, and taxi fees can be calculated according to destination choice, which, in case of Seoul, consists of 3 major areas. (by meters – when departing from Gimpo International Airport / by category of three major areas – when departing from Incheon International Airport)
ㅇMethods of payment: Cash, international credit cards (Visa, Mastercard, AMEX, JCB).
ㅇ Location of international taxi information desks at Incheon International Airport and Gimpo Airport
Incheon International Airport:
- Between arrival gate 4 and gate 5 (1st floor)
- Between arrival gate 8 and gate 9 (1st floor)
Gimpo International Airport:
- Between gates 1 and 2 of the International Passenger Terminal (1st floor)
** Note: It is hard to distinguish international taxis by the color of the car only. Watch for the sign on top or the words "International Taxi" on the door.
Call Taxis
A passenger may call for a cab whenever needed, hence the term call taxi. The fare is the same as regular taxis or taxis hailed on the street. However, there is an additional charge of 1,000 won (2,000 won in late-night hours) for the call service. Most call centers only offer services in Korean only, so call the Korea Travel Hotline (+82-2-1330) or Dasan Call Center (+82-2-120) for assistance in English.
Taxi Fares (as of December 9, 2013)
Regular Taxis [mid-size]
Regular Taxis [mid-size]
Basic fare
Region
Additional Fare
by Meter
Details
2,800-3,000won
Varies by region.
Fare calculated by
distance travelled.
In Seoul, Gyeonggi, Incheon and Busan, a surcharge of 20% applies during late-night hours (midnight-4am) and in the suburbs (N/A for other cities).
Deluxe and Jumbo Taxis
Deluxe and Jumbo Taxis
Basic fare
Region
Additional Fare
by Meter
Details
3,200-5,000 won
Varies by region.
Fare calculated by
distance travelled.
There are no surcharges for
deluxe and jumbo taxis.
Information provided by: Korea National Joint Conference Taxi Association www.taxi.or.kr (Korean only)

Photo courtesy of Seoul Metropolitan Government

<Last updated on August 10, 2015>