Taxi
Taxis are plentiful, clean, safe, and inexpensive in Korea. They can be found at taxi stands in most busy city areas or hailed on the streets. There are also certain taxis that can be requested by phone, however, the fare is slightly higher than regular taxis. An increasing number of taxi drivers nowadays speak some English which may prove extremely useful for first-time visitors.

While most of the taxis operating in Seoul area accept credit cards or even pre-paid public transportation cards, ones in small province cities and other regions may take cash only. Note this in mind and make sure to have some cash (in KWR) with you if you plan to use a cab in provincial cities. Basic fare can slightly vary from region to region.
Regular Taxis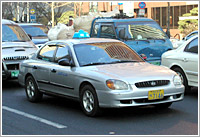 The fare system is based on both distance and time. Fares begin at ₩2,400 for the first 2 kilometers and go up incrementally ₩100 every 144 meters beyond that. If the taxi is going less than 15 kilometers per hour, an additional charge of ₩100 per 35 seconds is added to the fare. The fare between Incheon International Airport and downtown Seoul is usually around ₩50,000 (including toll), although it can be a little higher if traffic is congested. Fares increase 20 percent between midnight and 4 a.m.
[Look inside of Taxi]

Meter

Receipt Issuance Machine

Guide to Free Interpreter
Deluxe Taxis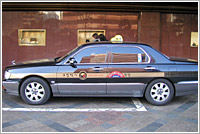 Deluxe taxis called "mobeom" taxi in Korean, are black with a yellow sign on the top and the words "Deluxe Taxi" written on the sides. They offer more passenger space and a much higher standard of service. Fares are ₩4,500 for the first 3 kilometers and ₩200 for each additional 164 meters or each 39 seconds if the speed drops below 15 kilometers per hour. The usual fare between Incheon Int'l Airport and downtown is about ₩80,000 won (including toll). Receipts are given. There is no late-night surcharge. Deluxe taxis can be taken at stands located at hotels, stations, bus terminals, and major city streets. They can also be called at ☎ 02-558-8000 (English and Japanese).
Jumbo Taxi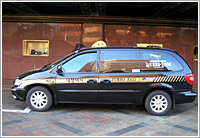 Eight-passenger van taxis are also available for larger groups. They are equipped with simultaneous foreign language interpretation by phone, receipt-issuing equipment, and a credit card processing terminal. Fares are the same as deluxe taxis. Passengers also carrying large amounts of baggage may find them convenient. They can be called at ☎ 02-888-2000.

*** ATTENTION: When calling for a 'JUMBO TAXI' make sure not to mistake them for 'call vans'. Although very similar in appearance, 'call vans' charges by size and number of luggage and negotiate taxi fare with passangers instead of charging by the meter. If you need a 'JUMBO TAXI', check for the 'JUMBO TAXI' label on the side of the van.
● Differences between Call Vans and Jumbo Taxis
● Differences between Call Vans and Jumbo Taxis
Call Van
Jumbo Taxis
Definition
Freight vans used to transport only passengers with freight (Minimum weight: 20kg / Minimum volume: 40cm x 40cm x 40cm).
Large taxis used to transport passengers with or without luggage
Fares
Negotiable.
(Fares may vary depending on the freight size/quantity/weight and the travel distance. Negotiation before getting in the van is highly recommended.)
Meter System
Fares are ₩4,500 for the first 3km and ₩200 for each additional 164m or every 39 seconds if the speed drops below 15km per hour.
(Additional charges apply when using the call service or taking the toll road.)
* Reference: Dongdaemun to Myeongdong (2.6km) = ₩4,500-7,000
License Plate
Numbers start with '8'
e.g.) Seoul 84 JA ####
Numbers start with '3'
e.g.) Seoul 35 AH ####
Illegal Business Cases
- Transported passengers without freight
- Installed and used illegal taxi meters
- Installed lights similar to jumbo taxi lights
International Taxis

From May 1, 2009, Korea launched a special "international taxi" service, where the taxi drivers are able to speak English or Japanese. These taxis operate on a 100% reservations basis, and taxi fees can be calculated by meter, by destination, or by time. For example, if you chose to hire a regular taxi for three hours it will cost 50,000 won, and you can even hire it for a day for 120,000won. The fees for these new international taxis can be paid in cash or with international credit cards (VISA, MASTER, AMEX, JCB).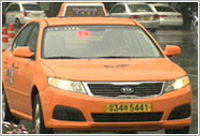 Furthermore, Incheon and Gimpo airports are providing international taxi information desks where foreigners are able to make taxi reservations, check the status of existing reservations, and also receive a range of other helpful information. There is also a special waiting area for the international taxis.
Non-Korean speakers can make enquiries and reservations for the international taxis by calling an exclusive call center (1644-2255). The service is available in English and Japanese, and lines are open 24 hours a day, 365 days a year. Reservations may also be made online at www.intltaxi.co.kr.

☞ Location of the international taxi information desks :
Incheon International Airport: Between Gate 8 and Gate 9 on the arrival floor (Tel: 070-7508-2255)
Gimpo Airport: Between Gate 2 and Gate 3 on the arrival floor

☞ Make reservations : Click here! (English)
Brand Taxi (a.k.a Call Taxi)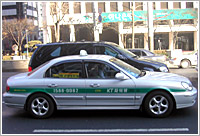 Via a wireless GTS terminal equipped in a car, a call center checks real-time the availability of a cab and dispatches the closest one. In this way, a passenger may use a cab whenever he/she wishes to. The fare is the same with regular taxis, especially when you catch one from the street, but if you use a call center for a cab, an additional call fee of KRW1,000 will be charged. This additional call fee is charged only when your total fare is KRW10,000 or less. If the fare is more than KRW10,000, the call fee will be waived. As a call center provides the service in Korean only, if you are planning to use brand taxi service, call 1330 TT call center (a multilingual Tourist Information Center) or ask your hotel or guesthouse staff for the service arrangement.

* 1330 tt call center: +82-2-1330
* 120 Dasan Call Center: +82-2-120


Last updated in February, 2012

---
---
---