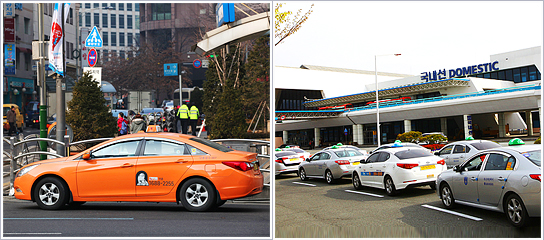 Taxi
In Korea, Taxis are plentiful, clean, safe, and above all inexpensive. They can be found at taxi stands in most busy city areas or hailed on the streets. There are also certain taxis that can be requested by phone. However, the fare is slightly higher than the taxis you flag down on the street. An increasing number of taxi drivers nowadays speak some English, which may prove extremely useful for first-time visitors.

While most taxis operating in the Seoul area accept credit cards or even pre-paid public transportation cards, the ones in small province cities and other regions may take cash only. Keep this in mind and make sure to have some cash (in KRW) with you if you plan to use a cab in provincial cities. Basic fares can slightly vary from region to region. The taxi fare is calculated by distance and time.
Standard Taxis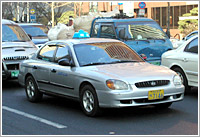 Standard taxis are generally silver or white in color, but many in Seoul are orange (don't get them confused with international taxis). Outside the downtown area, most taxis are of the standard variety and there are rarely any deluxe or jumbo taxis. The fare may vary by region.
[Inside a regular taxi]

Meter

Receipt issuing device

Guide to free
interpretation service
Deluxe taxis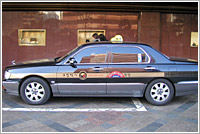 Called "Mobeom Taxi" in Korean, deluxe taxis are black with a yellow sign on the top. Both sides of the taxi have the "Deluxe Taxi" sign. They offer more passenger space and a much higher standard of service than regular taxis. This means that the basic fare and the fare for additional distance are higher than regular taxis but there is no late-night surcharge. Deluxe taxis can be found at stands located at hotels, stations, bus terminals, and major city streets. In smaller cities or towns, there are no deluxe taxis, and black-colored taxis are all regular taxis, so make sure to check the sign on top before boarding.
Jumbo taxis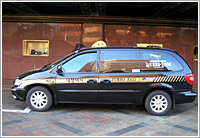 Eight-passenger van taxis are also available for larger groups. They provide simultaneous foreign language interpretation by phone, and are equipped with a receipt-issuing device and a credit card reader. Fares are the same as deluxe taxis. Passengers carrying large amounts of baggage may also find them convenient. They can be reached at 02-888-2000 (Korean) for a dispatch.

*** ATTENTION: Because they are quite similar in appearance, a "Jumbo Taxi" can often be confused for a "Call Van". A "Call Van" charges by size and number of luggage and negotiates taxi fare with passengers instead of charging by the meter. If you need a "Jumbo Taxi", check for the "Jumbo Taxi" label on the side of the van.
● Differences between Call Vans and Jumbo Taxis
Call Van
Jumbo Taxis
Definition
Vans used to transport only passengers with freight/large luggages (Minimum weight: 20kg / Minimum volume: 40cm x 40cm x 40cm).
Large taxis used to transport passengers with or without luggage
Fares
Negotiable.
(Fares may vary depending on the freight size/quantity/weight and the travel distance. Negotiation before getting in the van is highly recommended.)

Watch for 'VAN', 'CALL VAN' or '용달화물', or '콜밴' on the body or top sign of the car.
The fare is the same with deluxe taxis. (Additional charges apply when calling for a "call taxi" or taking toll roads.)

The sign 'JUMBO TAXI' or '대형' are indicated on the vehicle.
License Plate
Numbers start with '8'
e.g.) Seoul 84 JA ####
Numbers start with '3'
e.g.) Seoul 35 AH ####
Illegal Business Cases
- Transporting passengers without freight
- Using taxi meters
- Installing lights or signage similar to jumbo taxi lights
International Taxis

On May 1, 2009, Korea launched a special "International Taxi" service. These are driven by taxi drivers who can speak English or Japanese. These taxis operate on a 100% reservation basis, and taxi fees can be calculated by meter, by destination, or by time. For example, if you choose to hire a regular taxi for three hours it will cost 50,000 won, and you can even hire it for a day for 120,000won. The fees for these new international taxis can be paid in cash or with international credit cards (VISA, MASTER, AMEX, JCB).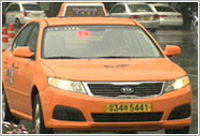 Furthermore, Incheon and Gimpo airports provide international taxi information desks where foreigners can make taxi reservations, check the status of existing reservations, and also receive a range of other helpful information. There is also a designated waiting area for the international taxis.
Non-Korean speakers can make enquiries and reservations by calling the International Taxi call center (+82-2-1644-2255). The service is available in English, Chinese and Japanese. The call center is open 9 a.m. to 6 p.m. on weekdays, 9 a.m. to 1 p.m. on Saturdays, and closed on Sundays and national holidays. The reservation should be made at least 3 hours in advance, but it is highly recommended to make a reservation at least one day in advance. Reservations can also be made online at www.intltaxi.co.kr (Korean, English, Japanese, and Chinese).

** Note: It is hard to distinguish international taxis by the color of the car only. Watch for the sign on top or the word 'International Taxi' on the door.

☞ Location of International Taxi information desks at Incheon International Airport and Gimpo Airport
Incheon International Airport: Between Gate 8 and Gate 9 on the first floor
Gimpo Airport: Between Gates 1 and 2 on the first floor of the International Passenger Terminal
Call Taxis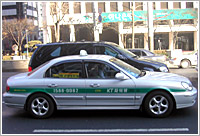 Via a wireless GTS terminal equipped in a car, a call center checks in real-time the availability of a cab and dispatches the closest one. This way, a passenger may call for a cab whenever needed. The fare is the same with regular taxis or with taxis hailed on the street. However, there will be an additional charge of 1,000 won (2,000 won in late-night hours) for the call service. Most call centers only offer services in Korean only, so call the Korea Travel Hotline (+82-2-1330) or Dasan Call Center (+82-2-120) for assistance.

Taxi Fares (as of October 12, 2013)
Regular Taxis [mid-size]
Basic fare
Region
Additional Fare by the Meter
Notes
3,000 won
Seoul, Incheon, Gyeonggi-do
100 won for every 140 to 150 meters when driving or for every 30 to 40 seconds
A 20% surcharge applies during late-night hours (midnight-4am) and for destinations outside the district coverage area.
2,800 won
Busan, Daegu, Gwangju, Daejeon, Ulsan, Gangwon-do, Chungcheong-do, Jeolla-do, Gyeongsang-do, Jeju-do
In Busan, a surcharge of 20% applies during late-night hours (midnight-4am) and in the suburbs (N/A for other cities).
Deluxe and Jumbo Taxis
Basic Fare
Region
Additional Fare by the Meter
Notes
5,000 won
Seoul, Incheon, Gyeonggi-do
200 won for every 150 to 170 meters when driving or for every 30 to 40 seconds
There are no surcharges for deluxe and jumbo taxis.
4,500 won
Busan
4,200 won
Jeollanam-do
4,000 won
Daegu, Chungcheongbuk-do, Gyeongsangbuk-do
3,800 won
Jeollabuk-do, Jeju-do
3,500 won
Chungcheongnam-do,
Gyeongsangnam-do
3,200 won
Gwangju
<Last updated on October 18, 2013>

---
---
---