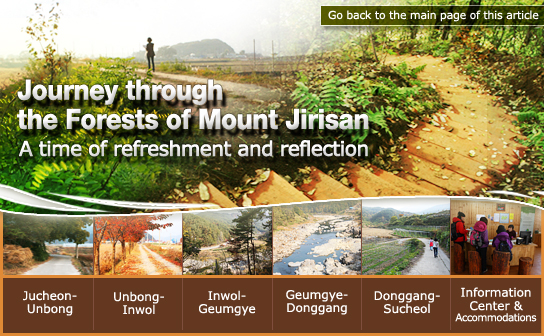 Jirisan Trails Information Center
Located in Inwol-myeon, Namwon-si in Jeollabuk-do Province, the Jirisan Trails Information Center offers visitors trail maps and gives information on local villages and trail features, and how to read trail markers/signs. Here, visitors can meet fellow hikers and swap travel stories. As of March 2010, this is the only information center open, but other centers are scheduled to be opened in the near future. Though the Information Center keeps regular business hours, free guide maps are available in front of the center 24/7.


Jirisan Trails Information Center in Inwol
Address: Jeollabuk-do Namwon-si Inwol-myeon Inwol-ri 198
Tel: 063-635-0850
Hours: 09:30~18:00 (Lunch: 12:30~13:30) (Closed on Mondays)
Official site: http://www.trail.or.kr/ (Korean only)

Office of Jirisan Forest Trails Inc.
Address: Gyeongsangnam-do Hadong-gun Hadong-eup Eumnae-ri Gonghoedang-gil 13-7
Tel: 055-884-0850

Accommodations
The most common types of accommodations are private residences called 'minbak.' If you are a non-Korean speaker, you can get information at the Information Center or the Office of Jirisan Forest Trails Inc. You can also get help from other travelers along the trail. If you experience any communication problems, call the Korea Travel Phone.
Jirisan Trails Information Center: 063-635-0850
Office of Jirisan Forest Trails Inc.: 055-884-0850
Korea Travel Phone +82-63-1330 (Korean, English, Japanese, Chinese)



Please help us protect the integrity of Jirisan Forest Trails
The Jirisan Forest Trails are relatively flat paths for slow walking and meditation rather than stepper paths designed for climbing to the summit. Visitors are advised to keep the following considerations in mind and conduct themselves accordingly in appreciation for the local people who have made their roads and community accessible to outside visitors.



Come well prepared. Remember that there are no public facilities along the trails, so bring a lunchbox, snacks, plenty of water, and anything else you may need.


Pick up after yourself, making sure to take any trash with you when you leave.


There are no public restrooms along the trails. Please use restrooms in the bus terminal, public offices, or villages.


Avoid traveling in large groups; groups should be limited to four or less. Trails pass through rural communities and large groups tend to inconvenience the local people and disrupt their way of live.


Do not touch crops or fruit from fields.


Greet local people first, and ask for their permission before taking any photographs.


Use public transportation when available. You may not bring your vehicle on trails.


Visit the Information Center to get trail maps and information before your journey.


Jirisan Forest Trails are to be used for walks only. Bikes, baby carriages, or any other means of transportation are prohibited.


No pets allowed.