◈ Mt. SEORAKSAN
Seoraksan has about 28 peaks, including the highest peak Daecheong-bong. These peaks, clustered together, make for a magnificent scenery. Seoraksan is filled with beautiful azaleas and royal azaleas, and there is a flower festival in spring. In summer, a sea of clouds spreads over the many peaks and the valleys flow with clear water. The mountain is also lovely in winter. The eastern side of the mountain, which slopes down into the city of Sokcho, is where many of Korea's finest hotels and resorts are located.
• 20 min. by taxi from Sokcho Harbor ($10 )
www.knps.or.kr/sorak

◈ NAKSANSA TEMPLE
Naksansa Temple is one of the very few temples that overlook the sea in Korea. Naksansa provides spectacular sunrise views and the sound of breaking waves from the sea. Naksansa was built by Uisangdaesa (a revered Buddhist monk) in the 11th year (671) of King Munmu's reign during the Silla Kingdom, and is located in Naksan Provincial Park and is near Naksan Beach.
• 30min. by bus from Sokcho Harbor ($1.2 )
www.naksansa.or.kr

◈ SEORAK WATERPIA
There are many hot spring spas that support the newest facilities in Sokcho. Seorak Waterpia is a hot spring theme park that uses 100 percent natural hot spring water. From these outdoor baths, you have a clear view of the Ulsanbawi Rock on Seoraksan. The variety of spa facilities that Seorak Waterpia offers, such as the Aqua Dome, will make this hot spring experience something you will not forget.
• 10 min. by taxi from Sokcho Harbor($5 )
www.seorakwaterpia.com


◈ OJUKHEON
Ojukheon is a detached section of a residential building from the early Joseon Dynasty. The historic structure of the building has been preserved well. The great historian Yul Gok was born here, therefore the nearby memorial hall for Yul Gok is exhibiting Yul Gok's writings and his mother, Sin Saimdang's.
• 40 min. by bus from Donghae Harbor
www.ojukheon.or.kr


◈ GYEONGPODAE
Gyeongpodae, is located 6km north from the center of Gangneung. It is a large, tall pavilion, and its architectural feature- a "paljak" roof, is the most common form used in Korean buildings. It is famous for viewing the moon on he 15th day of the first lunar month. The nearby Gyeongpo Lake and Gyeongpo Beach make this area a popular destination for dates. Gyeongpodae Beach is a sand bank formed between Gyeongpo Lake and the ocean, a 6-kilometer shore of fine sand.
www.gntour.go.kr

◈ GOSEONG UNIFICATION OBSERVATORY
As the observatory located closest to North Korea, more than one million people visit this area on an annual basis. Visitors can see the world famous Mt.Geumgangsan and Heageumgang, meaning Mt.Geumgangsan of the sea, with the naked eye. The road to the observatory brings forth a sense of tension due to the barbed-wire entanglements along the coast, the soldiers working on alert and the checkpoint. The DMZ is the only symbol of a divided nation in the world; Gangwon-do is the only divided province.
• 1hr. by bus from Sokcho harbor ($4.12 )
www.tongiltour.co.kr

Experience Program
◈ DMZ ECOLOGICAL TRIP
The region of Yanggu, near the demilitarized zone is a natural environment untouched by human hands. This area is famous because it is the largest breeding ground for salmon and freshwater fish, which only live in cold and unpolluted water. There are a variety of trips to the DMZ, including those that show the past and current military tensions. International visitors have a wider choice of tours than Koreans.
www.dmztourkorea.com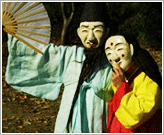 ◈ Gangneaung Danoje Festival / Gangneung Kwanno Mask Drama
Every May 5, according to the lunar calendar, the city of Gangneung holds a traditional folk ritual to the gods and goddesses of Daegwallyeong- the high mountain pass that everyone must pass through to go from east to west. A number of ceremonial events take place, including dances and songs performed by village female shamans. During the festival, visitors will have an opportunity to see its unique traditional performance, Gangneung Kwanno Mask Drama, which is the only mask pantomime in Korea.
- Gangneaung Danoje Festival
www.danojefestival.or.kr
- Gangneaung
Kwanno Mask Drama
www.kwanno.or.kr

◈ SOKCHO SEOKBONG CERAMICS MUSEUM EXPERIENCE
This museum presents the history of Korean ceramics from the stone age to white porcelain of the Joseon Dynasty. There is also a hall for modern artisans and a program for visitors who wish to participate in ceramic-making activities.
• 5 min. by taxi from Sokcho Harbor ($3)




Shopping Products

◈ SQUID
Fresh squid from the ocean, thinly sliced to be eaten raw, is a delicacy in Gangwon-do. The squid is also sometimes dried in the sea wind, making it a popular local specialty product. These dried squids are sold in dried goods shops in almost all cities including Sokcho, Gangneung, and Donghae.

◈ DANPOONGBBANG
This soft bread is shaped like a danpoong, or maple leaf. It symbolizes the changing color of leaves on Mt. Seoraksan. The bread is filled with red bean paste, cream, peas, and kelp. It is not sweet, but soft and chewy and a snack enjoyed by all.






Food

◈ SQUID SUNDAE
This "sausage" made from squid is cooked by taking the intestines out of the squid and filling it with a mixture of tofu, rice noodles, onions, carrots, and egg. The stuffed squid is then baked or sauteed and cut up into small edible pieces and is a very popular snack or side dish when drinking.


◈ HAMHEUNG NAENGMYEON (BUCKWHEAT NOODLES)
Hamheung is a region in North Korea, but no one can make naengmyeon (cold buckwheat noodles) the Hamheung way like the people of Gangwon-do. The soup is made from a pickled flatfish broth, which is mixed with sesame and sesame oil. The flavor is acetic and yet refreshing and sweet.


◈ SUNDUBU
Sundubu is unprocessed tofu, made without undergoing the process of pressing it to remove the water and curdling it firmly (this firm tofu is called "dubu"). Sundubu is used in various dishes, and a stew made with it (sundubu jjigae) is one of the most popular lunch dishes served in restaurants. The sundubu served in Gangwon-do is made by using clean freshwater and saltwater from the East Sea as the brine water. Chodang dubu from Gangneung and haksapyeong sundubuchon are famous Gangwon-do sundubu brands.

◈ MEMIL MAKGUKSU
Memil makguksu ("buckwheat noodles") are enjoyed during the hot summer months. The delectable buckwheat noodles are mixed with red pepper powder, green onions, garlic, sesame oil and soy sauce. The noodles taste best when served with ice and cold dongchimi ("watery radish kimchi").