◈ Busan – Beomeosa Temple
This temple was established by King Munmu of the Shilla Kingdom in 678. Along with Haeinsa and Tongdosa, it is considered one of the three famed temples of the southeast. Many cultural assets such as the three-story pagoda and main temple building are designated national treasures.
• 1 hr. Beomeosa Station (Subway Line 1) → Mini Bus No.90
• 30 min. by taxi from Nampo-dong ($15 )
www.beomeosa.co.kr
◈ Busan – Yonggungsa temple
Unlike most Korean temples, which are situated in the mountains, Yonggungsa Temple is perched upon the cliffs next to the sea, and is surrounded by a circle of pines. Unfortunately the original temple was destroyed by fire when the Japanese invaded Korea in 1592, but it was rebuilt in the early 1930s. A small path leading out to a flat rock provides best views of the entire temple.
• Haeundae Station (Subway Line 1) →15 min. bus ride (Bus 181)→ 5 min. walk from parking lot / 20 min. from Haeundae Station by taxi (about $10 )
www.yongkungsa.or.kr
◈ Busan - Taejongdae Park
Reputed for its rugged cliffs dropping straight down to the sea, and hilly, forested areas, the
park is always bustling with tourists. The new lighthouse at the tip of the island and beautiful
views of the ocean make it a must-visit destination in Busan. Make sure to see the "Suicide Rock." A coffee shop is at the observation deck and a small cruise dock is below the deck.
• 20 min. ride from Nampo-dong (Buses 8, 30) → 10min. walk from parking lot.
www.taejongdae.or.kr
◈ Busan - UNITED NATIONS MEMORIAL CEMETERY
This cemetery park is a somber yet beautiful place where soldiers from 16 countries who sacrificed their lives during the Korean War lay at rest. This is the only U.N. memorial park in the world.
• 25 min. from Nampo-dong (Bus 25). Get off at the U.N. Memorial Cemetery stop.
www.unmck.or.kr

◈ Busan - YONGDUSAN PARK
Busan's most famous park and a favorite stop for those who who've watched many Korean television dramas and movies. The park, a popular filming site, is a vibrant place with many activities taking place within, such as street taekwondo demonstrations, traditional music performances, and other cultural events.
• 2 min. walk from Nampodong Station (Subway Line 1)
http://bfma.or.kr
◈ Busan - JAGALCHI MARKET
Jagalchi Market is Korea's largest seafood market. Regardless of who it is, everyone makes sure to pay the market a visit when they are in Busan to taste a dish of fresh raw fish. The area is filled with raw fish and eel traders, and is fun to pick your own fish and bargain with the vendors, who are extremely friendly.
Cultural Experience Program
◈ Tea Ceremony
A place where you can reflect on traditional Korean tea and ceramics, this program is popular because you spend the time enjoying the elegance of tea-drinking along with crispy Korean cakes. Central to the Korean approach to tea is an easy and natural coherence, with fewer formal rituals, fewer absolutes, greater freedom for relaxation, and more creativity in enjoying a wider variety of teas, services, and conversation.



Shopping
◈ GUKJE INTERNATIONAL MARKET
Gukje Market is the most representative traditional market in Busan, similar to Namdaemun Market in Seoul. The market offers home appliances, clothing, bags, leather goods and furniture at great prices. It is closed on the 1st and 3rd Sundays of every month.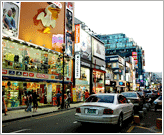 ◈ Nampodong Street
The theater district of Busan is jam packed with movie theaters and is host to the Busan International Film Festival. The streets are especially crowded in October, when the films are being screened for the movie festival at local theaters. It is during this time that you can also find various events revolving around the promotion of the movies featured at the festival. In the vicinity of Nampo-dong Street you can find Jagalchi Fish Market and Choryang Arcade for Foreigners. This well sought after area is flourishing with not only theaters, but many kinds of shops and eateries as well.

◈ BUSAN JIN MARKET
The Busan Jin Market is a traditional market located in downtown Busan. It is a typical market of the three national traditional markets specializing in articles for marriage, preserving nearly a hundred years of history. You can purchase a variety of colorful Hanbok (traditional Korean clothing) here.

Food

◈ HAEMULTANG
Haemultang is a seafood stew that includes a lot of fresh vegetables. Boiled right at the table, the vegetables are taken out before the broth boils over and eaten first with a sweet and salty sauce.



◈ DONGLAE PAJEON
This pajeon, which was a favorite at the Donglae Open Market, is a seafood pancake that contains beef, oysters, squid, clams, and other seafood in a flour batter. It tastes best with makgeolli, a traditional Korean rice wine.