Despite the somewhat lengthy journey down, the recent exclusive "Look In Every Nook & Corner" tour proved to be a resounding success. Welcoming a host of varying nationalities both working and studying in Seoul, participants were provided with an all expenses paid trip and asked to write a short travel story highlighting their experiences. The premise behind the event was to offer a unique opportunity for foreigners residing in Korea to venture out and explore a host of hidden traditional treasures they might not otherwise have had the option of
experiencing. Applications were submitted online and seating was limited to twenty participants. Keeping in tune with the 'flavor tour' banner, the selected enthusiasts were treated to a string of cultural culinary dishes ranging from Jeonju bibimbap and Jella-do hanjeongsik to nokcha samgyeopsal and taken to Korea's famous 14th annual 'Namdo Food Festival'. Held every October in Suncheon, it was a great way to experience the diversity of Korean cooking. Several added bonuses included a peaceful walk throughout Boseong verdant green tea fields, a green tea ceremony, a visit to Jeonju's historic hanok villages and a unique glimpse of Nakaneunpseong Folk Village where villagers continue to live in stone huts. All in all, organizers of the event were able to draw considerable feedback from all those involved and plan to organize a host of other future expeditions very similar in style and nature to help promote Korea's rich historical roots.

The highlight of the tour took place in a cozy little restaurant situated at the foot of the Daehan Daeop Tea Plantation in Boseong. Our group was able to sample selected green tea infused side dishes together with the nokcha samgyeopsal, roasted pork from green tea fed livestock. Also on the menu was nokcha ju, a sweet liqueur blended with rice (75%) and green tea (25%). At 13% alcohol, each bottle was shared by four seated around their respective tables. Shortly after we began cooking the pork, nokcha sujaebi was served. Historically significant, the soup is made simply of green tea infused wheat and has an interesting, subtle flavor. Long ago, poverty drove Koreans to extremes and people were forced to eat and make due with barley for soup. It served as a delightful addition to our meal.


Interestingly, Boseong literally means 'Jewel Castle County'. Presumably, the area got its nickname for its pristine natural surroundings. Tall, imposing cedar trees line the road, marking the stretch to the green tea fields. A little further up, we could see the rolling hills of Boseong's Daehan Daeop Tea Plantation stretch out endlessly under clear blue skies. A path weaves upward, meandering through row upon row of verdant leaves. Little outposts prop up here and there where tourists can pose for pictures. Young leaves are harvested every year before April 20th to ensure freshness. Although there are several other tea fields in the Boseong area, Daehan Daeop Tourist Tea Plantation remains the most popular, drawing in a significantly high number of tourists throughout the year.

Green tea is the country's symbol. First introduced to Korea during the reign of Queen Seondeok of the Shilla Kingdom (57 BC – 935 AD), it is rich in vitamin C and has long been praised by Koreans for its numerous health benefits. Buddhist monks cherished the drink and used it as an aid to cultivate their minds throughout the reign of the Goryeo Dynasty. Great for the skin, the low-calorie drink helps ward off drowsiness and invigorates both the body and mind. Many years ago, the rise and suppression of Buddhism caused the popularity of green tea to both swell and decline respectively. Today, it is perceived as a chic savory alternative and heralded as a healthy practice.





After the thirty-minute walk throughout the fields, we were introduced to dado, 'the way of tea'. Although more widely known, Korean both green tea and its practices differ greatly from its Chinese and Japanese counterparts. Whereas black teas are oxidized and fermented before they are dried out, Korean green tea is heated on an iron pot within a few hours of being picked, then rolled naturally by hand and left to dry in the shade. These steps accounts for the light coloring of liquids and delicately subtle flavor the tea produces. Koreans believe it is important to remain natural while drinking together so the practice isn't hurried like it is in Japan. The entire process usually lasts between 20~30 minutes.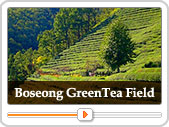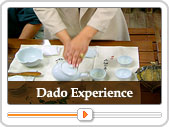 The brief instruction period shed some valuable insight on the process of tooda, literally the manner of pouring water and placing tea into the pot. Our speaker told the group that it is important to steep the tea in water no hotter than 50~60 Celsius. If the water is too hot, or if the leaves are left in too long, taste is lost and replaced with an unpleasant bitterness. Before us, on our table, were four smaller than average cups, a pot and a larger bowl with a little lip for pouring the cooled water into the empty pot. The bowl is essentially used for warming the pot and cups before placing tea we were told. The initial serving of a new batch of tea is poured directly into the cups, a little at a time, back and forward three times until the cups are filled. This ensures that the leaves emerging from the bottom of the pot are spread equally and evenly. Tealeaves are left to soak for one minute and cups should let stand for three minutes before drinking. Korean green tea is usually drunk holding the cup in both hands. Etiquette also states that one should rest their upper lip on the rim to avoid slurping.
Both informative and enjoyable, the brief ceremony really opened the minds of those in doubt of certain principles and also served as a great way of introducing newcomers to a whole new method of cherishing this memorable drink.
Just beside the miniature ceremony hall is a well-stocked little teashop where one can choose from dozens of packaged green tea varieties. Two nicely decorated canisters will run you 30,000 won and make for an ideal souvenir.






In the early afternoon, our next stop was Suncheon, where we were able to walk through Naganeupseong Folk Village and scale the enclosing fortress that boasted incredible views numerous thatched houses and the surrounding, sprawling landscape. Built on a plain, the fortress was constructed during the Joseon dynasty (1397) by general Kim Bin Gil to defend the village against Japanese pirates. Refreshingly strong winds blew the posted flags under clear blue autumn skies. Samcheon was also the site of the 14th Annual Namdo Food Festival. Inside one of the tents, tables were lined up displaying hundreds of different traditional dishes. Later that evening, after checking in to the hotel, we were taken to a quaint, family run restaurant to experience Jeolla-do Hanjeongsik, a provincial style full-course dinner. Our table was covered with an abundance of varying dishes in true traditional Korean style. Our host was one of the owners of the restaurant and pleasantly explained the proper etiquette involved in sampling the table varieties before us.

The last stop of the tour was Jeonju. The area is known for having the country's best bibimbap. It is also famous for its traditional fans and hanjin, Korean paper. Made from mulberry trees, the beautifully intricate material is produced by an ancient process handed down from over hundreds of years. The tour provided a unique opportunity for everyone to make his or her very own bibimbap. Extremely healthy and quickly gaining worldwide recognition, the tasty dish consists of Jeonju's signature style boiled rice, which is made from beef broth, a mixture of vegetables and marinated beef. Replete with kimchi pots, colorful gardens and beautiful traditional wooden Korean architecture, everyone felt as though they had been transported back in time.

Anyone who had been unaware of Korea's impressive culinary diversity certainly came away from the trip a little more schooled. Both informative and highly enjoyable, the tour hit all the right notes by offering an overwhelming variety of palette-pleasing foods that were savored by all.