Ewha Womans University can be reached by taking Line 2 of the Seoul Subway and getting off at Ewha Womans University Station. The university is also often referred to as "Edae," which is the short for Ewha Yeoja Daehakgyo (이화여자대학교). The Ewha Womans University area is packed with stores, shops, restaurants and cafes, making it one of the most popular shopping districts in Seoul among locals and tourists alike.
1. Ewha Womans University Campus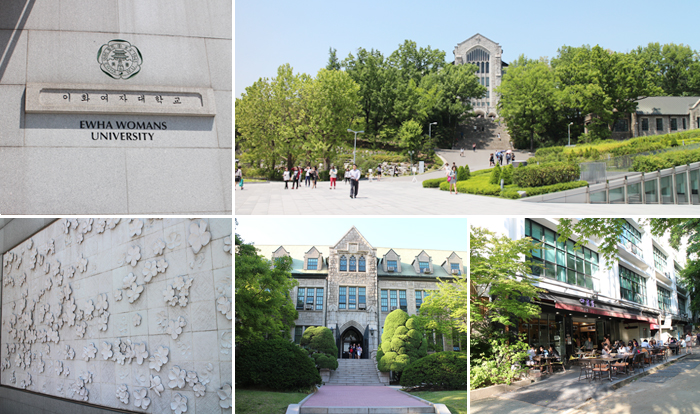 "Ewha" is a Sino-Korean term for "pear blossom." This flower is the symbol of Ewha Womans University and is also incorporated in their logo. Several pear blossom trees can also be seen as one enters through the main gate of the university. The campus of Ewha Womans University is a striking piece of modern architecture with sustainable strategies adopted into the design. The university was designed with the idea of preserving a large green space in the center of the university campus, so the campus center weaves itself into the landscape, featuring many green spaces with trees and flowers.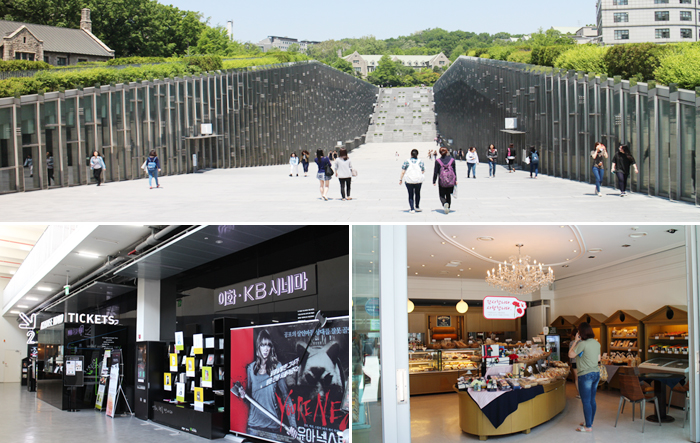 Ewha Campus Complex (ECC) features two buildings barely rising above the surrounding landscape. The valley in between these two buildings ramps down from one side and then rises up the other side with steps that also function as benches when the area is used as an outdoor amphitheater. These buildings disappear under the rooftop garden that has walking paths, evergreen bushes, trees and flowers. The lower levels contain a library, bookstore, gym, movie theater, cafes, and other cultural facilities. On the first level, visitors can find lecture rooms and an eco-park. The ECC provides students with various services, from learning to cultural activities, all under one roof.
2. Nearby Attractions
Shops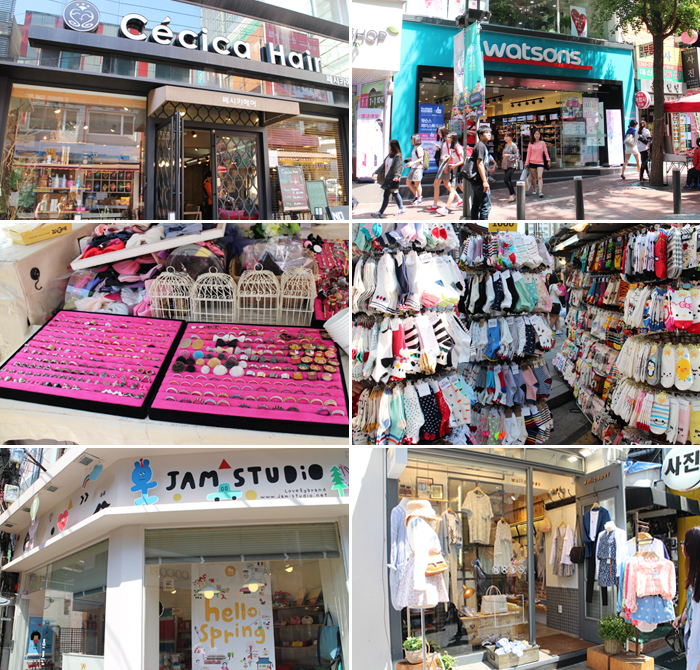 The Edae area is lined with hair and nail salons, boutiques, cosmetics stores and other shops selling items aimed at the female market. Although most of the stores cater to female clientele, there are also shops that sell men's wear. Many of the alleyways are worth visiting and the shops sell affordable and stylish fashion for young people.
Street food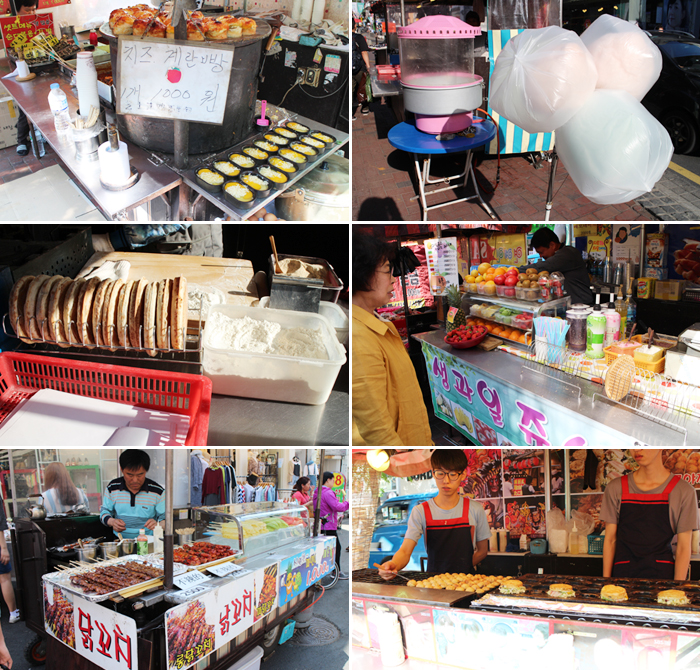 Street food is a mainstay of many university districts. Just because street foods are cheap doesn't mean they're not very good or that they only come in small portions. The Edae area has no shortage of great street food options. Here, you can find gyeranppang (egg buns), dakkochi (chicken skewers), takoyaki, tteok-bokki, and more. If you get thirsty, there are also fruit juice vendors all around.
3. Food and Drinks
Han-jeongsik "Sura"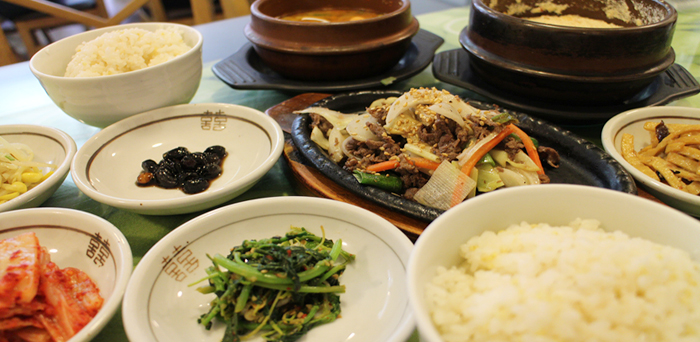 "Sura" (수라) refers to the meals of the king and the royal court. If you want a meal befitting royalty, then this is the place to be. The restaurant serves authentic Korean cuisine that is not only delectable but also healthy. All their menu items come with a variety of side dishes. Sura doesn't use artificial seasoning to add flavor but rather relies on the natural flavors of the ingredients to produce a delicious, healthy dish.
More Info

Sura
☞ Address: 20, Ewhayeodae 2-ga-gil, Seodaemun-gu, Seoul
☞ Directions: Ewha Woman's University Station (Seoul Subway Line 2), Exit 3 – Go straight and turn right into the second corner. Walk down this street and turn left. Sura will be on your right.
☞ Price: Bulgogi jeongsik 10,000 won/ puréed soybean stew 7,000 won
Gamabean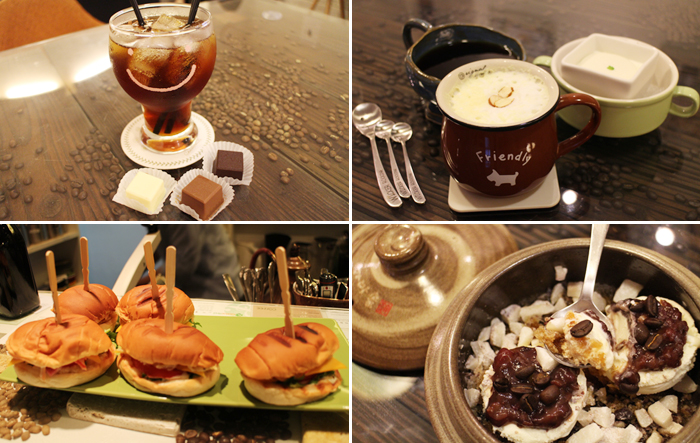 Gama is so-named because their coffee beans are roasted in a gama (iron pot). Gama is the only coffee shop in Korea that uses an iron pot to roast coffee beans. This roasting method gives their coffee beans a distinctive aroma. The café's best seller is their gamabean bingsu, which is a combination of glutinous rice cakes, ice cream and coffee beans on top of a layer of shaved ice. Other items on their menu include sweet potato latte, cheese cake and mini sandwiches.
More Info

Gamabean
☞ Address: 14, Ewhayeodae 3-gil, Seodaemun-gu, Seoul
☞ Getting there: Ewha Woman's University Station (Seoul Subway Line 2), Exit 2 – Go straight for 20 meters and turn left at the second intersection. Keep walking until you pass the first narrow alley and the café will be on your right.
☞ Price: Gamabean bingsu 9,000 won (for 2 persons)/ sweet potato latte 5,000 won/ hand drip coffee 5,000 won