Sindang-dong Tteok-bokki Town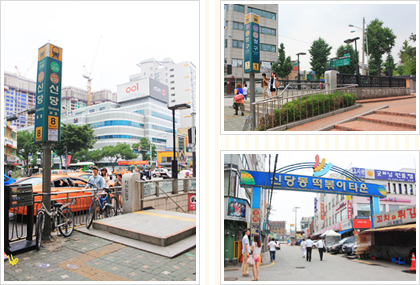 The first stop on the list is the Sindang-dong Tteok-bokki Town in the Jung-gu District in the heart of Seoul. Sindang-dong is instantly associated with tteok-bokki, and its fame, though widespread among locals, is only slowly beginning to grow among international visitors. The area is conveniently accessed from three subway lines and posses a more old-Seoul charm than some of the more recently popular areas of Seoul. Weekdays are much less crowded than weekends, but finding a seat at one of the many famous tteok-bokki restaurants is never a problem.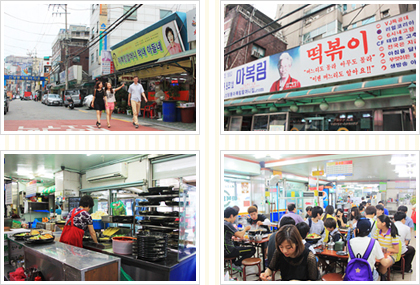 Unlike most tteok-bokki restaurants, the tteok-bokki in Sindang-dong is served in a large pot. Various ingredients are piled along with the tteok-bokki in the pot, which is boiled right at the table. This style of tteok-bokki was initiated by Grandma Ma Bongnim, who passed away in 2011. Mabongnim Tteok-bokki is one of the most popular tteok-bokki restaurants in the area. Today, the children of Grandma Ma run the restaurant.

The story of how Grandma Ma came to open her tteok-bokki restaurant thirty years ago in Sindang-dong is quite interesting. She accidentally dropped garaetteok (Korean rice cake formed in a long cylinder shape) in a jajangmyeon dish (noodle dish of Chinese origin noted for its thick, salty black soybean paste sauce) and was so impressed by the taste of rice cake in jajang sauce that she decided to open a tteok-bokki restaurant to share her discovery. She served tteok-bokki in a yellow tin pot with a sauce of gochujang (red pepper paste) and chunjang (the ingredient of jajang sauce), and boiled it over a briquette fire. This is thought to be the first version of the now famous Sindang-dong tteok-bokki.

Thanks to word of mouth, the Mabongnim tteok-bokki restaurant became quite popular, and in the 1980s, other tteok-bokki restaurants began to spring up around Mabongnim Restaurant, forming a "Tteok-bokki Town".

Today, about ten tteok-bokki restaurants are in business in Sindang-dong as the town continues to enjoy a strong reputation as a major foodie spot in Seoul.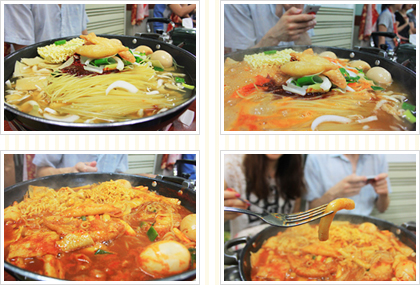 What the restaurant lacks in fancy interior design, it makes up in charm. Portable gas burners are the centerpieces of each table, and the smell of tteok-bokki cooking in the pots fill the air. Some may be intimidated about having to do the cooking, but it is as simple as turning the gas stove on.

Orders are placed by the number of guests at the table and Sindang-dong Tteok-bokki has a two-serving minimum. A large pot is filled with thinly sliced rice cakes, fish cakes, boiled eggs, noodles, and vegetables submerged in a special broth and sauce. The dish will soon begin to boil and though you can dig in when all the ingredients are cooked, we suggest waiting until the broth and sauce reduces to a thicker consistency. By that time, the sauce will have permeated the rice cakes and other ingredients, adding a richer flavor.

Don't be scared by the healthy serving of red pepper gochujang sauce that is prepared with the dish. It is not as hot and spicy many people think. The heat is fairly mild and doesn't linger for an extended period of time. Overall, the dish is more on the sweet end of the spectrum than the spicy one. The dish is particularly comforting in the winter time, but any season is a good time to try the famous tteok-bokki at Sindang-dong Tteok-bokki Town.


It is easy to get to the town and the tteok-bokki is not too spicy.
Info
☞

☞ Getting there

• Sindang Station (Seoul subway line 2), Exit 8. 3 minute walk, just follow to the signs to "Sindang-dong tteok-bokki Town."
• Cheonggu Station (Seoul subway line 5 or 6), Exit 1. Exit to the left and take your fourth left.

☞ Price:

11,000 won for two persons / 14,000 won for three persons / 20,000 won for four persons / 24,000 won for five persons

☞ Hours of operation:

09:00-24:00
Gongdeok-dong Jeon Town

The next destination is Gongdeok-dong's Jeon (Korean pancake) Alley in Mapo-gu, Seoul. Take Subway Line 5 and get off at Gongdeok Station. Take exit 5 and walk about five minutes. You will soon reach a jokbal (pig's feet) alley, and after that you will see Jeon Alley on the left.

In this small alley, shops on both sides are busy making all kinds of fried goods, which are moved to the display counters as soon as they are cooked. The smell is the first thing people notice followed by the wide selection of fried delicacies.

Compared to Sindang-dong Tteok-bokki Town, Gongdeok-dong Jeon Alley is less known to international tourists, but the alley is sure to create return visitors.
Hundreds of jeon pancakes and fritters made of vegetables, fish, meat and more are on display. Just grab a small basket by the door, and choose as many you want. Not only are the fried goods delicious, but the variety is unmatched in Seoul. Prices vary by selection as some are priced by the number of items, while others are priced by weight and usually costs between 15,000 won and 20,000 won for three or four people to eat a full meal.

No one knows for sure when this food alley was established, but recently it has become one of the hottest food spots, thanks in part to a 2011 appearance on the TV program Infinite Challenge.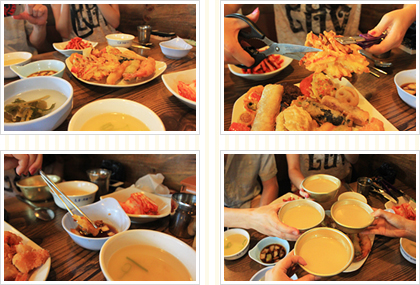 Behind the rows of fried goods are the restaurants where customers wait once they have selected what they want to eat. Unlike the narrow alley, the inside of the shop is quite expansive and similar to any other typical Korean restaurant.

The selected pancakes and fritters are fried again before they are served and the table is set with soup, kimchi, and dipping sauce to enjoy with the main course.

To eat like the locals, first cut the fried goodies into bite-sized pieces and eat them with the seasoned dried radish strips (mumallaengi-muchim). The radish is cut into small strips and dried in the sun. Then the dried radish strips are briefly soaked in water and seasoned in a red pepper sauce. The spicy radish provides a good balance to the fried food.

The best beverage pairing to go with jeon is makgeolli. This traditional Korean alcoholic rice beverage has a sweet and refreshing taste that goes well with the warm, fried goods. The alley is particularly busy on rainy days, as Koreans believe that jeon and makgeolli taste twice as good when enjoyed in during rain.

A tip of advice: avoid visiting before major national holidays like Lunar New Year or Chuseok. The alley will be overly crowded with people buying food for their ancestor memorial services.


The place is easy to get to and there is the fun of choosing from a wide selection of pan-fried delicacies.
Info
☞ Address:

256-30, Gongdeok-dong, Mapo-gu, Seoul

☞ Getting there:

Gongdeok station (Seoul Subway line 5), Exit 5. About 7 minutes by walk

☞ Price:

Prices vary, but it costs between 15,000 won and 20,000 won for three to four persons to eat enough to be full.

☞ Hours of operation:

24 hours a day
**
In Foodie Tour Part II, we will present some of the best eats in
Namdaemun Market
. Hope you will enjoy our next column, too!