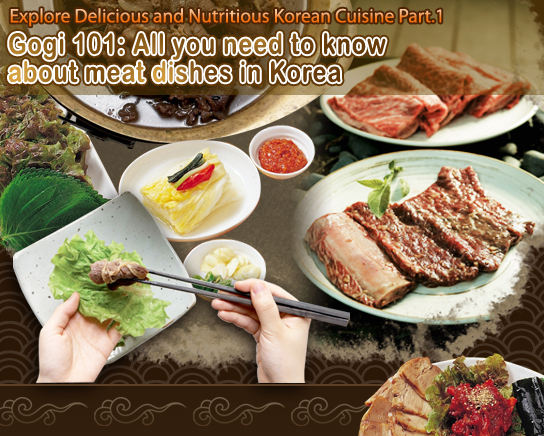 Korean cuisine offers an endless array of meat dishes
with flavors and cooking methods to suit every taste.
If you are used to cutting into a large broiled steak with
a knife and fork, you'll find eating Korean meat quite unique.
The pieces are bite sized but incredibly tender and juicy.
Grilling is the most popular form of cookery.
Bulgogi (불고기), using either beef or pork, means 'meat grilled on a fire.' Tables in bulgogi restaurants are thus equipped with a stone grill. In general, the grill is heated by a gas-fired range, but many restaurants still use the more traditional charcoal. The fire and the grill are vital components as they can determine the subtle flavor of meat.
While the most popular beef or pork dishes are bulgogi or galbi (갈비), the most sought-after treat on the pork menu is samgyeopsal (삼겹살). The term bulgogi derives from the cooking method, and galbi and samgyeopsal refer to certain cuts of meat. Galbi refers to the lean, high protein meat along the backbone and ribs. Cooking methods for galbi vary, and diners can also enjoy galbijjim (marinated steamed galbi, 갈비찜) or galbitang (short rib soup, 갈비탕). On the other hand, samgyeopsal refers to thick, juicy slices of pork belly meat.





1. Beef Dishes - Bulgogi and Galbi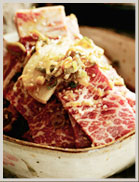 Bulgogi (불고기) consists of beef or pork marinated in a mixture of soy sauce, green onion, garlic, and honey. Favored for its sweet and savory taste, seasoned bulgogi meat comes in thin slices, so it only needs to be grilled slightly.
Galbi (갈비) includes the backbone or rib. The meat must be turned during cooking, and when done, it is cut into bite-sized servings and eaten with chopsticks. In general, galbi is pre-seasoned or marinated and can be eaten as is, but Korean people like to eat it as a ssam (a slice of cooked meat wrapped in lettuce or other vegetable leaves smeared with sauce, 쌈).

☞ How to Cook Bulgogi at Home
☞ How to Cook Galbi Jjim at Home


Tip> How to Eat Korean Ssam

Ssam is a tasty way to eat Korean meat. To make this wonderful wrap, take a lettuce or sesame leaf, place a cooked slice of meat on it, and add a dash of sauce called ssamjang (mixture of soybean paste, red pepper paste and sesame oil), pepper, or garlic if you desire. A unique part of Korea's food culture, the ssam wrap comes in countless variations: grilled meat, rice with vegetables (ssambap, 쌈밥) or boiled pork in cabbage leaves (bossam, 보쌈). The nutritional value of ssam is already recognized worldwide. The lettuce, which is the main ingredient of ssam, helps to strengthen muscles and bones, regulate the energy of the five viscera,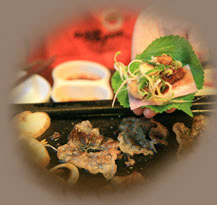 and increase alertness. The sesame leaf, which follows lettuce in popularity, is high in iron and beta-carotene, a precursor of vitamin A. The leaves are also rich in perylenequinone, which imparts the sesame plant's unique fragrance. The antiseptic properties of perylenequinone help prevent stomach ailments caused from eating meat or raw fish. Indeed, the reason Korean people stay fit and healthy despite eating a lot of meat is likely because of ssam.

| | | |
| --- | --- | --- |
| | Experience It ! | |
Bamboo House

Bamboo House is an upscale restaurant specializing in high-quality food and wine. Its home is a truly elegant building, which received a top prize in architecture when it first opened in 1995. The restaurant caters to an exclusive clientele including international celebrities like former Japanese prime minister Koizumi, and actors like Tom Cruise, Mariah Carey and Chow Yun-Fat. Inside, you'll see photos of celebrities taken during their visits.


The restaurant uses top-grade seasonal ingredients shipped directly from local production sites. Bamboo House also has its own farm where it grows peppers, lettuce, and cabbage. They also have specially packed kimchi for sale.
The restaurant's main menu is Cognac sirloin: a thick slice of sirloin steak is grilled and flamed with cognac for a unique flavor and tender meat. Bulgogi is served only during lunchtime; so if you want to try Korean bulgogi, visit the restaurant in the daytime. Wrap the bulgogi in lettuce and sesame leaves and add some sauce for a unique Korean experience.

☞ Address: Seoul, Gangnam-gu, Yeoksam-dong 658-10
☞ To get there: Subway line 2, Yeoksam station, exit 7, 10 minutes by walk (near Gyeongbok apartment) / Subway line 7, Hakdong station, exit 4, take a bus (get off at CHA hospital stop) or taxi
☞ Tel:+82-2-555-6390~1
☞ Hours: 11:30~14:00, 17:30~22:30 (Mon.-Sat.; closed on Sundays)
☞ Recommended menu: Cognac sirloin 99,000 won, fresh galbi 57,000 won, bulgogi lunch set 25,000 won (Taxes are not included)
☞ Official site: www.bamboohouse.or.kr (Korean)

Sheraton Walker Hill Myongwolgwan
Myongwolgwan is the leading restaurant at the Sheraton Walker Hill Hotel located on Mt. Achasan in Seoul and overlooking the Hangang River.
As it is on the expensive side, the restaurant caters to wealthy patrons and businessmen entertaining foreign guests. Myongwolgwan still preserves its charcoal-grill method for turning out delicious meat dishes. The SUPEX kimchi, made using 100% domestically produced ingredients, is the pride of the restaurant: it is prepared in the highest quality environment and fermented in a special kimchi ripening room. The result is kimchi with truly unforgettable flavor and texture.
Myongwolgwan's leading menu is marinated Hanu (Korean-bred beef) galbi. Its galbitang soup (갈비탕) is also a popular dish. After enjoying a delicious meal, you may want to enjoy the restaurant's outdoor garden overlooking the river.



☞ Address: Seoul, Gwangjin-gu, Achaseong-gil 175, Sheraton Grand Walker Hill
☞ To get there: Subway line 2, Gangbyeon station, exit 2, take the hotel shuttle or taxi / Subway line 5, Gwangnaru station, exit 2, take the hotel shuttle or taxi on the other side of the road
☞ Tel: +82-2-450-4595, 4596
☞ Hours: 12:00 - 22:00
☞ Recommended menu: Hanu (premium Korea raised beef) marinated galbi 60,000 won, Hanu galbitang 20,000 won (Taxes are not included)
☞ Official site: www.sheratonwalkerhill.co.kr (English)

Bulgogi Brothers

In 2006, restaurateurs who had run T.G.I. Fridays and Outback Steakhouse for over 20 years opened Bulgogi Brothers, a Korean-style family restaurant specializing in bulgogi. Their mission was to promote Korean cuisine to the world.
The signature entrees are Seoul-style bulgogi and marinated short ribs, tri-color pajeon pancakes (삼색파전), royal seafood dumplings (haemul gungjungmandu, 해물궁중만두), and other traditional Korean dishes and liquors. Also unique are their appetizer salad made of corn, sweet potato, and potato. With 14 locations around the nation, Bulgogi Brothers offers the same great dining experience wherever you go.
A note of interest: the restaurant was the filming location for the recent KBS drama "He who can't marry". In it, the bachelor star is shown having a pleasant dinner. At the same time, viewers were able to see how Bulgogi Brothers grills their delicious galbi.



☞ Address: Seoul, Mapo-gu, Seogyo-dong, 374-6, 23 (Seogyo branch)
☞ To get there: Subway line 2, Hapjeong station, exit 2, walk for five minutes in the direction of Hongik University
☞ Tel: +82-2-335-7241~3
☞ Hours: 11:00~22:00 (Closed on New Year and Chuseok holidays)
☞ Recommended menu: Marinated Short Ribs 24,900 won (400g), Boneless Short Ribs 34,900 won (200g), Un-Yang Style Bulgogi 19,800 won (200g), Seoul Style Bulgogi 16,900 won (350g)
☞ Official site: www.bulgogibros.com (Korean)



2. Pork Dish - Samgyeopsal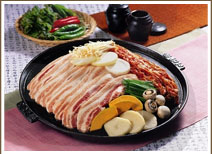 Korean people probably consume the most samgyeopsal (pork belly) in the world. Their love for the meat is such that domestic supply cannot meet the demand, and a large volume must be imported from overseas. Samgyeopsal restaurants are everywhere, and it is customary for colleagues or friends to meet for samgyeopsal and soju in the evening.
Long, thin slices of pork belly meat are sizzled on a heated iron griddle until is caramelized; then it is cut with scissors into bite-size pieces and eaten in a ssam lettuce wrap. While kimchi, onions, garlic cloves and mushrooms are usually grilled and eaten with the meat, every restaurant has its own array of vegetables, and their own secret dipping sauce for the ssam. To enhance the flavor of the meat, some restaurants may use a special marinade.

| | | |
| --- | --- | --- |
| | Experience It ! | |
Palsaek Samgyeopsal (팔색 삼겹살)

The Palsaek Samgyeopsal menu offers eight different pork belly entrees, each flavored with a different sauce (herb, curry, wine, soybean paste, ginseng, red pepper paste, and pine needles) in addition to the original unflavored meat. Diners get unlimited refills on the ssam vegetables for wrapping.
The restaurant was introduced on Japan's NHK TV, Fuji TV, and Asahi TV, as well as in travel books "Rurubu" and "Globe-Trotter Travel Magazine". No wonder 40% to 50% of its customers are Japanese tourists. Two or three Japanese staff members work here full-time to help with reservation and serving. Service is also available in English and Chinese.
The most popular item on the menu is the Palsaek samgyeopsal set (3 persons or more), which allows you to try all the various flavors. After finishing the set, you might want to try some more meat, the most popular being the wine and herb samgyeopsal. The interior of the restaurant is decorated in a traditional Korean style.
The restaurant took great care in developing recipes for the special sauces. Assisting in the process was Kim Su-jin, President of Food & Culture Academy and the food director for the movies "The King and the Clown" and "Sikgaek". Korean dramas "The Secret of Keu Keu Island" and "Cruel Temptation" were also filmed here.


☞ Address: Seoul, Mapo-gu, Nogosan-dong 107-111, Mihwa building
☞ To get there: Subway line 2, Sinchon station, exit 6, cross the street in front of Seven Eleven and walk a 100 meters towards Sogang University. The restaurant is in the basement level of the Kia Motors building.
☞ Tel: +82-2-719-4848
☞ Hours: 11:00~23:00 (Closed on holidays)
☞ Recommended menu: Original unflavored meat / herb-flavored / curry-flavored / wine-flavored / doenjang-flavored / ginseng-flavored / gochujang-flavored / pine needle-flavored 8,000 won each, Palsaek samgyeopsal set 30,000 won, cold noodles 4,000 won, dongdongju 5,000 won

Tteokssamsidae (떡쌈시대)

With the development of various methods for serving samgyeopsal, Tteokssamsidae has become a culinary favorite. The main ingredient is tteok (rice cake) used in place of the leafy vegetables. The unique idea of offering thinly sliced rice cakes as a ssam wrap was an instant hit that brought fame to the restaurant. For an unusual taste, try pork meat raised on bee venom and a variety of sauces wrapped in a slice of rice cake.



☞ Address: Seoul, Jongno-gu, Gwancheol-dong 44-1
☞ To get there: Subway line 1, Jonggak station, exit 4, walk 30 meters into the alley on the right
☞ Tel: +82-2-737-3692
☞ Hours: 11:00~24:00 (Open year round)
☞ Recommended menu: Tteokssam kimchi samgyeopsal 9,000 won, moksal pork neck meat 9,000 won, Hanu chadolbagi (Beef Brisket) 18,000 won

Haengbok Chupungnyeong Kal-Samgyeopsal (행복 추풍령 칼 삼겹살)

The chef scores the meat as many as 300 times across the fibers, allowing the pork fat to flow out and leaving the meat odor-free. Enjoy watching as the sizzling meat is transformed into a cruller shape. This cooking method attracts not only pork lovers but also those who usually don't like pork because of the odor. The menu is available in English and Japanese for international tourists.



☞ Address: Seoul, Gangnam-gu, Sinsa-dong 657-21, F1
☞ To get there: Subway line 3, Apgujeong station, exit 2, turn back and walk in the direction of Galleria Department Store (for 20 minutes) or take a taxi and get off at Rodeo Street across Designer Club  Walk into Rodeo Street and turn left at the Ministop convenience store.
☞ Tel: +82-2-518-9996
☞ Hours 18:00 ~ 06:00
☞ Recommended menu: Original unflavored kal-samgyeopsal / herb garlic-flavored / curry-flavored / bokbunja berry-flavored 9,500 won each, kalguksu noodle 5,000 won, mul-naengmyeon noodles 5,000 won, steamed egg custard 5,000 won


3. Chicken Dish - Samgyetang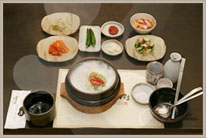 Of the chicken-based entrees, samgyetang (삼계탕) is by far the most popular and nutritious summertime dish. Samgyetang soup is made by stuffing a whole young chicken with glutinous rice, ginseng, and jujube fruits and cooking it until it literally falls off the bone. On chobok, jungbok, and malbok, the hottest, most sultry days of the year, Korean people line up for a bowl of samgyetang soup. It is, in fact, a long tradition for Koreans to supplement physical energy that is lost through excessive sweating and physical exertion during the hot summer.
The chicken meat is separated with chopsticks and dipped in salt, and the rice is spooned with the soup broth. The ginseng and jujube fruit, which are treasured by Koreans as medicinal ingredients, are fully cooked so they can be eaten as is. Because of its simple cooking method and nutritional value, Korean people often make samgyetang at home.
Other dishes made of chicken are dakgalbi (닭갈비) made by stir-frying marinated diced chicken with vegetables; jjimdak (찜닭), a steamed dish made with chicken, potatoes, and cellophane noodles in soy sauce; and fried chicken.

☞ How to Cook Samgyetang at Home

| | | |
| --- | --- | --- |
| | Experience It ! | |
Tosokchon (토속촌)

Tosokchon is one of the oldest samgyetang restaurants in Seoul. In the summer, it is common to find people standing in a long queue in front of the restaurant as they wait for a table, but even if you can't avoid the lines surely it's worth the wait. Tosokchon's samgyetang is characterized by its thick, rich broth. Adlay (a wild grass seed also known as Job's tears), pumpkin seeds, and sunflower seeds impart a nutty flavor and neutralize the chicken odor.


☞ Address: Seoul, Jongno-gu, Chebu-dong 85-1
☞ To get there: Subway line 3, Gyeongbokgung station, exit 2, walk 120 meters ahead and enter the alley at the GS25 convenience store
☞ Tel: +82-2-737-7444
☞ Hours: 10:00~22:00 (Open year round)
☞ Recommended menu: Samgyetang 13,000 won, Ogol samgyetang (오골삼계탕) 18,000 won, grilled chicken 12,000 won