Andong bills itself as Korea's "spiritual cultural capital," and there's no denying that the Confucian way of life still runs strong. Confucianism has had a profound effect on Korean culture and still informs a good many of the social mores of modern Korea. Nowhere is this more apparent than in Andong. The locals may have traded in their hanbok for Western clothing, and youngsters may attend modern schools, but they maintain the dignity and grace of their aristocratic ancestors.

Andong's unique cultural charm is due to its close association with Korea's yangban culture. Part scholar, part official, part landowner, the yangban formed the elite of Joseon era society, armed with knowledge of Chinese classics and the intricate system of ritual and etiquette demanded by Joseon's guiding neo-Confucian ideology. Andong was home to many influential yangban families, and one of the Joseon era's two greatest Confucian scholars, Yi Hwang, lived and taught in Andong. Among its secluded valleys, great Confucian academies were built, producing many of the Joseon era's greatest minds.

Today, Andong is a pleasant provincial town and major regional educational center. The yangban system may be gone, but in the hearts and minds of Andong, aristocracy lives on. In 1999, Queen Elizabeth II celebrated her 73rd birthday here, and on October 11, Queen Margrethe II of Denmark is due to tour the city.

Downtown Andong has some things to keep your attention, especially around the massive Andong Dam, but the countryside is a cornucopia of Joseon-era culture. Major destinations include the major Confucian academy of Dosan Seowon to the north, the exquisite Buddhist temple of Bongjeong-sa to the northwest, and the Joseon-era hamlet of Hahoe Village and magnificent Byeongsan Seowon Confucian academy to the west.





The Cambridge of Old Korea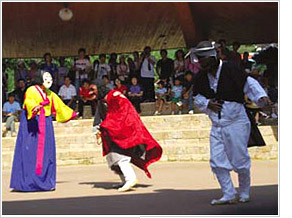 It wouldn't be a stretch to call Andong the Cambridge of Joseon-era Korea.
The rugged mountains of the northern region of Gyeongsangbuk-do were virtually dotted with seowon, private Confucian academies established by leading scholars and influential yangban families. From the 15th century, when these schools first appeared, to their closure by the regent Heungseon Daewongun in 1871, the seowon were a backbone of rural gentry society.
Dosan Seowon, about 30 minutes by bus (bus no. 67, to be specific) from downtown Andong, is both the largest and most famous of Korea's seowon. Founded in 1574 by the students of Yi Hwang some four years after their mentor's death, Dosan Seowon is a masterpiece of Korean Confucian architecture. The complex consists of numerous classrooms, dormitories, shrines, pavilions, courtyards and the very spot where seowon students sat for the critical civil service examinations — the ticket to success in Joseon society. It's best to set aside at least a half-day to wander through the maze of stone walls and tile roofs and imagine yangban life at its prime.
Entry to Dosan Seowon is 1,500 won.

→ Click here for more on Dosan Seowon
→ Click here for more on Byeongsan Seowon
Where the Paper Crane Flies
Andong isn't generally associated with Buddhist culture, but in Bongjeong-sa sits one of Korea's most beautiful Buddhist temples. Since it's off-the-beaten path, Bongjeong-sa, unlike other crowded temples, can be enjoyed in real peace and serenity.
Bongjeong-sa Temple was founded in 672 by National Preceptor Uisang, one of Korea's greatest Buddhist monks. Legend has it that a paper crane he let loose from the nearby monastery of Buseok -sa landed on this spot. Thank s to its isolation, the temple was spared the ravages of war and civil unrest, and today represents one of the most splendid displays of traditional Korean architecture.
The bus to Bongjeong-sa leaves from Andong Elementary School's front entrance, and the 40 minute ride takes you through some spectacularly beautiful countryside dotted with beautiful tile-roof homes, some of which are over 100 years old.
After you disembark, it's a pleasant walk up to the temple complex. Just before the Iljumun Gate, which separates the secular and spiritual worlds, there's a small Korean pavilion overlooking a waterfall that was built in 1665 by students of Yi Hwang. The temple itself sits atop a series of terraces and, passing an impressive two-storey pavilion, the main courtyard comes into view. The Daeungjeon (Treasure No. 55), or Main Hall, and its stunning original murals, are breathtaking. To your left is the Hwaeom Gangdang (Treasure No. 448), a study hall dating from 1588, and overlooking the terraces is the gentile Manse-ru pavilion, which houses the temple's ceremonial musical instruments.
Behind the Hwaeom Gangdang is another courtyard featuring the Geungnakjeon ("Nirvana Hall"), Korea's oldest wooden building, dating back to 1363 and designated National Treasure No. 15. It's a simple earth-yellow hall with slated windows and no door, and is one of only a handful of Goryeo-era wood buildings still in existence. In front of the hall is a small stone pagoda (dating from the Goryeo era) and the small Gogeumdang Hall, built in 1616 and designated Treasure No. 449.
A short distance from the main courtyard is a small detached hermitage called Yeongsan-am that's simply not to be missed. Built in the 19th century, this locale is as close to Nirvana as you're likely to get. A few weathered old buildings, exquisitely painted interiors, a breezy open courtyard, some gnarled old trees, a small perfect stone lantern — it's the epitome of Korean traditional design. So enchanting is the atmosphere that it was used as a film set for the 1989 Buddhist classic, "Why Has Bodhi-Dharma Left For The East?"
Entry into Bongjeong-sa Temple is 1,500 won

→ Click here for more on Bongjeong-sa Temple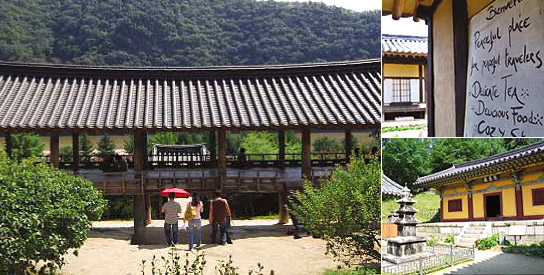 Yangban Spirit Lives On
Andong's most famous tourist attraction is, undoubtedly, Hahoe Village.
This small hamlet, about 30 minutes by bus from downtown Andong, sits on a bend of the Hwacheon Stream, a tributary of the mighty Han River. Since the 16th century, it's been a one-clan village, home of the influential Pungsan Ryu family, including Ryu Seong-nyong, the great prime minister during the Imjin War (1592-1598). Members of his family live here to this day.
This idyllic village, surrounded by the meandering Hwacheon Stream and backed by dramatic cliffs, is quite the tourism draw card, with all the trappings. That being said, it's still a must-visit site — wandering around its romantic clay-walled alleys, or sipping a bowl of dongdongju rice wine on the wooden porch of a century-old home is an unforgettable way to spend an afternoon. Despite the wealth of traditional Korean homes, some of which are designated treasures, this is most certainly not a folk village (even if many of the residences have been converted into restaurants and homestay facilities), but a real community dating back some 500 years. A bird's eye view of the village from Buyongdae, a cliff across the river from the village, is unforgettable.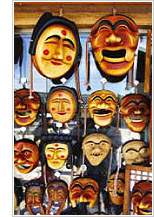 The village is also famous for the Hahoe Byolshin-Gut Tal-Nori, or Hahoe MaskDance Drama. The Hahoe MaskDance, dating back to the Joseon era, is a six-act satire of hierarchical Joseon society — lecherous monks, pedantic scholars, crude commoners — combining shamanist ritual and popular entertainment. From March to November, there are regular performances of the MaskDance at Hahoe Village (Saturday and Sunday at 3:00pm from May to October, and Sunday at 3:00pm in March, April and November). The highly anticipated Andong International MaskDance Festival takes place from September 28 to October 7. Entry into Hahoe Village is 2,000 won.
Not far Hahoe Village is Byeongsan Seowon, another of Andong's Confucian academies. While not as large or famous as Dosan Seowon, Byeongsan Seowon lacks nothing in terms of aesthetic beauty. Moved to its current location in 1572 by Prime Minister Ryu Seung-nyong to train students, the seowon is set against dramatic cliffs, the graceful lines of the school buildings and its natural backdrop said to resemble a folding screen. Entry into Byeongsan Seowon is free, but it's a bit difficult to get to. Buses are infrequent; by taxi, a trip to Buyongdae cliff, Byeongsan Seowon and Hahoe Village can be had for about 40,000 won, and is well worth it.
→ Click here for more on Andong Hahoe Village
→ Click here for more on Andong City
What to Eat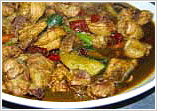 Gyeongsangbuk-do isn't generally known for its food, but Andong is noted for its unique cuisine. Perhaps most famous is Andong steamed chicken, or Andong jjimdak — chunks of chicken with potatoes and glass noodles in a sweet and spicy dark sauce. The best place to score this is an alley of restaurants in Andong's downtown market. A whole chicken will run you about 15,000 won, but it's enough to feed a party of three or four.
More regional specialties are Andong salted mackerel (gan godeungeo) and heotjesabap, or "fake ancestral rites food," steamed and fried foods served in brassware commonly used during the jesa, or ancestral rites. Like "real" ancestral rites food, no red pepper is added.
Andong soju, meanwhile, is one of Korea's most famous traditional firewaters — at 45% alcohol, it's got quite a kick. It comes in beautiful ceramic bottles, and gets better with age. Another local beverage is Andong sikhye, or fermented rice nectar.
While you're there, Hahoe Village is also a good place to eat. Highly recommended is Hadong Gotaek(054) 853-3776, a century-old home that now serves as a restaurant/inn, with excellent food and an atmosphere that can't be beat.

→ Click here for more on Andong soju
Where to Stay
Like many other provincial towns, downtown Andong is full of cheap inns and motels but luxury accommodation is lacking. The swankiest place in town is Andong ParkTourist Hotel (054-859-1500), across from Andong Train Station, where suites are available for 87,000 won.
The most culturally rewarding option is a homestay, or minbak, in Hahoe Village. Usually costing 20,000 won or so, in the autumn tourist season, and particularly during the International MaskDance Festival, it's best to reserve a room early. The homepage of Hahoe Village (http://hahoe.or.kr/) has a list of places and phone numbers in Korean; the English homepage is still under construction.

→ Click here for more on Hanoks (Korean traditional housings) in Andong

How to Get There
Andong can be reached via train or bus. Frequent buses to Andong leave from East Seoul Terminal and take about three hours.
If rail is more your style, trains to Andong depart from Seoul's Cheongnyangni Station eight times a day. The trip takes four hours.