Namdaemun Market, the largest market in Korea and a time-honored landmark
Namdaemun market is the largest traditional market in Korea, and opened during the reign of King Seonjo (14th king of Joseon, 1552-1608) in the Joseon Dynasty. The market is situated in the eastern part of Jung-gu district in Seoul. A huge range of goods can be found there, from clothes, fashion accessories and fabric to kitchenware, electronics, traditional craftworks, regional specialties, agricultural produce and fisheries, foods and miscellaneous goods, and imported products. The stores themselves are small, but many are independently-run establishments selling their own independently-produced goods. The market directly connects producers with consumers, so prices are affordable.
Galchi Golmok, an alley of restaurants specialized in braised scabbard fish

In Namdaemun, where visitors will find almost everything on their shopping list, there are as many things to eat as there are items to shop for. If you are at Galchi Golmok, which is an alley lined with restaurants specialized in braised scabbard fish, you will see throngs of people flooding in throughout the day, but especially during lunch time. There are about ten scabbard fish restaurants around the Namchang-dong Bondong commercial building. Though there are no signs giving directions to the alley, it is pretty easy to find the place. Just drop in at a store to ask where the alley is, and the storekeeper will be happy to help you with directions. The alley has become a must-visit destination for working professionals, shopkeepers, and tourists. The braised scabbard fish is one of the most popular dishes in Namdaemun, and the taste ensures that many first-timers become regulars at the popular restaurants.
Galchi in nickel-silver pot vs. earthen bowl


At lunch time, dozens of dented nickel-silver pots and earthen bowls are filled with scabbard fish, waiting to be served at outside restaurants. When the bowls start to boil, customers begin to crowd in. Those who don't make it in time must line up outside the restaurants. The dish of braised scabbard fish is essentially the same at every restaurant. White radishes are first lined across the bottom of the pot, and chunks of scabbard fish are layered on top with sauce. The only difference may be in the type of pot in which the dish is boiled. Nickel-silver pots, for example, will allow the dish to boil quickly, while the earthen bowls will take longer to boil, but will keep the dish warm longer, too. The restaurants use top-quality scabbard fish caught in Yeosu, Jeju-do, Mokpo, and Busan. Depending on the way the dish is cooked, the taste will differ slightly by establishment. The price for two is around 12,000 won. Some restaurants offer steamed eggs as a side dish.
Guksu Golmok, an alley of noodles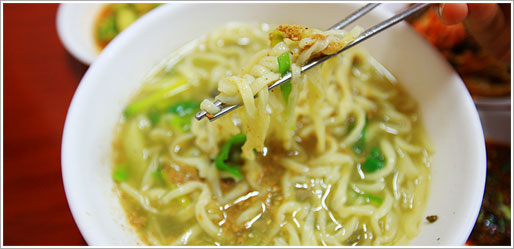 Namdaemun market is also famous for noodles called kalguksu. Kalguksu is a dish consisting of handmade, knife-cut wheat noodles served in a large bowl with broth and some vegetables. Come out from Exit 6 of Namdaemun Market and walk ahead until you find the alley to the left. Both sides of the alley are lined with small restaurants. Some other types of dishes are also sold in the alley, such as sujebi (dough flakes in hot broth), janchi guksu (noodle dish consisting of wheat flour noodles in a light broth made from anchovy and topped with vegetables), naengmyeon (cold noodles in dressing), and bori bibimbap (bibimbap with barley rice). The restaurants are small, each consisting of a small cooking space and a long table with a bench. The most popular dish is kalguksu with thick and chewy noodles served in a hot broth. Order kalguksu, and you will get a bowl of cold noodles for free, or vice versa. Most meals come with a free dish. The alley has a casual ambience that can be visited for a quick lunch or snack. A friendly area, visitors here will experience the kindness and hospitality of the locals.
Yachae (vegetable) hotteok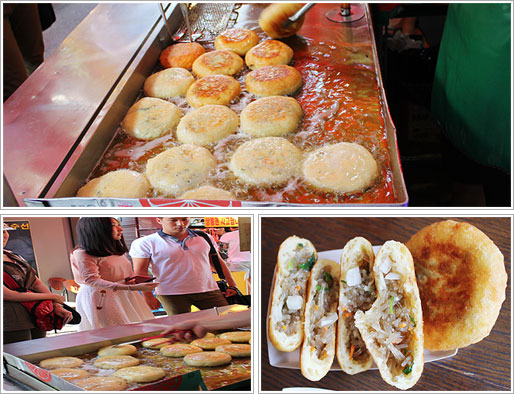 Yachae hotteok is a fried dumpling. Filled with glass noodles and vegetables such as onions, chives, and carrots, this dish is delicious when dipped in soy sauce. It is deep-fried in oil, but chives help balance the oily breading. The area around hotteok vendors is always bustling with people lined up to get their hands on this delicacy, whose affordable price makes all the waiting enjoyable. The price may differ by stall, but in general it costs around 1,000 won.
Dried fruits and nuts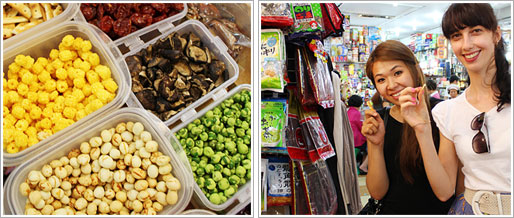 Go to the basement of the Imported Goods building in Namdaemun market to find a wide assortment of dried fruits and nuts. You can purchase around 20 types of dried fruits, vegetables, and nuts at affordable prices. Some sellers offer samples, so you can try some before deciding to buy. Prices start at 10,000 won and differ by weight.
More info <Namdaemun Tourist Information Center >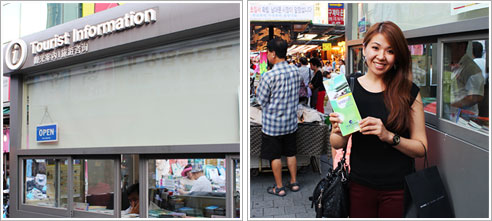 ☞ Address: Namdaemun Market, 49 Namchang-dong, Jung-gu, Seoul
☞ Tel: +82-2-752-1913 (Korean, English, Japanese, Chinese)
☞ 1330 Korea Travel Hotline: +82-02-1330 (Korean, English, Japanese, Chinese)