Ganghwa Armiae World is a mugwort-themed park that has mugwort beauty programs and a maze park. Ganghwa ssuk, or mugwort, grows by the sea and has long been known for its outstanding medicinal effects. Various programs are offered using mugwort, including footbaths, saunas, soaps and pottery making. The theme park operates a restaurant specializing in mugwort dishes. There is also an Agricultural Exhibition Hall and an outdoor event area.
☞ Address: Jungang-ro 742-2, Bureun-myeon, Ganghwa-gun, Incheon
☞ Hours of operation: 09:30-17:30 (The restaurant is open until 8 p.m.)
☞ Admission: Free / Fees may apply to some hands-on programs.
☞ Homepage: http://www.armiae.com/ (Korean. English, Japanese, Chinese)
☞ Tel: +82-32-930-4114 (weekdays daytime), +82-32-930-4119 (weekends and holidays, and nighttime)
☞ Korea Travel Hotline: +82-2-1330 (Korean. English, Japanese, Chinese)


Opened in September 2008, the Ganghwa Peace Observatory is situated near the foreshore where one can see the Yeseonggang River, Hangang River and Imijingang River flowing into the sea. As the area is only 1.8 kilometers away from North Korea, it is a controlled zone for civilians. As a result, the area has not been developed, and the foreshore and forest groves are very well preserved. The observatory also provides visitors with a chance to catch a glimpse of North Koreans at work, farming with North Korea's Songaksan Mountain in the background. Visitors must bring a valid photo ID in order to obtain a permit to use the observatory and once you are finished sightseeing, return the permit in exchange for your photo ID.
☞ Address: Cheolsan-ri san 6-1, Yangsa-myeon, Ganghwa-gun, Incheon
☞ Hours of operation: 09:00~18:00
☞ Admission: 2,500 won / High-powered telescope: 500 won
☞ Tel: +82-32-930-7062 (Korean)
☞ Korea Travel Hotline: +82-2-1330 (Korean. English, Japanese, Chinese)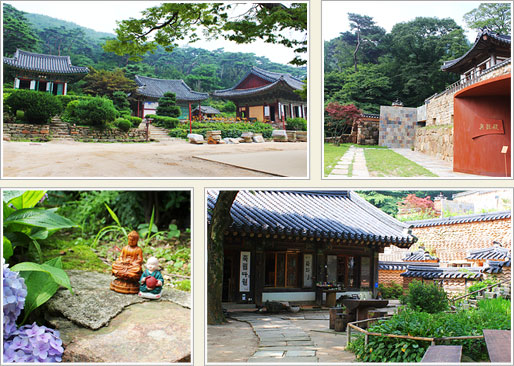 Situated inside Samrangseong Fortress, Jeondeungsa Temple rests serenely among the surrounding mountain landscape and welcomes visitors with an arched gate. Past the entrance to the fortress is a dense and refreshing forest path that leads to the temple grounds. Jeondeungsa Temple is known to be the oldest temple in Korea as it was built during the reign of King Sosurim (17th king of Goguryeo, reigning from 371 to 384) of the Goguryeo Kingdom. When it was built, it was known by the name Jinjongsa and was later renamed Jeondeungsa when Queen Jeonghwa Gungju (wife of King Chungnyeol, the 25th king of Goryeo, 1236-1308) dedicated a jade lantern to the temple. Visitors can enjoy tea at Jungnim Dawon, a traditional tea house by the entrance of the temple.
☞ Address: Onsu-ri 635, Gilsang-myeon, Ganghwa-gun, Incheon
☞ Admission: Adult 2,500 won (payable in cash only)
☞ Homepage: http://www.jeondeungsa.org/ (Korean)
☞ Tel: +82-32-937-0125 (Korean)
☞ Korea Travel Hotline: +82-2-1330 (Korean. English, Japanese, Chinese)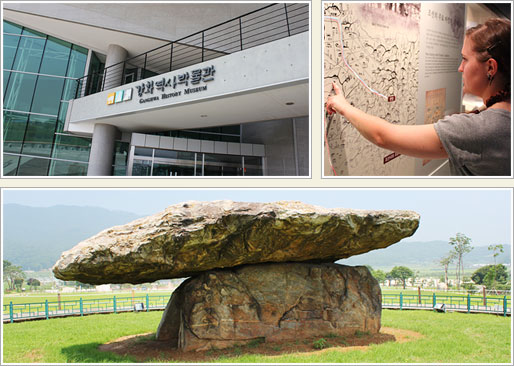 Opened in October 2010, the Ganghwa History Museum was established to preserve, exhibit, and research in a systematic way the history and culture of Ganghwado Island from its prehistoric times up to its modern era through relics unearthed in the region. The museum has on exhibit various cultural relics that show how Ganghwado Island played a vital role as a gateway to the sea in the past. A variety of educational and cultural programs are also organized at the museum.

The Ganghwa Dolmen site is a UNESCO World Cultural Heritage. A dolmen is a type of megalithic tomb made during the Bronze Age. There are two types of dolmens: one is a table-type dolmen consisting of upright stones supporting a large flat horizontal capstone, and the other is like a go-board table with footstones supporting a flagstone. The dolmen at Ganghwa is a table-type dolmen 2.6 meters high. The granite capstone measures 6.5 meters long, 5.2 meters wide, and 1.2 meters thick.
Ganghwa History Museum
☞ Address: Bugeun-ri 350-4, Hwajeom-myeon, Ganghwa-gun, Incheon
☞ Hours of operation: 09:00-18:00 (ticket office closes at 17:30) / Closed on Mondays
☞ Admission: Adult 1,000 won
☞ Homepage: http://museum.ganghwa.go.kr/ (Korean)
☞ Tel: +82-32-934-7887 (Korean)
☞ Korea Travel Hotline: +82-2-1330 (Korean. English, Japanese, Chinese)


Ganghwado Island had long been a major outpost to safeguard the country from foreign invasions and a gateway where foreign culture came into the country. Walk by the sea and you are sure to come across some of the 53 elevated watch-tower-like structures created all along the island to defend against foreign invaders. The outer wall of the fortress was built from 1233 to 1270 after Goryeo moved its capital to Ganghwa to prepare for an invasion from Mongolia. The fortress itself was built using stone and soil and together with Deokjinjin Fort, Chojijin Fort, and Munsusanseong Fortress, Gwangseongbo was an important fortress to safeguard the sea around Ganghwado Island.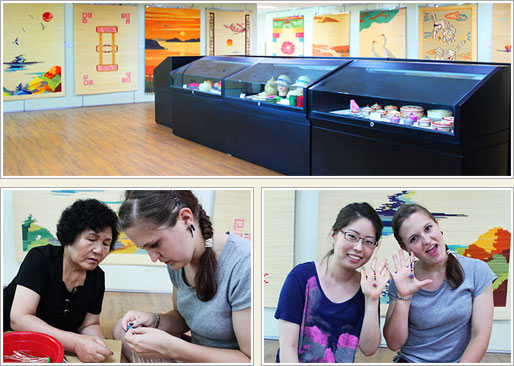 Hwamunseok Culture Hall was established to preserve and exhibit the history of hwamunseok and its traditional production method. Hwamunseok is a regional specialty of Ganghwado Island. Literally meaning flower carpet, hwamunseok is made with colored Cyperus exaltatus (also known as tall flat sedge or giant sedge) that is entwined by hand through countless crossovers. The hall has two floors. The first floor has a workshop and hands-on area (programs cost between 5,000 won and 10,000 won). The second floor features exhibits of hwamunseok handicraft works and models showing the daily uses of straw.
What's hwamunseok?
Hwamunseok refers to elegant and intricately woven handicrafts made of tall flat sedge intertwined in simple patterns. Many years ago, the craftworks were popular commodities enjoyed by royalty who presented them as gifts to important guests. They were also used for weddings or ancestral ritual ceremonies. The tall flat sedge, the main product used in hwamunseok, lets air through, making the finished goods perfect to keep the body cool in summer. In the winter, they can help fend off chills. The plant is sturdy and its natural oil prevents breakage.


Photo courtesy) Ganghwa Facilities Management Corporation The Ganghwa Tidal Flat Center is housed in a three story building. Each floor exhibits various aspects of the tidal flat in Ganghwado Island. On the first floor are miniature models of the Ganghwa tidal flat and topographical models showing how the tidal flat was formed. Visitors can also view videos showing the four seasons of the tidal flat. On the walls by the stairs leading from the first to the second floor hang models of animals from the tidal flat.
☞ Address: 2293-37, Haeannam-ro, Hwado-myeon, Ganghwa-gun, Incheon
☞ Hours of operation: 09:00-18:00 (last admission is one hour before closing time) / Closed on Mondays
☞ Admission: Adult 1,500 won
☞ Homepage: http://tidalflat.ganghwa.incheon.kr/ (Korean)
☞ Tel: +82-32-930-7064 (Korean)
☞ Korea Travel Hotline: +82-2-1330 (Korean. English, Japanese, Chinese)


Seongmodo Island can be reached by a 10-minute ferry ride from Oepori Port. The island is part of Samsan-myeon Township (population: 2,400) of Ganghwa-gun in Incheon. Though the boat ride is short, visitors can enjoy the beautiful sea of the West Coast while feeding snacks to the cloud of seagulls.

Bomunsa Temple is situated on Nakgasan Mountain in the center of the island. Bomunsa Temple is famous for the Maae Avalokiteshvara Bodhisattva statue carved into a large rock face. The statue can be reached by taking the stairs in the back of the temple. From there, visitors can get a view of the blue sea and Minmeoru Beach, the only beach on the island. The area is particularly famous for the rich colors in the evening sky. The expansive foreshore of Minmeoru Beach reveals itself when the tide is low and visitors can enjoy hands-on programs there.
☞ Address: Seogmo-ri, Samsan-myeon, Ganghwa-gun, Incheon
☞ Oepori Sambo Ferry: +82-32-932-5007 (Korean)
* (first ferry 07:00 – last ferry 20:00 (riders must be at the ferry no later than thirty minutes before departure)
☞ Oepori Tourist Information Center: +82-32-934-5565 (Korean. English, Japanese, Chinese)
☞ Korea Travel Hotline: +82-2-1330 (Korean. English, Japanese, Chinese)
Thrilling ATV Rides on Seongmodo Island

ATV (all-terrain vehicle) rides await visitors in Seongmodo. Enjoy a thrilling ATV ride and take in the fresh sea breeze. Even beginners can ride after attending an orientation from a professional instructor and practicing a bit, so don't miss out on this exciting way to cruise along the beach!
☞ Address: 645-21, Maeeum-ri, Samsan-myeon, Ganghwa-gun, Incheon
☞ Tel: +82-32-932-4621 (Korean)
☞ Reservations are taken via telephone; those who don't have a reservation can apply on-site the day of the ride.
☞ Price: Sea course 35,000 won (per person)
☞ Bring light clothing.
>> Other tourist attractions
Dongmak Beach, Goryeogung Palace site, Chojijin Fort
Gaetbae grilled fish


Fresh fish are grilled over charcoal upon order. Order a platter to taste a fresh variety of fish caught in the region. Orders come pre-grilled and are grilled for a second time at the table.
Wanggol craft (handicraft made of tall flatsedge)


Wanggol craft is a specialty handicraft product unique to Ganghwado Island. It is made of white tall flat sedge, which is only produced on Ganghwado Island. Thin strands of sedge are intricately entwined by the seasoned hands of weavers. The craftwork embodies the style and wisdom passed down through many generations.
Sunmu (turnip)
Sunmu, or turnip, is a major crop of Ganghwado Island. It has long been known to have be beneficial for the skin's health. According to Donguibogam (Principles and Practice of Eastern Medicine written by Heo Jun), sunmu has a sweet taste, helps with digestion, enhances the function of the ears and eyes, and helps quench thirst. It is also good for children and can be used as a side dish, snack, or an alternative to fruits.
Ginseng


Ganghwado Island is the where Goryeo ginseng originated. Production first began in the Goryeo era under the reign of King Gojong (1232). Starting in 1953 when the people of Gaeseong, the center of ginseng production at the time, took refuge on Ganghwado Island after the Korean War broke out, ginseng production grew exponentially. Ginseng requires a specific climate and soil to grow best and the Ganghwa region is most favorable for producing 6-year old ginseng. Ginseng is effective for rejuvenating energy, strengthening lung functions, and detoxing the body.
Transportation
Sinchon Station (Seoul Subway Line 2) exit 4. Walk straight and take bus 3000 or 3100 for Ganghwado Island at the bus stop in front of the CGV movie theater. Both buses go to Ganghwado Island but have different stops, so make sure to check the itinerary before boarding. Bus 3000 runs between Ganghwa and Sinchon Station, and bus 3100 runs between Manisan Mountain (Hwado) and Sinchon Station.
Accommodation
Goodstay: http://korean.visitkorea.or.kr
(Korean, English, Japanese, simplified Chinese, traditional Chinese)
Tourist Information Center
* Tourist Information Center at Gapgotdondae Fortification: +82-32-932-5464 (Korean, Japanese)
* Tourist Information Center at Ganghwa Terminal: +82-32-930-3515 (Korean, English, Japanese)
* Tourist Information Center in Chojijin Fort: +82-32-937-9365 (Korean)
* Tourist Information Center in Goindol Dolmen Site: +82-32-933-3624 (Korean)
* Tourist Information Center in Oepori Port: +82-32-934-5565 (Korean, Japanese, Chinese)
* Ganghwa-gun County Office: http://www.ganghwa.incheon.kr (Korean, English, Japanese, Chinese)
* Ganghwa Culture & Tourism: http://tour.ganghwa.incheon.kr/ (Korean)