One of the most common types of kimchi in Korea is pogi kimchi (kimchi made with whole Korean cabbage). A fixture on Korean tables both at homes and in restaurants, pogi kimchi is fairly easy to make. Let's take a closer look at how to make this popular kimchi variety.
STEP 1 Preparing kimchi ingredients

Ingredients: 1/2 Korean cabbage, 2/3 radish, 1/2 cup salted fish, 1 1/2 cup red pepper powder, 5 water parsley, 6 chives, broth made with dried Pollack, 1/4 onions, 1 table spoon dried shrimp powder, 1/3 cup glutinous rice porridge, minced ginger, 5 red peppers, 1 table spoon sesame seeds, 2 jujubes
STEP 2: Salting the cabbage and making the seasoning

1. Choose a medium-sized Korean cabbage and slice it in half lengthwise, removing any withered leaves. Sprinkle coarse sea salt in between each layer of leaves and let the cabbage soak in salt water for 8 to 12 hours.( Use about 3 cups of salt and 15 cups of water per each half.) Remove the cabbage and rinse it under running water 3 or 4 times before placing it in a basket or bowl.

2. Julienne the radishes and cut the water parsley, chives, and onions into strips measuring approximately 3 centimeters long. Mince the garlic and ginger, and grind the salted fish.

3. In a large bowl, combine the red pepper powder, ground hot peppers, broth, and glutinous rice porridge. Mix in the garlic, ginger, salted fish, and ground dried shrimp. Mix sesame seeds and jujube with the vegetables from Step 2, and the kimchi stuffing is all set.
STEP 3: Seasoning the cabbage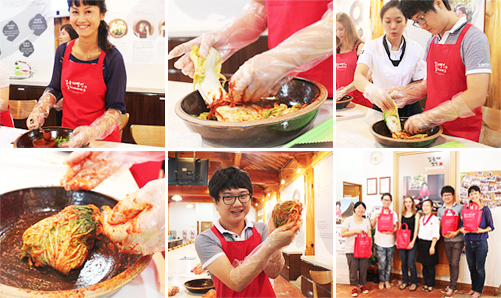 Starting with the outer layer and working your way in, take a small amount of seasoning and spread it in between each layer of leaves. Try to put more seasoning on the white parts of the cabbage as opposed to the green parts. After you've finished, use the outermost leaf to wrap the cabbage tightly in a bundle. You can eat the kimchi right away or let it sit for a day or two to ferment.


More Info

Kimchi Theme Park

☞ Location: Bucheon Gongbang Street, near the Korea Manhwa Museum
(Gyeonggi-do Bucheon-si Wonmi-gu Sang-dong)
☞ Directions
* Public transportation
- Songnae Station (Seoul Subway Line 1), Exit 2 ((North (Bukbu) Station Plaza)).
Take Bus 37 or 5-2 and get off at the Korea Manhwa Museum (travel time: ~25 min) / or take a taxi (travel time: ~15 min)
- Bugae Station (Seoul Subway Line 1), Exit 2.
Take Bus 79 and get off at the Korean Manhwa Museum (travel time: ~20 min) / or take a taxi (travel time: 10min)
☞ Operating hours: 10:00-18:00 (closed on Mondays)
☞ Blog: http://blog.naver.com/kimchik1 (Korean)
☞ Program time: approx. 60 min
☞ To apply: Make a reservation on the blog or by phone ((+82-70-4251-1212 (Korean))
☞ Program fee: 30,000 won per person (includes packaging of kimchi made in class)

* From August to the end of November 2012, the program is available for 10,000 won for up to 500 foreign visitors.