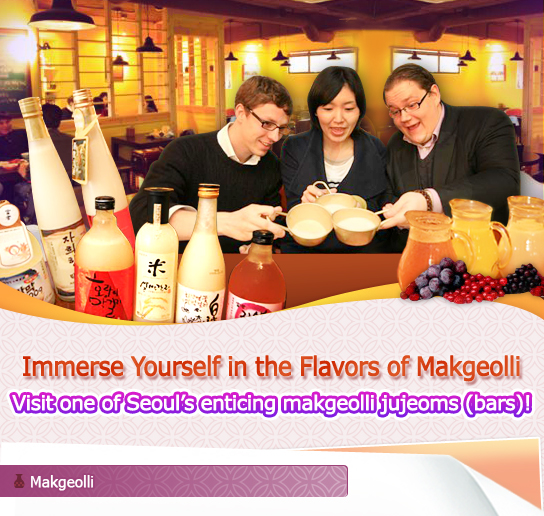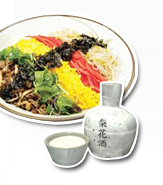 'Makgeolli' is a traditional Korean alcohol produced through a process of mixing steamed rice, barley, or wheat with yeast and water, and then leaving the concoction to ferment. Makgeolli (막걸리) was originally considered the beverage of the 'working class,' consumed primarily by farmers or laborers after a grueling day in the field. As of late, however, the drink has gained a wider following among younger generations of Koreans—and expatriates—owing to its reputation as a simple beverage that, relative to many other alcohols, offers several health benefits.

With an alcohol content of 6-7%, makgeolli is a fairly mild drink with a mellow, nutty taste. Recently, many drinking establishments have taken to mixing makgeolli with fruity flavors, resulting in a rainbow of eye-catching makgeolli cocktails served alongside the latest in fusion-style appetizers. In this piece, we'll take our readers to a few of the hippest and most exotic makgeolli 'jujeoms' (bars) in the Hongik University/Sinchon and Gangnam/Apgujeong areas. Follow along as we rediscover this traditional alcohol as it makes its comeback in the new millennium.



Click here for Traditional Liquors and Wines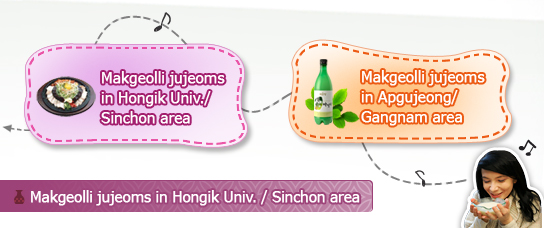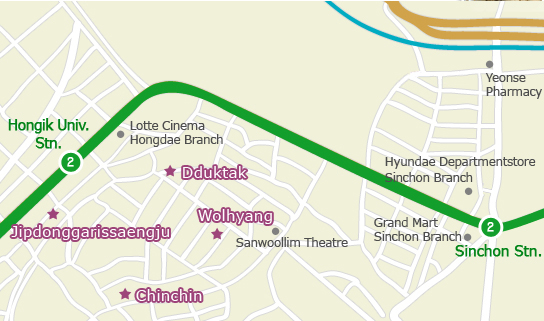 Wolhyang
Offering makgeolli made of organic brown rice in a clean, modern interior, Wolhyang (월향) is often frequented by female customers. Much like draft beer, makgeolli is served straight from a dispenser, resulting in an exceptionally fresh and crisp taste. In addition to its visually pleasing strawberry- and peach-flavored selections, makgeolli at Wolhyang has an alcohol content of 15%, giving beverages a stronger, undiluted taste difficult to find anywhere else. For appetizers, there are a variety of choices, including the bar's specialty: cold beef shabu shabu. In fact, the bar has a new menu every Wednesday and Saturday, designed each week by one of its talented chefs. Interested in learning more about makgeolli, or even how to make it? A regional brewery owner drops by on Wednesdays to conduct a 'makgeolli class' and on Saturdays, there is a lecture titled, 'The Life Story of Makgeolli.' Classes are provided in English. Wolhyang seats up to 40 customers and has bottled liquor available for takeout purchases.

| | |
| --- | --- |
| | |
| | Address: Seoul-si Mapo-gu Seogyo-dong 335-5 2F |
| | Getting there: Subway Line 2, Hongik University, Exit #4. Walk 100 meters and turn left at Egro Coffee. >> Walk 100 meters and turn at Hongik Sutbul Galbi onto Dabokgil Road. >> Walk 200 meters. Wolhyang is on the second floor of the Tea Terrace building on the right. |
| | Tel: +82-2-332-9202 (English, Japanese (not available on Tuesdays)) |
| | Hours: Mon-Wed: 12:00pm-02:00am, Thu-Sat: 12:00pm-04:00am, Sun: 12:00pm-01:00am (Open year-round) |
| | Recommended makgeolli: Chestnut makgeolli, strawberry makgeolli |
| | Recommended dishes: Cheese eoriguljeot (salted oyster), soy sauce tofu fritters, pan-fried delicacies |





Chinchin
Located in front of Hongik University, Chinchin (친친) offers 20 different kinds of makgeolli, including selections from different regions of Korea and seven different makgeolli cocktails. The bar is particularly famous for its 'Tiger' makgeolli, which comes in a variety of flavors. 'Saeng makgeolli,' which is made with uncooked rice, is considered to be healthier than most other makgeolli since it has a higher content of lactic acid bacteria. The bar is especially popular among Japanese tourists, partially due to its fusion-styled appetizers that adapt Japanese cuisine to Korean tastes. Chinchin's seasonal appetizer menu is rotated every other day and descriptions are available in Japanese. The bar can accommodate up to 54 people.

| | |
| --- | --- |
| | |
| | Address:Seoul-si Mapo-gu Seogyo-dong 343-9 |
| | Getting there: Subway line 2, Hongik University, Exit #5. Walk in the direction of Hongik University and turn towards Sinchon in front of the university gate. >> Walk 50 meters. Located on the left. |
| | Tel: +82-2-334-1476 (English, Japanese) |
| | Hours: 05:30pm-02:00am (05:30pm-00:00am on Sundays) (Closed on major holidays) |
| | Recommended makgeolli: Tiger makgeolli, Ihwaju |
| | Recommended dishes: Mexico-style salsa sashimi, jeotgal and cheese, tofu-kimchi |





Dduktak
Famous for its makgeolli cocktails, Dduktak (뚝탁) is a franchise that has 18 stores nationwide. In addition to makgeolli cocktails, the bar serves organic makgeolli made using all-natural processing. Included in its selection of appetizers are many modern adaptations of traditional dishes with prices ranging from 9,000 to 17,000 won—or at an even more economical price if ordered as part of a set menu. Like its appetizers, Dduktak's warm and cozy wooden interior combines old-world charm with a modern flair. Seats up to 60 people.

| | |
| --- | --- |
| | |
| | Address:Seoul-si Mapo-gu Seogyo-dong 330-17 |
| | Getting there: Subway Line 2, Hongik University, Exit #4. >> Walk 100 meters straight and turn left at Egro Coffee. Continue straight for 100 meters. |
| | Tel: +82-2-336-6883 (Korean) |
| | Hours: 05:00pm~05:00am (Open year-round) |
| | Recommended makgeolli: Chamsari takju, strawberry makgeolli |
| | Recommended dishes: Whole tofu-kimchi, grilled pork belly and bean sprouts, bossam platter |
| | Official site: http://dduktak.com/ (Korean) |





Jipdonggarissaengju
The distinguishing feature of Jipdonggarissaenju (짚동가리쌩주) —other than its long name—is makgeolli served in antiqued, metal kettles reminiscent of the bars of yore. Order up a round of kiwi, strawberry, or other flavors of makgeolli cocktails, or enjoy the bar's more traditional Korean liquors. A sampling of the fusion-styled menu includes seafood jeongol casserole, bossam (steamed pork wrapped in leafy vegetables), sweet and sour conch, and stir-fried chicken. A comfortable place to chat and drink with friends while enjoying a pleasant ambiance, Jipdonggarissaengju seats between 70 to 80 customers.

| | |
| --- | --- |
| | |
| | Address: Seoul, Mapo-gu, Donggyo-dong, 163-15 |
| | Getting there: : Subway Line 2, Hongik University, Exit #5. Walk down Pascucci Alley, go two blocks, and turn right. >> Walk straight for 20 meters. |
| | Tel: +82-2-322-1636 (Korean) |
| | Hours: 03:00pm~06:00am (Open year-round) |
| | Recommended makgeolli: Kettle makgeolli, strawberry saeng makgeolli, kiwi saeng makgeolli |
| | Recommended dishes: Panbroiled chicken (dakgalbi sapduruchigi), osamsun (panbroiled octopus/pork belly/sundae), crispy chicken salad |
| | Official site: http://www.zipsseng.net/ (Korean) |