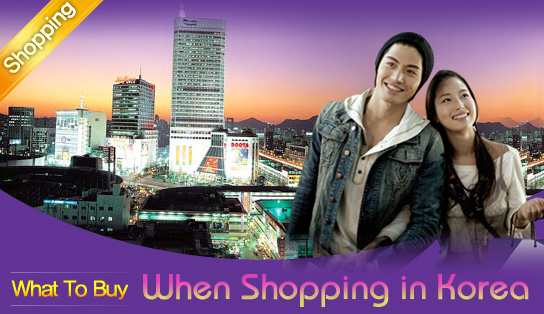 From traditional local shops to late night markets, Korea offers a variety of shopping destinations all equipped with an endless selection of items to buy. The following is a list of items that are either great souvenir gifts or must-buy items that are too good to pass up. From Korean food to traditional craftwork, be sure to have this list handy at all times when you come shopping in Korea.


Korea has the right climate and soil critical for the cultivation of ginseng. This is why its ginseng is recognized as one of the best in the world. In particular, Korean ginseng is known for its beneficial effects in helping maintain physical strength and warding off disease. It is not easy for shoppers to distinguish good ginseng from lower-quality ones, so it is advisable to shop in department stores or duty free shops for guaranteed quality. The best-known product is the 'Cheong-Kwan-Jang' brand of the Korean Ginseng Corporation.



Kimchi, Korea's most recognizable food, has also been selected as one of the top 10 health foods in the world. It never fails to show up on Korean dining tables. Also known and enjoyed by people around the world, kimchi is not limited to the popular napa cabbage kimchi but comes made from a wide variety of vegetables. Kimchi is commonly available for purchase everywhere but can be conveniently found at both department stores and duty free shops. Numerous brands are available but the best-known ones are Jonggatjip Kimchi and Han Bok-seon Gungjung Kimchi.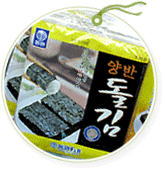 Gim, or dried laver, is also produced in China and Japan, but the products from Korea are not only less expensive but also delicious and highly nutritious. This is why tourists-in-the-know visiting Korea make sure to buy Korean gim. A variety of gims are sold, including natural roasted gim, seasoned gim prepared with sesame oil, dolgim (laver grown on underwater rocks), and paraegim (green laver). Gim is widely available at department stores or markets and the best-known varieties come from the Daecheon or Gwangcheon regions.



There are too many Korean traditional teas to mention, but some of the popular ones are nokcha (green tea), daechucha (jujube), yulmucha, omijacha, dunggeullecha, chikcha, and ginseng tea. Available for purchase with those teas are tea sets, which, according to the tradition of Korean ceramics, contain a ceramic kettle and cups. There are many stores selling traditional teas and tea sets in the Insa-dong area. The best-known teas come from Boseong and Jeju-do.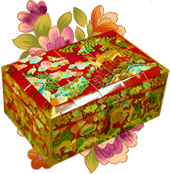 The leading traditional craftwork of jagae boseokam is a jewelry box topped with mother-of-pearl decoration. Such a decoration has had a long history in Korea, as it has been used since the 4th century for making small items like hand mirrors as well as furniture. A wooden jewelry box is lacquered and layered with mother-of-pearl pieces in the shape of animals or flowers, which make it stunning.
Popular jagae items for special gifts can be purchased at major markets like Namdaemun. Shoppers can find numerous items inlaid with mother-of-pearl, such as jewelry boxes, name card boxes, and hand mirrors.
Tip: Prices vary depending on the patterns. A crane symbolizes longevity, while butterflies symbolize wealth and success.
Where to Buy: Namdaemun Market, Gwangjang Market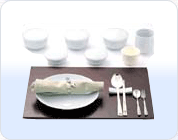 The Korean spoon is different from other Asian spoons in that it is the thinnest and made of steel. Giving a spoon set made of silver or gold as a gift symbolizes the wishing good health and fortune. For generations silver spoons have been used by both royal families and noblemen alike. The spoons would turn blue if the food was poisoned thereby saving the noble class from death. These high-end spoon gift sets can be purchased in major department stores or at the Namdaemun Market dish arcade.


Known as 'Clothing of the Wind' in France, Korea's traditional hanbok is a Korea's most colorful souvenir. Prices can vary significantly depending on the fabric, design, and number and types of embroidery. Also available is the gaeryang hanbok, which is an adaptation of the traditional hanbok that is conveniently worn in everyday life. Compared to the traditional one, it is much more affordable and easy to wash. Hanbok can be purchased at major markets in Seoul and in Insa-dong. Prices start from 50,000 won.



Every traditional liquor brewery in Korea uses its own unique brewing method. Korean liquors are characterized by their clean after-taste and by their ability to complement Korean food. Traditionally, Korean people have enjoyed a variety of liquors, which include soju, bokbunjaju, munbaeju, makgeolli, and dongdongju. In particular, bokbunjaju, which is made of raspberry and served only to most important guests, is characterized by a flavor and color that are comparable to wine. All liquors can be purchased at airport duty free shops or department stores.



The fashionable shopping areas of Korea are characterized by inexpensive prices and trendy designs. Despite the low cost, the quality of clothes is very high, so they are popular among Southeast Asian tourists. The best places to shop are Dongdaemun, Namdaemun, Hongdae, and Ewha Woman's University areas. Open at night from 10pm to 5am, Dongdaemun Market has a number of large-scale fashion malls. On the other hand, Namdaemun Market is an old traditional market that offers clothes at more affordable prices than anywhere else.
Hongdae has the trendiest fashion and the flea market held there every Saturday is a fun place to be. The Idae, or Ewha Woman's University area, is lined with shops selling attractive clothes and shoes for women.



Korean cosmetics are popular shopping items for tourists due in large part to their high quality and inexpensive price. All the popular cosmetic items can be purchased, from BB creams that foreign tourists love, to nail care products, pearl powder, face and body lotions, and a vast array of other skin care products and cosmetics. For one-stop shopping, try Myeong-dong; it is home to all the brand name cosmetic shops like Missha, The Face Shop, and Skin Food, which offer low-priced items from 1,000 won to 30,000 won. All items are available for testing and some stores have multi-lingual staff on hand to better assist shoppers.