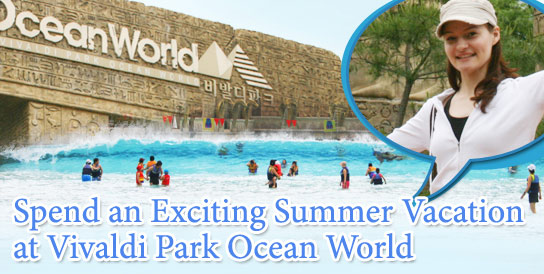 Vivaldi Park Hongcheon, Gangwon-do is most widely known for its ski resort. However, the park also boasts a state-of-art water park facility, Ocean World. With Egypt-style facilities featuring decorative deserts and oases, and staff dressed in Egyptian attire, Ocean World makes visitors feel as though they just entered in to "Little Egypt".If you plan on spending a fun-filled summer vacation this year, be sure to follow Russian model, Baskina Daria, to Ocean World in this exclusive online feature!

A Tour of Ocean World's Aqua Zone (indoor)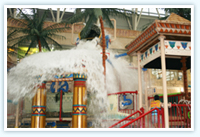 * Water Flex
Aqua Zone is open all year round at Ocean World. The first water park facility you'll see once you enter Aqua Zone is "Water Flex". Here, an enormous basket in the shape of Ramses' head is gradually filled up with water and then emptied below, creating a heavy waterfall in the process. It remains a popular venue among children. There is even a waterslide and other amusement facilities on hand as well.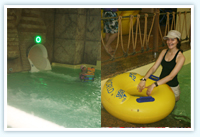 * Slide
Guests on the slide fly down a slippery valley, making their way down on narrow water currents. There are two free slides to choose from: one is a tube slide and the other is the standard slide where visitors slide down in their swimsuit. Ocean World provides the tubes for the tube slide.


A Tour of Ocean World's Extreme Zone (outdoor)
* Surfing Mount
Meet Korea's tallest waves reaching 2.4m at "Surfing Mount". You can really feel the exciting thrill every time the waves make a thunderous sound as they crash down. All guests must wear life vests in this area. As this point of interest boasts floodgates in the shape of Egyptian gods, it is somewhat challenging as larger and smaller waves are released in rapid succession with very little rest in between.





☆ Tip! Surfing Mount

Time: A series of higher waves run for forty minutes on the hour, followed by a ten-minute interval of smaller waves and a subsequent ten-minute break.


Life Vest Rentals: Life vests available at the outdoor rental shop next to Extreme River


Fees: 6,000 won (Life Vest Rental 4,000 won + Security Deposit 2,000 won, refunded when the life vest is returned)


How to Rent: Purchased through Ocean World's electronic bracelet, Ocean Coin, available at the entrance.

☆ Tip! Ocean Coin


Where: Ocean World Lobby Main Charging Station


Price: Tickets range from 20,000 won to 70,000 won


How: Choose an amount and pay in advance to recharge your Ocean Coin, and then you may use it at any convenience facility (remaining amount will be refunded)


* Water Sleigh Park
The Water Sleigh Park, used as a snow sleigh field during the winter, is spread across water on green grass, providing sleigh riding at high speeds. The Water Sleigh Park can be used free of charge for Ocean World guests, and is open from 9AM to 5PM on Mondays to Fridays and Sundays, and from 9AM to 6PM on Saturdays.


* Family Raft Slide
Escape the lonely slides you ride alone. Try Korea's first-ever 4-person Family Raft Slide with your friends or family! The slide provides the unique thrill of falling and spiraling at the same time.
* Extreme River
Extreme River offers extreme thrills felt on a ride through the river rapids. High surfs are created simultaneously with the Youth Pool for an added thrill. All guests must wear life vests for this ride, and use the provided tubes.



A Tour of Ocean World's Convenience Facilities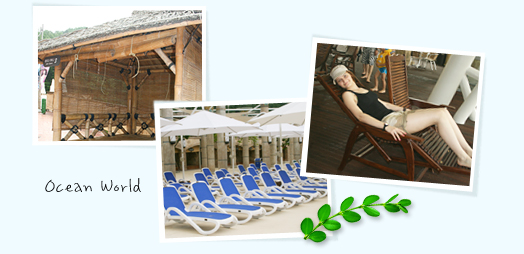 * Cabana
Located in "Extreme Zone", the outdoor sheds of the Cabana can be rented for the day for 50,000 won, and anywhere from 100,000 won to 150,000 won on Saturdays depending on the area.


* Sun Bed
Sunbeds are offered for rental throughout the Aqua Zone and Extreme Zone. A one-day rental of the sunbed is available for 10,000 won at the life vest rental shop with your Ocean Coin.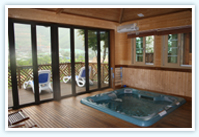 * Spa Village
Located in the forests of the Extreme Zone, "Spa Village" is a village-type bungalow offering hydro baths, sunbeds, TVs, and tea tables. Four-person and eight-person rooms are also available and you may rent them for the entire day or in four-hour blocks.




☆ Tip! Spa Village Fees
Rooms

2/11~6/27
6/28~7/11

Shared

Mon ~ Fri

Sat, Sun

4-Person Room

4 Hours

60,000 won

60,000 won

100,000 won

1 Day

100,000 won

100,000 won

200,000 won

8-Person Room

4 Hours

80,000 won

80,000 won

150,000 won

1 Day

150,000 won

150,000 won

300,000 won

Hours of Operation: Open all year long


How to Rent: Pay at the Angel Spa Desk before use

* Angel Spa
The Angel Spa is located in the Aqua Zone for families or lovers to enjoy some cozy time together in a privately secluded space. The Angel Spas can be rented for up to four people at the Angel Spa Desk for 10,000 won on Mondays through Fridays, and 20,000 won on Saturdays and holidays.


* Restaurants

Both refreshments and full-course meals are available at a series of restaurants beautifully furnished in Egyptian decor throughout the Aqua and Extreme Zones.




Q: What was your favorite experience today at Ocean World?
Daria : It had to be the Indoor Slide. Actually, I was really scared to go down the slide at first, but as I went down on the tube I felt excited and it was thrilling.
Q : What would you recommend to future guests of Ocean World?
Daria : Everything including the convenience facilities are very nicely built, but you will definitely need a map. I also heard that there are guides available in English, Japanese, and Chinese at the Information Desk, so it would be a good idea to visit there first. There's hardly enough time to play, and it would be a shame to waste it by simply walking around.

Find out more!

Transportation Information
A bus is available for your convenience at the Sports Complex Station (Subway Line 2). However, reservation services are only offered in Korean, so you may want to call the Korean Tourism Information Center (+82-2-1330) for help before making reservations.

(Internet reservations are taken until 5PM on the day before the reservation date, and telephone reservations are taken until 6PM on the day before the reservation date.)


Course

Mon ~ Fri

Sat, Sun

Travel Time

Sports Complex → Ocean World

8:30AM
10:30AM

8:30AM
10:30AM
3:00PM (Sat)

1hr 20min

Ocean World → Sports Complex


3:00PM
6:00PM

1:00PM
6:00PM
8:30PM

1hr 20min

Departure Location: Line 2 Sports Complex Station Exit #1, 50m (5min walk) / Vivaldi Park Bus Parking Lot




Reservations: Daemyung Tour +82-2-2222-7474 (Korean)


Bus Rates: Roundtrip Adults 18,000 won / Children (12 & Under) 11,000 won