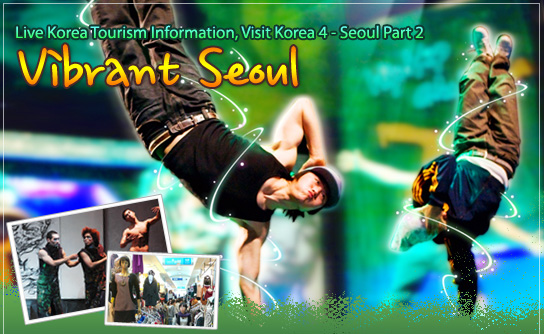 The Korea Tourism Organization (KTO) has specially created this video to introduce you to the vibrant city of Seoul. Check out video footage of live shows, the best shopping locations, and cool nightlife. Follow our video suggestions and you'll have a blast in Seoul, one of Asia's most dynamic cities.


Video buffering speeds may vary depending on your computer speed, firewall, and internet connection.


Seoul is Korea's #1 city and one of Asia's most popular destinations!
This is a city that never sleeps. Come to Seoul and experience the city's overflowing energy and passion.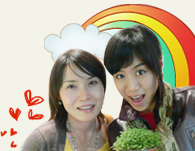 Every city in the world has its own unique atmosphere.
The ever-changing Seoul is one of the busiest cities in the world.
We've designed a special themed tour, so that you can experience the energy of this lively, bustling city. Are you ready? Let's go!


The Daehangno area explodes with youthful energy and cultural entertainment 365 days a year. If you'd like to learn about Korea's arts and culture, come check out the Daehangno!
In this area many different performances take place both inside theaters and outdoors. In the Daehangno freedom of expression is encouraged, and the area has a bohemian atmosphere. A wide variety of arts are on display in Daehangno, but the most common is theater. Don't worry about not being able to speak Korean, there are many plays in the Daehangno, where you don't need to understand the language in order to enjoy the play.

One of those plays is the Drawing Show~
In this show the performers create amazing pictures on stage.
It's just like magic, sometimes the audience can't believe their eyes! This show is so much more than drawing. Magic, mime, music, and humor is combined to create an original, energy-packed show, which can be enjoyed by everyone!
In theaters and hotels all over Seoul, there are many top-quality shows for you to enjoy.

After walking around the streets and enjoying the shows, you start feeling hungry~
A cup of sweet, fragrant coffee and sandwiches hit the spot!
And why don't you indulge yourself in a delicious slice of cake…
Get swept up in the arts and lose yourself in the cultural atmosphere of Daehangno.
| | |
| --- | --- |
| | The streets of Hongik University |

To experience the best nightlife in the city you've got to come to the area around Hongik University, which is where Seoul's young generation hangs out.
Here the streets are filled with the latest fashion item. A wide selection of bold new styles is available.
Hongdae is especially recommended for younger visitors as it has the leading club culture in Korea!! If you visit a Hongdae club, not only will you enjoy an exciting concert,
but you will really experience the energy of Seoul's youth.
The streets of Hongik University are alive with students' passion and dreams, so this is one of the most exciting places in Seoul.

Shopping is one of the best things to do when travelling!
And Seoul has lots of great shopping destinations. Our first destination is Myeong-dong, the shopping center of Korea. Here you can find fashionable clothes, accessories, and cosmetics. And you can find this wide selection of items all in one place, so it's a popular destination for tourists.
Here you can try the cosmetics before you buy them, so you can find which product looks best on your skin.
Myeong-dong is also a great place for dining. Myeong-dong's most famous dish is Kalguksu, which has rich soup broth and delicious chewy noodles!
They say that after just one taste you'll definitely be addicted!...
Kalguksu has a very natural taste. Most tourists really like this dish, so be sure to try some.
But be sure to let it to cool before you eat it, since it can be really hot~

If you want to go shopping in Seoul, there's another place you cannot miss, the Dongdaemun Shopping Town! At night, the area is bustling with people and there are live shows on outdoor stages. This shopping location is recommended for tourists on a budget.
Here you can purchase great clothes at great prices.

At our next destination you can stroll along beautiful streets and enjoy shopping at the same time. This is Samcheong-dong.
If you're looking for something more unique , and would like to go shopping in a relaxed atmosphere, then we highly recommend Samcheong-dong.
Here you can find one of a kind high heels, jewelry, hair accessories, and so much more.
Shoppers in Samcheong-dong can really express their individuality.
Samcheong-dong is particularly popular with female tourists, since its unique individuality extends to even the smallest accessories.
When you get tired from shopping, take a stroll through the beautiful streets of charming Samcheong-dong.

After all that shopping and nightlife you'll be pretty tired, so our next destination is a jimjilbang. Here you can really experience Korean culture, as nearly all Korean people love coming to the Jimjilbang to relax.
Visit the hot Hanjeungmak (sweating room) and rejuvenate your skin, mind, and soul from the fatigues of your travels, and then head to the ice room to cool down. And for a really new experience, you can even sleep over in a Jimjilbang.
A Jjimjilbang offers you a chance to unwind and experience one of Korea's most-loved pastimes.
Some of the larger Jjimjilbangs even have swimming pools, After a visit to the Jimjilbang, you'll have the energy to enjoy even more of Seoul's shopping and great nightlife!


Are you looking for a vacation that will reenergize and inspire you?
The dynamic and energetic city of Seoul is waiting for you.
Vibrant Seoul!