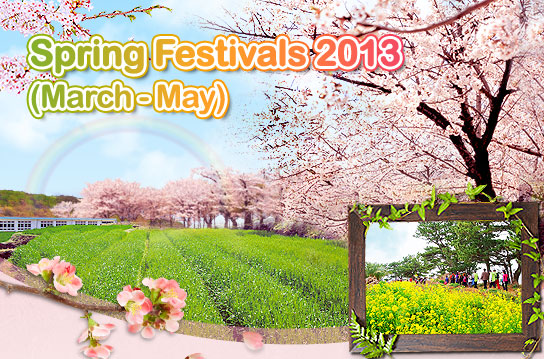 The cold winds and freezing temperatures of winter have passed and spring is drawing near. In Korea, spring temperatures range from 5℃ to 20℃, and the return of warm weather brings wild flowers to bloom all over the country. As the weather improves, so do people's spirits, and springtime festivals are held throughout the country. There are plenty of opportunities to enjoy the good weather by participating in Korea's flower, food, and culture festivals.

* Festival dates and programs are subject to change due to local circumstances.

Spring Flower Festivals to Signal the Changing of Seasons
Spring announces its arrival in Korea with a blanket of yellow and white blossoms spreading over the country. Cherry blossoms, apricot flowers, and cornus fruit trees bloom from the beginning of March when the air is still chilly. The warm season sees a host of festivals take place in Korea where visitors can stroll amidst the glorious blossoming flowers and see the country at its best.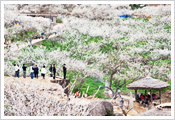 Gwangyang International Maehwa Festival
Dates: March 23 – March 31, 2013
Venue: Seomjin Village, Gwangyang-si, Jeollanam-do
Description: The Gwangyang International Maehwa Festival has been a popular destination for spring flower festival since 1997. In springtime, Seomjin Village boosts a splendid landscape as the apricot flowers burst into bloom in Baekunsan Mountain near the village.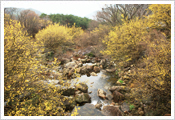 Gurye Sansuyu Festival
Dates: March 29 – March 31, 2013
Venue: Jirisan Mountain Hot spring area, Sandong-myeon, Gurye-gun, Jeollanam-do
Description: Taking place in the hot spring area of Jirisan Mountain, the Gurye Sansuyu Festival features various hands-on programs like cornus fruit liquor making and sampling of cornus fruit makgeolli. A number of performances such as pungmulnori (farmers' music performances), Korean traditional music, and fireworks displays are held throughout the festival period.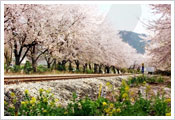 Jinhae Gunhangje Festival
Dates: April 1 - April 10, 2013
Venue: Jungwon Rotary, Jinhae-gun, Changwon-si, Gyeongsangnam-do
Description: Taking place in early April when the cherry tree flowers are in full bloom, the Jinhae Gunhangje Festival draws more than 2 million tourists every year. Visitors are greeted by showers of cherry flower petals under the tunnel created by cherry trees. There are various events not to miss, such as the military band parade and multi-media fireworks show.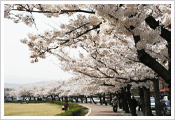 Jeju Cherry Blossom Festival
Dates: April 5 – April 7, 2013
Venue: Jeju Citizen Welfare Town area, Jeju-si, Jeju-do
Description: The Jeju Cherry Blossom Festival is a harmony of cherry trees and music. This year, the festival features a cherry blossom photo zone and exhibitions of indigenous wild flowers and orchids, allowing visitors to appreciate various spring flowers. With the installation of lights, the festival can now be enjoyed fully in night time as well.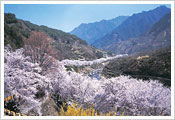 Hwagae Cherry Blossoms Festival
Dates: Early April, 2013 (planned)
Venue: Hwagae Market area, Hadong-gun, Gyeongsangnam-do
Description: Organized in 1993, the cherry blossom festival is held in Hwagae Market, a traditional open-air market situated in the border between Hadong in Gyeongsangnam-do Province and Gurye in Jeollanam-do Province. During the festival, the cherry tree blossoms along the 6 kilometer-long road from the market to Ssanggyesa Temple are a fantastic sight.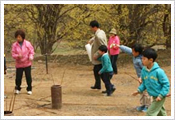 Icheon Baeksa Sansuyu Blossom Festival
Dates: April 5 – April 7, 2013
Venue: Dorip-ri, Gyeongsa-ri, Songmal-ri and Baeksa-myeon, Icheon-si, Gyeonggi-do
Description: The festival venue of the Icheon Baeksa Sansuyu Blossom Festival is a leading producer of sansuyu (cornus fruit) trees of Korea, where the 100-year-old wild sansuyu trees grow. In spring, the sansuyu flowers are in full bloom to decorate the whole village in yellow, while red fruits signal the changing of the season in autumn.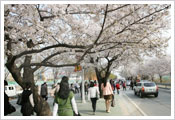 Yeouido Spring Flower Festival
Dates: April 12 – April 18, 2013
Venue: Surrounding areas of Yunjungno & Yeouido, Seoul-si
Description: The Yeouido Spring Flower Festival takes place every April when cherry blossoms are in full bloom. The street behind the National Assembly Building, called Yunjungno, is lined with 1,400 cherry trees and is the most famous cherry blossom street in Seoul. Visitors can stroll next to the Hangang River through a tunnel of these magnificent trees. There are also street cultural arts performances, a flower decoration exhibition, and a photo exhibition.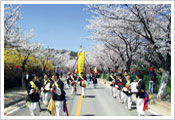 Cheongpunghoban Cherry Blossom Festival
Dates: April 19 - April 21, 2013
Venue: Cheongpungho Lake area, Cheongpung-myeon, Jecheon-si, Chungcheongbuk-do
Description: Cheongpunghoban Cherry Blossom Festival takes place along the 13 kilometer road by Cheongpungho Lake, where thousands of mature cherry trees sit in waiting. Various shows and performances are scheduled, including a cherry blossom street concert, a magic show, and a dance parade. Visitors can also take part in samplings of herbal medicinal teas and food made of wild herbs. Near the venue are the Cheongpung Cultural Property Complex, a TV drama filming location, and bungee jump sites.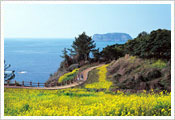 Jeju Canola Flower Festival
Dates: April 19 - April 21, 2013
Venue: Udo-myeon, Jeju-si, Jeju-do
Description: Magnificent fields of canola flowers decorate the whole island of Jeju-do, drawing large crowds of visitors every year. The combination of bright yellow flowers and the blue ocean makes this festival a perfect opportunity to enjoy spring on Jeju-do Island.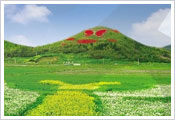 Hampyeong Butterfly Festival
Dates: April 26 - May 8, 2013
Venue: Hampyeong Expo Park, Hampyeong-gun, Jeollanam-do
Description: The Hampyeong Butterfly Festival is held on over 8,300 acres of land in Hampyeong-gun, Jeollanam-do Province. Visitors are delighted by the sight of tens of thousands of butterflies flying among the canola blossoms. Check out the halls of butterflies, insects, and agriculture to explore some 20 types of butterflies and see the process of growing crops.