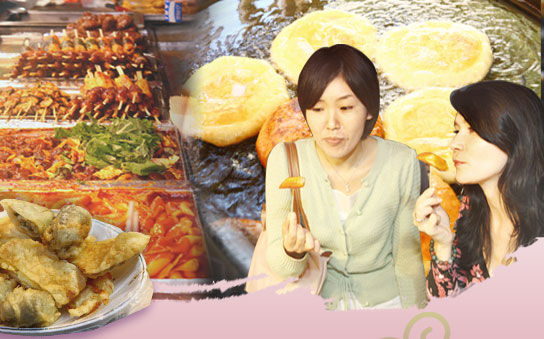 When traveling abroad, one may find unexpected pleasures on the streets. With a unique ambience, Insadong and Myeongdong are the most popular streets teeming with travelers in search of shopping and dining. In Insadong, you will be intrigued by the pushcarts of street food, which are as unique as the area's shop displays of traditional memorabilia. While Myeongdong and most other streets in Seoul have street stalls selling tteokbokki, fritters, oden, and chicken skewers, Insadong sells traditional cookies and some street foods of the past. Visit Insadong and Myeongdong for the joy of seeing and eating.




Popular Snack Foods in Insadong
Kkultarae (꿀타래)

A mound of hardened honey and malt is kneaded and stretched into 16,384 strands that look like a thin, white skein of glossy silk. Kkultarae, meaning honey skein, is filled with a mixture of ten ingredients such as almonds, walnuts, pine nuts, peanuts, black beans, and black sesame seeds, and then rolled. The candy, which was a royal Korean snack, is sweet and delectable. Best of all, you can watch the Kkultarae-maker as he creates his culinary work of art. A box of 10 kkultaraes costs 5,000 won.

Hotteok (호떡)

A ball of flour or glutinous rice dough is filled with a mixture of sugar, ground peanuts and cinnamon powder and then pressed flat on a hot griddle. Hotteok is especially popular in the winter season. It costs 900 won.
Gukhwappang (국화빵)

To make gukwappang, batter is poured into a chrysanthemum-shaped cast, filled with red bean paste, and cooked. Because each little cake is the same size and shape, two people who resemble each other are called gukhwappang. You can buy a bag of four to six gukhwappangs for 1,000 won.

Hodugwaja (호두과자)

Hodugwaja, a round cake, is made by pouring batter into a walnut-shaped cast and filling it with red bean paste and a small slice of walnut. A bag costs 3,000 won, but you can also buy a gift-box for 10,000 won.

☞ Related Column: Shopping for Souvenirs at Insa-dong


Popular Snack Foods in Myeongdong
Tteokbokki (떡볶이)

Tteokbokki is the most popular street food in Korea. Garaetteok, a dried, cylindrical white rice cake, is cooked with eomuk (fish cake), vegetables, and chili pepper paste. Sweet and spicy, it is such a popular snack that you will find it on every busy street corner. One serving costs between 2,500 won and 3,000 won.

Kkochi-eomuk (꼬치 어묵)

Kkochi eomuk, or skewered fish cake, is a favorite snack in the winter. A broad, flat eomuk (fish cake) is placed on a skewer and boiled in a thin broth of Asian radish and kelp. Dip the eomuk in soy sauce dressing and help yourself to a cup of soup. It costs about 700 won to 1,000 won.

Twigim (튀김) 

Twigim is a general term for fritters. Vegetables, sweet potatoes, shrimp, squid, and dumplings are coated with batter and fried. Twigim can be eaten in bite-size pieces and dipped in a soy sauce dressing, or splashed with tteokbokki sauce. One serving costs between 2,000 won and 3,000 won.

Dak-kkochi (닭꼬치)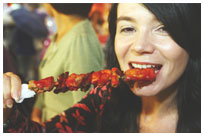 Dak kkochi is chicken grilled on a skewer and drenched with chili pepper glaze or soy sauce dressing. Thanks to the delicious aroma and sweet-spicy taste, dak kkochi is a favorite accompaniment to drinks. A skewer costs between 1,000 won and 2,000 won.