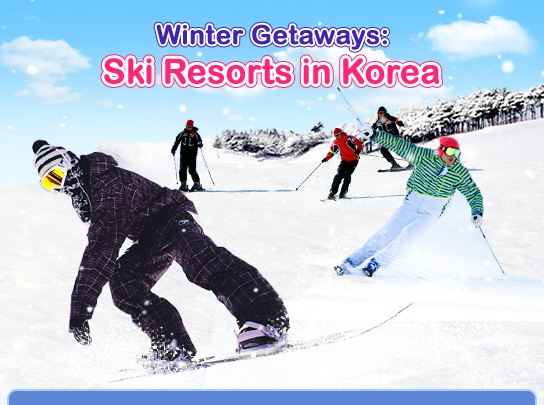 Many of the ski resorts in Korea are scattered throughout Gangwon-do, the region that receives the most annual snowfall. These facilities, despite their location outside the popular city of Seoul, attract thousands of tourists each year who come to enjoy the winter season hitting the slopes. Equipped with modern facilities and offering a range of slopes (everything from bunny to black diamond), these resorts have a little something for everyone. A number of these great resorts are situated just outside Seoul's city limits, allowing for quick and convenient ski trips.

Most ski resorts are large leisure focused facilities that stay open all year round and offer plush accommodations and amenities. Of course, the most popular time to visit these kinds of resorts is during the peak ski season from mid-December to the end of February. During this time, prices for accommodations go up and rooms fill up fast, so visitors who are unable to get lodging within the resort complexes are advised to look into hotels, motels, or pensions (inns) in the surrounding area.

All of the resorts on our list offer both skiing and snowboarding, though new snowboarding facilities are constantly being added to keep up with the increasing popularity of the relatively new sport. Skiing and snowboarding facilities at the resorts are usually open from mid-November and early December until March or April. During this time, Korea's ski resorts become the nation's vacation hotspots, attracting visitors from home and abroad to the pristine mountainsides for unforgettable wintertime fun. Whether it is adrenaline-packed runs down the mountain, sledding with the kids, or long, luxurious soaks in slope-side hot tubs, Korea's ski resorts are sure to provide you with a memorable vacation.