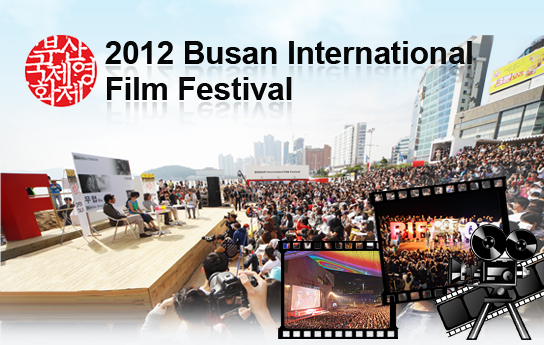 Movie buffs all across the country are on the edge of their seats in anticipation of the 2012 Busan International Film Festival (BIFF), scheduled to run from October 4 to October 13th at Megabox (Haeundae branch), the Busan Cinema Center, CGV, Lotte Cinema, the Community Media Center (Centum City), and BEXCO in Busan.

Marking its 17th anniversary, this major movie event features a number of newly released Korean films, as well as unsung masterpieces from all over Asia. During the 10 days of festivities, 304 movies from 75 countries will be screened, making up a total of 11 film categories including "Gala Presentation," "New Currents," and "World Cinema." Special categories for the 2012 BIFF also include: "Korea Cinema Retrospective"; "Special Program in Focus," a program of movies from Poland and Afghanistan; "Open Cinema," a program of outdoor screenings; and "Wide Angle," an assortment of short movies and documentaries. As part of the "Special Program in Focus," 6 movies from Afghanistan that have never been released for political and/or religious reasons will finally make their international debut.

Other special events for this year's BIFF include: "Evening Celebration Ceremony"; "Special Talk," a program to meet and talk with directors and film experts about the significance of Afghanistan movies; and "Cinema Together," a program allowing visitors to enjoy films alongside famous directors, actors, and screenwriters.

● Major Programs

Opening/Closing Films
This year, the BIFF will kick off with a screening of Cold War (2012) by directors Leung Longman and Sunny Luk. The movie is an action-packed story of an undercover agent gone bad. In addition to the masterful filming and special effects, the film explores the age-old conflict of good and evil and the battle between one's conscience and innate desires. Critics dub the movie "a fresh and original Hong Kong film grounded in realism."

Festivities will draw to a close with a showing of the film Television (2012), directed by Mostofa Sarwar Farooki from Bangladesh, who first made his debut at the Busan International Film Festival in 2009. The film Television is a satire that announces the arrival of a new type of Bangladeshi cinema while touching on many current issues such as religion, the generation gap, tradition vs. modernization, and the love of family.


| | |
| --- | --- |
| Opening: Cold War (2012) | Closing: Television (2012) |


Special Programs in Focus

① Gala Presentation
The "Gala Presentation" category is dedicated to new releases or blockbuster hits from established directors. This year, 7 new films from Asian filmmakers will make their festival debut including, The Gardener by director Mohsen Makhmalbaf, Dangerous Liaisons by director Hur Jin-ho, and Rhino Season by Bahman Ghobadi. The film division also includes the works of 4 Korean directors: National Security by director Park Chul-soo, B.E.D by Kim Sung-hong, Doctor by Chung Ji-young, and El Condor Pasa by director Jeon Soo-il.

Of particular interest among this year's "Gala Presentation" participants is the movie Dangerous Liaisons, an adaptation of the famous French novel Les Liaisons Dangereuse by author Pierre Choderlos de Laclos. The movie's star cast includes well-known names such as Jang Dong-gun, Zhang Ziyi, and Cecilia Cheung.

② New Currents
Swinging the spotlight to today's up-and-coming filmmakers, the "New Currents" category is dedicated to the works of new Asian directors who are making their first international debut. This year's lineup features 10 innovative and powerful films from 9 Asian countries that portray diverse themes such as violence, family, alienation, and growth. In last few years, Taiwan has made a strong impression at the festival by introducing a number of fresh, new directors. This year is no exception. Touch of the Light by Taiwanese director Chang Jung Chi is already gaining attention as one of the feature films of the New Currents category. This new masterpiece depicts the heart-rending struggles and triumphs of a blind pianist and a young woman with seemingly impossible dreams of becoming a dancer.

③ World Cinema
A popular festival division, "World Cinema" offers a look at international film trends by presenting an impressive 75 films from 45 different countries. This year (2012), the category saw a startling growth in the South American film industry as evidenced by the films Violeta Went to Heaven (Chile), Salt (Chile), La Playa D.C. (Brazil), and Sofia and the Stubborn (Colombia). The category also includes films that were introduced or awarded prizes at the world's top film festivals such as Love (France), Reality (Italy), and The Hunt (Denmark).

④ Flash Forward
The festival's "Flash Forward" category uses the first and second works of international filmmakers to explore current movies trends worldwide. This year's picks—State of Emergency (Russia), Flower Buds (Czechoslovakia), The Crack (Colombia & Argentina), Fuer Elise (Germany), and The Scars (Canada)—all depict characters struggling with some form of pain.

* Other Programs
The BIFF also presents a wide variety of programs like "International Premieres," "Korean Cinema Retrospective," and "Open Cinema" (a selection of Cannes Film Festival award winners).

☞ Official Film Festival Program (Korean, English)

TIP

☞ Online Reservations: http://biff.movie.daum.net/ticket/home

Schedule of ticket sales/reservations
- Opening & closing films: sales starting from 17:00 on September 24, 2012
- General films: sales starting from 9:00 on September 26, 2012
※ Offline ticket purchases for opening/closing films may be made at the temporary box offices throughout the festival venues (200 tickets available at each box office). Offline tickets for other films may also be purchased on the day of the screening.
☞ Ticket inquiries: 1666-9177 (Korean, English, Japanese, Chinese)

● Events

Special events include the "Master Class" (showcasing the lives and works of master filmmakers), "Special Exhibition of Sergei Parajanov," "Old Korean Film Screening," and more. Other regular BIFF events include "Open Talk," "Handprint Ceremony" (of famous people in the movie industry), and "Film Screening Service for Kids and 'Silver Members.'"
● Accommodations
Visitors who have not yet booked accommodations are advised to contact lodging facilities near Haeundae Beach, as accommodations closer to the main festival area may have already been booked.

More info

☞ Busan Tourism Homepage: http://etour.busan.go.kr/index.busan (Korean, English, Japanese, Chinese)
☞ Busan Tourism Hotline: +82-51-441-3121 (English, Japanese, Chinese)
☞1330 tt call center: +82-2-1330 (English, Japanese, Chinese)
● Busan Tour Columns
☞ Busan City Tour
☞ Beautiful Port City, Busan
☞ Busan Beckons
☞ Korea Information Live on Visit Korea: Busan Special
☞ Shopping in Busan
☞ Guide to Beaches in Busan / Geojedo Island
● 2012 Busan International Film Festival
Date: October 4 - October 13, 2012
Theaters: 7 theaters (37 screens) in the Nampo-dong, Haeundae, and Centum City areas
-Nampo-dong: Mega Box
-Haeundae: Mega Box
-Centum City: Busan Cinema Center, CGV, Lotte Cinema, Community Media Center, & Sohyang Musical Center
Ticket types:
- Opening & Closing Ceremonies/Screenings: 20,000won
- General Screenings: 6,000won
- 3D Theater: 8,000won
- Midnight Passion: 10,000won
(Midnight Passion: a 3-movie marathon starting at midnight.)
Inquiries: 1666-9177 (Korean, English, Japanese, Chinese)
Homepage: http://www.biff.kr/ (Korean, English)

MORE INFO
Photo Courtesy of the Busan International Film Festival Organizing Committee

Last updated September, 2012.