Movie buffs all across the country are on the edge of their seats in anticipation of the 2014 Busan International Film Festival (BIFF), scheduled to run from October 2–11 at Megabox (Haeundae branch), the Busan Cinema Center (Centum City), CGV, Lotte Cinema, the Community Media Center (Centum City), and BEXCO in Busan.
Marking its 19th anniversary, this major film festival is one of the largest in Asia, and features a great number of newly released Korean films, as well as unsung masterpieces from all over Asia. During the 10-day film festival, 314 movies from 79 countries will be screened, making up a total of 11 film categories including "Gala Presentation," "New Currents," and "World Cinema." Read on to find out about the feature films and programs of this year's Busan International Film Festival!
Main Programs
Opening / Closing Films

Opening film "Paradise in Service" & closing film "Gangster Pay Day"
The festival will open on October 2 with the international premiere of "Paradise in Service," a Taiwanese war romance directed by Doze Chen-Zer Niu. The film is about a young soldier's struggles amid military conflicts between China and Taiwan in the 1960s and 1970s. It depicts the pain of separated families and women's issues within the oppressive military system as the main character struggles to retain his sanity.
Hong Kong's "Gangster Pay Day" will be the festival's closing film. Director Lee Po Cheung's new style of gangster tale presents a unique hybrid of comedy and melodrama. Unlike the other gangster movies, this film is driven by a down-on-his-luck former gang boss who seeks happiness in a life without violence. Director Lee Po Cheung encompasses the boundary line between reality and fantasy with just the right mix of comedic and dramatic elements in the story.
Main Programs
1. Gala Presentation

Revivre & The President
The Gala Presentation category showcases the most recent works of master directors and the most-anticipated films. The four films to be presented this year are Zhang Yimou's "Coming Home" (China), Mohsen Makhmalbaf's "The President" (Georgia/ France/ UK/ Germany), Im Kwon-taek's "Revivre" (Korea) and Hui Ann's highly anticipated period drama "The Golden Era" (Hong Kong).
2. New Currents
Jalal's Story & Ghadi
Swinging the spotlight to today's up-and-coming filmmakers, the New Currents category is dedicated to the 12 masterpieces of new directors who are making their first international debut in the Asian film industry. Films from Bangladesh and Lebanon have been invited for the first time. Abu Sahed Emon's "Jalal's Story" (Bangladesh) follows the story of Jalal from his infancy to childhood in order to portray the harsh fate of abandoned and neglected human beings. This film will be a standard to gauge the future of Bangladeshi films. "Ghadi" (Lebanon) by Amin Dora is a work that shows the strength of Lebanese films which are relatively unfamiliar to the world stage. This heartwarming story of redemption, forgiveness and acceptance revolves around Ghadi, a young boy with disability. With a simple yet refined approach, this film represents the wonderful potential of Lebanese films. Also included in this category are films from Japan, Iran, the Philippines and Iraq.
3. World Cinema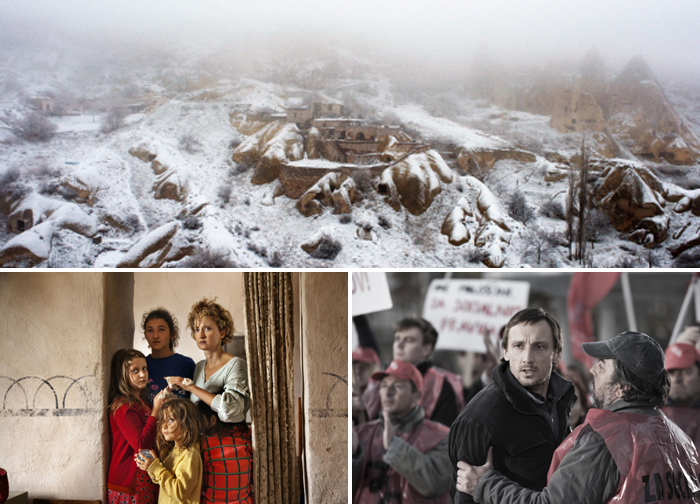 Winter Sleep (top), The Wonders (left) & Inferno (right)
The World Cinema category features critically acclaimed work from prolific filmmakers not from Asia. A total of 53 films from 33 countries will be screened, many of them previously introduced at prestige film festivals. 2014 Cannes Film Festival Palme d'Or (Golden Palm) winner "Winter Sleep" (Turkey), and Grand Prix winner "The Wonders" (Italy) are two of the must-see films. Also represented in this category are a number of films from France and Italy. Meanwhile, Slovenian film "Inferno," and Croatian film "These are the Rules" showcase the power of East European films.
4. Flash Forward

With Child & Sitting on the Edge of Marlene
Flash Forward, the section introducing up-and-coming non-Asian directors, has 35 films from 29 countries including 12 candidates for the Busan Bank Award which will be selected by audiences. The three films from Canada include "Sitting on the Edge of Marlene" which is about a mother and daughter who sink into depravity in a placid and realistic style; "With Child," a story of a man who lost his wife and struggles with raising his baby himself; and "Cast No Shadow" which is about a boy who learns to survive in a harsh reality.
Argentina will showcase three distinct masterpieces, one of which is Sebastian Schindel's "The Boss, Anatomy of a Crime." Central and South American films by new directors with various subjects and styles, and films from Germany, Bulgaria, South Africa, Israel and Ukraine await visitors as well.
Other Programs

Dearest & The Pirates
A Window on Asian Cinema presents 57 films from 28 countries to show trends in Asian filmmaking. Open Cinema will give audiences a romantic movie experience by screening movies in the evening at Busan Cinema Center's outdoor theater. The festival's Wide Angle category has subcategories that include Korean Short Film, Asian Short Film, Short Film Showcase, Documentary, and more. Korean Cinema Today features 21 movies that made waves in the Korean box office in 2014.
Events

BIFF Hand Printing & Fireworks Show
To celebrate the start of the 19th Busan International Film Festival, there will be a Festival Eve Celebration on October 1, 2014. The celebration will be held at the BIFF Square in Nampo-dong, which holds special historical significance for the Busan International Film Festival. During the celebration, there will be an unveiling of last year's hand prints, a lighting ceremony and a fireworks show.
Accommodations
Most of the accommodations around the main festival ground and Haeundae Beach area will be booked in advance, so it may be difficult to find lodging once the festival kicks off. Visitors are strongly advised to book accommodations prior to their visit.

☞ Accommodation Websites: Goodstay
More info

☞ Period: October 2 – October 11, 2014
☞ Venues: 7 theaters at Haeundae, Nampo-dong, and Centum City
- Haeundae: Megabox
- Nampo-dong: Megabox
- Centum City: Busan Cinema Center, CGV, Lotte Cinema, Community Media Center, Sohyang Musical Center
☞ Ticket Reservations: http://biff.movie.daum.net/ticket/home (Korean, English)
☞ Ticket Prices:
Opening & Closing Ceremonies / Screenings: 20,000 won
General Screenings: 6,000 won
3D Theater: 8,000 won
Midnight Passion: 10,000 won (a movie marathon which starts at midnight)
☞ Inquiries: +82-1688-3010 (Korean, English)
☞ Website: http://www.biff.kr (Korean, English)
☞ Busan Tourism Homepage: http://tour.busan.go.kr/ (Korean, English, Japanese, Chinese)
☞ 1330 Korea Travel Hotline: +82-2-1330 (Korean, English, Japanese, Chinese)
Related Columns
☞ Busan City Tour
☞ Busan Shopping
☞ Busan & Geoje Beaches
☞ Noteworthy Galleries in Haeundae, Busan
2014 Tour Information during BIFF
Busan Grand Sale 2014 to run for 62 days starting Sep 12
Photo credit: Busan International Film Festival Organizing Committee
Last updated on September 11, 2014