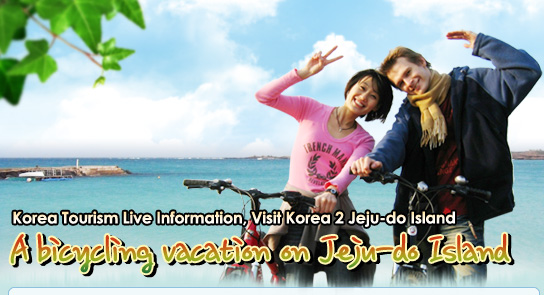 Where's the best place in Korea to welcome in the spring?
I decided to take an early spring break and visit Jeju-do Island with my friend.
As we bicycled through Jeju-do's dramatic scenery, all my stress instantly vanished.
On Jeju there are many activities to try out. We went horse riding, hiked up a volcano, and even took a ride in a four-seater plane.
This is the video of our once-in-a-lifetime trip!


Video buffering speeds may vary depending on your computer speed, firewall, and internet connection.

| | | |
| --- | --- | --- |
| | The Film Set of Taewangsasingi (The Legend) | |
Jeju-do is the largest and most famous of Korea's 300 islands.
The stunning natural scenery and the warm hearted people make it the ideal home for many Koreans. Though it's been four years since I moved to Korea from Russia, this was my first visit to Jeju-do Island. We biked all over the island, and it was more beautiful than I'd ever imagined.


The very first place we visited was the filming location for the drama "The Legend", also known as Korea's Hollywood. I insisted we visited this destination first as I'm a massive fan of Korean dramas.
The drama "The Legend" or "Taewangsasingi" enthralled viewers with its tale of intrigue and romance from Korea's Goguryeo dynasty. The huge set recreated palaces and villages from over 1000 years ago. It starred one of Korea's most famous actors and was by far the most expensive Korean drama ever made. The huge, realistic set made it feel like we had gone back in time to the Goguryeo Dynasty. I was impressed with how advanced and developed Korea was at that time. Korean dramas have very high production values. And this makes them popular all over the world.


As we cycled around Jeju Island, we could smell the Hallabong tangerines.
We were beginning to feel hungry, so we made a stop at a farm.
Jeju's Hallabong tangerines are very special, they are as big as oranges, but they taste like tangerines. We had to be careful not to ruin the tangerine.
Jeju-do's farms grow totally organic tangerines, Which are exported all over the world.
Tourists on Jeju can visit these farms And pick the tangerines themselves.
Time simply flew by as we filled our baskets.
With the arrival of spring, Jeju becomes covered in yellow rape flowers.
It makes for strikingly beautiful scenery and good photo opportunities.

In the past Jeju was described as having plenty of rocks, plenty of wind, and more women than men! These days Jeju is also well known for having plenty of horses!
Visitors to Jeju can take a memorable trip across the island on horseback. As we galloped across the open plains, we felt like outlaws fleeing through the sweeping winds. It was thrilling!
Spread out before us, like a picture on a folding screen, were the mountains, fields, and ocean of Jeju. Even during winter it was a beautiful view, and it must be even better during summer. There were no houses as far as the eye could see, it was just us on our horses beneath the sky, I felt at one with nature.
We cycled on, winding our way through picturesque valleys, and finally we reached the foot slopes Of Jeju's famous Hallasan Mountain. Mount Hallasan is actually an old volcano.
It's distinctive shape can be seen from everywhere in Jeju Island, and it's one of Korea's most popular hiking destinations.
We chose to take the Yeongsil hiking course up the southwest slope of Mt. Hallasan.
This is the shortest hiking course, The landscape is strewn with magnificent rock formations, and natural forests. As we climbed up we became surrounded by the swirling mist and wind.
It was very atmospheric. We had to go carefully, just placing one-step in front the other.
Every now and then the clouds would break and we'd catch a glimpse of spectacular view.
I normally spend most of my time in the city, and I'd never been exposed to such wild, dramatic nature.

I was beginning to feel tired, so luckily we came across a mountain hut where we could rest.
Even in such a remote location we could buy food and drink. This must be one of the highest restaurants in the world! We ordered a cup hot spicy noodles, and I instantly felt warm again. It tasted so good that I can't imagine a royal banquet would taste any better.
It seems that everyone you meet in the mountains becomes your friends. We shared stories and laughed together.
We hiked on through the snow. We even had to attach small crampons to our shoes.
There was no one around, it was just us and the elements.
Even though it was hard work, I never thought about giving up, I felt elated!
The sight of Mt. Hallasan rising through the clouds, is thought to be one of the most beautiful views in Korea. As the engine started, I could barely contain my excitement.

The little four-seater plane took off gently. High up in the skies, I felt such a sense of freedom.
The beautiful landscape of Jeju-do Island was spread out below us like a painting.
As the plane flew higher, we caught sight of something glinting on the horizon.
It was the majestic snow-covered peak of Mt. Hallasan that we had just climbed!

My trip to Jeju Island surpassed my wildest dreams.
And yet I'd only experienced a fraction of what Jeju has to offer.
A trip to Jeju is the ultimate refreshing break from daily life.
An island blessed with remarkable landscapes, rich in cultural heritage, and full of once-in-a-lifetime opportunities.
This spring experience new challenges and adventures on Jeju Island.


☞ Find Out More :

Korea Tourism Live Information, Visit Korea 2 Jeju-do Island : Festival in Korea