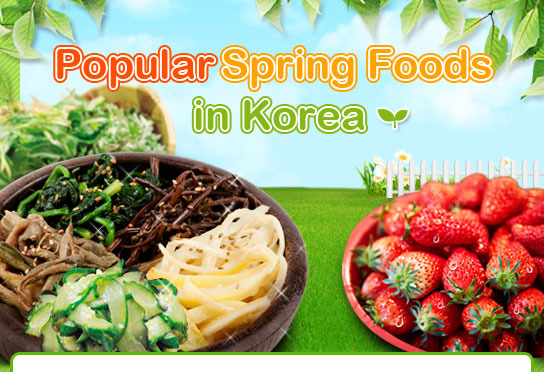 Korea is marked by four distinct seasons. Koreans have traditionally believed that eating fresh seasonal foods in the spring help them to stay healthy throughout the year. As a matter of fact, seasonal foods are highly nutritious, so they help enhance immunity and also have the best flavor when in season. In spring, many festivals are held to showcase regional spring foods, drawing large crowds of tourists to the freshest spring food. Try delicious spring fruits, vegetables, and seafood to boost your energy.


Nutritious Seafood



[Photo credit: Seocheon County, Chungcheongnam-do Province]
Jukkumi (Octopus Ocellatus)
Jukkumi, or octopus ocellatus, is about 10 to 20 centimeters smaller than the common octopus. The common octopus has a firm texture, and one of its eight legs is longer than the others, but jukkumi has a tender texture and eight limbs of the same length. Jukkumi is mostly caught from October to May, but it tastes best in the spring when its head is filled with eggs. Jukkumi eggs are very much like rice in terms of color, shape, and size, and it has a mild, yet delicious taste.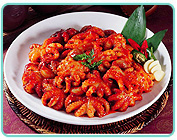 [Photo credit: Seocheon County,
Chungcheongnam-do Province]☞ Best Way to Eat Jukkumi:
Jukkumi is either parboiled to be dipped in a vinegar red chili pepper sauce or prepared shabu-shabu style for a tender and slightly chewy taste. Korean people also like to sear it quickly on the grill with vegetables and pork in a hot and spicy red chili sauce. In the same way baby octopus is eaten in Korea, fresh jukkumi can also be sliced and eaten raw.
☞ Effects: Jukkumi is rich in taurine, so it is good for relieving fatigue. Its high content of unsaturated fatty acids like DHA help lower blood-cholesterol levels. It is also a low-calorie food high in essential amino acid, so it is great for weight loss.
☞ Production Region: Jukkumi is caught in many parts of Korea's sea, but mostly on the West coast in areas like Seocheon, Taean, and Boryeong in Chungcheongnam-do Province.
☞Jukkumi Festivals
Seocheon Camellia Octopus Festival
Muchangpo Mystic Sea Road Jukkumi and Dodari Festival



Daege (King Crab)
February to mid March is the best time to eat king crabs, which are caught off Korea's east coast. King crabs are considered to be so delicious that they used to be specially presented to kings during royal banquets.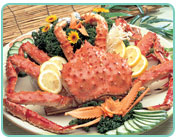 ☞ Best Way to Eat King Crabs:
As King crabs can easily spoil, it is recommended that you buy king crabs that are alive or dead crabs that are fresh and heavy with stiff legs. King crabs can be steamed for about 15 minutes or eaten grilled, fried, or raw.
☞ Effects: Daege, or king crab, is high in protein and calcium, so it is good for growing children or people with weak bones. Though it has a high content of essential amino acids, it is low in fat. The taste is mild and the meat is easily digested. The eggs are high in nucleic acid, which has anti-aging effects and is good for the skin.
☞Production Region: Uljin and Yeongdeok in Gyeongsangbuk-do province.
In Uljin, you can buy king crabs at lower prices than in Yeongdeok, since a lot of king crabs are caught there. However, king crabs from Yeongdeok are considered to have particularly natural flavor as they live in clean sands.
☞ Crab Festivals
Uljin Snow Crab & Red Snow Crab Festival
Yeongdeok Snow Crab Festival
** Other Spring Seafood Festivals
Homigot Octopus Festival
Udo Shell Festival
Yeongsanpo Skate Fish Festival


Wild and Fresh Green Vegetables


Ssuk (Mugwort)
Ssuk, or mugwort, is an important health food in Korea and has been used for both culinary and medicinal purposes for a long time. The tea made from Ssuk is quite aromatic.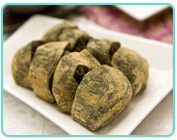 ☞Best Way to Eat Mugwort:
Cut off the roots and big leaves and wash the mugwort in water. If you wish to reduce the vegetable's somewhat strong taste, you should boil the mugwort and then allow it to soak in water overnight. With mugwort, you can make soybean soup, seasoned side dishes, or rice cakes.
☞ Effects: According to Donguibogam (encyclopedia containing principles and practice of Eastern medicine written by Heo Jun), ssuk has a warm nature so it helps strengthen the functions of the stomach, liver, bowels, and kidneys, and relieves stomach aches. It is actually high in minerals and vitamins, which are good for neuralgia and stanching. Its high content of vitamin A and C make it a good ingredient for preventing or treating a cold.
☞Production Region: The rich soil and salty wind coming off the surrounding seas make Ganghwado Island in Gyeonggi-do Province the ideal environment for growing mugwort. Mugwort grown here are very healthy as well as delicious.
☞ Mugwort Festival
Ganghwa Mugwort Festival
☞ More Information on the Mugwort of Ganghwado




Naengi (Shepherd's Purse)
With its unique flavor, naengi, or shepherd's purse, is without a doubt one of the most popular wild spring vegetables in Korea. It buds in the fall, grows a little in the winter, and grows quickly in the spring. It will start losing its aroma in late spring. Having overcome the harshness of winter, naengi is full of nutrition in its leaves and roots. Its unique flavor and aroma is stronger in the roots.

☞Best Way to Eat Naengi: Cut off the yellow leaves at the bottom and wash the vegetable with water. After scalding naengi in hot water, you can make a seasoned side by mixing naengi with soybean paste, salt or sesame oil. You can also make a soup or a stew with naengi.
☞ Effects: Naengi is a vegetable with an especially high content of protein, calcium, and iron. Its minerals are not lost even if it is cut. Its green leaves are high in vitamin A, where just 100 grams of naengi will supply one-third of the daily recommended intake. In traditional Eastern medicine, it is used as a digestive aid because it is good for the stomach and the digestive system. It also helps detox the liver, and its roots are especially good for the eyes. Naengi is also a great food for women as it helps uterine contractions and reduces swelling after delivery.
☞ Production Region: Naengi has a quick reproduction rate and grows well in most environments meaning you can find it throughout Korea in mountains and fields. Sometimes it is found growing in the cracks of city sidewalks.
** Other Spring Vegetables Festivals
Hallasan Gosari (bracken) Festival
Yeongyang Sannamul (wild greens) Festival
Pyeongchang Gondeure (Cirsium Setidens) Festival
Yangpyeong Sannamul (wild greens) and Hanu (Korean beef) Festival


Bright Red and Delicious


Strawberry
Strawberry season in Korea takes place between March and April. With their bright red color, sweet flavor, and mouth-watering aroma, strawberries are always a big hit. They also have various medicinal benefits.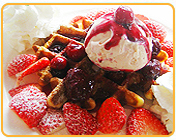 ☞ Best Way to Eat Strawberry:
Properly clean strawberries by simply running them under water. Cut the tops off the strawberries and eat them as is. Leaving them in water for a long time will result in loss of vitamin C, so make sure not to leave them in water for more than 30 seconds. You can have strawberries with milk or cream for more calcium. This helps prevent osteoporosis. Strawberries are also good in shakes, yogurt, ice cream, jam, or cake.
☞ Effects: Strawberry is an excellent source of vitamin C. Per serving, it has 1.5 times more vitamin C than a mandarin orange, and 10 times more than an apple. So, it is good for preventing brown spots or freckles that develop by excessive or repeated exposure to the sun in the spring and helps prevent the skin from aging. Strawberries are high in potassium, helping to discharge body waste and help keep skin healthy.
☞ Production Region: Strawberries are produced in warm southern regions in Korea, like Damyang in Jeollanam-do Province, Nonsan in Chungcheongnam-do Province, and Geochang in Gyeongsangnam-do Province.
☞Strawberry festivals
Nonsan Strawberry Festival
Yangpyeong Strawberry Festival
Wanju Samnye Strawberry Festival
Samnangjin Strawberry Festival



Tomato
Selected as one of the New York Times' top 10 foods, tomatoes are both delicious and good for your health. Lycopene, a bright red carotenoid pigment, and phytochemicals are found in tomatoes, and these reduce the chance of developing cancer, relieve fatigue, and aid the digestive process. Tomatoes, which are low in calories, are effective for diets. In Korea, different varieties of tomatoes, such as cherry tomatoes, are produced.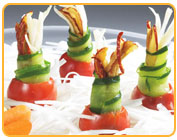 ☞Best way to eat Tomatoes:
You can eat tomatoes raw or stir-fried in olive oil, while sliced tomatoes can be added to sandwiches or served in salads. The list of tomato recipes is quite extensive and includes juices, sauces, sides, etc.
☞ Effects: Lycopene is an antioxidant compound that gives tomatoes their red color. Tomatoes have anticancerous effects and eating tomatoes over a long period helps relieve fatigue and cleanse the body. Tomatoes are a low calorie food, so it is great for weight loss. Cooked tomatoes also help prevent skin aging.
☞Production Region: Tomatoes produced in the Daejeo area of Gangseo-gu, Busan, have such a good taste and aroma that they are exported overseas. Every year a tomato festival is held in this region.

☞ Tomato Festivals
Busan Daejeo Tomato Festival
Gwangju Toechon Tomato Festival

**Other Spring Fruits and Vegetables Festivals
Geumsa Melon Festival
Seongju Life Culture Festival (formerly Seongju Melon Festival)

Last updated on April 2, 2013