October 9 holds a very special place in the hearts of Koreans. It is the birthday of Hangeul, the native Korean alphabet invented by King Sejong (reign: 1418-1450).

The invention of Hangeul was no accident, but rather the culmination of a methodical and logical process. Before Hangeul, Chinese characters called "Hanja" had been used in writing. However, Hanja, for its sheer plethora of characters, was difficult to learn, especially for people of lower social status with little or no access to education, and this led to rampant illiteracy throughout the country. In order to resolve the problem, King Sejong began developing a new writing system that would be easy to access as well as to learn. At last, on October 9, 1443, Hangeul (Hunminjeongeum) was invented and was disseminated with a thorough explanation of logic behind each stroke of its characters. It was published for the first time in 1446. The invention of Hangeul contributed substantially to reducing illiteracy in Korea.

Today, Hangeul is regarded as one of the most systematic alphabets in the world, and is annually celebrated on October 9, designated as Hangeul Day. This coming Hangeul Day, we invite you learn and celebrate Korea's valuable cultural asset, Hangeul.
What's in a name?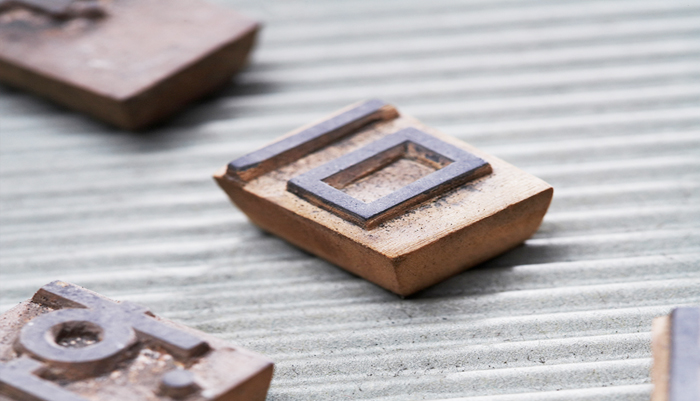 The name "Hangeul" is made up of two words: Han (한) and Geul (글). "Han" means either "big" or "great," and "Geul" refers to the alphabet; Hangeul, therefore, means "great alphabet".

Initially, the Korean alphabet had been called "Hunminjeongeum," which translates to "the proper guiding alphabet of the people," and consisted of 28 letters. From its original system, four letters have been dropped and it is now commonly referred to as Hangeul. Hunminjeongeum or Hangeul is not only easy to learn and convenient to use, but also unique and scientific. In recognition of such virtues, UNESCO inscribed the Hunminjeongeum Haeryebon (Guidebook) on its Memory of the World Register in October 1997.

More info on Hangeul
Tip

Did you know why Hangeul Day is on October 9?

The Yangban (noble class) were vehemently opposed to the creation of Hangeul, fearing social upheavals that could result from having too many "educated commoners." Consequently, King Sejong had to be extremely discreet about his grand literacy project, resulting in very little documentation during the project's initial stages.

Since there was very little documentation, historians had initially concluded Hangeul's "birthday" to be around October 29. However, with the discovery of the Hunminjeongeum Haeryebon, historians placed the date of Hangeul's publication closer to October 9.

Related news
What does a Hangeul letter look like?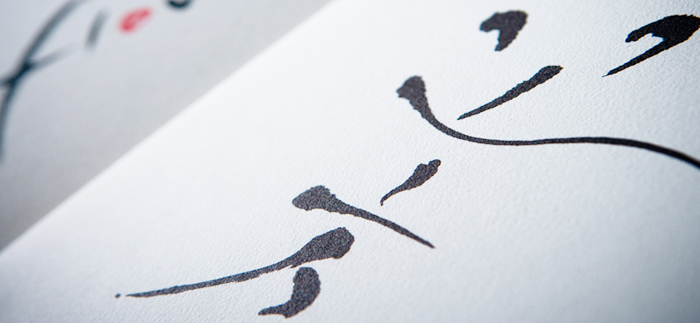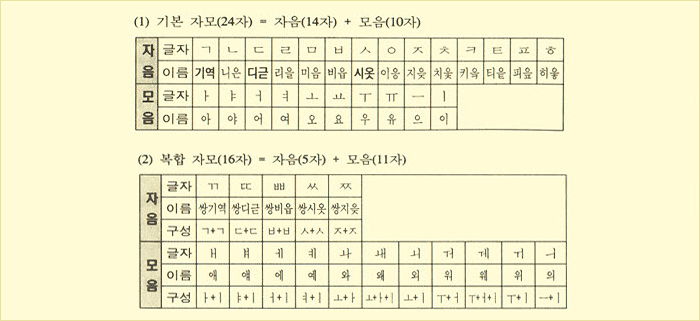 Hangeul is a writing system that involves combining 2 to 4 of the 24 consonants and vowels to form one-syllable blocks. Each vowel is made of a line or lines that represent the sky, the earth and people, while consonants reflect the shape of a human mouth during pronunciation. Together, they form a total of 40 commonly used letter combinations.
Who exactly was King Sejong the Great?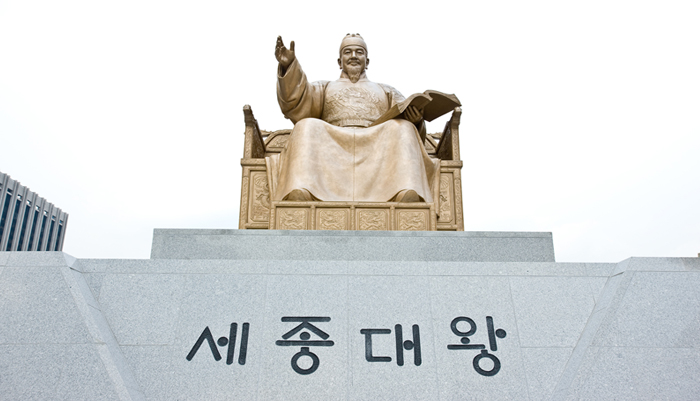 Photo) King Sejong Statue in Gwanghwamun Square
King Sejong was born on May 15, 1397 as the third son of King Taejong (third monarch of the Joseon Dynasty) and Queen Min, and was inaugurated as the fourth king of the Joseon Dynasty in 1418. He was a leader who put his passion for intellectual pursuits, love for his people, and keen interest in improving the lives of the lower class into action. Consequently, the Joseon Dynasty made great strides in the fields of agriculture, science, and technology during his reign.

Ultimately, the king's achievements and benevolence led to the coining of the nickname, "King Sejong the Great." The warm-hearted king is revered today, as demonstrated by his portrait on the 10,000 won bill!
Did you know…

In Korea, former and current students express their deepest appreciation to their teachers by visiting and spending time with them on Teachers' Day. Teachers' Day originally fell on May 26, but it was moved to King Sejong's birthday on May 15 to commemorate the King's teachings and achievements.
Where can I learn Korean?
Several major universities across Korea's capital city of Seoul offer Korean language programs designed exclusively for international visitors and students. Most offer both full-time and part-time study options with schedules that run anywhere from one day (special Hangeul seminars) to weeks, months, or years (intensive language study courses).
Let's Learn Korean
Related Colums
TIP

Where to Buy Souvenirs with Hangeul Characters

There are many places in Seoul to find trinkets and knick-knacks decorated with Hangeul. Museums throughout the city as well as souvenir stores in the famous Insa-dong area are great places to look for Hangeul-themed souvenirs.
Hangeul-themed Tourist Attractions

King Sejong the Great Memorial Hall

An exhibition hall
showcasing King Sejong's relics and legacy

King Sejong Story

The Story of King Sejong is an exhibition hall where detailing Sejong's invention of Hangeul, and his scientific, artistic, military, and political contributions are displayed.
To learn more about Hangeul

Go to the National Institute of Korean Language (English)
Go to Digital Hangeul Museum (Korean, English)
Last updated on September 17, 2014