Ulleungdo Island and Dokdo were islands created by volcanic eruptions over 2.5 million years ago. The steep cliffs and jagged rocks stick out majestically among the calm of the East Sea. Ulleungdo Island and Dokdo hold a special place in the hearts of Koreans not only for their beautiful nature but also for being the easternmost reach of Korea's territory. In this column, we present the beauty of Ulleungdo Island and Dokdo, which sit serenely in the East Sea.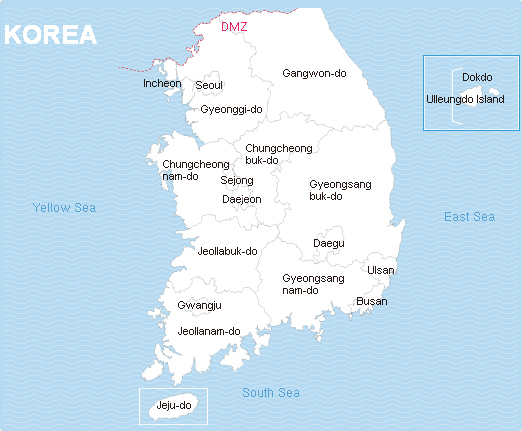 Dokdo, a treasure to the hearts of Koreans
Located in the East Sea, Dokdo sits just 87.4 kilometers to the southeast of Ulleungdo Island and consists of Dongdo (East Island), Seodo (West Island) and 36 smaller islets. Dokdo was originally a single island but became divided into Dongdo and Seodo due to continued erosion over a long period of time. In the waters around Dokdo are 36 small isleys and 53 small rock formations poking ever so delicately out of the sea. Dokdo is also well known for its marine flora and fauna, wildlife, as it is home to about 60 species of migratory birds like the Swinhoe's fork-tailed Petrel, black-tailed gull, and dusky thrush, and 60 species of wild flowers.

Visitors to the island will disembark on Dongdo. Visitors are only given 30 to 40 minutes for sightseeing and there are no special tour programs. During the winter months from December to February, there are no ferries going to Dokdo. Since the entire area is designated as a Natural Preservation Zone, the key to sightseeing is the enjoyment of Dokdo's natural beauty. You can see Seodo from the wharf or take a stroll around the island.
Getting to Dokdo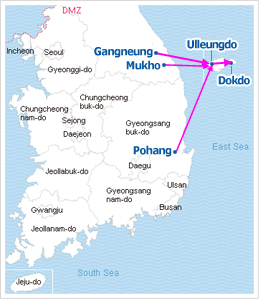 Dokdo is 87.4 kilometers away from Ulleungdo. Ferries departing from Ulleungdo Island to Dokdo leave from Jeodonghang Port and Ulleunghang Port (Sadonghang) and embark once or twice a day. These passenger ship schedules are subject to change according to season and weather conditions, so be sure to check the schedule before departure. Dokdo can only be reached via Ulleungdo, so if you are leaving from the mainland, you will first need to take a ferry for Ulleungdo at Pohang Passenger Terminal, Mukho Passenger Terminal, or Gangneung Passenger Terminal and then take a ferry for Dokdo from Jeodonghang Port or Ulleunghang Port in Ulleungdo.
<Passenger Ship Information>
For Ulleungdo

Ulleungdo
Route
Passenger Ship
Travel Time
Capacity
Pohang ↔ Ulleung
Sunflower
About 3 hours
920 passengers
Mukho ↔ Ulleung
Sunflower
About 3 hours
423 passengers
Sunflower II
About 2.5 hours
376 passengers
Gangneung ↔ Ulleung
Sea Star I
About 2.5 hours
443 passengers
Sea Star III
512 passengers

For Dokdo

Dokdo
Route
Passenger Ship
Travel Time
Capacity
Ulleung ↔ Doko
Dolphin
About 1.5 hours
328 passengers
Seaflower
About 1 hour 50 minutes
423 passengers
Seaflower 2
About 2 hours
376 passengers
Seastar
About 1 hour 20 minutes
443 passengers
Seastar 3
About 1.5 hours
512 passengers
Dokdo Sarang
About 1 hour 50 minutes
419 passengers
☞ For inquires about passenger ships for Ulleungdo:

* Gangneung Passenger Terminal: 51-26, Changhae-ro 14, Gangneung-si, Gangwon-do / Tel: +82-1577-8665
* Mukho Passenger Terminal: 131-129, Imhang-ro, Donghae-si, Gangwon-do / Tel: +82-1666-0980 (Korean)
* Ulleunghang (Sadong) Passenger Terminal: Sadong-ri, Ulleung-eup, Ulleung-gun, Gyeongsangbuk-do / Tel: +82-54-791-0801~3 (Korean)
* Ulleungdo Jeodong Passenger Terminal: 1 Jeodong-ri, Ulleung-eup, Ulleung-gun, Gyeonsangbuk-do / Tel: +82-54-791-9330 (Korean)

☞ Ship companies operating passenger ships to Dokdo:

* Daea Express Shipping Company: www.daea.com / Mukho +82-33-531-5891(Korean) / Pohang +82-54-242-5111 (Korean) (Operating Sea Flower and Sea Flower II)
* Dolphin Shipping: http://www.dolp.co.kr/ ( Korean) / +82-791-8111~2 (Korean) (Operating Dolphin)
* Seaspovill: http://seaspovill.com/ (Korean) / Gangneung +82-33-653-8670 (Korean, English, Japanese, Chinese) (Operating Sea Star and Sea Star III)
*Ulleung Shipping: +82-54-791-9901 (Korean) (Operating Dokdo Sarang)
- Dolphin Shipping and Ulleung Shipping only operate ferries between Ulleungdo and Dokdo. During the months of December, January, and February, operation of passenger ships is suspended. The companies do not offer telephone inquiries or reservation services during these months.
Ulleungdo Island, Unspoilt Environment
Ulleungdo Island can be reached by a three-hour ferry ride from Mukho or Pohang. It is known for being a land of "three fews and five lots": there are no thieves, pollution, and snakes, but a lot of Juniper trees, beautiful women, stones, wind and water. In the center of the island lies Seonginbong, and at 984 meters high, it is the highest peak of the island. Nari Bunji, the only basin on the island sits to the north. The island has a temperate climate and is home to 600 species of flora and fauna, which attract many tourists.
Visitor Information
There are two tours available in Ulleungdo Island: the first is the bus tour that leaves from Dodonghang Port and the second is the sea tour on a ferry that goes around the island. The bus tour takes visitors along the coastline road and takes between three and four hours. The high-speed ferry tour around the island takes about two hours.
① Land Tour

Course: Dodong ↔ Sadong ↔ Tonggumi ↔ Namyang ↔ Saja Bawi ↔ Tugubong ↔ Gom Bawi ↔ Taeha ↔ Hyeonporyeong ↔ Hyeonpogobun ↔ Songgotbong ↔ Cheonbu ↔ Nari
Price: 20,000 won per person (as of February 2014)
Tel: Mureung Transport: +82-54-791-7910, 8000 (Korean)

② Sea Tour

Course: Dodong ↔ Sadong ↔ Tonggumi ↔ Namyang ↔ Guam ↔ Taeha ↔ Hyeonpo ↔ Gongam ↔ Chusan ↔ Cheonbu ↔ Samseonam ↔ Gwaneumdo ↔ Jukdo ↔ Jeodong
Price: 25,000 won per person (as of February 2014)
Tel: Ulleungdo Ferry Corporation +82-54-791-4488 (Korean)
☞ Departure from Dodonghang Port / Departure times: 08:00, 15:40
※ Ferry schedules are irregular and may be subject to change due to weather conditions.
Other Tourist Sites
Dodong Mineral Spring Park / Cable Car to Dokdo Observatory / Dodong Lighthouse / Bongnae Falls / Jugam Mongdol (Pebble) Beach / Saja Bawi Rock / Seonginbong Peak / Nari Basin / Dokdo Museum /
Accommodations and Food

[From left to right: Mussel rice / grilled beef / barnacle noodle soup]
Dodonghang Port is the starting point for both the bus and the ferry tours, so visitors are advised to get accommodations in the port district. Ulleungdo Island is famous for mussel rice, beef, and barnacle noodle soup. Unlike mussels caught closer to the mainland, those caught in Ulleungdo are the size of an adult's hand as they grow deep in the sea about 20 meters below the surface. Their taste has a bit of a nutty flavor the more the mussel is chewed. In Ulleungdo Island, mussel is often cooked with rice and eaten with side dishes like wild aster, dried laver, fatsia shoots, and other greens from the island. Barnacle noodle soup is made using a broth flavored with barnacles that grow on coastal rocks. Because of the clean and savory broth, barnacle noodle soup is widely enjoyed by the locals.
More Info

☞ Dokdo Management Office: www.intodokdo.go.kr (Korean)
☞ Dokdo's official website: http://www.dokdo.go.kr (Korean, English, Japanese, Chinese)
☞ Dokdo information from the Ministry of Foreign Affairs: http://dokdo.mofa.go.kr/kor/index.jsp (Korean, Japanese)
☞ Homepage of Ulleung County: www.ulleung.go.kr (Korean, English, Japanese, Chinese)
☞ Ulleung Culture & Tourism homepage: http://www.ulleung.go.kr/tour/ (Korean, English)
☞ Related column: Dokdo, Korea's Beautiful Island
☞ Related festival: Ulleungdo Cuttlefish Festival
☞ Korea Travel Hotline: +82-2-1330 (Korean, English, Japanese, Chinese)