To keep more in tune with the wishes of our valued visitors, The Korea Tourism Organization (KTO) has put together a new media series for those wishing to experience Korea in greater detail, beyond mere photographs and writings. Under the banner "Visit Korea," the exclusive episodes will host far more interactive and informative features in which to better unravel some of the country's hidden mysteries and traditional warmth.
This particular video will bring audiences to Jeju-do Island, a wonderfully picturesque island getaway off the country's southern shores. Join us as we explore some of the charms of this much heralded and cultural island.


Korea Live - Busan Special


Korea Live- Jeju Island Special Part 2


Video buffering speeds may vary depending on your computer speed, firewall, and internet connection.


Korea's Southernmost Volcanic Island Getaway!
A picturesque island surrounded by the indigo sea that blends beautifully with the spectacular scenery and unique culture. Jeju - a land of wonder and enchantment.
The volcanic island of Jeju will charm you with its magnificent landscapes, opening your senses. In the spring, the island is colored with deep yellow rape flowers. In the winder, the island is fully covered with dazzling white snow. Jeju is an island that opens up a different world during each season.


More on Mt. Hallasan

Found nowhere else in the world, Jeju's own exotic mood captivates both the eyes and hearts of people from all over. A place full of unique colors and charms, Jeju Island is a place where people can experience pristine landscape, and pure shores. A Natural Island Wonder to all who set foot upon Jeju's soils. You will come away with treasured memories longing to return. The island where the sky is like the sea, and the sea is like the sky - Jeju Island. Wonderful Jeju!


More on Mountain Sports vs. Water Sports in Jeju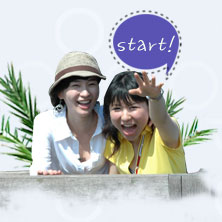 Korea's Most Treasured island, Korea 's best tourist attraction! The island of memories – Jeju.
Every season boasts of its own beauty and story.
An island of everlasting natural wonder! Let's Go To Jeju-do!

[Find out more on Jeju-do Island]


Jeju-do, Semi-Tropical Paradise


Jeju Tours: Luxury vs. Budget
| | |
| --- | --- |
| | Jusangjeolli Cliff & Quen-eong |

The first thing that captures your eye is the beautiful ocean, fantastic rocks and the picturesque cliffsides. It's simply breathtaking! Another scenic masterpiece made by the volcano is Jusangjeolli. Its pillar shaped joints that form the cliffs presents an impressive spectacle. For foreign tourists visiting Jeju-do Island, it is a must-see tourism destination!


More on Jusangjeolli Cliff

Hidden in untouched coastal scenery, 'Quen-eong' is named after a hill where huge lumps of rocks open out in to the ocean.


| | |
| --- | --- |
| | Filming Locations of "All In" and "Daejanggeum" |

Exposing yourself to the cool sea breeze and driving along the coast line, one can get lost in the calming atmosphere quite easily. It is common to find it particularly crowded with many tourists. That is because the place is a shooting venue for a drama! Thanks to the exquisite scenery of Jeju, the island is frequently used to film movies and TV dramas. This place in particular is a shooting venue for the drama 'All In'. Visiting the set, one can experience how it really is in the TV show! Jeju is the best natural shooting place that has made the successful drama 'All In' all the more captivating.


More on "All In"


More on Seopjikoji


What drama was filmed here? It is a shooting venue for Daejanggeum (Jewel in the Palace), one of Korea's best known dramas! Any visitor who likes and is interested in Korean dramas will come away with a deeper understanding of Korean culture.


More on "Daejanggeum"


3-Night 4-Day Rental Car Tour to Hallyu Destinations in Jeju Island

For a foreign tourist visiting Jeju-do Island, another must-see destination is the traditional housing. Houses are built with low roofing to protect it against the strong island wind. Also interesting is the traditional water bucket called Mulheobeok, used to safely carry water that is scarce in the island! From a unique housing configuration to a trivial appliance, every single item is both mysterious and exotic.


More on Jeju Folk Village Museum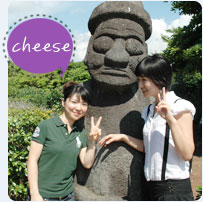 In addition to sightseeing, you can also experience many different cultural aspects of Jeju Island. It is here that foreign tourists can have an unusual experience. Visitors are greeted with the scented fragrances of flowers. Announcing the house is unlocked does not trigger worry. Instead, this low wooden pillar shows the sentiment of the people of Jeju who trust each other. Another noteworthy symbol of Jeju Island is the unique sculpture called Dol Hareubang, meaning 'old grandfather' stone statue.










It is such that beautiful and picturesque scenery And stories
are buried in the island.
When it comes to tourism, one cannot forget to include traditional delicacies!
This is Mom Guk (Gulfweed soup) with Mogaban (Gulfweed). Okdom (sea bream) is also worth trying!
Where in the world can one taste such cultural treats? Jeju Island has a long list of delicacies that are perfect after a long day of sightseeing. One of the local foods of the island is Obunjak-ttukbaegi (small abalone stew in a earthenware pot). A pot stew with variously colored abalone and a variety of other seafood! Captivating the very freshness of the Jeju Sea
are jeonbok-gui (grilled abalone)! Fresh sea foods and local cuisine of Jeju are what make it truly unique!

Guess the next destination~ the home of Jeju's most symbolic figure right by the sea. Diving in the Jeju Sea and gathering seafood for a living, they are woman divers called haenyeo. There job is demanding as they dive under water without any special equipment. How to best collect seafood is just another wonder to visitors. In order for gathering seafood woman divers are heading to the sea ~ This scene is one of the rarities exclusive only to Jeju Island. Working to the point of total exhaustion, they work harder than anyone else. Haenyeo are truly unique and a must-see on one's trip to Jeju Island.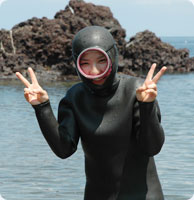 At this very moment, our reporter, Satomi Indo, appears in a diving suit! It seems that they're going to join woman divers gathering seafood~ The job of gathering seafood is truly grueling. Can they make it? Running away in various directions~ Anyway, by wearing swimming goggles~ They are ready to dive in! Fearlessly plunging into the water~ No, you have to dive, staying under the water~~~ Continuous process of trial and error!



An island where the nature and humans coexist in natural harmony. With unparalleled beauty, Jeju Island is both mysterious and unique, and just waiting to be explored!

Jeju Island - Come See It For Yourself!


Jeju Tours: Luxury vs. Budget
3-Night 4-Day Rental Car Tour to Hallyu Destinations
Two-day One-night Jeju Getaway