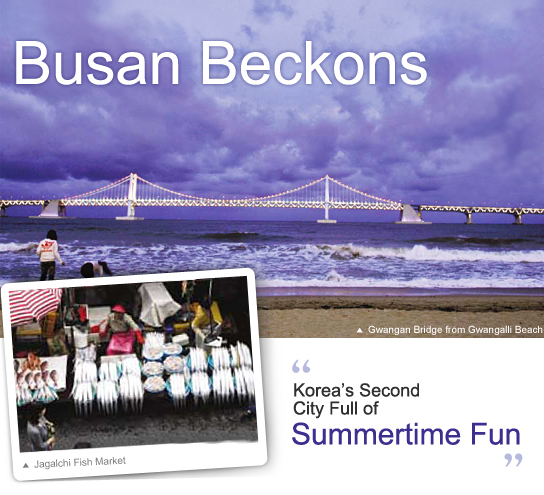 Make no mistake. Busan is one beautiful mess of a city. Built upon a coastal mountain range, entire neighborhoods and the streets within wind through the mountains, and down to the ocean with little rhyme or reason. Sometimes it feels as though a piece of Korea was scooped up, carried across the ocean and dropped on San Francisco. Busan can be trying at times, but the rewards are simply too high to resist.


How to Get There

Busan is the second largest city in Korea, so finding a bus or slow train from just about any other Korean city isn't a problem. The KTX (high speed rail) has two stops in Busan — the Gupo Station in the north of the city, and Busan Station, found in the south of the city. It is here you'll also find the Beetle and Kobe hydrofoil ferries to Fukuoka, Japan. Busan is served by the Gimhae International Airport, found on the outskirts of the city.


Hot Town, Summer in the City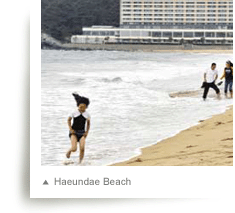 During the Korean War, the entirety of the Republic of Korea was pushed into a small area known as the Pusan (Busan in modern transliteration) perimeter. For several years the city served as both a refugee camp and as the capital of a fledgling Republic of Korea. Today the city is a thriving metropolis, a city that lacks the Western cosmopolitan chic of Seoul, but is functional and approachable in ways that Seoul isn't.

Busan has already submitted a bid for the 2020 Olympic Summer Games, and indeed the city is well known as the "summer capital" of Korea. It boasts six beaches, which range from the friendly fun-and-sun tourist haven of Haeundae, to the more mature, sultry, nighttime vibe of Gwangalli Beach, to Songjeong Beach— a relatively quiet, romantic getaway just outside the city.

In the summer, Haeundae becomes a beachside Mecca. During the peak season (usually the first week of August) it's a sight to behold — every inch of sand becomes a valuable strip of territory and if you look out into the ocean, you're more likely to see a human or a yellow plastic inner tube than actual seawater. Local restaurants advertise on rentable umbrellas and deliver food right to your beach towel. At night patrons light fireworks purchased from vendors.

Obviously this kind of spectacle isn't for everyone, but it needs to at least be witnessed if only for a few minutes. A new wooden boardwalk spans the entirety of Haeundae beach, starting at the luxurious Westin Chosun Beach Hotel and running to rentable condominiums at the opposite end. Along the way you'll find a number of other luxury hotels, the Busan Aquarium, a cluster of seafood restaurants, and the Haeundae Ferry Terminal, where you can take a scenic four-hour ferry ride along the beach that includes an up-close look at the Oryuk Islets. Venture inland and you'll find a plethora of bars and both Korean and Western restaurants.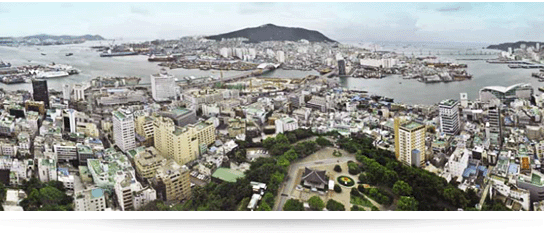 One Fish, Two Fish, Red Fish, Blue Fish... and More!

At the heart of Busan is a simple and effective three line subway system that will put you in the general vicinity of just about anywhere you could want to go. Fancy a look at one of Korea's most cherished temples? Head for Beomeosa Station found toward the end of line 1 (orange). Searching for some of the most reasonably priced high fashion in the country? Then you want Seomyeon Station, the unofficial downtown of the city, where lines 1 and 2 (green) meet. Baseball's your game? Don't miss the chance to see a game at Sajik Stadium on line 3 (gold), the raucous home of the Lotte Giants, where Korea's most passionate baseball fans throw what amounts to a three-hour party during every home game.

Possibly No. 1 on the must-see in Busan list is the Jagalchi Fish Market (Jagalchi Station — line 1), Korea's largest and most frequented fish market. The area has been used as a fish market since 1889 and seemingly offers every fish and sea creature imaginable — and then some. You'll want to explore the entire scene. Walk south through the market toward the water and you'll find a unique urban wharf where many of the boats look like they'd have trouble floating, let alone bring in daily fresh catches. Get to the wharf early enough and you'll be treated to a fish throwing spectacle that makes Seattle's famous Pike's Market fish-toss look like a game of tiddlywinks. Fish auctions, which are run a little like livestock auctions in the West, are also common in the early morning hours.

Naturally there are numerous fish restaurants in the area. A port city since before it was even known as Busan, the city has a longstanding reputation as a seafood haven. Sashimi-style fish (in Korea known as hoe) is available at eye-poppingly reasonable prices. A number of typical Korean dishes, like bibimbap, are offered in a seafood variation (hoedeopbap) with fish just minutes out of the water.


Yongdusan Park: The City From Above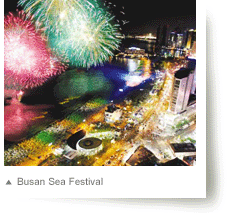 But if seafood isn't your bag, walk back to the subway station and cross to the other side of the street to Nampo-dong, which some Koreans refer to as the old downtown of Busan. Nampo-dong, like most places in Busan, has a high density of bars and restaurants of all kinds. Busan's largest outdoor market, Gukjae, can be found there. Here you'll find everything from clothing, to household items, to packaged foreign food.

It's also close to where you'll find the Busan Tower at Yongdusan Park, a near 400 ft. high tower atop a 226 ft. elevation hill. The result is a breathtaking panoramic view of the city.

Not far from Nampo-dong is Yeongdo, which is technically part of Busan, but is its own island. It is here you'll find Taejongdae, originally an archery ground for the 29th king of the ancient Silla kingdom, but today a peaceful walking area with a lighthouse, an observatory, a nearby amusement park, and a dense forest with over 200 varieties of tree. Taejongdae is one of the few areas in Busan not accessible by subway. Instead, get out at Busan Station (line 1) and take the No. 88 or 101 bus to Taejongdae Park.



Busan Station: Texas Street No More


Across the street from Busan Station is one of the more misunderstood places in all of Busan.

Commonly known as Texas Street (with the caveat that "it is no longer known as Texas Street"), the place once catered to American GIs and their carnal desires. Today, it still caters to a foreign community — mostly Russian sailors and Chinese immigrants — but its enduring reputation as an unseemly area is now apparently undeserved. It's rarely very crowded and those who venture there will discover several reasonably priced Russian restaurants, two Filipino karaoke rooms with some of the better pop song lists in the city, and a cluster of upscale Chinese restaurants on what is known as Shanghai Street at the far east end of the street.
For the best nightlife in Busan head for the Kyungsung University/Pukyong National University Station (line 2), where three major Korean colleges intertwine, creating a dense grid of bars, clubs, restaurants, and clothing stores. On Friday and Saturday nights the entire area is packed with foreigners and Koreans alike. Go there on a Saturday or Sunday morning and you'll find patrons still eating and drinking as if the night before never ended.

For a more laid back take on Korean nightlife continue just a few subway stops further and exit at the Gwangan Station (line 2). Here you'll find couples of all ages strolling along the beach under

the light of the Gwangalli Bridge, one of Busan's more recently constructed landmarks. Completed in 2003, the bridge is Korea's longest and encloses the entire Gwangalli Beach area, creating a very comfortable and cozy environment. During the summer nights, laser light shows on the bridge are common, as are live music performances. There are several hotels along the beach, many with bridge view rooms.


Accommodation

Busan's got a wide range of accommodation, so where you stay is a function of how much you want to spend. Got money to burn? The Haeundae area has four luxury hotels, including the Busan Marriott, the Westin Chosun Busan, Novotel Ambassador Busan, Paradise Hotel Busan (with a casino!) and Haeundae Grand Hotel. In the downtown area, the Busan Lotte Hotel is a good luxury option. Also pricey are the Hotel Nongshim (5 stars) in Oncheon-dong, Hotel Homers (5 stars) near Gwangalli Beach and the Ramada Busan (4 stars) in Haeundae. Beyond that, there are a ton of smaller, cheaper hotels and motels near the major tourist spots (like Haeundae) and bus terminals.
→ Accommodations in Busan

The article courtesy of Seoul magazine