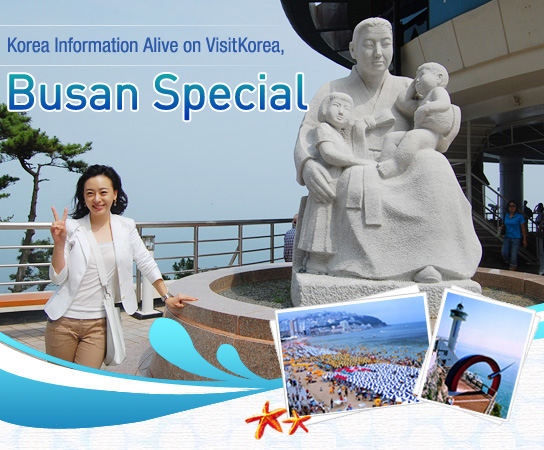 The Korea Tourism Organization (KTO) has prepared a special video highlighting a Korea that is both vibrant and energetic. For those of you that wanted a more innovative way of getting travel information on Korea, try watching our videos!
Let us take a look at Part One of Visit Korea's Busan Special.
※Video buffering speeds may vary depending on your computer speed, firewall, and internet connection.

Of all Korea's beautiful attractions, no other city springs to mind like Busan when it comes to sun drenched beaches and warm ocean waters. Let Busan seduce you with its coastal charms. Experience a special charm that no other place can offer you in Korea's most popular coastal city, Busan! Dynamic Busan!
Greetings! My name is Kim Se-eun.
I am currently in the international coastal city of Busan.
And now, I am about to reveal the many charms hidden inside the majestic beauty that Busan has to offer.

The beautiful blue waters of Korea's largest portside city, Busan!
At the Busan Cooperative Fish Market, located near the Jagalchi Market, the day begins at early dawn as merchants gather for the fish auction.
Here, we were able to experience a very different scene from your typical city. The morning was gorgeously bright in Busan.

| | |
| --- | --- |
| | The coastal city of Busan is now growing internationally. The very first place we visited was the crowded Gwangbok-dong and the PIFF Plaza. There were many movie posters and handprints of popular stars at the PIFF Plaza. If you think about movies, you think Busan. And if you think about Busan, you think movies. When I visited the PIFF Plaza, there were hand-shaped prints everywhere. |
That's right.
Every fall, Busan opens an international film festival with attendances by all the top stars, both national and international, making it a fun night of entertainment. This film festival continuously grows year after year to present the largest venue for moviegoers. Every street that stretched out from the plaza was filled with places to eat.
I'd also like an order of Odari please.
| | |
| --- | --- |
| | Like this, fried cuttlefish is prepared on the spot, and all the shops here offer deliciously prepared food that will make your taste buds tingle. Wow. This looks great. Do you see this? First of all, I'd like to say that I'm sorry, but I'm going to dive in and have a bite. Ah! delicious. You can all come visit the PIFF Plaza to taste the amazingly chewy Odari. |


This is the first place that comes to mind for most when you mention Busan.
Escape from the sweltering heat of the summer and take a visit to see the refreshing blue ocean waters! This is Haeundae Beach.
The Haeundae Beach is Busan's most popular summer spot, and it seems like waves of vacationers have already started showing up.
The ocean waters blow away the summer heat and the smiles on the faces of summer vacationer seem exceptionally brighter than ever while playing in the refreshingly cool waters.
This is also true for foreign tourists as well~
☞More on Haeundae Beach

Let's go~!!
Wouldn't you like to experience what it feels like to take a ride on a motorboat and speed your way around Haeundae's ocean waters?
Not only that, but you can also cut through the cool ocean winds on Haeundae's oceans while surfing, Or take a cruise on a luxury yacht tour, along with other various unique leisure experiences that are prepared for you.



Among all the venues that are available here, I chose to take a ride on the ferry to take a closer look at the jade colored waters of the ocean while touring the Taejongdae regions.
Here, the vast ocean waters meet the beautiful cliffs of Taejongdae, Where the Yeongdo Lighthouse now stands tall, painting a magnificent picture.
This particular Busan tourist attraction was named Taejongdae, as the stories tell that King Muyeol (Taejong) of the Silla Dynasty once trained himself in here in the martial arts.
☞More on the Taejongdae Park
| | |
| --- | --- |
| | A great place to satisfy your hunger after working up an appetite while on vacation! We are at the Jagalchi Market! Fresh seafood is offered here as crowds of customers fill the elaborate streets of the marketplace. |
The Jagalchi Market is known to be also very popular amongst foreign tourists who visit Busan. The scales are alive! The fish scales are so alive!! Wow~ it looks so fresh!
Just take a look at the fish and you will be able to see how fresh they really are.
You can feel the warmth as the merchants kindly greet you, but the greatest part is that all the fish displayed for sale are prepared to eat right in front of you. This is a special treat only unique to the Jagalchi Market. These days, it's the season for sea urchins. Inside, the sea urchins are abundant with yellow eggs. Sea urchin eggs are extremely sweet, and they taste exquisite!
Eat raw fish as a snack to go along with a shot of soju, while admiring the beautiful ocean!
☞More on the Jagalchi Market


Now let's leave this summer resort behind us and move on to the next location. The Dalmaji Hill has been called the Montemarte of Korea.
After climbing to the top of the Dalmaji Hill and taking in the spectacular ocean scenery, I realize that I'm falling in love with another one of Busan's fascinating charms. Beautiful cafes are drawing considerable attention to the hills of Dalmaji. I also took a seat at one of the cafes and enjoyed a bowl of Patbingsu (shaved ice with red bean topping).
Wow~ this is so refreshingly cold!
This is what Koreans call Patbingsu. Red beans, ice cream, and various fruits are prepared in a bowl. I believe this has been called as a various type of sherbet as well.
Many Koreans love to enjoy this dish during the summer. The Patbingsu is so refreshing and sweet, take one bite and all of the summer heat will just fly away.
The amazing scenery and the delicious bowl of Patbingsu also went well with Haeundae, lying so far in the distance.
Don't forget to visit Dalmaji while you are here.
☞More on the Dalmaji Hill

Discover a great variety of fish and sea creatures all year long at an underwater aquarium theme park!
The tourists here are busy following the ever so quick movements of the fish. The aquarium boasts sharks and various fish of all types, big and small. Visitors automatically let out sounds of disbelief as mermaids swim around in the aquarium, and divers jump right in to feed the sharks.
Many foreign tourists were seen at the aquarium as well.
The strong feelings of curiosity she brought with her were coldly dismissed by the uninterested sharks.
Being able to see sharks of all shapes and sizes, large and small, all in one place is a worthwhile experience in itself, don't you think?
☞More on the Busan Aquarium

This place brings the mysterious charms of a different culture to life – we are at the casinos, exclusively for foreigners.
The casino offers a wide selection of games and leisure for foreigners to play away their stress.
At first, I was just watching over the shoulders of other people playing, but eventually, I jumped in to take a chance myself.
☞More on the SEVEN LUCK CASINO Busan Lotte

| | |
| --- | --- |
| | Why not take a visit to Dynamic Busan, where the passion and youthfulness unveils the romantic flavors of Korea's most wondrous atmosphere! |