With the success of the Korean drama Daejanggeum, or Jewel in the Palace, in Taiwan, Hong Kong, and Japan, the popularity or Korean foods are rising in Asia. The rising popularity is also attributable to the Korean Wave (Hallyu) sweeping Asia. For more understanding of Korean food, VisitKorea.or.kr will present you with a series of eight articles on the introduction of Korean food with the help of the Institute of Korean Royal Cuisine. These monthly articles will lead you to the wonderful world of Korean food.

■ The articles will be presented in the following order

1) Overview of Korean Food
2) Seasonings and Style of Korean Food
3) Special Food for Seasonal Occasions
4) Royal Cuisine- royal meal and royal table setting for celebratory occasions
5) Royal Cuisine – Who made royal cuisines?
6) Kimchi, the fundamental Korean food
7) Local dishes
8) Foods for special celebrations

Foods enjoyed on festive days and in particular seasons

Foods for special occasions include festive foods that were enjoyed on holidays in particular months and seasonal dishes prepared with foods produced in the current season. Throughout the year, Korean ancestors prepared different foods for each holiday and enjoyed fresh foods grown in the spring, summer, fall and winter.

Days with odd-numbered dates falling in the same-numbered month were considered festive days. These include Danil (Jan. 1), Dansam (Mar. 3), Dano (May 5), Chilseok (July 7) and Junggu (Sept. 9) in the lunar calendar. Today, New Year's Day, Daeboreum (Jan. 15th according to the lunar calendar), Hansik ("cold food" day, the 105th day after the winter solstice), Dano, Sambok (the hottest period of summer), Chuseok (Thanksgiving Day), and Dongji (winter solstice) are observed as meaningful customs, and we renew their meaning each year.
On New Year's Day, all Koreans start the day with tteokguk (sliced rice cake soup), and wish for health, happiness and good luck. On Daeboreum, we eat ogok-bap (five-grain rice), dried vegetables and nuts and ask for a successful year filled with vigor and good health. On Chuseok, we thank our ancestors for the joy of the harvest and fruit-bearing. We share our pleasure with others by preparing and sharing various dishes cooked with freshly harvested produce. On Dongji, we cook red bean porridge to ward off bad luck.
Similar seasonal foods were enjoyed by both royals and commoners and throughout different regions. Festive days in Korea are mostly seasonal customs related to monthly farming events. The seasonal customs of the Joseon Dynasty are described in detail in books such as Dongguk Sesigi, Kyeongdo Japji and Yeolyang Sesigi.
[Festive foods and seasonal foods]


Holidays and divisions of the year
Various foods
Jan
New Year's Day
Tteokguk (sliced rice cake soup), dumpling, slices of boiled meat, pan-fried dishes, raw beef, neureumjeok (beef and vegetable skewer), tteokjjim (rice dumpling stew), japchae (stir-fried glass noodles and vegetables), cabbage kimchi, jang kimchi (kimchi pickled in soy sauce), yaksik (sweet rice with nuts and jujubes), jeonggwa (fruit jam), gangjeong (sweet rice puffs), sikhye (sweet rice punch), sujeonggwa (cinnamonpunch)
Daeboreum
Boiled rice with five grains, dried laver, nine kinds of seasoned vegetables, yaksik, yumilgwa (oil and honey pastry), wonso byeong (rice cake balls), nuts, nabak-kimchi (water kimchi)
Feb
Junghwa
Rice wine, fresh fruits, beef jerky, jeolpyeon (thin, plain rice cake), yumilgwa
Mar
Samjit
Rice wine, fresh fruits (chestnuts, jujubes, dried persimmons), dried beef/fish, jeolpyeon, yumilgwa
Apr
Chopa(Buddha's birthday)
Neutitteok (rice cake), ssuktteok (rice cake), yangsaek juak (pan-fried rice cake in two colors), fresh fruit, fruit punch, anchovy or sea bream sashimi, dropwort rolls, steamed sea bream
May
Dano (May 5th)
Jeungpyeon (fermented rice cake), surichitteok (rice cake), fresh fruit, cherry cake, cherry punch, jehotang (sweet soft drink), herring dumplings, herring soup
Jun
Yudu (June 15th)
Cold dumplings, sesame soup, fish dumplings, eochae (cooked fish), gujeolpan (platter of nine delicacies), milssam (flour wraps), fresh fruit, hwajeon (pan-fried dough topped with petals of balsam, persimmon flower and cockscomb), Korean bramble punch, barley sudan (sweet cake), tteok sudan (sweet cake)
Jul
Chilseok (July 7th)
Sesame rice cake, milseolgi (white rice cake), juak (pan-fried rice cake), gyuasang (steamed dumpling), tteokguk, sesame soup, chicken soup, eochae, fresh fruit (yellow melon), yeolmu kimchi
Sambok
Yukgaejang (spicey beef soup), roasted carp, cucumber kimchi, jeungpyeon, peach punch, gujang, blowfish porridge
Aug
Hangawi (August 15th)
Torantang (taro soup), steamed chicken, mushroom skewers, japchae, freshly harvested rice, dried laver, seasoned vegetables, fresh fruit, songpyeon (rice cake), chestnut danja (chestnut balls), pear punch, baesuk (seasoned pear)
Sep
Jungyang (Sep. 9th)
Gamgukjeon (pan-fried dough with chrysanthemum petals), chestnut danja, fruit punch (citron, pear), fresh fruit, chrysanthemum wine
Oct
Muo
Musirutteok (rice cake mixed with radish), gamgukjeon, muobyeong (rice cake), citron punch, fresh fruit
Nov
Dongji
Red bean porridge, dongchimi (radish water kimchi), fresh fruit, gyeongdan (sweet rice balls), sujeonggwa, jeonyak (herbs mixed with honey)
Dec
Geumeum (last day of month)
Golmubyeong (rice cake), juak, jeonggwa, various fruits, sikhye, sujeonggwa, tteokguk, dumplings, goldongban (rice mixed with vegetables), wanjatang (meatball soup), various stews, jang kimchi
▣ Spring Foods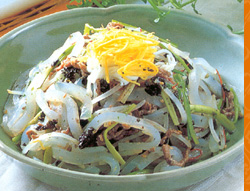 Tangpyeong-chae, enjoyed in late spring, is a mix of green bean jelly, pork, dropwort and dried laver seasoned with soy sauce and vinegar. Tangpyeong means maintaining one's balance. King Yeongjo allegedly created Tangpyeongchae out of a strong desire for balance among parties.

Suran, soft-boiled eggs, tastes very good when dipped lightly in soy sauce seasoned with vinegar.

Jogiguk is a soup made with short-necked clams and croakers.

Hadon means blowfish. A bowl of soup cooked with blowfish and dropwort and seasoned with oil and soy sauce tastes excellent when it is prepared before the peach flowers wither.

Domijjim (steamed sea bream) was prepared at the time when the fish were at their most flavorful. It was also called seunggiaktang, which means the dish was so delicious that it was more enjoyable than a party with the gisaengs (Korea's Geishas).

Seoyeojeungsik consists of steamed hemp dipped in honey. It is served on a plate with fresh fruit.

Various types of rice cakes are prepared. In the book Dongguk Sesigi, rice cake dough is rolled into small balls, stuffed with red bean paste, dyed in five different colors and threaded onto a string. This is called whanbyeong, which means beaded rice cakes.
In addition, rice cakes tinted blue, white or pink were shaped into half-moons. Five small ones of them or two or three big ones are sometimes linked together, which is called sanbyeong. This is similar to what we call gaepitteok today. A larger five-colored rice cake is called majebyeong. Sirutteok (layers of steamed rice cake) made with glutinous rice and topped with jujube is another seasonal food eaten in spring.
▣ Summer Foods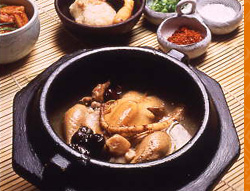 Gijutteok is a rice cake enjoyed in summer. It is prepared by mixing rice flour with liquor and then steaming the fermented dough.
In summer, hwajeon (flower rice pancake) is prepared by placing yellow rose petals on top of round, flat biscuits of glutinous rice dough.

Eochae is a cooked fish dish. White fish meat is shredded into small pieces, sprinkled with starch and boiled lightly in hot water. When served, it is decorated with cucumber, manna lichens and paper-thin strips of fried egg. Eomandu is a dumpling prepared with fish instead of flour dough. A beef stuffing is wrapped with thin slices of white fish meat. It is steamed and served with soy sauce seasoned with vinegar.

Dropwort rolls are prepared by boiling dropwort or soft scallions in hot water and forming each strip into a roll. Served with seasoned hot pepper paste as a sauce, it makes a perfect side dish for liquors.

Flour noodles are added to sesame soup and adorned with shredded squash and small strips of chicken. Seaweed is boiled in chicken soup and then mixed with flour noodles.

Sliced squash is coated with flour and whipped eggs and pan-fried. Heads of croakers are cooked to make jijimi (a stew).
Yellow melons are regarded as the best fruit to eat to cool off in the summer heat.

In the royal court, rice dumplings left over from New Year's Day are soaked in water to make tteokguk. Winter foods are enjoyed in summer to chase away the heat.
▣ Fall Foods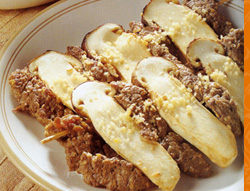 In fall, the harvest is at its peak and the new crop of the year is rich, as are the hearts of the people. Chuseok is also called Gabae or Hangawi. In rural areas, lunar New Year's Day and Chuseok are considered as the most important holidays. As it is the season when five different grains are fully grown, fruits are ripe and vegetables are abundant, new grain liquors are brewed from the fresh crops. Fresh fruits are picked and offerings for ancestors are prepared to be used in a rite. This is called the Chuseok rite. Festive foods for Hangawi include songpyeon (half-moon rice cake), torantang (taro soup), various seasoned vegetables and galbijjim (braised short ribs).

Rice cakes such as singwabyeong, mulhobaktteok, musirutteok, bam danja (chestnut balls) and jujube injeolmi (sticky rice cake), which are adorned with freshly harvested fruits such as chestnut, jujube and persimmon before being steamed, are also special dishes.
Songi sanjeok, prepared by skewering songi (pine mushrooms) and beef, is another delicacy enjoyed in fall.
▣ Winter Foods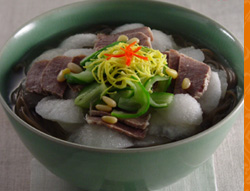 Dongji (the winter solstice) is the longest night and shortest day of the year. Meaning "a day that ushers in the following year," Dongji was also called ase (sub-year) or "little New Year's Day."
At the homes of commoners, porridge was cooked using red beans. Glutinous rice powder was rolled into small balls to be added to the porridge, which is served with honey. Offering the first harvest of the season to one's ancestors and spreading red bean porridge on doors were popular customs that were believed to keep evil spirits away. These days, Koreans eat a bowl of red bean porridge to ward off evil spirits. Festive foods for Dongji included red bean porridge, jeonyak (a mixture of herbs, honey, sugar and pepper), sikhye (a sweet dessert made with rice), sujeonggwa (cinnamon punch) and dongchimi (radish water kimchi).
Jeonyak was offered to the king on Dongji, and then distributed to his followers. To prepare jeonyak, gelatin is dissolved, herbs (dried ginger, dried cloves, etc.) are ground into a fine powder and jujubes are boiled and passed through a sieve. These are mixed with honey and boiled for a long time to make them harden into a jelly. It is actually a kind of herbed jelly. It is known to protect our bodies from the cold throughout the winter.

Nanrohoe is a seasonal food enjoyed in urban areas. When the weather becomes cold, people gather around a large stove with a stew pot on top. They stir-fry marinated meats and add broth to the pot and let it boil.

Sinseollo originally meant a pot and stove in one. In this pot, various meats and vegetables were neatly arranged and a broth added for simmering. It is also called yeolgujatang or guja, which means "pleasing to the mouth."

Naengmyeon (cold buckwheat noodles) is one of favorite seasonal choices in winter. In the late Joseon Dynasty, King Gojong was especially fond of noodles and he enjoyed naengmyeon as a nighttime snack. Since King Gojong didn't like spicy foods, the only garnishes on the noodles were slices of boiled meat, pear and pine nuts. Instead of beef stock, the noodles were added to dongchimi (radish water kimchi) with a lots of pear, which gave the noodles a very sweet and refreshing flavor.


■ The Previous Articles
1) Overview of Korean Food
2) Seasonings and Style of Korean Food