Jeongwol Daeboreum refers to the first full moon of the Lunar New Year, which falls on the 15th day of the lunar calendar. On this day, traditions and customs are performed to ward off misfortune and to wish for a bountiful year. In 2015, Jeongwol Daeboreum falls on March 5th of the Gregorian calendar.

In the morning of Jeongwol Daeboreum, people wish for good health and fortune for the year by cracking the shell of a peanut or walnut with their teeth; they also wish for only good news during the year by drinking cheongju, a clear, strained rice wine. To celebrate this first full moon of the lunar calendar, people also share dishes like ogok-bap (boiled rice with five grains) and namul (seasoned vegetables) with their neighbors.

Other famous traditions for Daeboreum include jwibulnori and sajanori. Jwibulnori, or playing with fire, involves burning rice fields and vegetable gardens to kill insect pests and to ease cultivation for the coming season. Sajanori is the more festive tradition. For sajanori, men form a parade wearing lion masks. Perhaps the most celebrated tradition is dalmaji, which entails visiting high places to view the full moon with friends and family.
Customs and Traditions of Jeongwol Daeboreum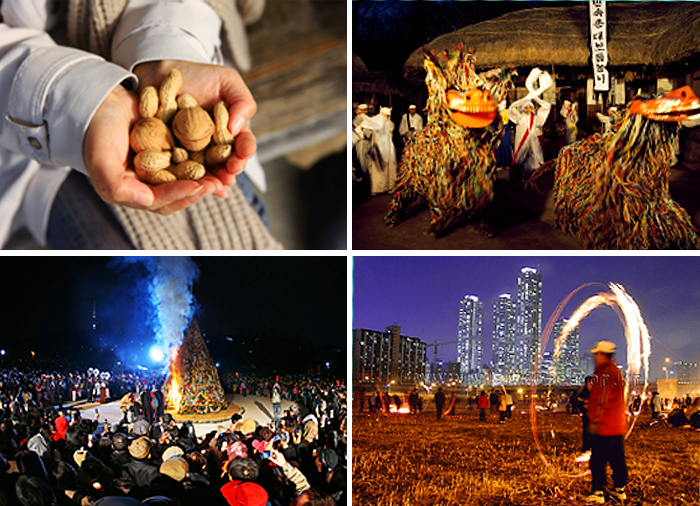 • Drinking gwibalgisul:

A tradition of drinking cheongju, a cold clear, strained rice wine to bring good news all year round.
• Cracking bureom:

Bureom are nuts, such as peanuts, walnuts, pine nuts, chestnuts, and gingko nuts. A common tradition of Jeongwol Daeboreum is to crack a nut in your mouth early in the morning. This is believed to help strengthen teeth and avoid allergies in the coming year.
• Sharing ogok-bap rice:

Ogok-bap is steamed rice made with five grains (rice, Foxtail millet, sorghum, red beans, beans, etc). The rice is eaten with various wild vegetables and is shared on the eve of Jeongwol Daeboreum as it is believed to bring good luck.
• Burning daljip:

Daljip is a heap of straw or twigs. Burning daljip is a tradition intended to ward off misfortune and bring good luck.
• Jwibulnori:

Jwibulnori is a tradition of burning grass and weeds on dry fields and paddies after sunset in order to kill insect eggs and to fertilize the fields with ashes. The flames lighting up the night sky also make for a spectacular sight to behold.
• Deowipalgi:

Deowipalgi literally means "selling heat." This fun, symbolic tradition involves visiting a friend or family member and calling his or her name before sunrise. If they respond, they are then told, "Buy my heat!" The buyer is then responsible for absorbing all the heat the seller would have otherwise received in the coming summer.
Korea's top six full moon viewing spots
• Seoul > N Seoul Tower
Full moon watching from the best observatory in Seoul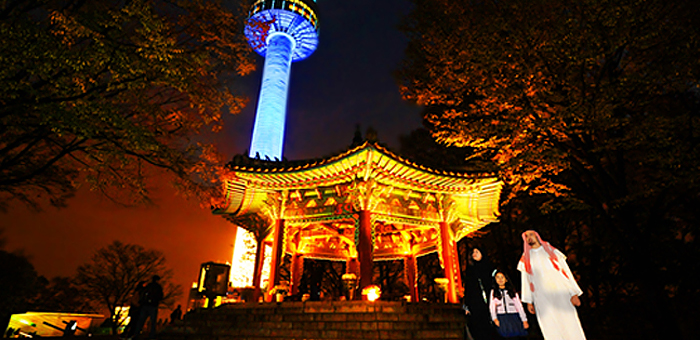 Located on Namsan Mountain, N Seoul Tower is the most visited observatory and the best place to view the full moon for couples in Seoul. It has an outdoor observatory as well as restaurants and coffee shops. Visitors can also stop by the Teddy Bear Museum and other entertainment facilities in N Seoul Tower, or enjoy a walk in the neighboring park.
☞ N Seoul Tower
☞ Related page: Night View of Seoul: N Seoul Tower
• Gyeonggi-do Gwangju > Namhansanseong Fortress
Enjoy the moonlight from this historic site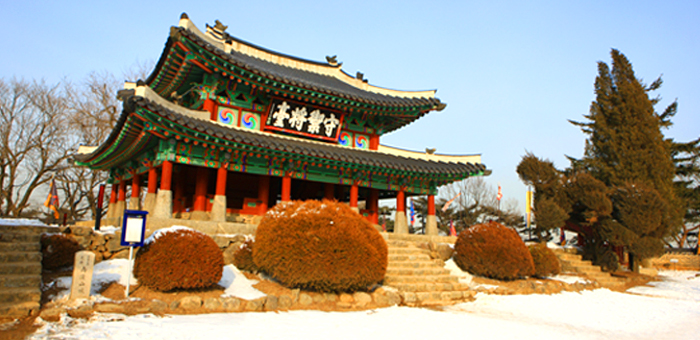 Namhansanseong Fortress is located on Namhansan Mountain, which spans across three cities in Gyeonggi-do, including Gwangju-si, Seongnam-si, and Hanam-si. Here, visitors get great views of the full moon from the Sueojangdae command post, as well as night views of the Songpa-gu district of Seoul and the central part of Gyeonggi-do. Visit some of the historical sites at Namhansanseong Fortress to enjoy great views of the full moon.
☞ Namhansanseong Provincial Park
• Gangwon-do > Gangneung > Gyeongpodae Pavilion
Full moon reflections on the ocean and lake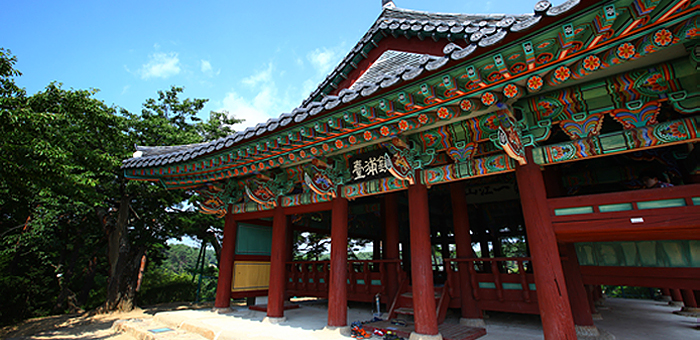 Gyeongpodae Pavilion is situated on a hill by Gyeongpoho Lake on Korea's East Coast. The pavilion offers great views of the sea and the lake. The sight of the moon reflecting on the lake at night is so impressive and inspiring that the pavilion has been visited by scholars and poets for centuries.
☞ Gyeongpodae Pavilion
☞ Related column: Gangneung, where travel on the east coast begins
• Chungcheongnam-do> Seosan > Ganworam Hermitage
Revel in the moonlit ocean view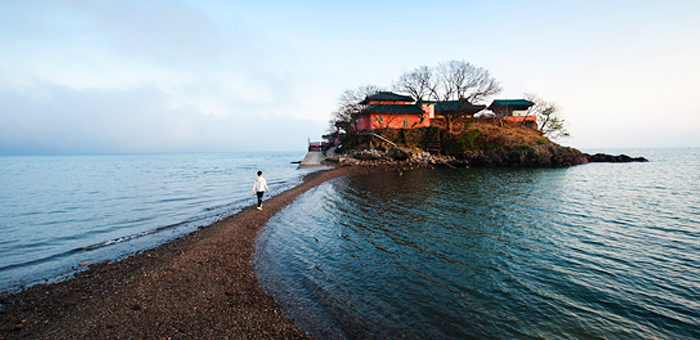 Ganworam Hermitage is a small Buddhist temple in Seosan, Chungcheongnam-do. It has been said that the Great Master Muhak, the most pious monk of the Joseon Dynasty, found enlightenment here while watching the moon. Ganworam looks like it is floating on the sea during high tide, while during low tide, the land under the temple is exposed and it is seen on the land. The hermitage is popular for watching the moon as well as the sunset.
☞ Ganworam
• Jeollanam-do > Yeongam > Wolchulsan Mountain
The full moon rising between mountain peaks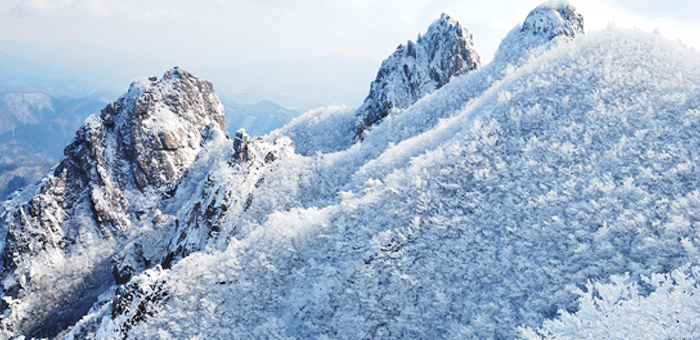 Wolchul literally means "the rising of the moon." The view of the moon rising above the peaks of Wolchulsan Mountain (809 meters) is indeed one worth seeing. Though Wolchulsan Mountain rises only 809 meters above sea level, it has several dramatic peaks that join together to create a splendid view. The mountain is a popular place to hike at night during the full moon.
• Busan > Haeundae Dalmaji-gil Road
Romantic spot for moon watching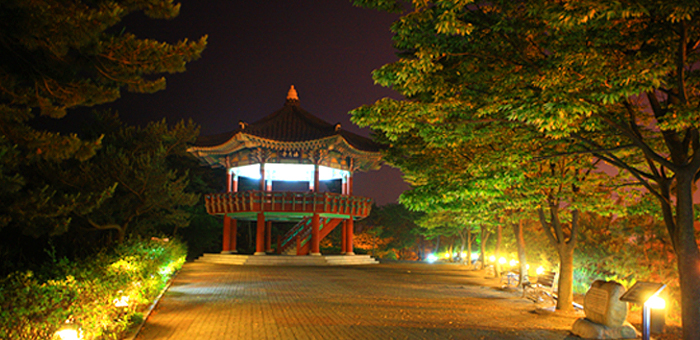 Dalmaji-gil Road is situated on Wausan Mountain between Haeundae Beach and Songjeong Beach. Halfway up the road is Dalmaji Park. Many coffee shops dot the road from Dalmaji Hill to Haewoljeong Pavilion, attracting young couples on romantic dates.
☞ Dalmaji-gil Road
☞ Related page: Busan City Tour
Jeongwol Daeboreum Celebration Events


In the past, Korean families make ogok-bap, crack bureom, play jwibulnori or burn daljip with neighbors in the fields to celebrate Jeongwol Daeboreum. Nowadays, it is rare to see these traditional events in cities; however, some regions try to keep them alive by holding annual Jeongwol Daeboreum events.
More info

• Daegu Dalbae Dalmaji Festival
• SeollalㆍDaeboreum Traditional & Cultural Event of Gongju National Museum
• SeollalㆍIpchunㆍDaeboreum Traditional & Cultural Event of Chuncheon National Museum
• Traditional Folk Game Event of Andong Folk Museum
• Samcheok Full Moon Festival
• Nonsan Jeongwol Daeboreum Traditional Event
Last updated, January 14, 2015