The sound of monks chanting echoes through the forest. Birds chirp in the trees. The humming sound of cicadas lowers and rises in waves. At the end of a tree-lined trail is a stone bridge covered in white lanterns known as Paradise Bridge. It crosses over a lazy stream where water bubbles over smooth stones. On the other side is a temple, sitting right in the middle of it all, in the exact same place it has resided for centuries.

If there were specific instructions for building temples, Magoksa would be the how-to list. Step 1: Find a beautiful, secluded spot in the middle of the forest, preferably at the base of a mountain and beside a stream. Step 2: Build wooden temple with intricate carvings and paint it red. Step 3: Put stone pagoda in the center. What makes Magoksa special, however, is not just its dreamy surroundings or intricate history, it's the people who bring it to life: the monks and Buddhist followers.
Karmic Connection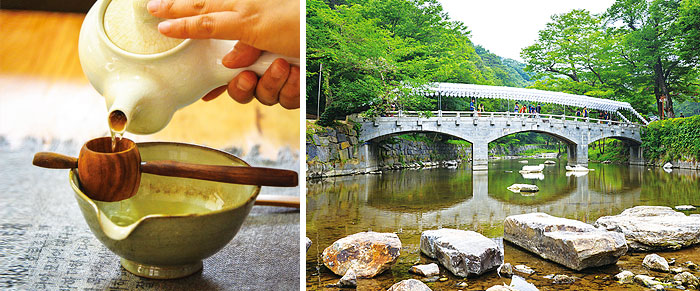 Tea time with the monksArch bridge and stepping stone bridge,
Magoksa Temple
It can be difficult to connect with monks or understand their way of life, especially for visitors who don't speak Korean. But with the new TempleStay and Daily TempleStay programs at Magoksa, learning about Buddhism and Buddhist temple rituals is easier than ever.

Kim Hui-yeong is one of the people who works in the TempleStay program, and also assists with interpretation for the monks who don't speak English. Her Buddhist name is Bo Hyun after Bo Hyun Bo Sal, a Buddhist deity of sorts who represents action. During the week, Bo Hyun lives in Seoul and teaches English, and she commutes to Magoksa every weekend. When asked why she travels the long distance every week, her devotion to the temple and her faith are clear.

"Do you know what inyeon is?" she asks. "It means karma. And I have a karmic relationship with this temple. I can't say if it is with the temple itself or the people here. It just is, so I follow the moment."

She now knows the temple grounds as well as anyone. One of her favorite places is the walking meditation course. She says with a smile, "If you go there you will feel something in the forest. Everything opens up."

As if on cue, a monk hits a massive buddhist bell under the pavilion—once, twice, three times. The sound carries throughout the temple grounds. Bo Hyun apologizes. "Sorry, I must go. A new tour group has just arrived." Ten or so tourists from around the world are waiting for her in front of the bridge. Bo Hyun greets them and then starts the tour.
Yin and Yang Balance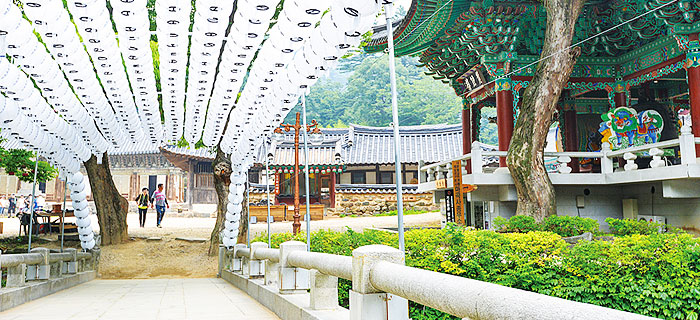 Paper lanterns commemorating the spirits of those passed away
The site of the temple grounds was chosen because it is said to be in perfect harmony with the universe. A stream carves its way through the middle of the grounds forming a perfect taegeuk, or yin and yang symbol, just like the one in the middle of the Korean flag. The symbol represents the "great polarity," or the harmonious balance of the primal state of the universe. The temple, established around AD 640, is one of 24 head temples around Korea of the Jogye Order of Korean Buddhism.

Off in one of the temple buildings, Il Yang Sunim (sunim being the word for monk) prepares tea for the newly arrived group. But the tea is not just a polite way to welcome the group; it's a lesson about life. She teaches them about the importance of the Buddhist tea ritual.

"Usually, we don't concentrate on our five senses when we do things. So while making and drinking tea, we concentrate our mind. It's a kind of practice. First, look at the color, then feel the warmth, smell it and finally taste. Then we concentrate our senses and then think in our mind about the process."

Her previous temple experience involved two years at a Korean temple in Toronto. Then she moved to another Bugwangsa temple in San Francisco. One of her goals was to learn English because she met many foreigners at the temple in Korea but she couldn't communicate with them. It wasn't easy for her to move to North America. In the end, though, she was able to learn English and share her devotion to Buddhism. "But still my English is so limited," she says, bursting out in laughter.
Another Perspective
Before the tour finishes, the group members ask the monk questions and then take photos with her. One of the members of the tour, Anabellia Gonzalez from Mexico, has been traveling around Korea for a month. For her, the tea ceremony was a highlight—learning how they do it and the meaning behind it. Brad Townsend from Illinois is visiting Korea for 12 days, visiting his son who is studying at a graduate school in Busan. Townsend is really interested in the architecture, especially the Korean woodwork. "Seeing the temple grounds and interiors, how everything was put together, the techniques they used, it was very interesting," he says.
Magoksa Temple Programs

Participants learn about the temple's
musical instrumentsSharing some tea and smiles
As many non-Buddhists might notice, at the end of the day, temples can all look quite similar once you've visited a few. But in the end, it's just a structure. What makes each space come to life are the people who live and practice there. This is a side of temple life most tourists never get to see or learn about—until now. Magoksa offers two programs where tourists can interact with the monks and feel what it's like to live at a temple. And for those looking to take a break from their busy life, Il Yang Sunim advises: "Please come to the temple to rest, refresh and recharge yourself." Come and walk over the bridge to paradise.
Program Name: Templestay
Duration: 2 days, 1 night
KRW 70,000 adults (60,000 for 18 and under)
_ Day 1
Arrival and registration
Orientation
Temple tour
Making of 108 prayer beads
Dinner
Ringing the bell and chanting, also known as Yebul
Conversation over tea

_ Day 2
Yebul chanting at dawn
Individual practice time
Seon meditation
Breakfast
Community work
Walking meditation
Pack and clean up


Program Name: Daily Templestay
Duration: 2 hours
KRW 20,000 won
Time: 13:00–15:00
Days: Friday to Sunday
Arrive
Temple tour
Making prayer beads
Conversation over tea
Q&A with monk

*www.magoksa.org—English site coming soon
templemagok@gmail.com,
T. 041-841-6226
*Buses to Gongju depart from Nambu Bus Terminal every hour. Take the bus 770 from Gongju Bus Terminal, which takes another 40 minutes.
The article courtesy of Seoul magazine
More info

Magoksa Temple
----------------------------
Related page

Major Buddhist Temples in Korea