History Rebuilt and Upgraded:
Gwanghwamun Plaza
광화문 광장
Standing in front of Gwanghwamun Gate, main entrance to Gyeongbokgung Palace, one might get the feeling of standing before an ancient monument with the nation's hard-fought struggle built into its doors—a structure that's survived centuries of conflict on the Peninsula. In a sense, such an impression isn't entirely inaccurate, for Seoul's most famous gate certainly represents hundreds of years of Joseon history, but it has also undergone several transformations throughout the country's tumultuous past. Though not formally named Gwanghwamun until 1425, the three-door entryway was originally built in 1395, with the large middle entrance designed to be used by the king himself. It was burned down during the Japanese invasions of the Imjin War (1592–98) and was left in ruins for over 270 years. The gate was then reconstructed in 1864 before being dismantled and moved in 1927 during the Japanese colonial period; the Korean War (1950–53) then destroyed the gate entirely. A concrete restoration was constructed in 1968, but its latest restoration—designed to remain as faithful as possible to the original gate—wasn't completed until 2010. Similarly, the square that sits in front, Gwanghwamun Plaza, wasn't finished until July 2009. The plaza was built to turn Sejong-ro from a car-centric boulevard into a scenic area designed for pedestrians, downsizing the massive street from 16 lanes to 10. Aside from statues of Admiral Yi Sun-sin, a Korean naval hero, and King Sejong the Great, the creator of Hangeul, the plaza offers a giant grass pavilion, fountains where children often play to cool off and waterways that were designed to appear as extensions of nearby Cheonggyecheon Stream. If the fountains aren't enough to give you respite from the heat, try hopping into King Sejong Exhibition Hall next to the plaza. It's a free museum where you can learn about why the king is so revered by Koreans. The Ilmin Museum of Art (Tue.–Sun., 11:00–19:00, www.ilmin.org), the National Museum of Korean Contemporary History (Tue.–Sun., 9:00–18:00, www.much.go.kr) and the National Palace Museum of Korea (Tue.–Fri., 9:00–18:00; Sat.–Sun., 9:00–19:00, www.gogung.go.kr) all offer ways to beat the heat while also engaging in local history.
Godiva Chocolate Café (T. 070-4713-8596) has some exquisite soft serve ice cream and is practically next to the Yi Sun-sin statue. For something more substantial, stop by Pyeong Gaok (T. 02-732-1566) for some naengmyeon, or cold noodles.
Seoul Finance Center (T. 02-3783-0114, www.sfckorea.co.kr) has underground restaurants and high-class shopping.
Catch a show at the Sejong Performing Arts Center (T. 02-399-1114, www.sejongpac.or.kr).
Gwanghwamun Station 광화문역 (Line 5)
Blending In:
National Museum of Modern and Contemporary Art, Seoul
국립현대미술관 서울관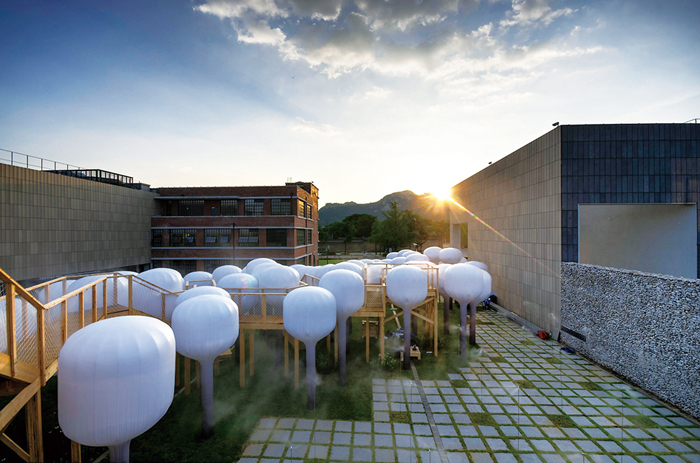 Opened in November of 2013, the Seoul branch of the National Museum of Modern and Contemporary Art is the third of its kind, following in suit after branches in Gwacheon and Deoksugung Palace. Nestled near the trendy and cultural Samcheong-dong area, its metropolitan location makes it easy to access for Seoul residents, offering a chance for more people—who might otherwise see art as overly esoteric or exclusive—to experience the works of artists from all around the globe who convey a variety of messages. In addition to displaying more works from internationally recognized artists, is expected to become a hub for more permanent exhibitions, an attempt to override other local institutions' tendency to only house temporary exhibitions, which are often shipped off to another country before the community can really appreciate their value. Just as the Louvre is the permanent home of the Mona Lisa, MMCA Seoul hopes to become the official residence for an increasing number of significant works from both Korea and abroad. The building itself consists of three floors above ground and three below and is divided into seven different exhibition halls, residing on the former site of the Joseon Dynasty's Office of Royal Genealogy. Although only in its first year, the museum has blended in with the neighborhood perfectly; sitting next to the likes of Gyeongbokgung Palace and Bukchon Hanok Village, the architects decided against designing MMCA Seoul to be an opulent and glamorous structure, opting to harmonize with surrounding landmarks as opposed to competing with them. Limiting the building's height to only three floors is also a deliberate attempt to avoid overshadowing its neighbors, which is compensated by the three floors underground. Designed to be a public space as well as a gallery, there are a total of six pavillions on museum grounds where visitors can relax while enjoying the outdoor exhibitions.
Treats like bibimbap, dumplings and various noodle dishes can be found at Guksumyeongga (T. 02-732-9921) next door.
The museum has a gift shop that sells unique souvenirs.
In addition to Gyeongbokgung Palace and Bukchon Hanok Village, the surrounding Samcheong-dong area is both quaint and romantic. Head to nearby Gwanghwamun Plaza for more local flavor.
T. 02-3701-9500, www.mmca.go.kr
Tuesday, Thursday, Friday, Sunday, 10:00--18:00; Wednesday and Saturday, 10:00--21:00
KRW 7,000 for all exhibitions. Free admission for all exhibitions from 18:00--21:00.
Anguk Station 안국역 (Line 3), Exit 1. Walk straight and take a right at Pungmoon Girls' High School. Follow that path and take a left at the first intersection; the museum will be on your left.
Underground Network:
Express Bus Terminal
고속터미널 센트럴 시티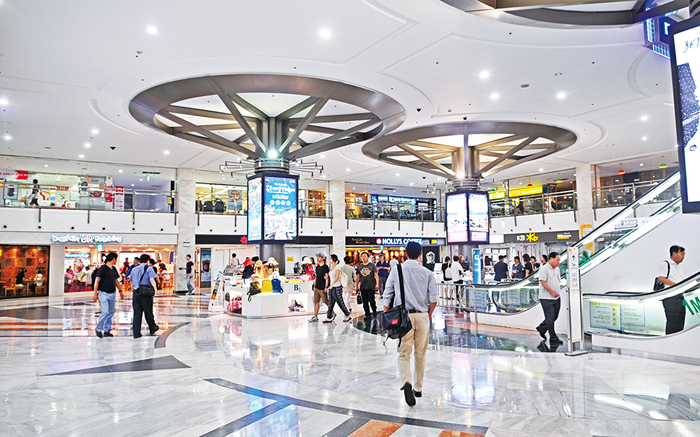 Sometimes the best way to avoid to heat is by going underground, and Seoul's Express Bus Terminal provides one of the city's largest underground plazas for Seoulites to escape the sun's blasting heat—almost a miniature underground city in itself. Express Bus Terminal Station connects you to subway lines 3, 7 and 9, as well as to buses that depart for nearly every part of the country. If you're in the mood for an impromptu getaway that's still affordable, this is the place to be. Just keep in mind the holiday seasons of Chuseok and the Lunar New Year, as tickets are sure to be sparse around such times—book early! But there is more to this place than just transportation. Apart from countless retail shops selling almost every type of fashion item imaginable—from suits to earrings—the station's underground shopping complex is also linked to a central plaza called Central City, where you can encounter more shopping, a Krispy Kreme, several restaurants, a movie theater and even a pharmacy. Central City also houses a branch of Bandi and Luni's, a major bookseller that offers a large selection of English-language titles. If you're looking for higher-class shopping, fear not, for Central City also connects to a Shinsegae Department Store, and we all know that department stores can be counted on for air conditioned interiors!
T. 02-535-4151, www.kobus.co.kr/web/eng
Express Bus Terminal Station 고속터미널역 (Line 3, 7 or 9)
Not Just a Winter Activity:
Seoul Ice Rinks
이촌 한강공원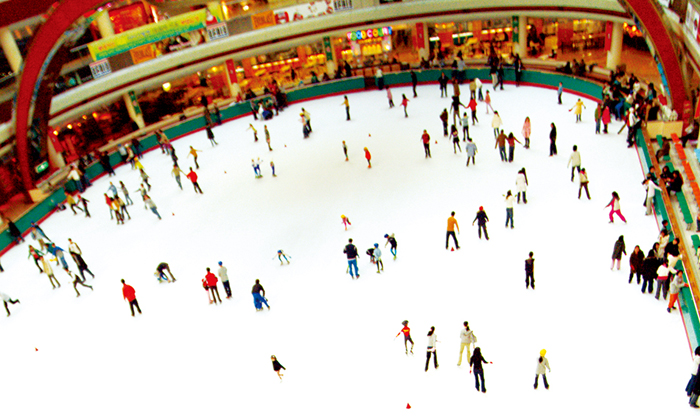 Who says you can't strap on some skates and reenact those childhood Mighty Duck fantasies just because it's summer? Seoul offers a number of ice rinks that are open year-round, allowing you to get some exercise, beat the heat and have some innocent, childish fun—all for an affordable price. If you're looking for somewhere cute and perhaps ideal for a date, try Lotte World Ice Rink. Just a word of warning, this is no place for serious athletes. In fact, they don't even allow hockey skates or speed skates—figure skates only. Being very popular, it's usually crowded with children who have flooded over from the nearby amusement park or couples that teeter leisurely along while affectionately grasping each other's hands. So if you're in the mood for some speed drills or want to see if you can still triple-axel, perhaps you should try Dong Cheon Sports Rink. Its discrete location in a residential area means smaller crowds, and there are usually ambitious future hockey players and skaters practicing their moves, which means you can too. Just make sure to follow the rules and share the ice. Korea University Ice Rink is also geared for athletes, having even been graced by superstar and Olympic gold medalist Kim Yuna (being a student of Korea University herself). They regularly hold private lessons and often house local hockey matches, making it ideal for both beginners and veteran skaters. If KU and Dong Cheong are both too far north for you, head to Mokdong Ice Rink, which offers similar amenities.
Lotte World Ice Rink
T. 02-411-2000, www.lotteworld.com/icerink
KRW 15,000 entrance fee;
KRW 5,000 for rentals
10:00–21:30 on weekdays;
10:00–22:30 on weekends
Dong Cheong Sports Rink
T. 02-9499-114, www.dcsports.co.kr
KRW 5,000 entrance fee;
KRW 3,000 for rentals
During the school year: 14:00–17:50 on weekdays; 10:00–17:50 on weekends
During winter and summer vacation: 10:00–17:50 for all days
Korea University Ice Rink
T. 02-3290-4243, www.kicerink.co.kr
KRW 6,000 entrance fee;
KRW 3,000 for rentals
14:00–16:50 on weekdays;
14:00–17:50 on weekends
Mokdong Ice Rink
T. 02-2649-8454, www.mdicerink.co.kr
KRW 4,000 on weekdays,
KRW 5,200 on weekends
14:00–18:00 on weekdays;
12:00–18:00 on weekends
Something for Everyone:
Ttukseom Resort
뚝섬 유원지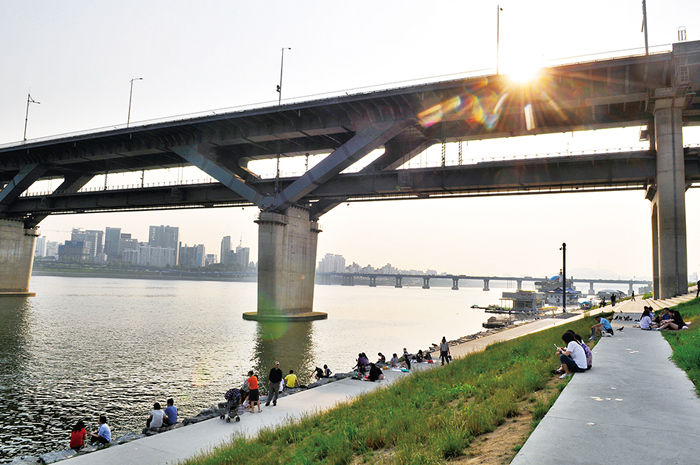 Ttukseom Resort is one of those overlooked areas of Seoul, which is strange considering how much it has to offer. To start, it's located next to the Hangang River, so not only does it provide an excellent view—especially at night—but also boasts a variety of watersports including waterskiing, kayaking, windsurfing and motorboating. Those who don't want to venture into the river can wade into the park's swimming pool. With a number of couple-oriented activities available, the park is ideal for those wanting to spice up their summer dates. If watersports are too much, try the paddle boats that are shaped like geese, an animal that symbolizes eternal love and fidelity. The park itself contains a botanic garden and a music fountain, a place where you can watch the children laugh and play while getting romantic with your significant other. There is also a unique "water screen" that uses special technology to project movies by bouncing light off water. If you like dates that are more active, rent some bikes and go cycling along the river's several bike paths. Camp sites can also be rented if your family includes some avid outdoorsy types. If you arrive at the park single, no need to panic: Although riddled with couples, Ttukseom Resort also provides plenty of activities for the single explorer. One of the park's most unique features is a cultural complex called the Jabeollae, or J-Bug. Shaped literally like a winding bug—similar to a caterpillar—the J-Bug is a tube-like gallery space that exhibits a variety of art and media, from drawings to photography. It also houses a café, a teahouse and an observation deck with spectacular views of both the river and Cheongdamdaegyo Bridge. Even more suitable for the lone visitor, the J-Bug also features its own miniature library, a nice place to read with a view of the Hangang. For the kids, there's a special facility where you can learn about local insects. In short, Ttukseom Resort truly offers something for everyone in the family.
Cheap and yummy eats are available at Gui Namjaeui Deopbap, or "That Guy's Deopbap," (T. 070-8801-3177). Deopbap is rice layered with various toppings such as vegetables and meat, usually coupled with a flavorful sauce.
The J-Bug also has a gift shop
T. 02-3780-0736
Ttukseom Resort Station 뚝섬유원지역 (Line 7), Exit 2 or 3